Open Access This article is
freely available
re-usable
Article
The Construction of the Past: Towards a Theory for Knowing the Past
Tim Tam Trail, Evergreen, CO 80439, USA
Received: 2 October 2019 / Accepted: 23 October 2019 / Published: 28 October 2019
Abstract
:
This paper presents Constructed Past Theory, an epistemological theory about how we come to know things that happened or existed in the past. The theory is expounded both in text and in a formal model comprising UML class diagrams. The ideas presented here have been developed in a half century of experience as a practitioner in the management of information and automated systems in the US government and as a researcher in several collaborations, notably the four international and multidisciplinary InterPARES projects. This work is part of a broader initiative, providing a conceptual framework for reformulating the concepts and theories of archival science in order to enable a new discipline whose assertions are empirically and, wherever possible, quantitatively testable. The new discipline, called archival engineering, is intended to provide an appropriate, coherent foundation for the development of systems and applications for managing, preserving and providing access to digital information, development which is necessitated by the exponential growth and explosive diversification of data recorded in digital form and the use of digital data in an ever increasing variety of domains. Both the text and model are an initial exposition of the theory that both requires and invites further development.
Keywords:
archival bond; archival science; class diagram; constructed past theory; intentional domain; pragmatic information theory; sphere of interest
1. Introduction
'Constructing the past' may bring to mind the writing of history or biography, but the process can take many different forms: management review, audit, courtroom argument, archaeological analysis, psychotherapy, and others. One might assume that all constructions of the past, like these examples, are retrospective; however, even real-time activities, such as keeping a diary, video surveillance, medical registries, live news coverage, and web crawling, produce vestiges of the past by collecting and keeping certain types of data.
Constructions of the past are necessarily incomplete and slanted. Consider the real-time activities just mentioned. Diary entries are selective. Video cameras have limited scope and finite precision. Medical registries are self-selecting. Live news coverage is typically short and limited to topics of presumed public interest. Web crawlers capture data about only a fraction of websites and do not follow all hyperlinks. Such limitations only increase with the flow of time as the vestiges of past times erode and disappear and imprints more readily bear the perspectives and biases of the contexts in which they are constructed. In fact, both retrospective and real-time constructions of the past are inevitably colored by the imposition of expectations and present purpose. They are often influenced by the results of prior constructions. Furthermore, they cover only limited time periods; address particular interests; use specific sources and finite amounts of data; and apply distinct methods for organizing, processing and rendering data about the past.
This paper proposes a model of the development of knowledge of the past, called Constructed Past Theory (CPT). The domain of CPT encompasses only the process and materials of construction, not the knowledge that results. CPT does rest on certain assumptions about knowledge, most fundamentally the semiotic proposition that to know is to affirm a proposition, where a proposition is an expression that has an objective meaning that can be believed, doubted, denied or asserted as either true or false. It follows that knowing is a process, not a thing. The persistent counterpart of knowing, what we call knowledge, is either a persistent representation of one or more assertions, such as in a document, or the capability for producing or reproducing assertions. This capability assumes (1) a store or stores of data structured in a way that enables their retrieval and presentation in propositions, and (2) the ability to select, retrieve and process data in order to output propositions.
CPT focuses on processes that construct the past from vestiges left behind, rather than those that collect or record real-time data. Its objective is to develop a framework for the discovery and delivery of vestiges from the past, the evaluation of their appropriateness for the purpose a construction has, and their exploitation in the process of construction. CPT also offers the potential to reveal and offset inappropriate preconceptions or predispositions by illuminating the original contexts in which things happened or existed in the past.
Part 2 of this paper presents an overview of the current state-of-the-art. It is necessarily at a very general level because there is no existing counterpart to CPT. Part 2 identifies the conceptual roots of CPT and describes its relationship to other cognate disciplines.
Part 4 shows how the model elaborated in Part 3 could be implemented in a quantitative and testable manner using graph theory. It discusses how a graph theoretical approach can eliminate ambiguity and add greater precision in archival theory, as well as benefit those engaged in constructing the past using the materials preserved in archives and help archival institutions improve the performance of their functions.
Part 5 synthesizes the concepts set out in Part 3 in an overview that also addresses how the model can be applied in undertaking and evaluating constructions of the past.
2. State-of-the-Art
While it incorporates and builds on established archival theory, CPT is articulated from a perspective that is 180° opposite to that of archival theory, which start from records and builds upward towards the discovery and delivery of relevant records by persons interested in using them. CPT adopts a perspective of articulating what is involved in constructing knowledge of the past and how it is constructed and builds downwards towards the materials that can be used in the construction.
3. Constructed Past Theory (CPT)
3.1. Architectural Design
The Target Past has two components, Intentional Domain and In-Progress Construction. They are shown related to Target Past by composition; that is, if an instance of the Target Past disappeared, so would its components. The Intentional Domain undergirds and guides the construction. Influenced by the Inclination of the party undertaking the construction, including Assumptions about the past, Bias toward the result of construction and preferred Methods of selecting, processing and presenting data about the Target Past, the Intentional Domain is the foundation on which the past is constructed. The In-Progress Construction encapsulates the results during the process.
Intentional Domain comprises the Intent of Construction and Sphere of Interest. Intent of Construction shapes the process and its results, articulating the Purpose for which the construction is undertaken, identifying the Questions that will be addressed, characterizing the Expected Outcome and indicating the Commitment Level, including the amount of time and effort expected to be expended. Intent of Construction can vary widely. The construction of a Target Past can aim to satisfy personal, professional, communal, or organizational interests. It may be motivated by mere curiosity, deep intellectual interest, or practical concerns, such as safety, material gain, competitive advantage, or other reasons. The Expected Outcome can range across a wide spectrum from minor additions or updates to a database to in depth analyses. The expected outcome can change in the process of construction.
3.1.1. Sphere of Interest
This section further articulates the Sphere of Interest.
Figure 2
, Sphere of Interest, is a UML class diagram showing, as classes, the main things that may be taken into account given the time frame and Field of Interest defined in the Sphere of Interest. There are four such classes: Entity, Event, Process and State of Affairs. An Entity is something that existed. An Event is something that happened or was done. At least one Entity must be involved in every Event, but interest may be limited to an Entity apart from any involvement in an Event. A Process is a set of several related Events. State of Affairs is a configuration of one or more objects which have some characteristic(s) that are invariant during a period of time.
A Sphere of Interest can encompass many things in all four classes, but it must be about at least one thing. If only one, that object must be an Entity. Thus, the other possible elements in a Sphere of Interest have a multiplicity of zero or more. If the Target Past only aims to determine one or more properties of one or more Entities, the Sphere of Interest need not include any Event. If no Event is included, by definition, neither is any Process. A State of Affairs may focus on an Event or Process but, given that every Event must involve at least one Entity, the minimum of one Entity per Sphere of Interest holds in this case. Similarly, a Sphere of Interest that only concerns characteristic(s) of one or more Entities, may not include any State of Affairs.
An Entity may or may not have a duration. Abstract concepts, such as time, justice, viscosity and monarchy, have no inherent temporal attribute, even though the instantiation, expression or understanding of such concepts may vary over time. Physical objects, such as organisms, buildings and electrical signals have durations. However, every Entity, whether conceptual or physical, must have at least one inherent property that is persistent. Persistent inherent properties of an object may be inherited from a class in which it belongs.
In an Event, something changes. What changes is one of the defining properties of an event. It will often be one or more Entities. However, an Event might alter a Process; for example, a power failure can interrupt the execution of a computer program. A second defining characteristic of an Event is the nature of the change. For example, enacting a law is different than applying the law in a judicial decision. Specifying when and where an Event occurred may also be necessary to identify the Event as the same thing may happen to an object multiple times. Every Event has a finite duration bounded by start and end times, at least one of which must be within the time frame of the Sphere of Interest.
Events and Processes, as well as their relationships with Entities, are further explored in
Section 3.1.2
. State of Affairs is addressed in more detail in
Section 3.1.3
.
3.1.2. Event, Process and Action
A Process may follow a Process Pattern, which could be explicitly defined and imposed, for example, by regulation or corporate policy, or observed to occur habitually or regularly. The relationship is defined as "follows" rather than "adheres to" because an instance of a Process may conform by and large to a Process Pattern, but deviate from it in some respect. A complex Process could include subprocesses that may not follow a corresponding Process Pattern. The patterns that are followed by subprocesses in a Process may be subprocess patterns in an overarching Process Pattern, but subprocesses could also follow different, and even independent, Process Patterns. Hence, the relationship of Process Pattern to Process is zero or more.
A Process Pattern must include at least two Pattern Steps and there is a one-to-one correspondence between a Step and a Process Step which it follows. However, there may be Steps in a Process that do not strictly follow a Process Pattern. Even when a Process adheres to a Process Pattern, there may be Steps besides those in the Process Pattern. Hence, there may be zero or one Pattern Step for each Step in a Process.
3.1.3. State of Affairs
An assertion may be existential, qualitative or quantitative. It may stipulate whether an object existed or not for the duration of the State of Affairs. Alternatively, the State of Affairs might be determined based on whether an Event or Process endured throughout or did not occur at all during that time. For example, a period of peace is a time when there are no armed hostilities between two parties. An assertion about a State of Affairs may specify a qualitative or quantitative value of a property. The value need not be static; that is, the value might be a constant rate of change or even a constant acceleration. Moreover, the value may be the result of a Boolean expression of arbitrary complexity. Multiple assertions may be combined in a single complex expression.
The value specified in an assertion must be invariant throughout the State of Affairs; however, the property of which the value is specified must itself be variable because, if a property is invariant, the object is stateless with respect to that property.
The following statement exemplifies a State of Affairs: Barbara McClintock pursued graduate studies in cytology and genetics at Cornell University from 1923 to 1927. The statement asserts the persistence of a Relationship, student, between an instance, Dr. McClintock, of the class, Member Person, to an Organization, Cornell University, during a four-year period and specifies a qualitative property of the Relationship; namely, that it concerned cytology and genetics.
A second case illustrates a complex State of Affairs described in a single, complex expression: During Algeria's war of independence (1954–1962), successive governments in the French Fourth Republic insisted it was a purely internal affair, not an international one. The assertion fixes the time frame of the State of Affairs, associating it with a Process, the Algerian War of Independence, and makes it dependent on a qualitative condition; namely, assertions by French governments about the scope of the process. The condition is a Boolean assertion and would fail if it were shown that any government in the Fourth Republic held a different position during the war.
A Persistent Property is an attribute or behavior of an instance of a Defining Class, which must be a class of Entity or Event that is part of the Target Past. An instance of Persistent Property identifies the Defining Class and the instance of that class that has the Persistent Property indicates what type of property and its name, and specifies the value of that property during the duration of the State of Affairs. The relationship between Persistent Property and Defining Class is one of composition because if Property Value changed or the identified instance of the Defining Class disappeared, so would the Persistent Property and thus the State of Affairs would be terminated.
In the McClintock example, as described above, a new class, University, would be needed and Student should be added as a subclass of Relationship and associated with both Individual Person and University. Student would need two persistent attributes in this State of Affairs. One, which might be named Student Status, would have enumerated values of undergraduate, masters and doctoral. The specifications for the State of Affairs would be satisfied if the actual value of the Barbara McClintock instance were either masters or doctoral. The other attribute could be named Area of Study, with possible values including all the major and minor fields offered by the Cornell College of Agriculture where she was enrolled. The actual values in her case would be cytology and genetics. In practice, the domain model would need to be refined further to suit the case, including adding more specific classes of Entities such as University, School, Department, Scientific Discipline, etc., and more specific classes of Processes and Process Patterns for masters and doctoral studies.
To illustrate the need for additional specification of the model, consider the State of Affairs of the Fourth Republic. Central to this state is the relationship between successive governments and statements about the relationship of France to Algeria. The governments fall within the scope of Organizations as Human Agents. Statements accessible for construction of the Target Past are documents. To address the empirical situation, subclasses of Human Agents need to be added to represent not only government, but also government agencies and officials. Document must be defined as a subclass of Entity and a variety of subclasses of Document are needed. These examples only begin to illustrate the extensions that would be required to apply the model to this case.
The discussion of the McClintock and Fourth Republic cases should not be taken as indicating that the construction of instances of Target Past need to articulate a detailed model of a State of Affairs and populate it with related data. Rather, it is intended primarily to demonstrate that concepts in the CPT model are applicable empirically. The variety of possible constructions of the past is sufficient that there are undoubtedly some situations where articulating a more detailed formal model and organizing data within its structure would be advantageous. In other situations, the model might be applied heuristically to identify the objects and relationships that should be considered in pursuing a Target Past without being substantially elaborated.
3.2. Construction Materials
Thus, the selection and use of Construction Material is critical in producing the Constructed Past. Selection in this context means the determination that an item will be exploited in construction by extracting data from it; accepting assertions it makes, analyzing its contents, etc. The first criterion of selection is that the item relates to the Sphere of Interest. The item should also be perceived as serving the Intent of Construction. Evaluation according to both criteria may be weighted according to how well it seems to serve the intent; to what extent it is congruent with the Sphere of Interest; how well it relates to key objects or events in the Sphere of Interest; and its potential for yielding new or improved data or understanding.
Initial selection may be heavily influenced by the Intent of Construction. Someone who wants to quickly gain familiarity with, or some depth of understanding of a Target Past would likely choose expert sources, such as audit reports, scholarly publications or encyclopedia entries. In contrast, someone who wants to develop original insights would prefer writings by Individual Persons within the Sphere of Interest. Selection could change by both additions and deletions as knowledge is gained in the process.
4. Towards Testing, Verification and Quantification
The presentation of CPT in Part 3 is highly abstract and requires the addition of more specific classes and properties, with greater precision, to be applicable in practice; however, between articulation and application, the critical issue that needs to be addressed is whether CPT can support empirical testing and verification. To enable the reformulation of archival science as an engineering discipline, verification should be against quantitative parameters. Reformulating qualitative concepts in quantitative terms has the further benefit of creating the opportunity to apply a variety of powerful and supple mathematical tools in the construction of the past.
These confusions and other difficulties can be eliminated by introducing the concept of an archival graph. An archival graph is a graph whose nodes are the Archival Units used in an activity and whose edges are the Relationships that arise from that use. Strictly speaking, in conformance with graph theory, an Archival Unit is itself a graph whose nodes are an Item Vestige and the Relationships it has with other Item Vestiges used in the same Activity. It is a directed graph where each edge goes from an Item Vestige to a Relationship with a "has a" label. This construct eliminates the confusion entailed by the fact that the same document, or information item of any kind can be a different record in different contexts. For example, an invoice identifies an account receivable in the records of a supplier, but an account payable as a record of the customer.
In addition to expanding the domain, representing Archival Assets as a graph enables greater clarity in the application of established archival concepts. For example, ignoring the troublesome equation of the archival bond with a record-keeping system, the archival bond can be conceptualized as a subgraph of the total graph of all Archival Units used in a given activity where the subgraph is induced by selecting those vertices accumulated by an Organization, Group of Persons or Individual Person performing an Activity in an independent capacity. Conversely, combining the subgraphs of all Archival Units accumulated in all the Activities of an independent Human Agent would produce a map of the archival fonds of that agent. Furthermore, the union of the graph of the archival fonds with the graph of the agent's record-keeping system could yield significant insights into the discrepancies between how the agent actually carried out its activities and how it identified and managed information assets that it deemed to have persistent value.
While an archival graph, like archival fonds, is limited to the Archival Assets of a single Human Agent, archival graphs of all the agents involved in an Activity can be combined, a significant advantage in any Target Past that encompasses the whole of an Activity in which multiple parties have an Involvement.
However, if an archival institution stored data identifying records creators, records and record aggregates in a graph-oriented database, the graph of all the holdings of the archives would constitute a universal set. A researcher could define and progressively build a graph corresponding to its Sphere of Interest. The intersection of a researcher graph with the universal set would map the researcher's interests to relevant members of the universal set, regardless of the boundaries of provenance and original order. This intersection would not impede navigating from members of the intersection to related contextual data. The institution could analyze these intersections to better understand the use of its holdings and consequently improve its front-end services. Accumulation of data about the intersections might also help the archives to evaluate whether its appraisal criteria led to adequate, or alternatively, excessive, representations of the targeted Entities and Events.
5. Overview
From the perspective of pragmatic information theory, being informed about the past occurs on receipt of a Constructed Past. The receipt may be via a persistent object, such as a book, transitory signals, such as the display of a view on a database on a video device, by oral report from a person or other vehicle. The introduction sketched an epistemology that informs the Constructed Past Theory that is elaborated in Part 3. According to this epistemology, (1) data exist as signs or are delivered as signals in contexts that enable their interpretation; (2) information is an event wherein a set of signals is received, producing either a behavior or a change of state in the recipient; and (3) to know is to utter a proposition, where a proposition is an expression that has an objective meaning that can assigned some truth value or credibility. In terms of knowing the past, when a recipient is informed about the past, the result is either the behavior of uttering one or more propositions about the past or a change of state that consists of storing data about the past in a manner that enables such propositions to be formulated thereafter. The storage could be in personal memory, in solid state or magnetic storage media, in written text or other means.
The Constructed Past has informative value to the extent that it satisfies an intellectual or pragmatic objective. In its articulation of a framework for construction of the past and in concept of the Intentional Domain in particular, Constructed Past Theory relates the objective of being informed about the past not only to the Constructed Past but also to the process and materials of its construction.
In knowing the past, context is critical both in the epistemological sense just described and also in the process and output of producing a construction. Inclination and Intentional Domain form the context in which construction of the past is undertaken and brought to completion. Initial articulation of the Intent of Construction and Sphere of Interest enable assessment of whether the Target Past will satisfy the intended Purpose for the construction. Application of the Intentional Domain in the development of In-Progress Construction both guides the process toward achievement of its Purpose and facilitates improvements in the Expected Outcome.
This iterative relationship also guides the selection, processing and use of Construction Materials. CPT defines a catalogue raisonné of Construction Materials, characterizing the differences between Existing Constructed Pasts, Reflections and Contemporaneous Materials as date sources. This characterization can be used in appraising not only how well Construction Materials serve the Purpose of the construction but also the extent to which they are capable of supporting the Expected Outcome given the Level of Effort defined in the Intent of Construction. CPT provides a basis for optimizing the values of objectivity and originality in constructing the past through its delineation of Contemporaneous Materials and especially, in clarifying how different kinds of Contemporaneous Complexes enable recovering original context; that is, the sets of relationships among objects that existed within the Sphere of Interest.
This paper presents a germinal articulation of Constructed Past Theory rather than a definitive formulation. It attempts to demonstrate how the approach taken in CPT can represent various and arbitrarily complex past situations, as well as different motivations for investigating the past and different uses for the results. Nevertheless, the past is undoubtedly more complex and varied than represented in the diagrams. Additional classes, relationships and operations can and should be added and integrated within CPT.
Funding
This research received no external funding.
Acknowledgments
I thank Luciana Duranti for critical insights into archival science, Daryll Prescott for advice on the use of UML, and Vicki Lemieux, Richard Marciano and William Underwood for encouraging this research.
Conflicts of Interest
The author declares no conflict of interest.
Figure 1. Framework for Construction of the Past. The construction of the past centers on the Target Past, which comprises both an Intentional Domain that specifies what is being attempted and why and an In-Progress Construction, which is the state of construction during the process. The final output is a Constructed Past.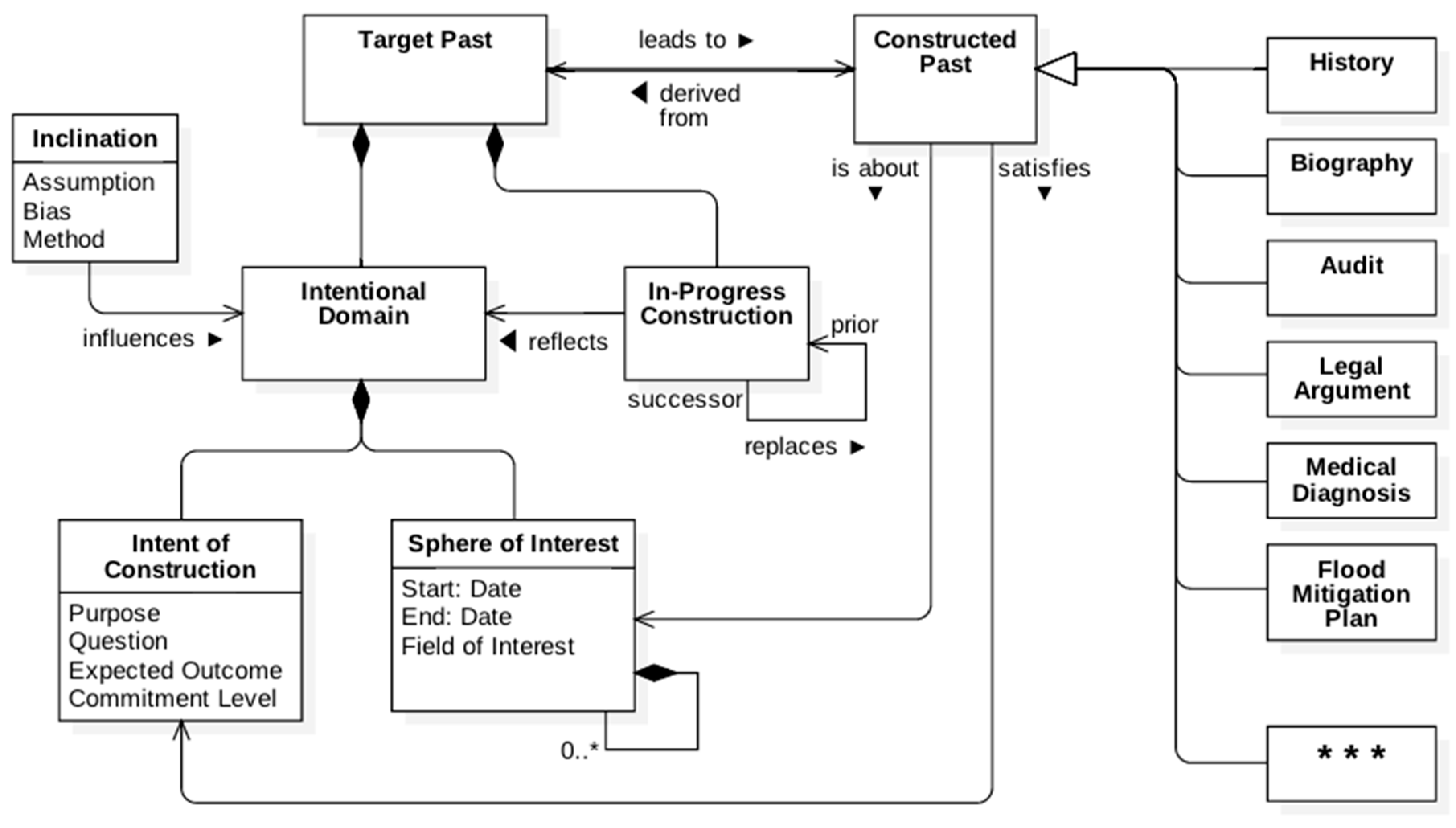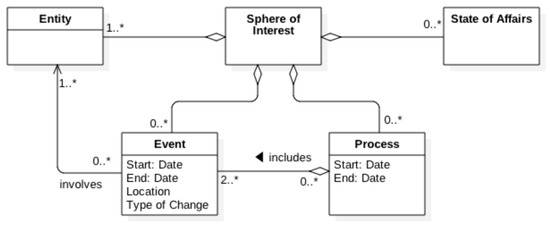 Figure 2. Sphere of Interest. The Sphere of Interest specifies what Entities, Events and States of Affairs are thought to be relevant in a Target Past. It may also include Processes, which are sets of related Events.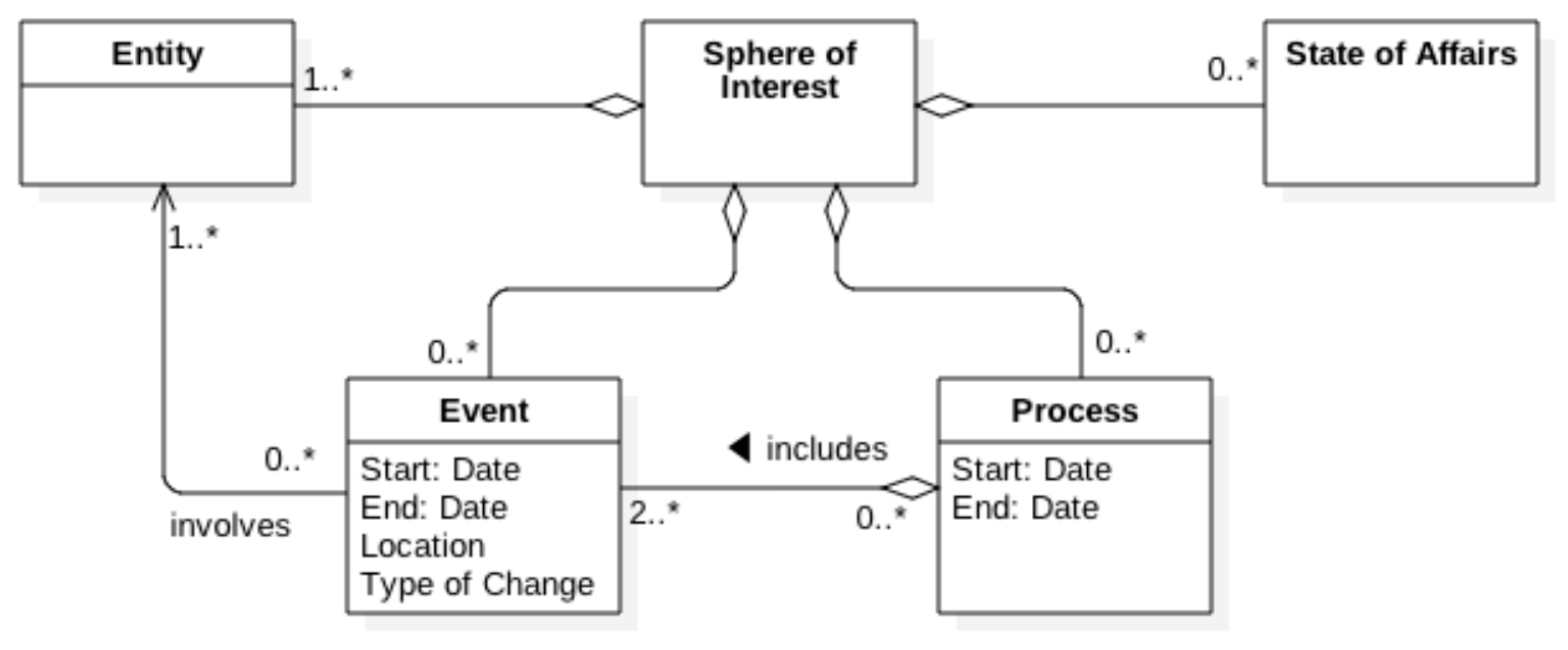 Figure 3. Entity Involvement in Event. Every Event must involve at least one Entity. An Entity may be involved in different ways, such as actively participating, observing, being impacted or being used.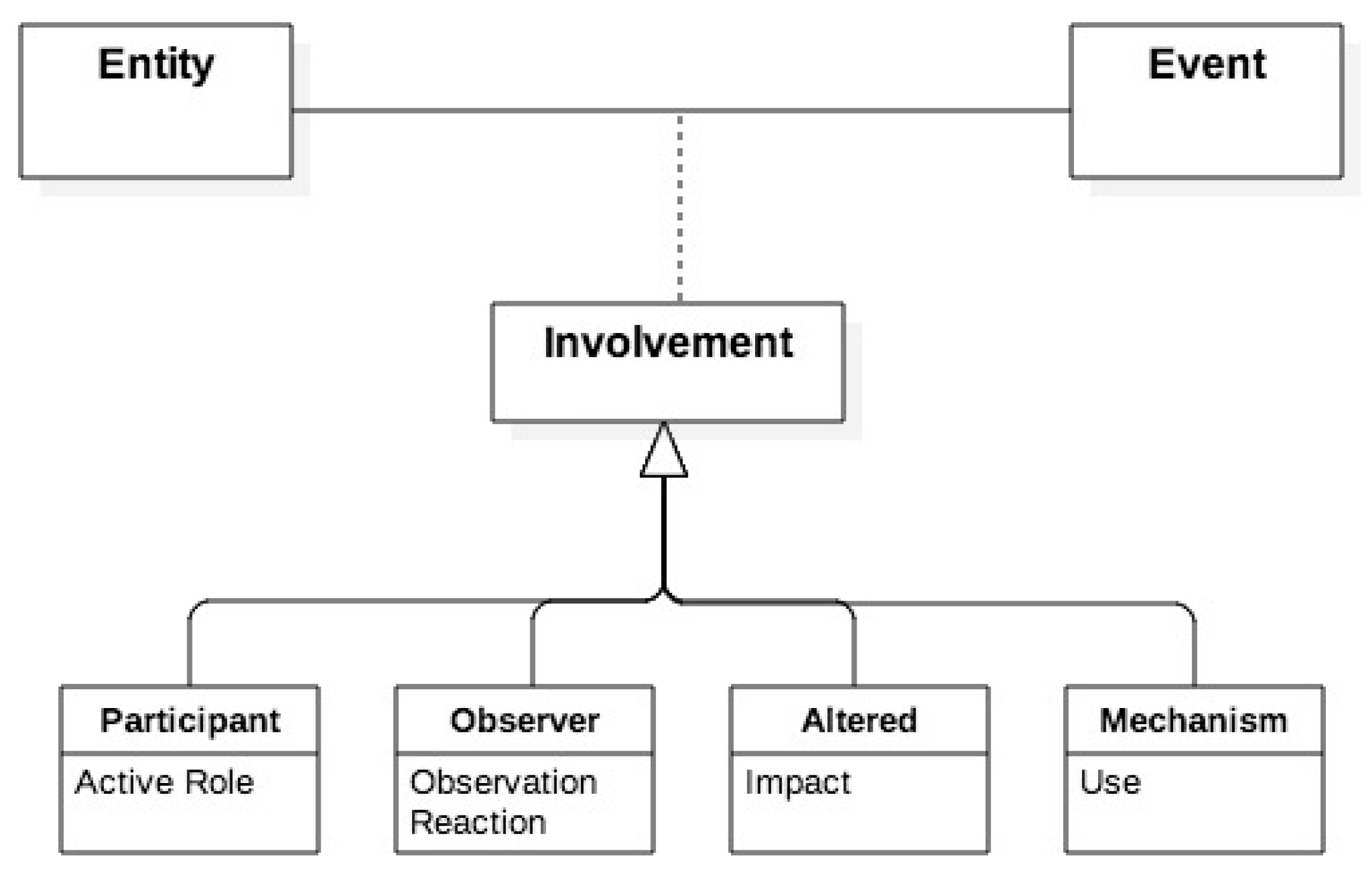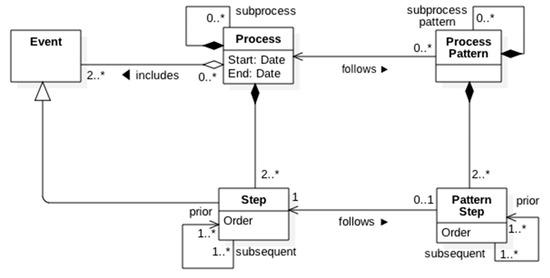 Figure 4. Event and Process. An Event may be part of a Process, which is a set of related Events. When it is, it is called a Step. A Process may follow a Process Pattern. When it does, the Steps in the actual Process may correspond to Pattern Steps in the Process Pattern; however, there may be actual steps in addition to those indicated in the Process Pattern.
Figure 5. Human Action. When a Human Agent has an Active Role in an Event, the Event is specifically an instance of the subclass, Action. When the Action is part of a set of related Actions, the set is termed an Activity. Activity is a subclass of Process. Different kinds of Human Agent may be involved in an Action, as described in the text.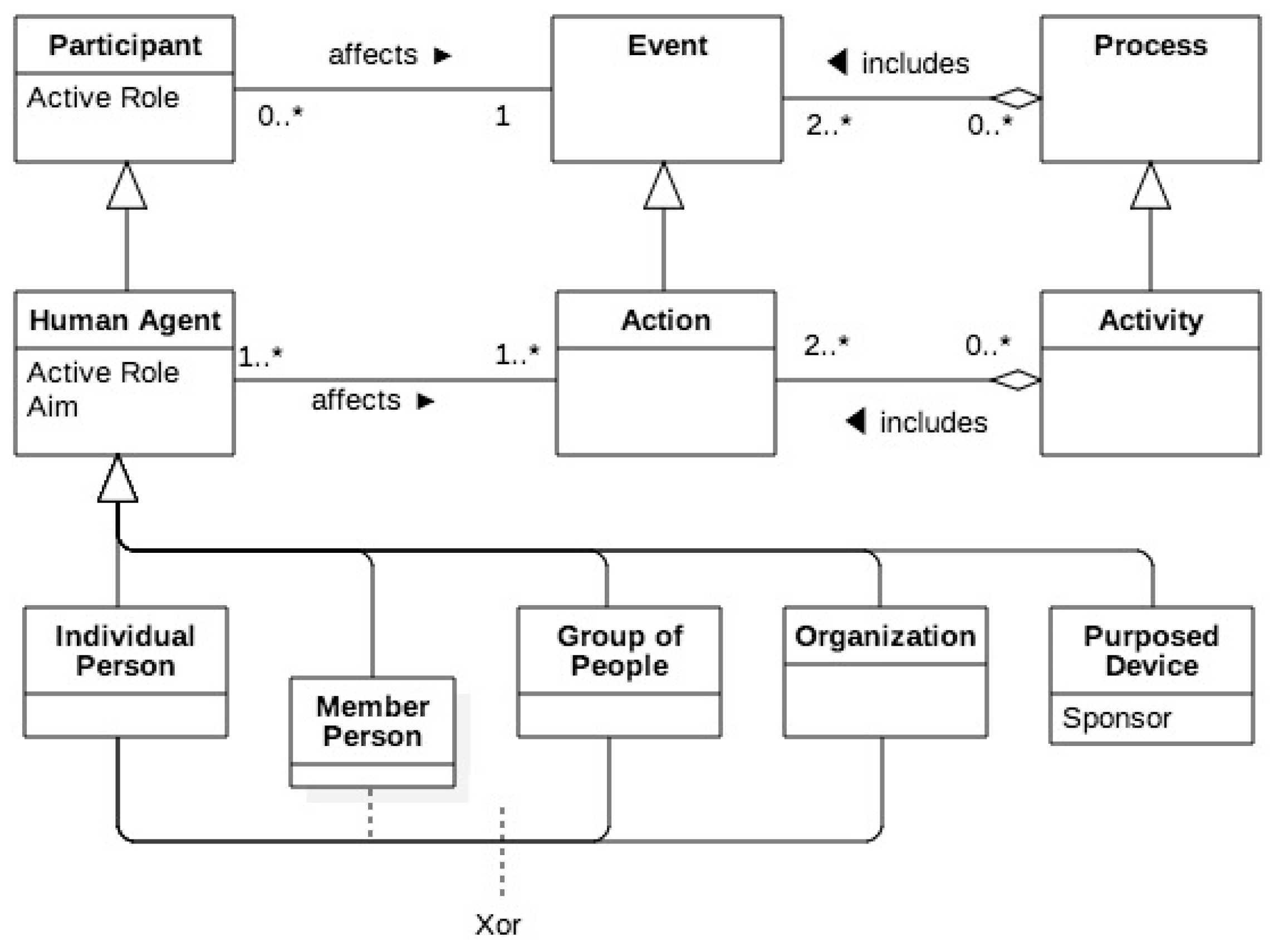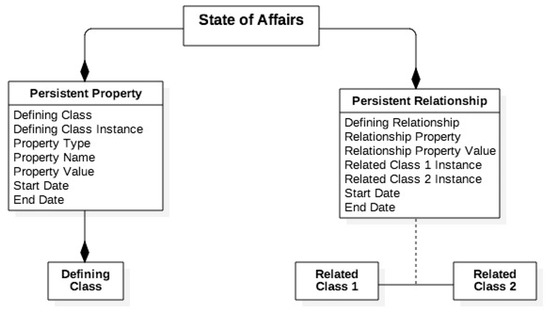 Figure 6. State of Affairs Internal Composition. A State of Affairs is determined by one or more Persistent Properties or Persistent Relationships. The relevant properties or relationships belong to one or more classes that exist within the Target Past.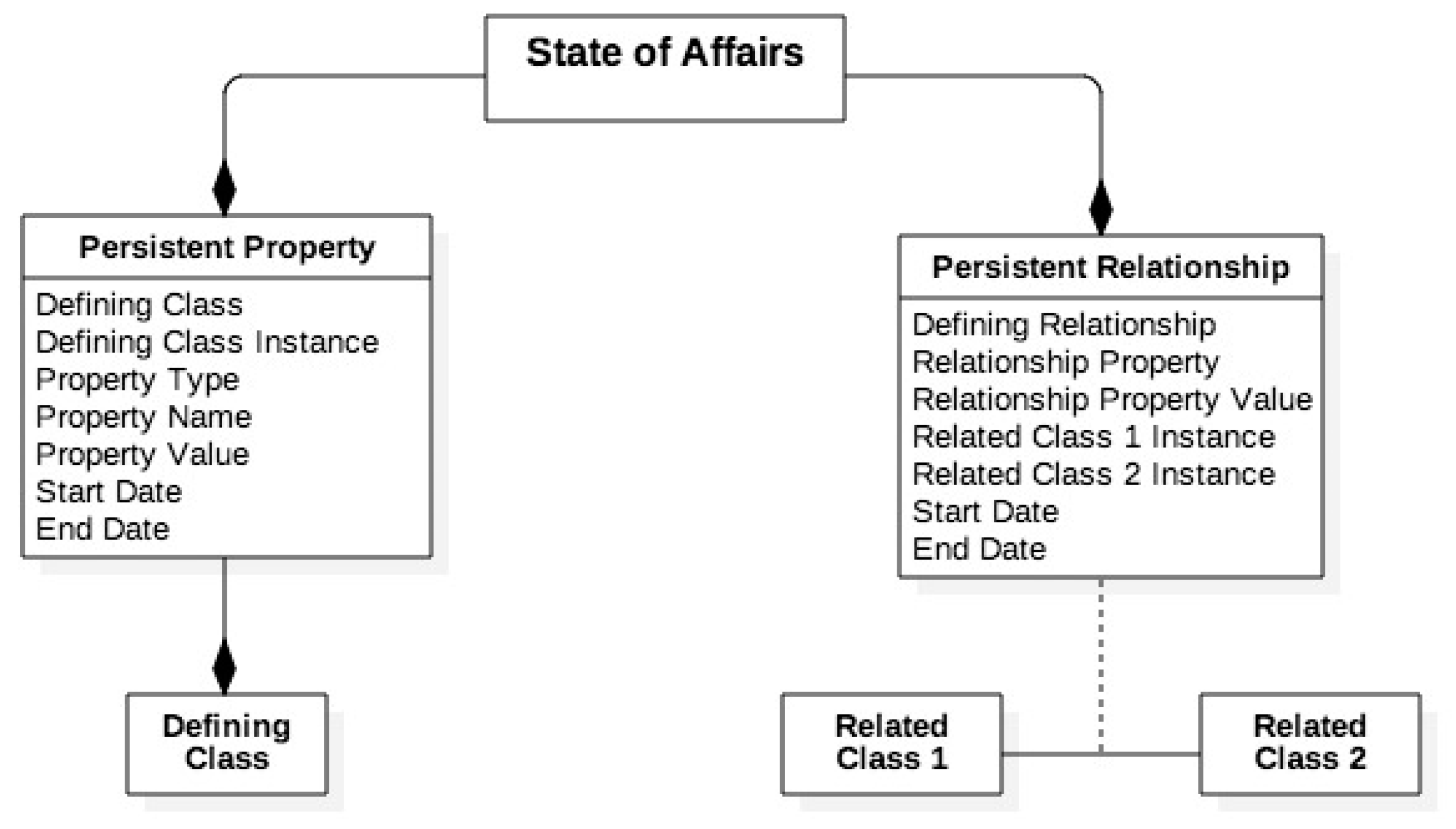 Figure 7. Construction Material in Context. Construction Material comprises information objects that are deemed relevant and potentially useful in constructing the past. Thus, they must relate to the Sphere of Interest and should satisfy the Intent of Construction. Relevant Construction Material is used in In-Progress Construction.
Figure 8. Construction Materials. The two main types of materials used in construction of the past are Vestiges and Reflections, shown as classes in the diagram. A Vestige is an object that existed in and survives from the time frame of the Sphere of Interest, while a Reflection is an information object created in the process of construction.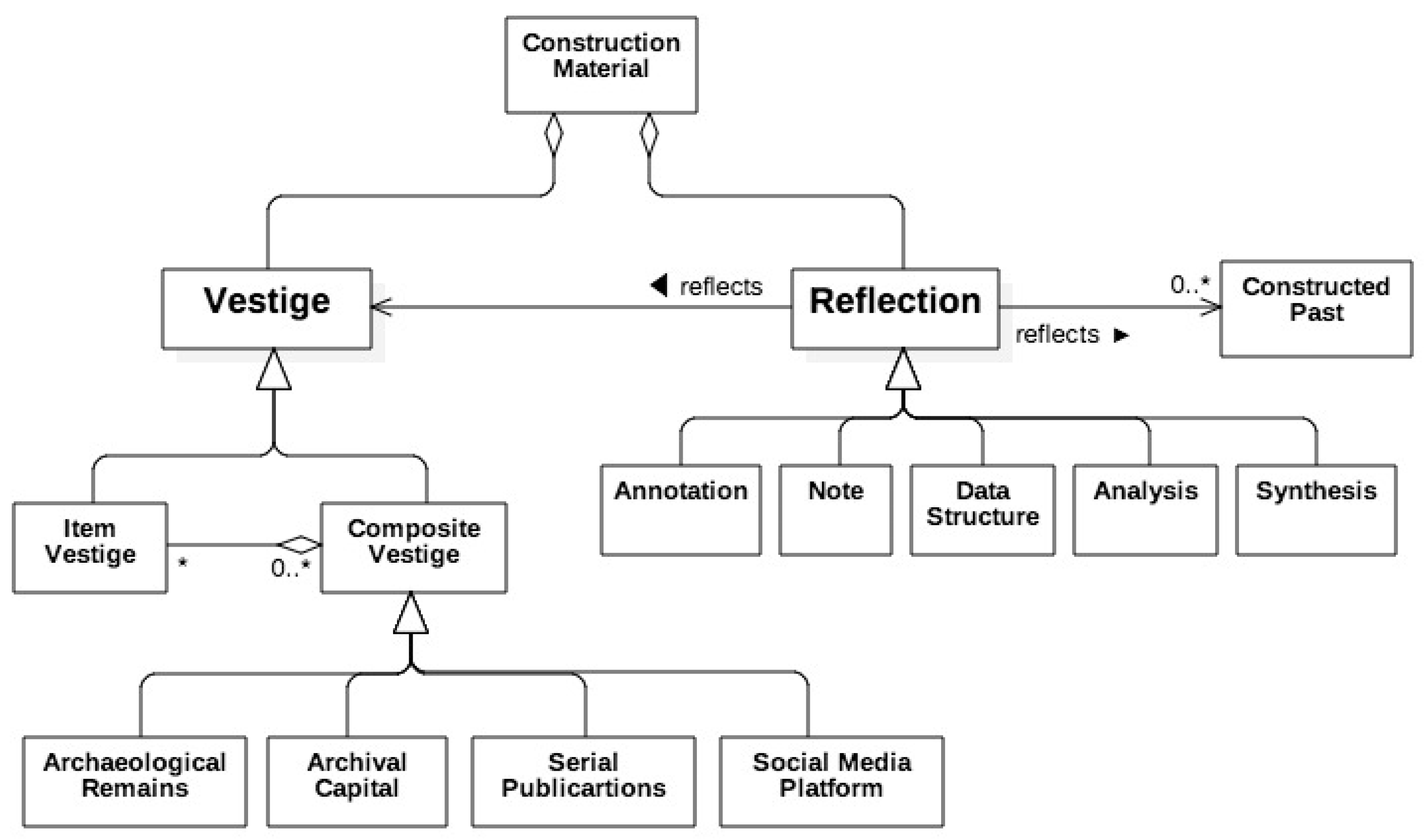 © 2019 by the author. Licensee MDPI, Basel, Switzerland. This article is an open access article distributed under the terms and conditions of the Creative Commons Attribution (CC BY) license (http://creativecommons.org/licenses/by/4.0/).