Open Access This article is
freely available
re-usable
Article
Review of Implementation of Augmented Reality into the Georeferenced Analogue and Digital Maps and Images
†
Spatial Information Systems Laboratory, University of Warsaw, Faculty of Geography and Regional Studies, Krakowskie Przedm.30, 00-927 Warsaw, Poland; Tel.: +48-22-5520-652
†
The core of paper includes the thread presented at the IS4SI 2017 Summit DIGITALISATION FOR A SUSTAINABLE SOCIETY, Gothenburg, Sweden, 12–16 June 2017. The thread concerning geovisualization is based on conclusions of the discourse with students within the framework of author's course "Cognitive Science and Geoinformation", courtesy: Adam Mickiewicz University in Poznan, Poland, Spring 2018.

Received: 28 November 2018 / Accepted: 24 December 2018 / Published: 30 December 2018
Abstract
:
Augmented reality (AR) combines information from databases with information derived directly through the human senses or different sensors. AR is the organic, real-time, and dynamically overlaying virtual images created by computers and other information on a real environment that the observer can see. Virtual information changes according to the movement of the observer, as if that virtual information truly exists in the real world. The convergence of geographic information systems (GIS), web mapping, mobile technology, and augmented reality (AR) implies the emergence of location based systems (LBS) and, in turn, the diminishing use of traditional analog maps by smartphone users. The focus and review of current achievements in this subject on the wider trends of the use of AR also prove that coding of some data and metadata on an image or a map (both in digital and analogue form) permits inter alia the inclusion of, for example, a paper map or analogue image into the chain of digital devices use. Some solutions, remarks, and comments concerning functioning of the digitally augmented (printed) map and their digital counterparts within the information society are presented.
Keywords:
augmented reality; data; metadata; map; image; cartography; GIS; mobile technology
1. Introduction
Geographers use metaphors. The most known geographic metaphor is related to Johannes Vermeer's famous painting 'The Geographer' (1668–1669), which can be interpreted as an origin of the idea of virtual reality [
1
]. Printed (paper) maps and analogue photos (images) are yet (less and less) in use and, nowadays, there is a rising challenge of the growing use of mobile (digital) ones. Technology also influences the traditional understanding of map definition in geography and cartography.
Eyesight is important in cognitive processes. Humans learn during movement and discover the environment (milieu) and eyes acquire the necessary information. Multiplicity of images shapes the sensitivity, thinking, and world perception. People are moving away from verbal communication to image (visual) messages and, nowadays, the supersession of text context by images dominates. Visualization uses the techniques of image, animation, or diagram creation aimed at forwarding messages.
2. Geovisualization, Digital Maps, and Their Usefulness in Information Society
In parallel, geovisualization is understood as the use of visual aspects of spatial information aimed at building the knowledge of milieu (environment) in a holistic approach and making it more easily understood. These processes are supported through the development of techniques and solutions that allow visual interaction between the user and available spatial data, as well as presenting them in the form of spatially registered graphical models. Technologically, geovisualizations are applicable as graphical, scientific, and/or knowledge visualizations. Cartography defines the rules of visualization of spatial data on plane (2D). Three-dimensional geovisualizations, using different raster, vector, or TIN (triangulated irregular network) models combined with images, can achieve a very realistic model of the world. Pillars of geovisualization are, inter alia, methods of cartography, scientific visualization, image analysis, symbolic qualitative and quantitative information visualization, and exploratory spatial data analysis (ESDA).
Almost all map instances characterize interaction and feedback to geospatial database. They make possible updates of the digital maps, but only the hardcopy, that is, the printout of map, is a finished product and seems to be completely separated from the geospatial database. An update of the hardcopy requires restarting the whole production process, and feedback with the geospatial database is limited or does not exist. Interaction of the hardcopy with digital devices is minimal.
Classic processing of spatial data in geographic information systems (GIS) involves several stages: fieldwork and acquisition of spatial data, archiving (management and editing), spatial analysis procedures (e.g., generalization), geovisualization (display on demand), and (in case of need, final) printout.
Different applications of maps and, recently, geovisualizations are continuously expanding. Descriptions of use in scientific literature involves, inter alia, activities supporting analysis and studies of environmental conditions of geographical human or natural objects, as well as extreme natural hazards. They allow accurate and precise interpretation of phenomena and their spatial changes. Traditional approaches, which use 2D maps (even digital), are time-consuming and decrease the number of studied features, diminishing the extent of analysis. Two-dimensional and 3D geovisualizations affect the final results of the projects (design), facilitate making decisions related to rational space management, and offer protection against the effects of geo-hazards. It seems that with the further development of technology, the extent and detail of geovisualizations and range of applications will grow. The knowledge of cognitive relations and human perception targets the best possible graphic information display. These are the basement of most of users' easier perception of complicated spatial dependences.
This way of reality representation puts emphasis, after all, on methods of scientific visualization in studies and decision processes. The application of different methods of geovisualizations allows the better understanding of the problem under analysis, as well as deeper insight into data in their spatial aspects and then inferring based on revealed information, necessary to undertake the right spatial decisions.
This way, geovisualization seems to be the important element in spatial planning, because it supports processes of public (social) participation. Visual interactions (more intense than with traditional maps) of users with available data presented in the form of georeferenced spatial models (not only in form of maps) result in the process of creation of knowledge. Consequently, active inhabitants, perceiving the holistic model of the real world, are able to influence the processes of undertaking spatial decisions. Geovisualization in the context of spatial planning involves all the processes reinforcing the sharing and understanding of geospatial information, using, inter alia, 3D models, animations, and simulations of spatial processes, which in turn have a better affect on spatial imagination than traditional (printed) maps or even maps displayed on computer screens.
However, some (popular, common sense) opinions express and stress the relation of geovisualization to any presentation that is associated to any human daily activity in a defined location; every map, guidepost, sketch, and verbal message may be also named using this term. It can be problematic to think about oral messages or body language as geovisualization, but it does not matter if the visualization is on paper, on electronic display, or a reconstruction in the brain based on acquired information (one exemplified conclusion, drawn from seminar discourse).
Moreover, there is also a psychological human mechanism, that is, belief in the "durability" of a printed image, which is available any time without additional equipment. Finally, the hardcopy—that is, printed maps—document the state of the real world at a defined point in time and may be the proof (according to law) of any public or individual decisions, actions, projects, and claims. Several other reasons (omitted above) can be mentioned, for example, maps become historical documentation and also present aesthetical value as works of art.
3. Augmented Reality
Another feature is the psychological aspect concerning the perception of distances, directions, and areas while using AR systems. Some results suggest the depth distortions that AR application developers should expect with mobile and tablet-based AR.
4. GIS and AR
The progress in the information, communications, and technology (ICT) sector has brought rapid development of AR coexisting with GIS technology on portable devices. The GIS and AR processing chain involves gathering of the following: specific user requests, display parameters concerning scale, symbology and metadata of requested map and users' position (location), and orientation.
The combination of GIS and AR supports both indoor and outdoor exploration of spatial data. Augmented virtuality (AV) is related to exploration of geospatial data directly from the real or virtual (digital) world and may be defined as an augmented map (AM), which implies the extensive use of maps as the base element of searching for information. Augmented reality (AR) as the interactive tool makes possible gathering additional information during exploration of the natural environment or anthropogenic (e.g., urban) milieu, which can be defined as augmented territory (AT).
These types are designed and implemented into mobile applications (e.g., GPS navigation) [
11
].
Some authors and MAR creators announced AR as the next big innovation. Undoubtedly, MAR is the candidate technology for disruptive innovation in mapping [
28
].
Mobile AR and Paper Maps
Some other examples are related to geocaching—outdoor recreational activity using GPS receivers (often in smartphones) and, for example, its latest, new instance Pokémon Go application, globally available since 2016. However, its root can be derived from orienteering—a formal olympic discipline, which requires users to possess navigational skills using (specially prepared, without labels) maps and compass while moving through unknown terrain at speed during the race.
Yet another example of augmented maps—similar to paper, but not exactly—is commercially available portable document format (PDF) maps offered on the market (e.g., Avenza Maps).
5. Map Context and AR Technology in Details
Last but not least is the problem of security and privacy of using networked MAR.
6. Summarizing Problems Concerning MAR and Maps
The literature review, covering the time since 2009, reveals the changing focus on problems concerning AR. The database searched with most cited publications was Microsoft Academic. There were 5000 scientific papers. A contextual analysis of titles has been visualized using the VOSviewer tool (v.1.69, [
41
],
Figure 3
).
The centroid weight of issues moved during the observed time from the methodological problems related to hardware and software challenges to well formed MAR with aspects such as reality systems, surveys concerning users, applications, learning, and space.
A similar procedure has been applied to the 1000 most cited publications in the Google Scholar base (
Figure 4
). The current main issues again concern mobile augmented reality systems and their applications and users, which confirms previous observations.
Considering the search within publications of the Google Scholar base of the terms AR, digital map, and paper map, the results reveal slightly different aspects: the mainstream of publications focused on the real world using earlier overworked achievements concerning AR. Current problems involve depicting the human past and present milieu using either MAR or SAR technologies in real-time (
Figure 5
).
7. Intelligent Augmented Geovisualization, Digital, and Paper Map
Paul Levinson, in his book, The soft edge a natural history and future of the information revolution, wrote the following: "(...) an information technology will survive to the extent that it satisfies human needs better than its rivals. (…) First, the ongoing evolution of new media, usually with profound unintended consequences, means that the rivals of any given medium are often in flux. Second, a given medium usually performs a variety of tasks, which results that it may well best its rivals in one area, and fail against the same or a different set of rivals in another area." [
42
] (p. 185).
The idea concerning an intelligent augmented analogue map (or analogue image) is based on the opinion that a classic map (or image/photo) would have advantages not only in critical situations (blackout, no mobile or WiFi coverage, or no GPS signal for any reason). A mobile device application could reveal and interpret especially prepared markers (e.g. radio-frequency identification - RFID tags) hidden in the analogue map. This set of hidden tags included into the symbology and legend of the map allows using the map (or image) in the classic, traditional way without disturbing human perception. Simultaneously, these tags expand the volume of information contained on the printed paper map (or photo, e.g., they reveal metadata).
From the point of view of a cartographer/geographer, it is necessary to prepare an additional steganographic information layer of the map, overlaid on basic, printed content, thematic layers and calibrated with markers, which make its augmenting possible. The mix of known technologies can be used to include the intelligent, augmented paper map into the digital world, inter alia:
digital and classic steganography;

augmented reality, software applications;

fiducial markers;

mobile devices with different sensors, GPS, etc.;

access to GPS and WiFi signal;

(last but not least) analogue (printed) paper map (or image/photo).
This way, augmented paper (printed) maps (or photos) would become the (more) intelligent things included into the chain of digital device use, and does not lose its primary function. On the other side is mobile intelligent application. The new idea to use AR markers is also discussed in scientific discourse. Once the POI (point of interest) in the real world coupled with its location on the map (no matter if analogue or digital) is identified, the novel mobile interaction technique utilizing projected markers (using pico-projectors) makes it possible to reveal additional information about the place and/or surrounds [
43
]. Markers can be presented on demand depending only on recognized locations of POI in the real world (empirical studies provided the value of such a solution, despite some limitations related to lightning), but the same can be applied to analogue map or images, if only the location is known. A comparison of users' behavior during navigation using AR either on a digital or augmented paper map proved that they "did not subjectively perceive differences between these options" [
44
]. On the other side "Augmented Reality compared to virtual reality offers a stronger feeling of immersion for the user" [
45
]. The conclusion of merging the natural way using paper and digital maps seems to be the optimal solution [
46
].
Another trend is convergence of the two above-mentioned technologies: AR and geovisualization (AR&GeoVis), which intertwined themselves, and created rather new possibilities in science and economy (as well as in entertainment, e.g., in games). Science gains from easier identification and interpretation of spatial patterns and complex relations in a geographical context. Moreover, an interactive approach of mixing AR&GeoVis reflects variability of geographic objects and facilitates the right decisions. Geovisualization uses visual representations of geospatial information and reflects consciousness, understanding, and construction of knowledge about human milieu and the environment at a geographic scale, and in turn, facilitates the creation of visual representation of these aspects, more often also using AR tools. It has to be realized in an intelligent way, attracting the recipients using understandable transfer of information.
Advancement of 'digital geographies', understood as the modus operandi of geographical studies and applications in spatial economy, is the signal of fundamental disciplinary turn of geographic praxis. "Emphasis remains on how an engagement with the digital develops our collective understandings of cities and development, as well as health, politics, economy, society, culture, and the environment, among others" [
47
]. AR plays an important role in this digital turn. The convergence of GIS, AR, WebGIS, and digital mobile maps, which are the fundamentals of the recent technology named (generally speaking) story maps, created quite a renewed way of presenting spatial data, and aimed to reach two targets, scientific and commercial, using online geospatial technologies (e.g., ESRI story maps, Google Earth Outreach).
Rather new possibilities are opening for intelligent map creation with the use of augmented reality smart glasses. Extending the volume of attributes and spatial data on maps with georeferenced digital hologram information from a network may be the next real step in map construction and ARSGs, cooperating with some of the above-mentioned technologies, and may far better address human needs such as cognitive, tension-release, affective, social integrative, and personal ones, gratifying life efficiency, enjoyment, desired enhancement of reality, physical (sensual), social, and self-expression [
24
].
Funding
This research received no external funding.
Acknowledgments
Research realized within the framework of the project "ICT in geography" with support of Faculty of Geography and Regional Studies, University of Warsaw.
Conflicts of Interest
The author declares no conflict of interest.
Figure 1. Map instances derived from geospatial database. Legend of symbols: 2D, 3D—spatial dimensions, T—time, H—height/depth, A—animation, I—interaction, SciVis—scientific visualization.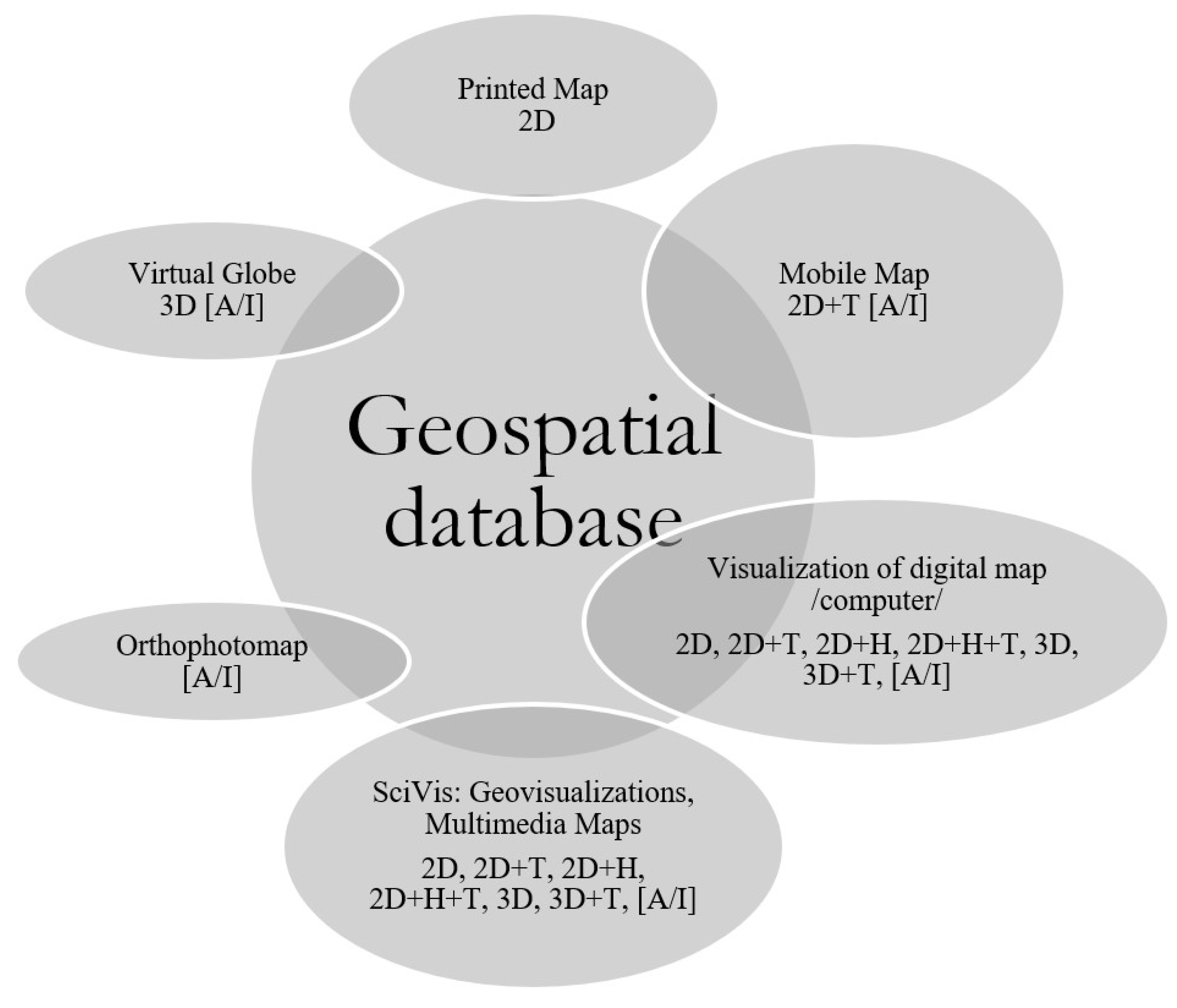 Figure 3. Contextual analysis of titles of publications concerning augmented reality (AR) in the Microsoft Academic base since 2009.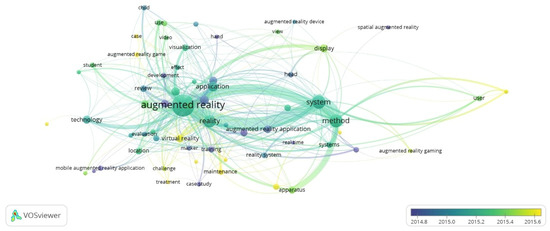 Figure 4. Contextual analysis of titles of publications concerning AR in the Google Scholar base since 2014.
Figure 5. Contextual analysis of titles of publications concerning AR and map Google Scholar base since 2014.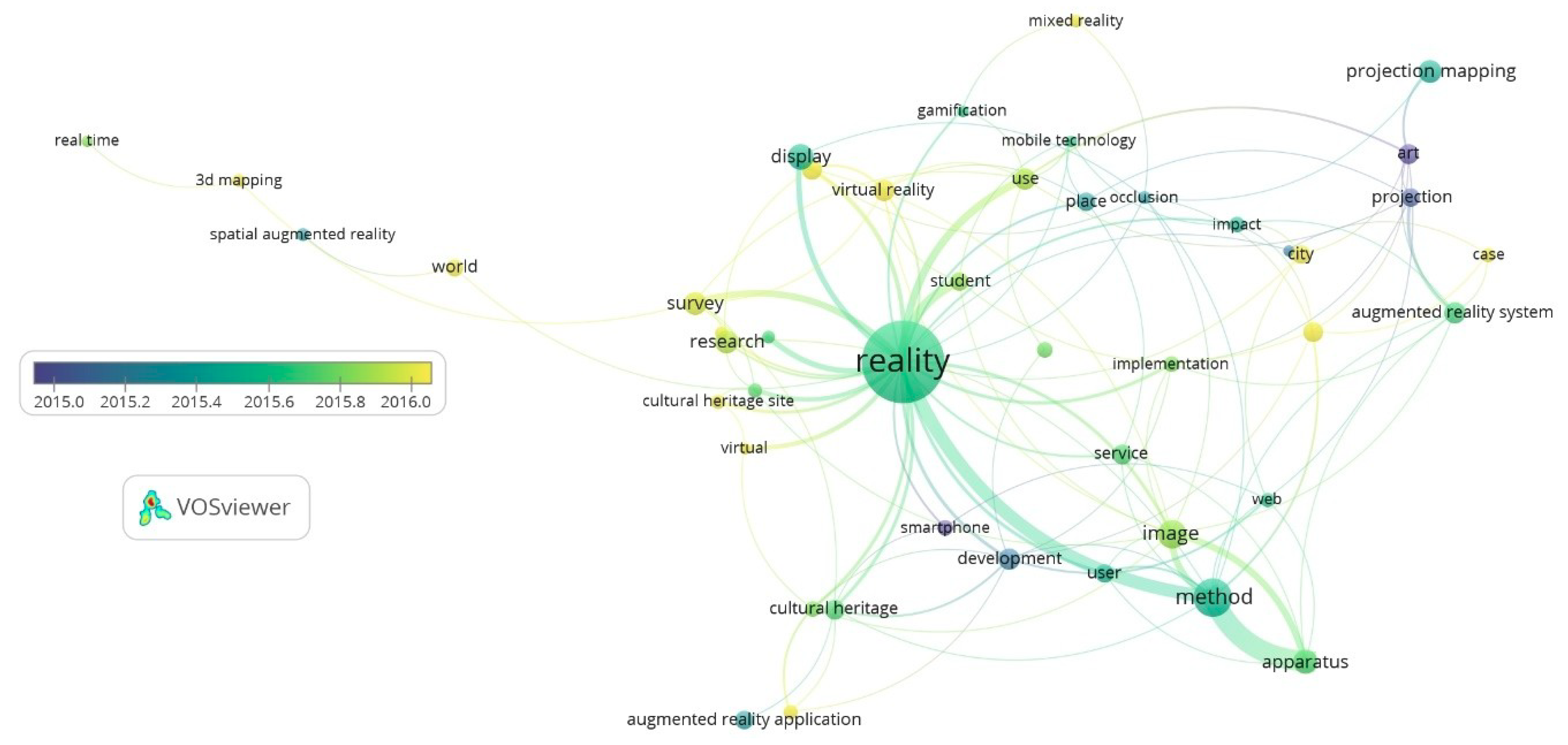 © 2018 by the author. Licensee MDPI, Basel, Switzerland. This article is an open access article distributed under the terms and conditions of the Creative Commons Attribution (CC BY) license (http://creativecommons.org/licenses/by/4.0/).