Open Access This article is
freely available
re-usable
Article
Modeling the Impact of the Implementation of a Submerged Structure on Surf Zone Sandbar Dynamics
1
BRGM, Occitanie-Pyrénées-Méditerranée (SGR/LRO), 1039 Rue de Pinville, 34000 Montpellier, France
2
CNRS, UMR EPOC, University Bordeaux, Allée Geoffroy Saint-Hilaire, CS 50023, 33615 Pessac, France
*
Author to whom correspondence should be addressed.
Received: 4 April 2019 / Accepted: 19 April 2019 / Published: 25 April 2019
Abstract
:
Coastal defense strategies based on structures are increasingly unpopular as they are costly, leave lasting scars on the landscape, and sometimes have limited effectiveness or even adverse impacts. While a clear improvement concerning aesthetic considerations using soft submerged breakwater is undeniable, their design has often focused on wave transmission processes across the crest of the structure, overlooking short- to medium-term morphodynamic responses. In this study, we used a time- and depth-averaged morphodynamic model to investigate the impact of the implementation of a submerged breakwater on surf zone sandbar dynamics at the beach of Sète, SE France. The hydrodynamic module was calibrated with data collected during a field experiment using three current profilers deployed to capture rip-cell circulation at the edge of the structure. The model showed good agreement with measurements, particularly for the longshore component of the flow (RMSE = 0.07 m/s). Results showed that alongshore differential wave breaking at the edge of the submerged breakwater drove an intense (0.4 m/s) two-dimensional circulation for low- to moderate-energy waves. Simulations indicated that inner-bar rip channel development, which was observed prior to the submerged reef implementation, was inhibited in the lee of the structure as rip-cell circulation across the inner bar disappeared owing to persistently low-energy breaking waves. The cross-shore sandbar dynamics in the lee of the structure were also impacted due to the drastic decrease of the offshore-directed flow over the inner-bar during energetic events. This paper highlights that implementation of a submerged breakwater results in larges changes in nearshore hydrodynamics that, in turn, can affect overall surf zone sandbar behavior.
Keywords:
submerged breakwater; morphodynamic model; sandbar dynamics
2. Study Area
The Lido of Sète is a narrow coastal sandy barrier facing the Mediterranean Sea located in the northern part of the Gulf of Lions (
Figure 1
a). The studied coast (red box in
Figure 1
a) is a semidiurnal microtidal environment, with a moderate-energy modal wave climate and episodic severe storms. The annual mean significant wave height is 0.52 m while the 98% quantile reaches 2.2 m, defining the episodic storm signature with events typically characterized by wave periods around 8 s [
32
]. Waves associated with storms do not exceed 3.5% of occurrences and arrive mainly from ESE (77% of occurrences), almost normal to the coastline, while storms from the S are less frequent (16% of occurrences) [
34
].
The Lido of Sète has experienced chronic marine erosion during the last decades, with a 50 m beach retreat in less than 50 years [
35
]. This is particularly problematic as the beach system is of major interest from the perspective of socio-economic activity with an attendance of up to 1 million beachgoers per year [
36
]. A large beach management program was developed at the Lido to fight against chronic erosion [
37
] involving the installation of an SBW 800 m in length in early 2013 (extended to 1 km shortly after) on the subdued outer bar located 350 m from the shore (
Figure 1
b). The breakwater consists of two rows of sand containers 50 m in length and 6 m in width, extending 1 km and 12 m in the alongshore and cross-shore directions, respectively. It is 3 m high, with its crest in approximately 2 m water depth [
32
].
The impact of the SBW has been previously investigated using a series of topo-bathymetric data [
38
] and video monitoring [
32
]. Observations indicated that the structure had a profound impact on nearshore system morphological behavior. In the protected sector just shoreward of the reef, the initially crescentic and slightly oblique sandbar located close to the shore initiated a clockwise rotation and became progressively linear predominantly under high wave energy events (
Figure 1
b–d). One kilometer away, southwestward along the adjacent coast, the inner bar pursued its natural net offshore migration (NOM) cycle. Such contrasted cross-shore behaviors between the two sectors led to the split of the entire inner bar a few hundred meters away from the SBW extremity. The typical formation of a salient was not observed. Instead, shoreline coupled to the new alongshore uniform sandbar geometry, which resulted in a slight seaward migration of the shoreline in the lee of the SBW.
5. Discussion and Conclusions
Author Contributions
All co-authors have contributed substantially to the research concept, field campaign and to the execution of the numerical experiment. Y.B. provided his expertise in operational storm event forecasting. Y.B. and C.B. setup and performed the field experiments and analyzed field measurements. B.C. provided his expertise on numerical modeling. C.B. and B.C. designed the numerical modeling experiments and analyzed model results.
Funding
This research was funded by financial support from BRGM, DREAL-Occitanie, and Sète AggloPôle Méditerranée through a PhD grant. This research received also external funding from Agence National de la Recherche (ANR) grant ANR-17-CE01-0014 (SONO project).
Acknowledgments
C.B. and B.C. gratefully acknowledge B. Dubarbier for his technical support on 2DBeach numerical model. L. Desbiendras, J. Tesson, R. Belon, M. Giusti, Y. Colombet, P-A Picand, F. Longueville, A. Latapy, S. Hureau, and M. Guebba are greatly acknowledged for their help in processing video data. We thank the two anonymous reviewers for providing constructive feedback that helped improving our manuscript.
Conflicts of Interest
The authors declare no conflict of interest.

Figure 1. Large-scale (a) and nearshore-scale (b–d) bathymetries, which were further used for the computations. (a) Bathymetry of the Gulf of Lions (copyright Service Hydrographique et Océanographique de la Marine (SHOM)) with the directional wave buoy (B), meteorological station (M), and tidal gauge (T) locations indicated. (b–d) High-resolution bathymetry of the measurement site in local coordinates with the submerged breakwater (SBW) and instrument locations indicated.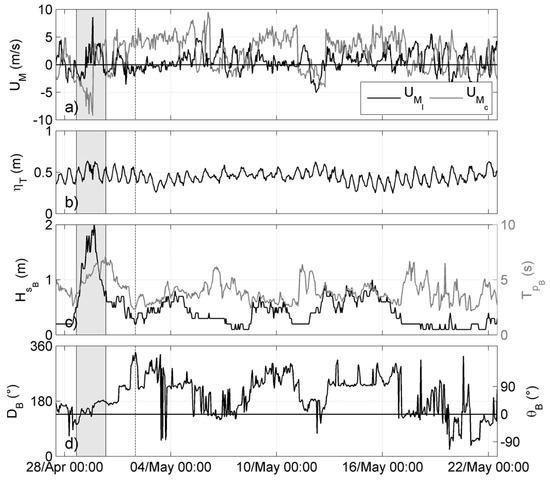 Figure 2. Time series of wind velocity (a); water levels (b); offshore significant wave height and peak period (c); and wave direction and angle of wave incidence with respect to shore-normal (d) during the field experiment. Wind velocity and direction are decomposed into longshore (, positive northeastward) and cross-shore wind velocity components (, positive onshore). Water levels () are given with respect to lowest astronomical tide reference. The vertical gray line indicates the date of a bathymetric survey.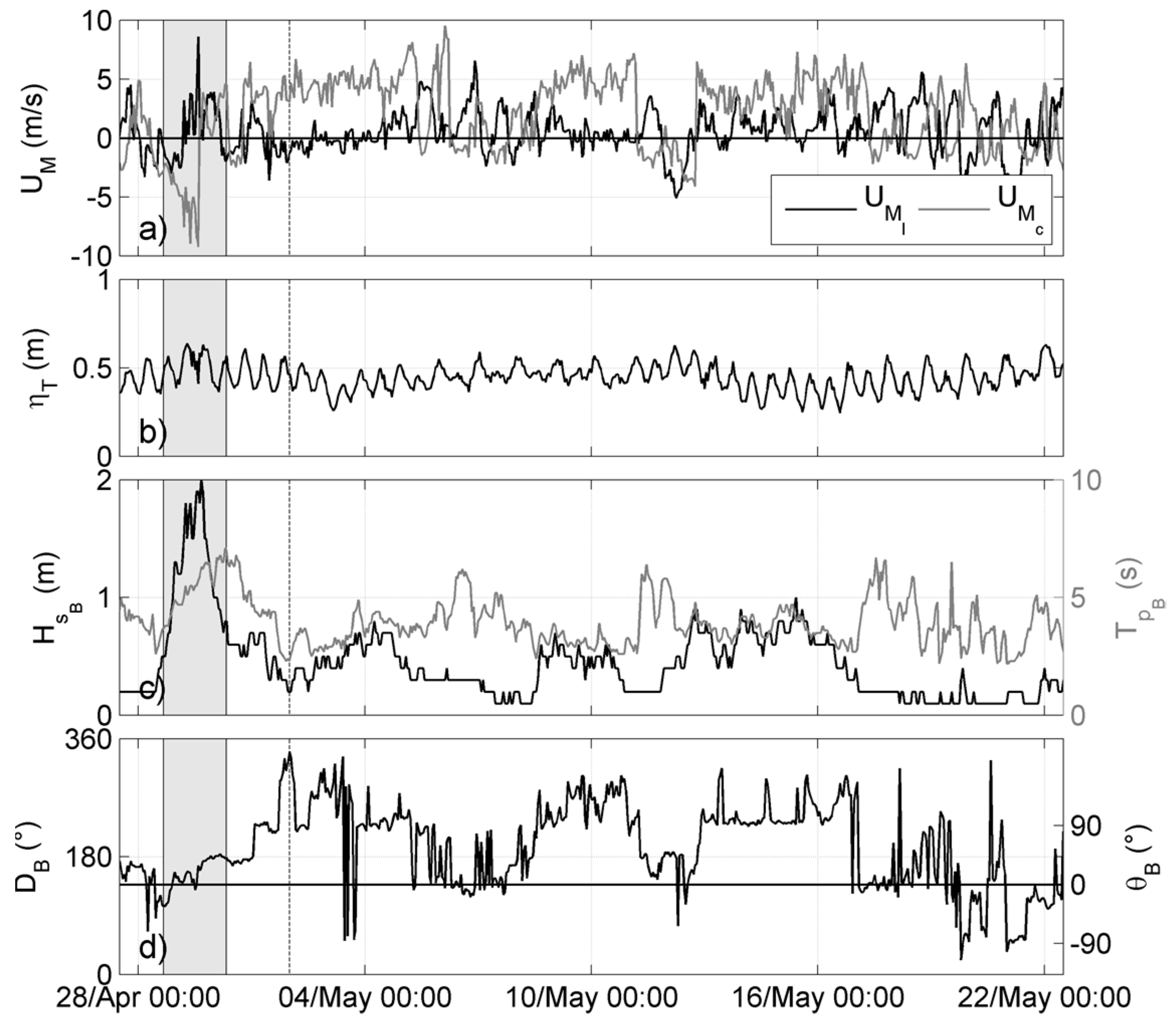 Figure 3. (a–e) Plan view time-exposure images showing inner bar morphology (green curve) and SBW position. (f) Temporal evolution of the inner bar change index (). Green crosses indicate the date and value obtained from the illustrated time exposure panels (a–e), while blue triangles correspond to the date and value computed from bathymetric surveys. Black dashed line corresponds to the date of SBW implementation. (g) Temporal evolution of significant wave height () measured at the offshore wave buoy location.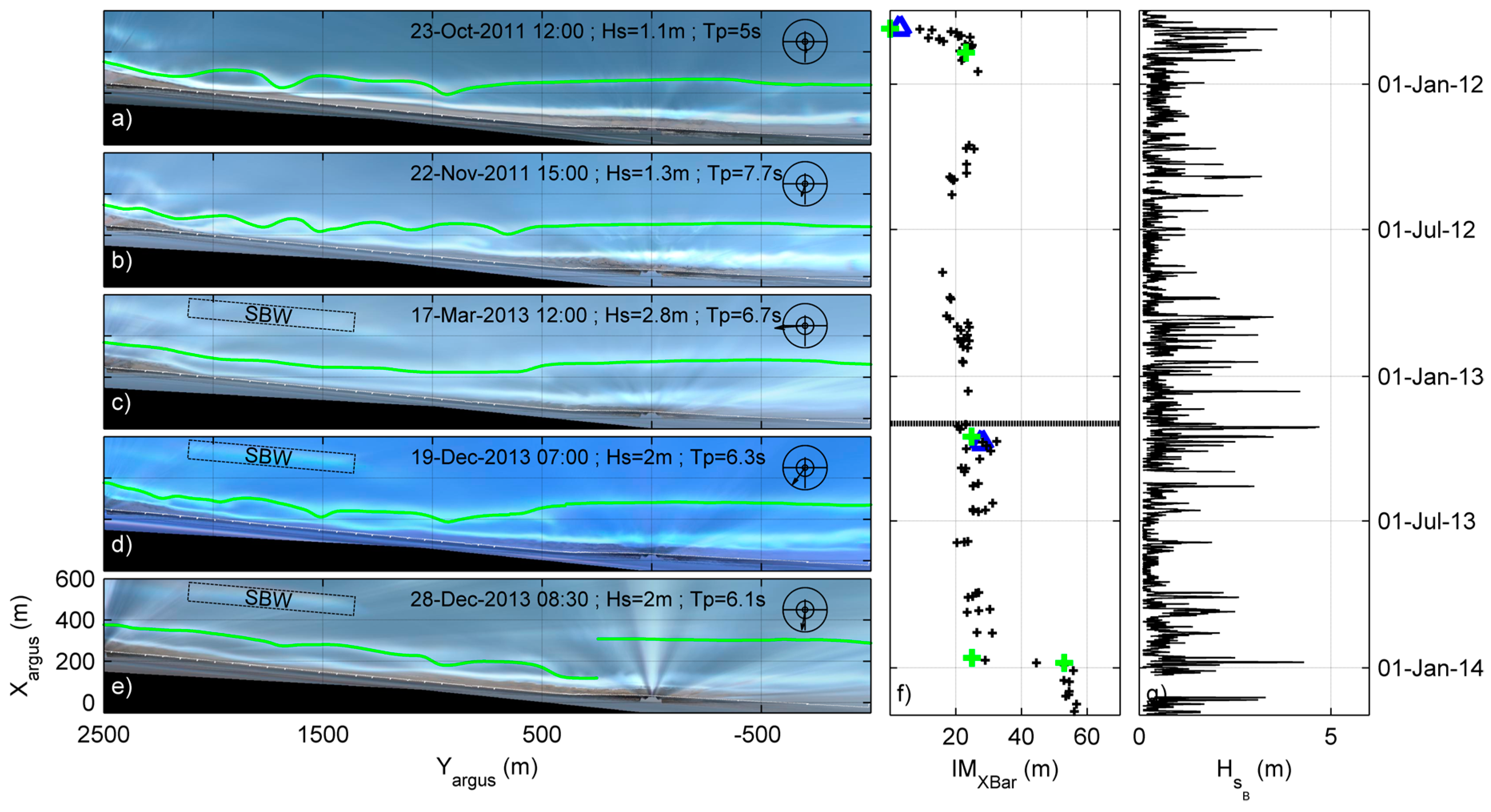 Figure 4. Times series of wind velocity (a); offshore significant wave height and peak period (b); wave direction and angle of wave incidence with respect to shore-normal (c) along the energetic event; (d) bathymetry of the instrumented barred morphology around the SBW (black lines illustrate the bathymetric survey); and (e–j) vertical profile of longshore () and cross-shore () current velocities ( to ).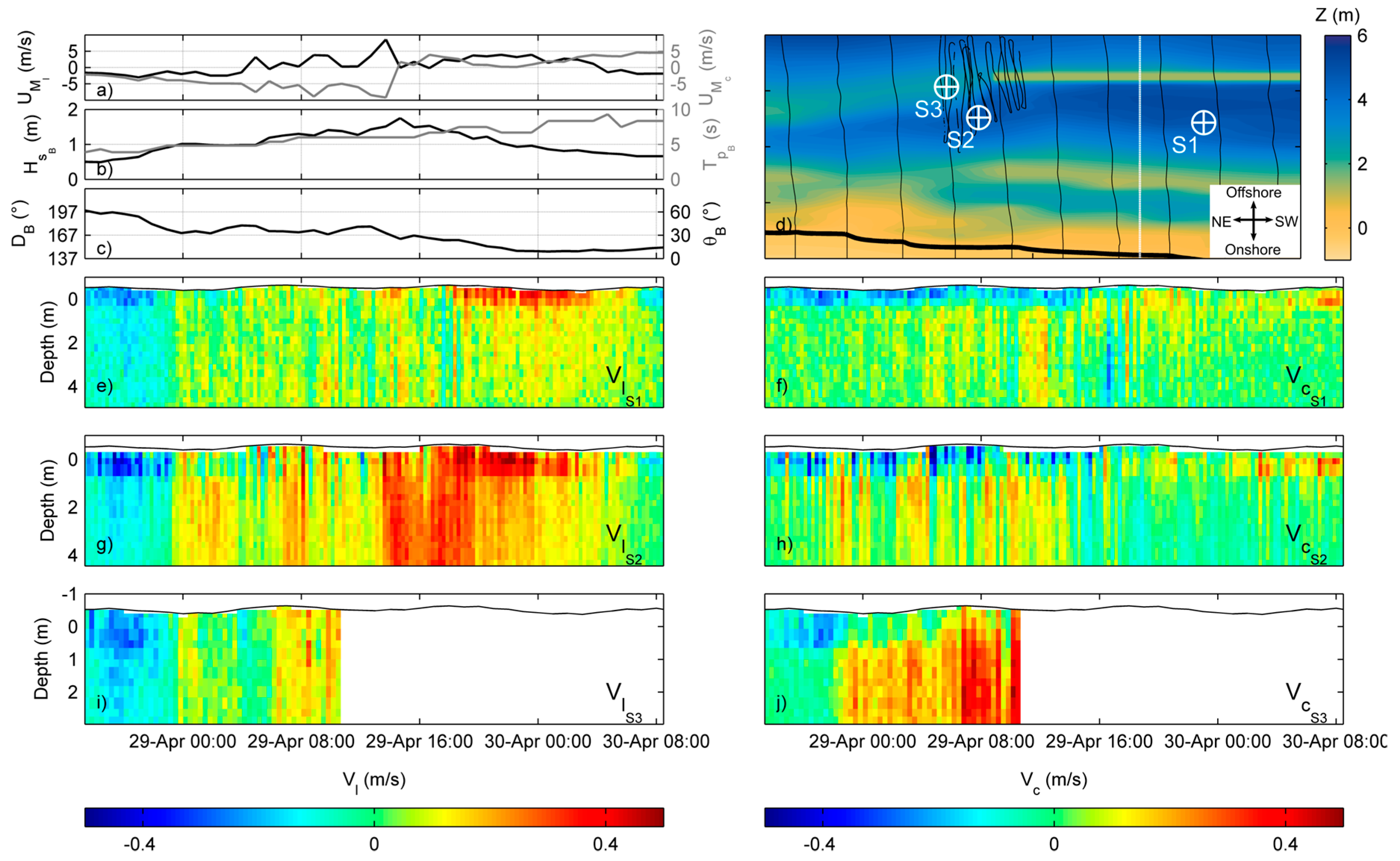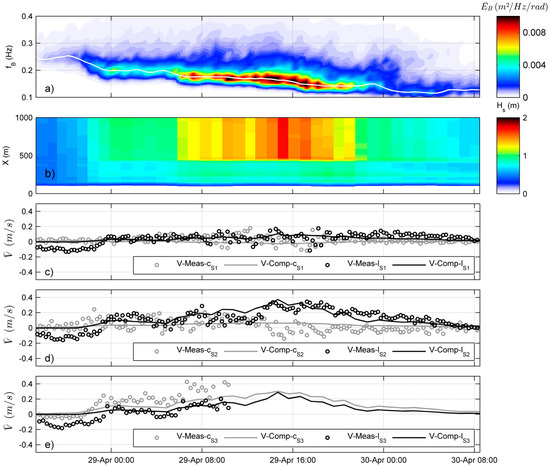 Figure 5.
Comparison of measured (dots) and computed (line) flow quantities during storm. (
a
) Offshore wave energy measured by the buoy and (
b
) computed significant wave height through a cross-shore transect located in the SBW area (white transect
Figure 4
d). Panels (
c
–
e
) show in black (grey) the depth-averaged alongshore (cross-shore) velocity component (wave return flow activated in equations).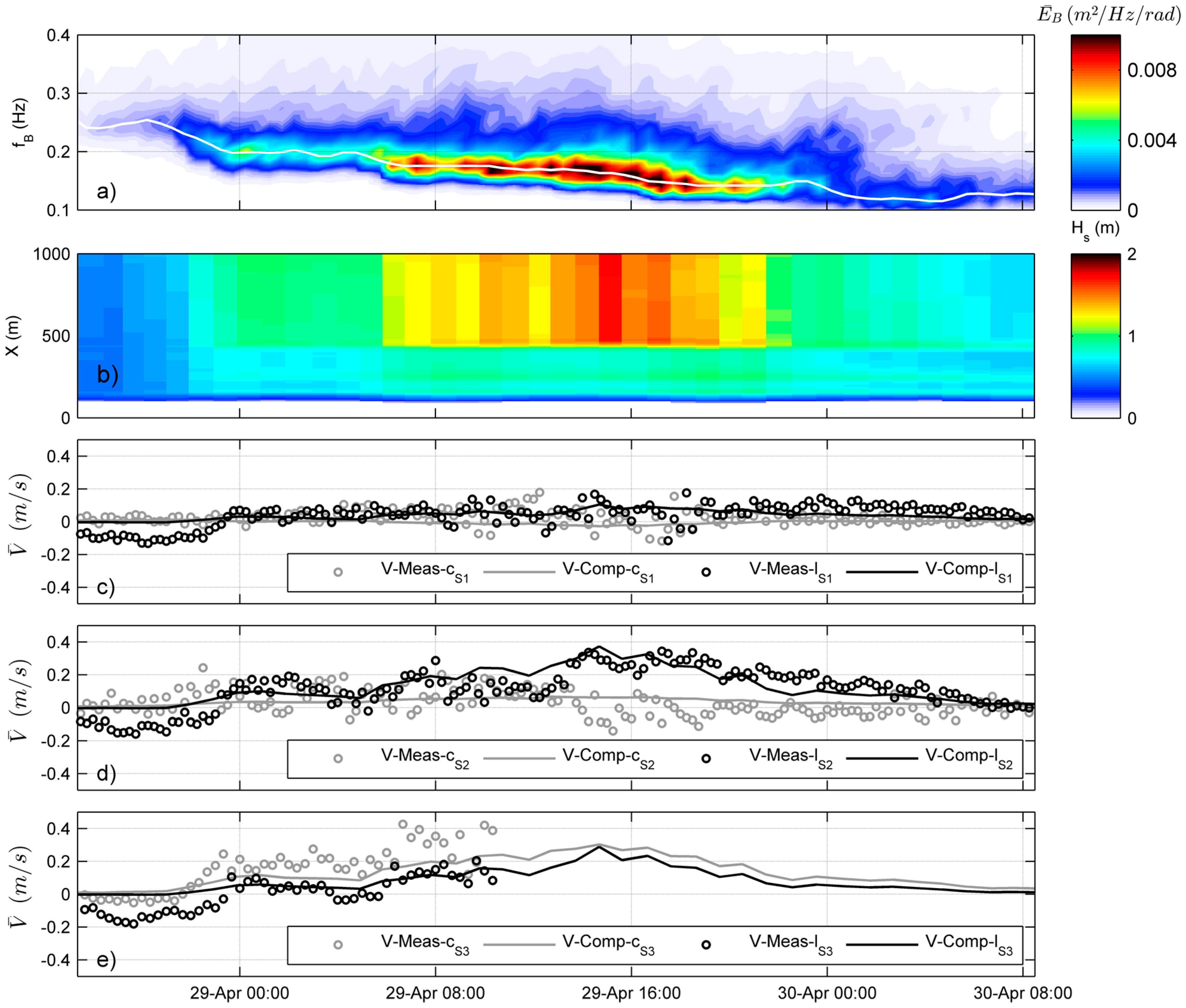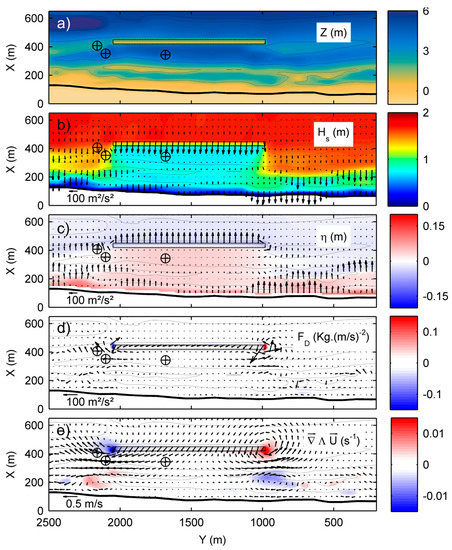 Figure 6. Hydrodynamics pattern at the peak of the event for offshore waves with , , and . (a) Nearshore bathymetry; (b) significant wave height field colored and resulting gradients in radiation stress (arrows); (c) pressure gradients (arrows) superimposed on the mean surface elevation field () colored; (d) residual forcing (arrows) superimposed on the vorticity forcing term field related to differential broken wave energy dissipation ; and (e) resulting wave-driven circulations (arrows) and vorticity ().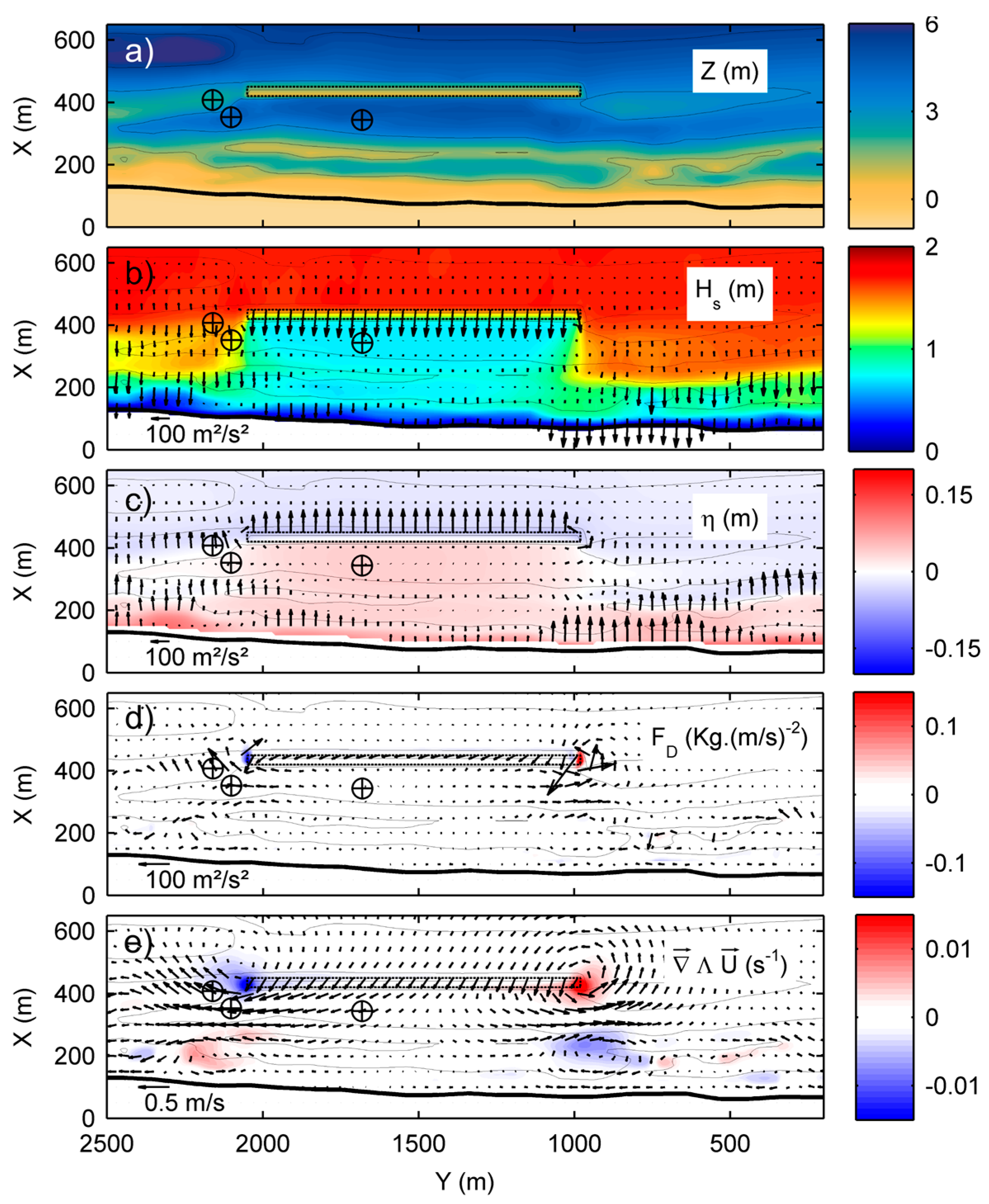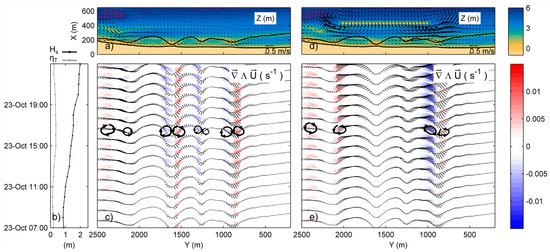 Figure 7. Wave-driven circulation during October 2011 storm without (left) and with SBW (right). (a,d) Bathymetry with the inner-bar crest location (black line) superimposed and resulting wave driven circulations (arrows) at the storm peak. (b) Time series of offshore wave height () and water level () at the nested grid boundary. (c,e) Time series of vorticity across the inner bar superimposed on the current field velocity (arrows). Thick looped arrows indicate the dominant rotational characteristic of the flow.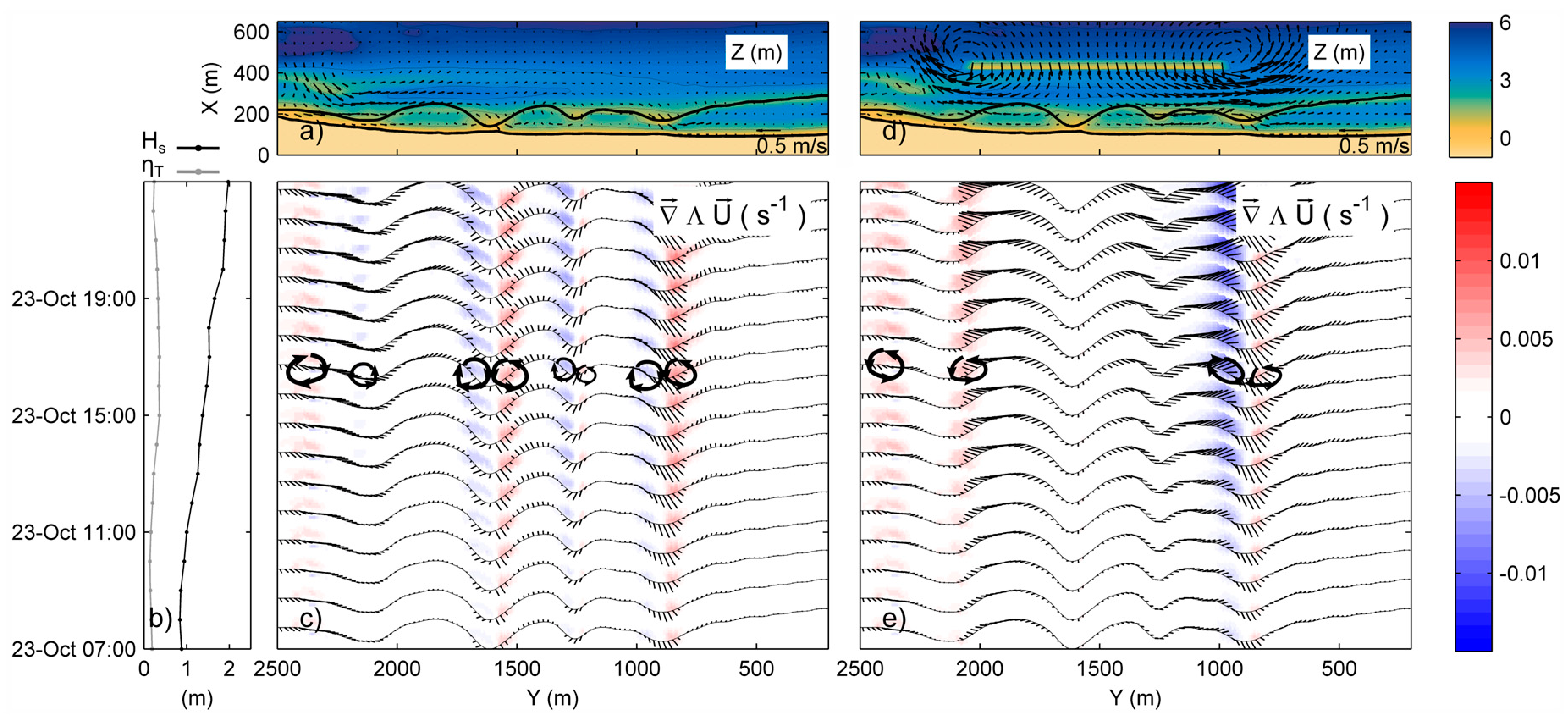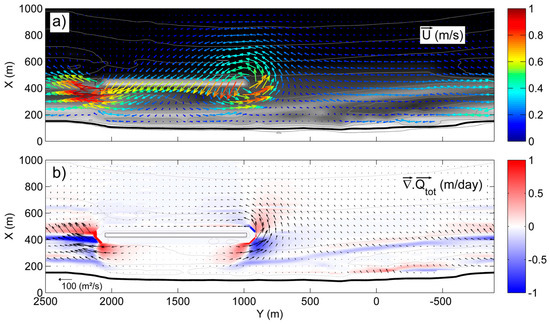 Figure 8. Hydrodynamics and sediment transport at the peak of the December 2013 storm event for offshore waves with , , and at the nested grid boundary. (a) Resulting wave-driven circulations (arrows) and (b) erosion/accretion patterns () driven by the total sediment transport with the arrows indicating the sediment fluxes.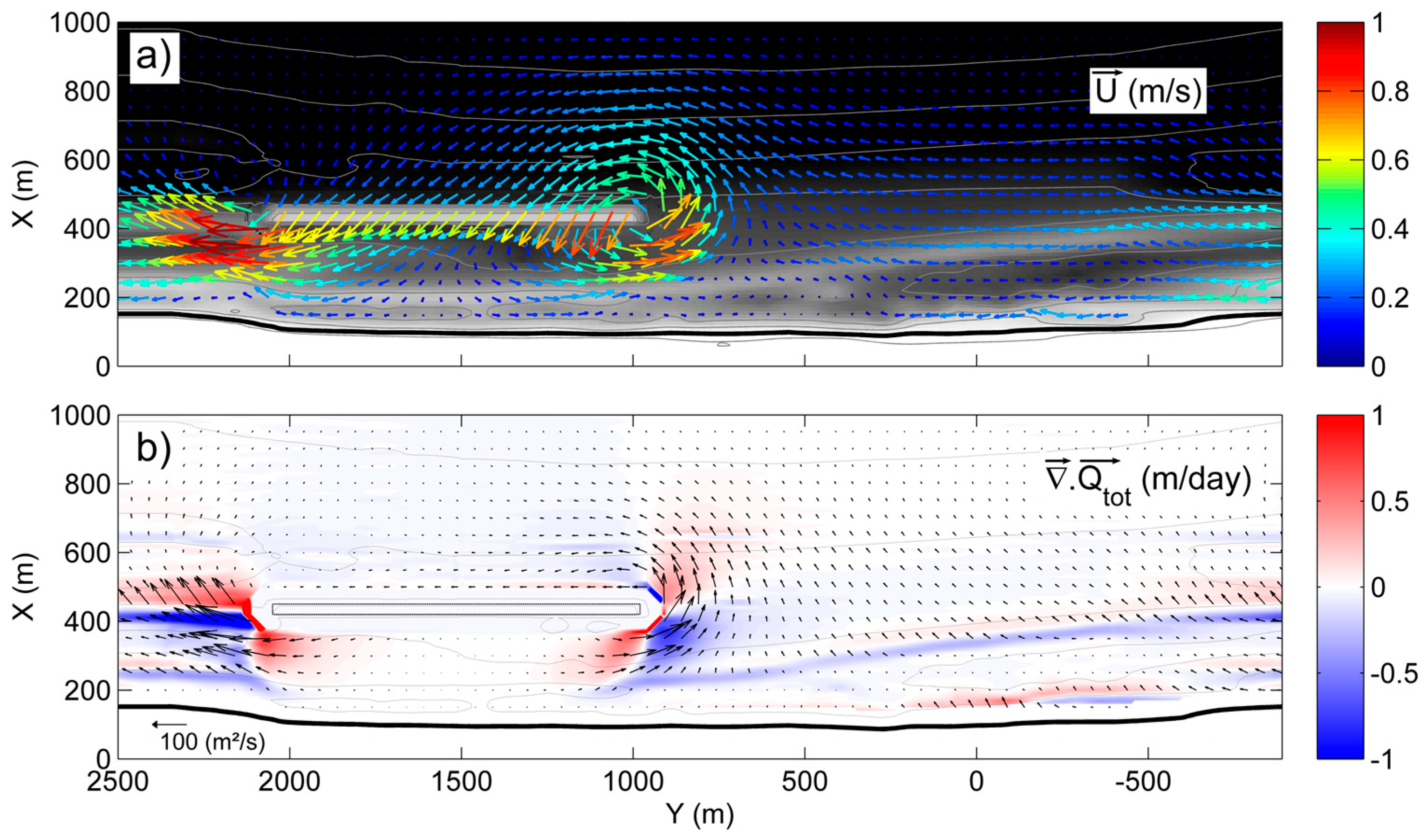 Figure 9. Bathymetry with superimposed wave-induced currents at (a,c) t = 0 h and (b,d) t = 50 h for waves with = 1.5 m, = 8 s, and = 15° starting from an alongshore uniform morphology for a beach without (left-hand panels) and with SBW (right-hand panels).

| Station | BSS | RMSE | R2 | |
| --- | --- | --- | --- | --- |
| | 0.52 | 0.06 | 0.26 | 0.07 |
| | 0.83 | 0.08 | 0.63 | 0.13 |
| | 0.45 | 0.08 | 0.33 | 0.11 |
| | 0.13 | 0.05 | 0 | 0.04 |
| | 0.33 | 0.07 | 0 | 0.07 |
| | 0.77 | 0.10 | 0.42 | 0.14 |

© 2019 by the authors. Licensee MDPI, Basel, Switzerland. This article is an open access article distributed under the terms and conditions of the Creative Commons Attribution (CC BY) license (http://creativecommons.org/licenses/by/4.0/).