Open Access This article is
freely available
re-usable
Technical Note
Assessing Topsoil Movement in Rotary Harrowing Process by RFID (Radio-Frequency Identification) Technique
1
Department TESAF, University of Padova, viale dell'Università, 16, I-35020 Legnaro (PD), Italy
2
Agricultural Engineering Research Institute (AEnRI), Agricultural Research Centre, Giza 12619, Egypt
3
Faculty of Engineering, Universidad Austral de Chile, Campus Miraflores, Valdivia 5090000, Chile
4
Universidad Austral de Chile, RINA–Natural and Anthropogenic Risks Research Center, Campus Miraflores, Valdivia 5090000, Chile
*
Author to whom correspondence should be addressed.
Received: 1 July 2019 / Accepted: 15 August 2019 / Published: 19 August 2019
Abstract
:
Harrowing is a process that reduces the size of soil clods and prepares the field for seeding. Rotary harrows are a common piece of equipment in North Italy that consists of teeth rotating around a vertical axis with a processing depth of 5–15 cm. In this study, the topsoil movement in terms of distance and direction were estimated at different rotary harrow working conditions. A total of eight tests was performed using two forward speeds of 1 and 3 km/h, two working depths of 6 and 10 cm and two levelling bar positions of 0 and 10 cm from the ground. In order to simulate and follow topsoil movement, Radio-Frequency Identification (RFID) tags were inserted into cork stoppers and distributed in a regular pattern over the soil. Tags were distributed in six lines along the working width and repeated in three rows for each test: a total number of 144 tags was tracked. Results showed that there were no significant differences between the performed tests, on the other hand the reported tests highlight the effectiveness of the RFID monitoring approach.
Keywords:
rotary harrow; secondary tillage; soil erosion; RFID
2. Materials and Methods
This study was conducted at a 5 ha field in Agripolis experimental field (University of Padova, Italy). The soil can be defined, according to the United State Department of Agriculture (USDA), as loamy and containing 46% sand, 30% silt, and 24% clay. Primary tillage was applied at the end of the winter season and followed by a harrowing process as secondary tillage on May 2018 in order to prepare the soil for soybean sowing. It is worth noting how most of crop residues are buried after primary tillage, especially in the case of mouldboard ploughing. Such conditions were helpful in order to maximize the understanding of implemented RFID tags dynamics.
3. Results and Discussion
4. Conclusions
Field trials were performed to investigate the effect of different rotary harrow working conditions of forward speed, levelling bar, and tillage depth on topsoil aggregates displacement using RFID technique. Results showed no significant difference between treatments, while the higher displacement was noticed from the levelling bar factor. The average movement was about 2.3 m in the machine direction and exceeded 5 m in different cases. Lateral movements were limited to 0.03 m on average because of the different rotating directions between each tine pairs. Also, at the levelling bar of 0.1 m, 60% of trackers were buried because of the high mixing rate. Furthermore, using RFID tags and the antenna was a promising application in this field, since it is providing a robust way to simulate different materials.
Author Contributions
Conceptualization and data analysis F.M. and A.K.; Technical, practical support and method optimization for RFID trackers R.R. and L.P.; Writing and reviewing A.K. and F.M.; Supervision L.S. and F.M.
Funding
This research was financially supported by the CARIPARO foundation (AGRIGNSSVeneto-Precision positioning for precision agriculture project), University of Padova research projects (BIRD167919-Sediment transfer processes in an Alpine basin: Sediment cascades from hillslopes to the channel network) and (BIRD185008-Sediment dynamics in alpine environment: analysis of sediment mobility, propagation velocity and bedload magnitude in high gradient streams).
Acknowledgments
The authors acknowledge researchers involved in the project PRIN 2015 2015KTY5NW for their support in connection with the development of the technique and with the experiment.
Conflicts of Interest
The authors declare no conflict of interest.

Figure 1.
On the left schematic view and on the right a picture of the implemented harrowing machine, with indication of the working depth
h
of the rotary tines (
A
) and of the height
k
of the levelling bar (
B
) closing the back part of the working volume; Soil is eventually levelled by a couple of cage rollers (
C
).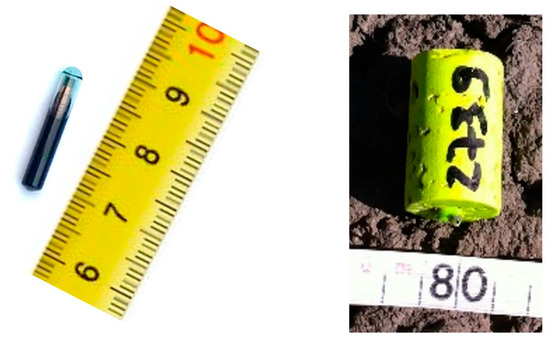 Figure 2. On the left a picture if the RFID tag, and on the right a cork stopper with RFID inside, painted and numbered.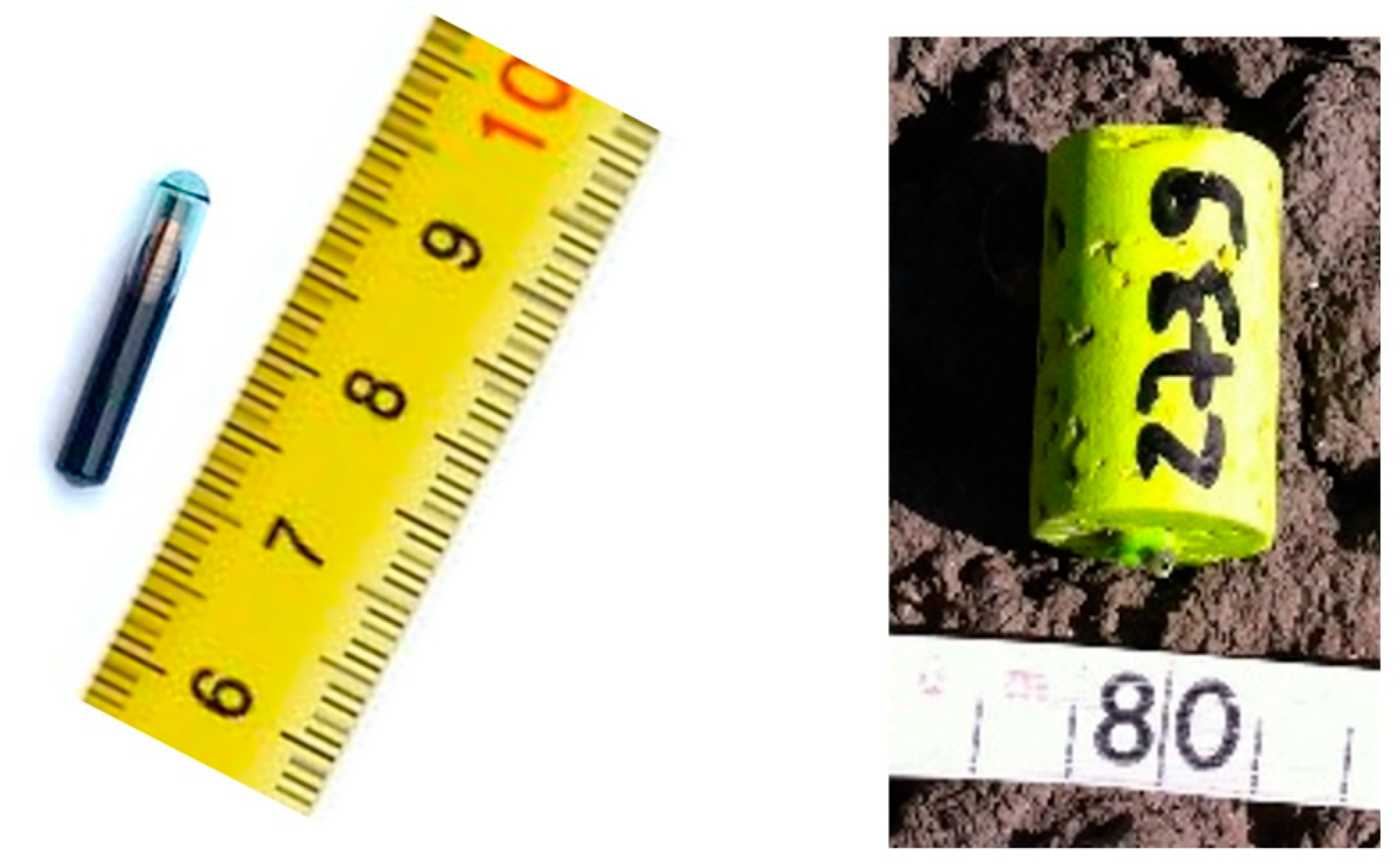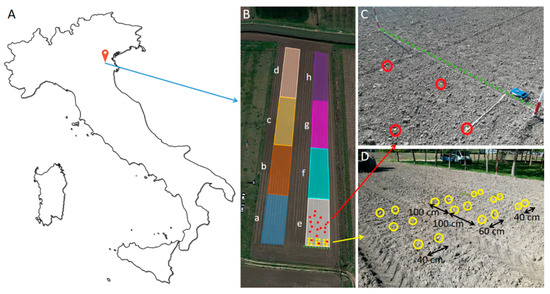 Figure 3. (A)—Geographical localization of the experimental site in Italy. (B)—Experimental area with representation of the experimental design. (C)—Some of the tags after tillage operation. (D)—Trackers distribution on undisturbed soil, before harrowing process.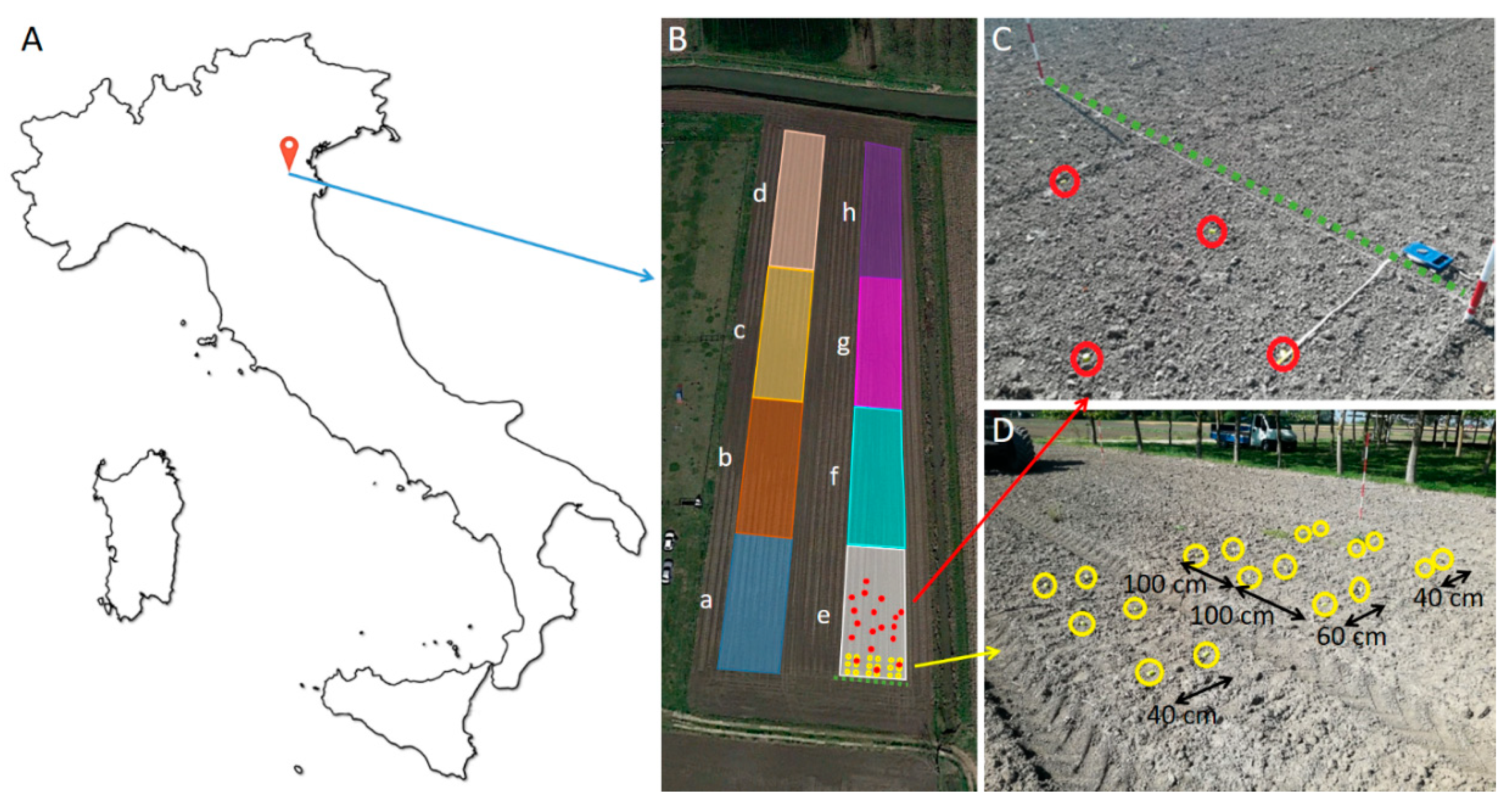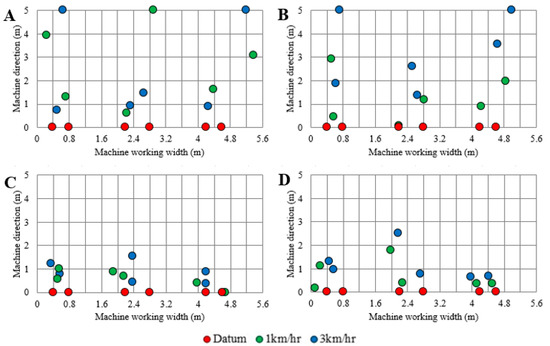 Figure 4. Average trackers movement at different rotary harrow working conditions where: (A) at level bar of zero and depth of 6 cm, (B) at level bar of zero and depth of 10 cm, (C) at level bar of 10 cm and depth of 6 cm, and (D) at level bar of 10 cm and depth of 10 cm.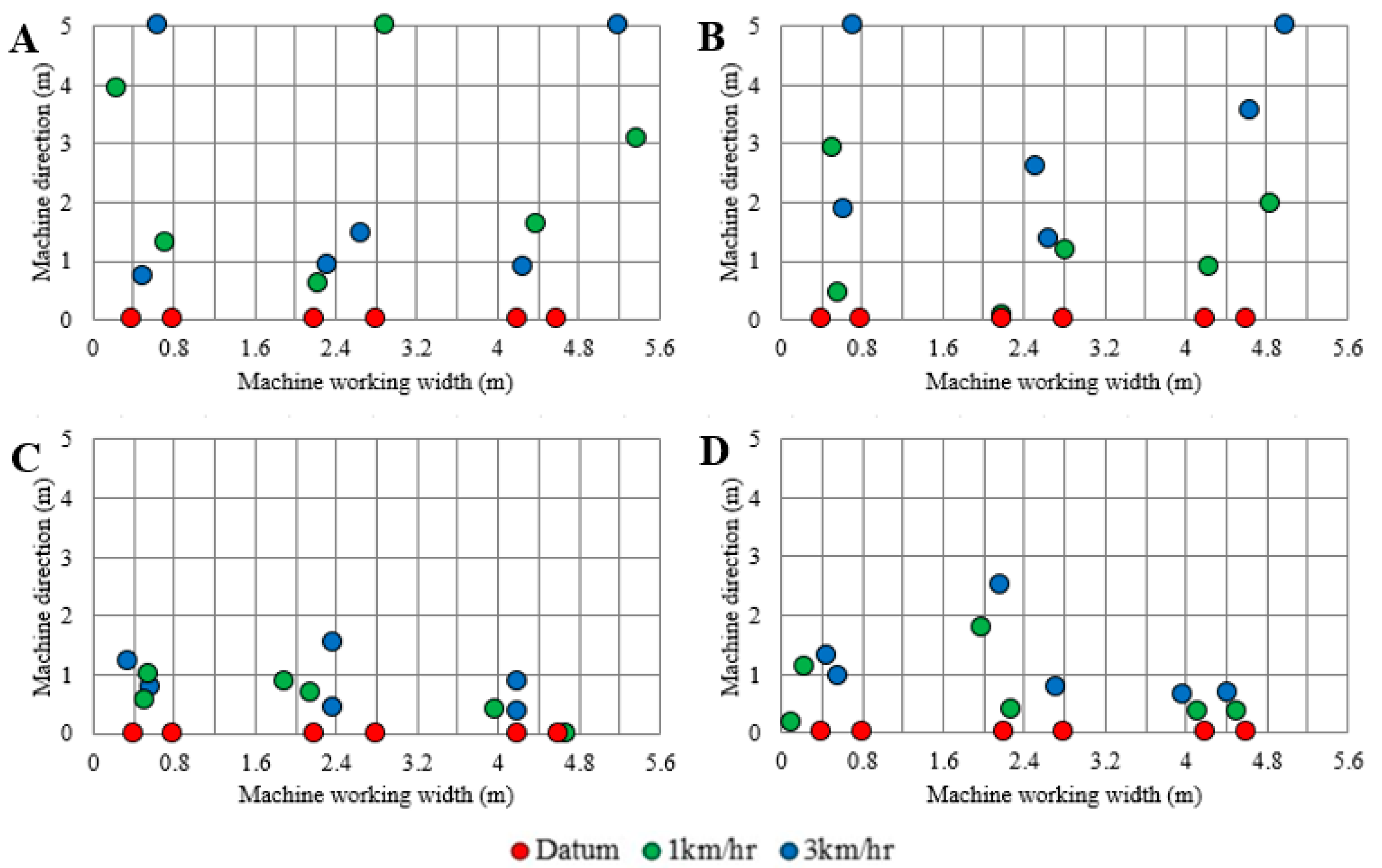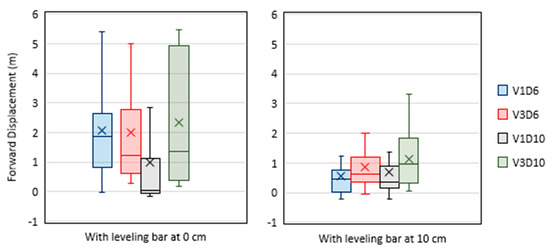 Figure 5. Average trackers forward movement at different working conditions where V1 and V3 refer to forward speed of 1 and 3 km/h. Also, D6 and D10 refer to working depth of 0.06 and 0.1 m.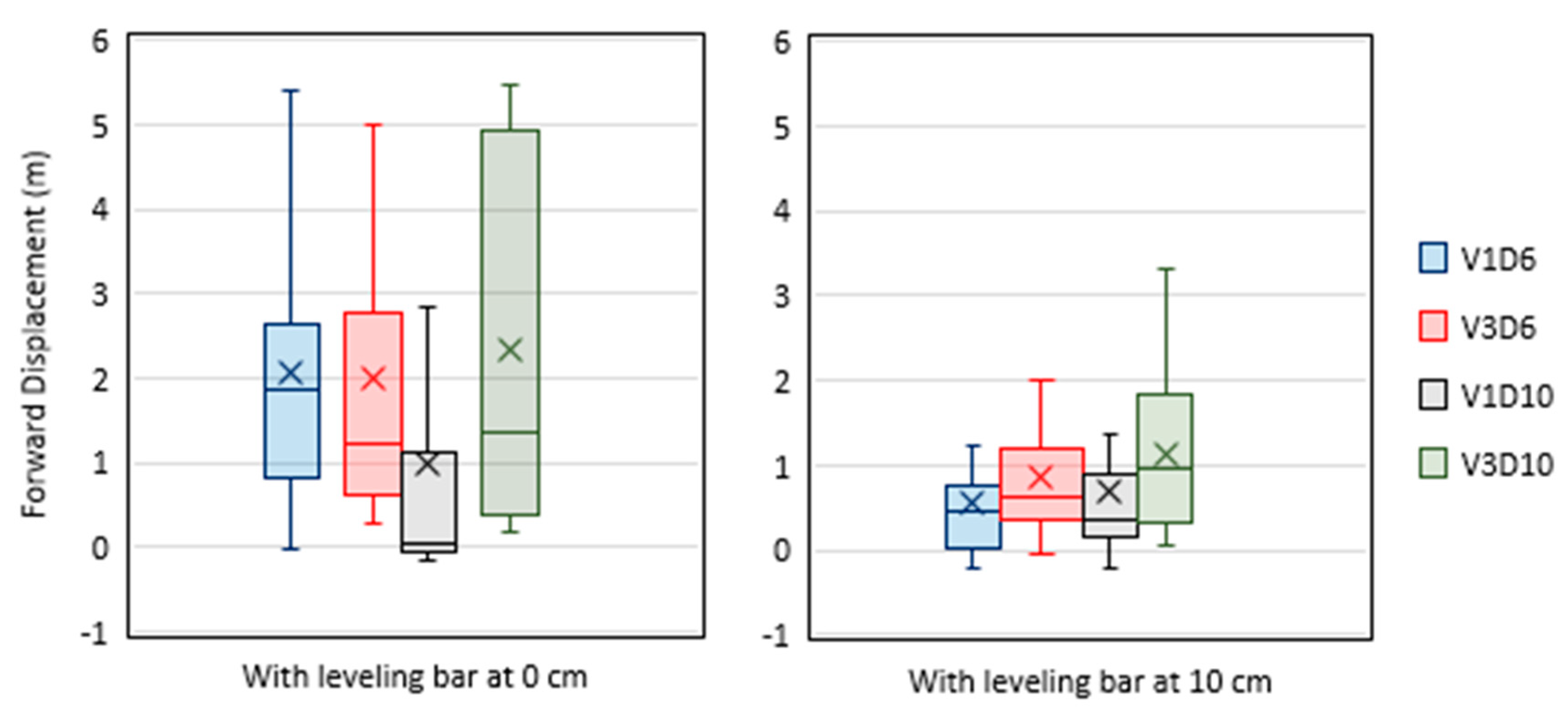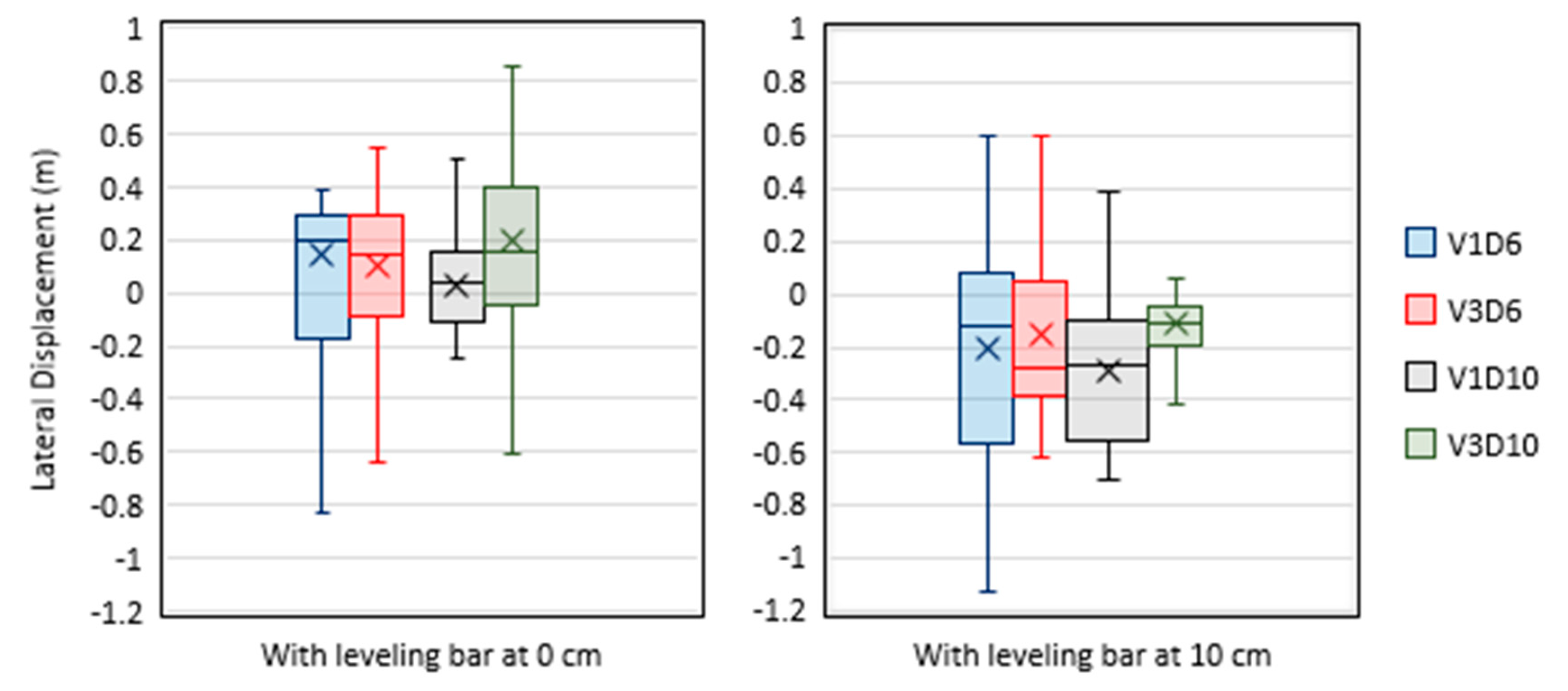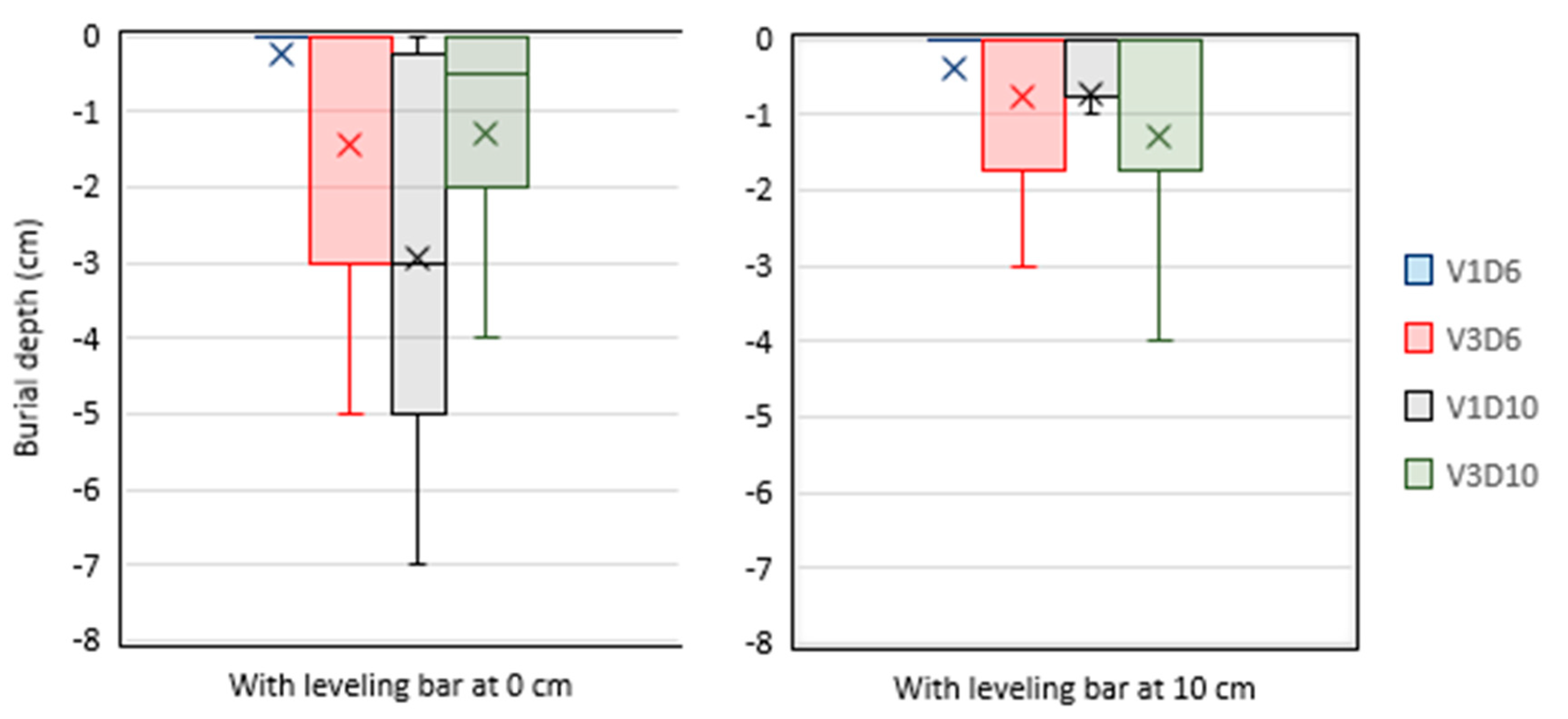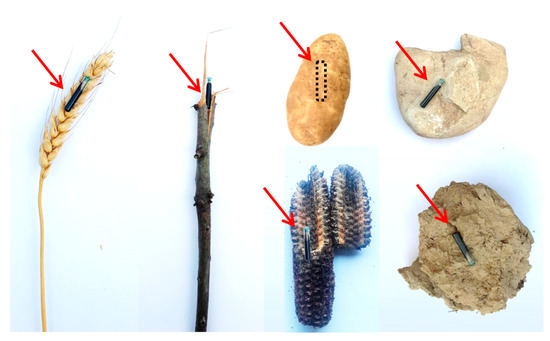 Figure 8. Suggested applications for the use of Radio-Frequency Identification (RFID) to simulate or monitor crop residues, straw, soil clods and potato in agricultural experiments.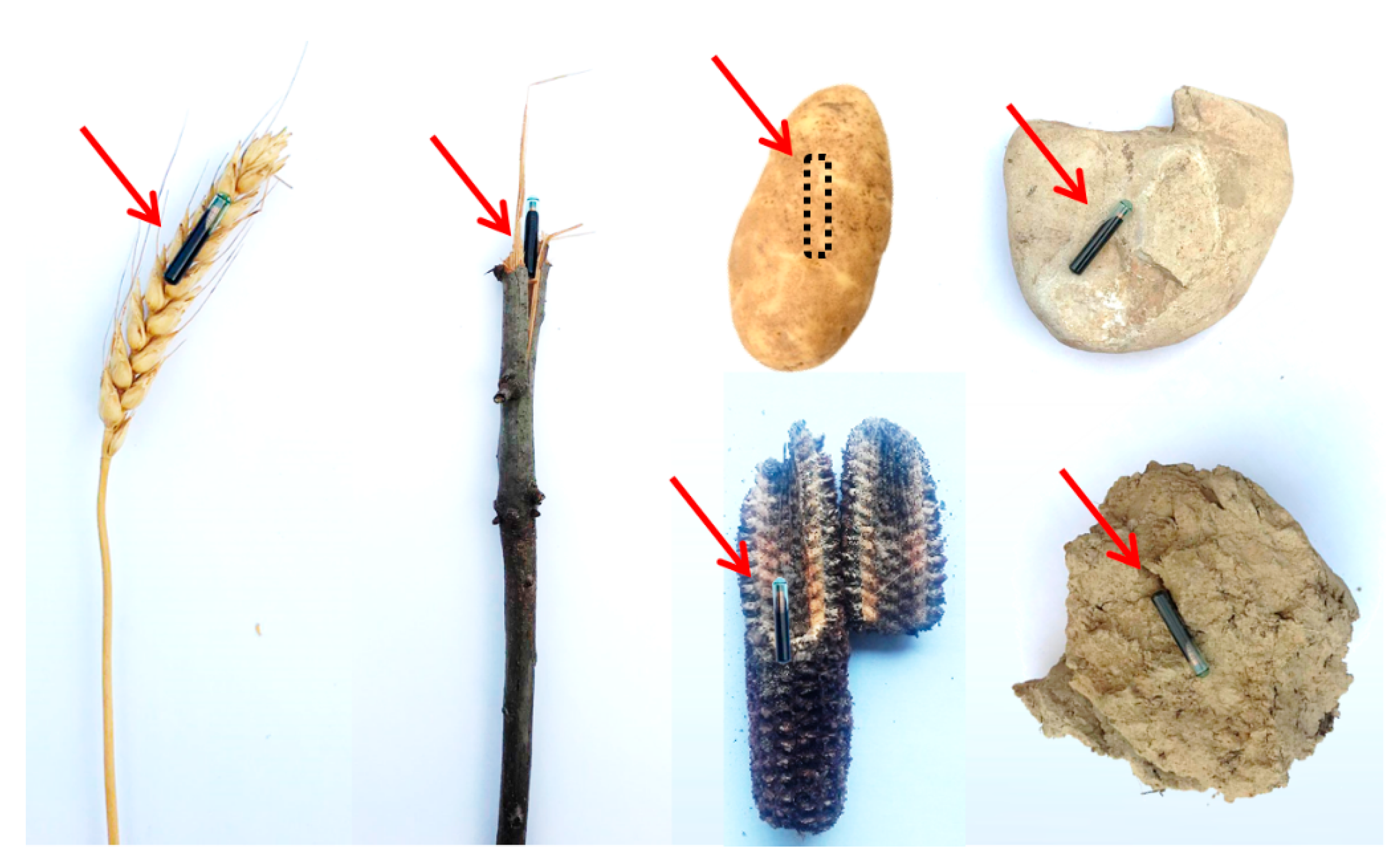 © 2019 by the authors. Licensee MDPI, Basel, Switzerland. This article is an open access article distributed under the terms and conditions of the Creative Commons Attribution (CC BY) license (http://creativecommons.org/licenses/by/4.0/).