Sustainable Weed Management for Conservation Agriculture: Options for Smallholder Farmers
1
Engineering for Development, 3 Bourneside, Bedford MK41 7EG, UK
2
Plant Production and Protection Division, FAO, Viale Delle Terme di Caracalla, 00153 Rome, Italy
3
FAO Representative in Bolivia, Calle 14, No 8008, Calacoto, La Paz, Bolivia
*
Author to whom correspondence should be addressed.
Received: 25 May 2018 / Revised: 12 July 2018 / Accepted: 19 July 2018 / Published: 1 August 2018
Abstract
Land degradation and soil fertility deterioration are two of the main causes of agricultural production stagnation and decline in many parts of the world. The model of crop production based on mechanical soil tillage and exposed soils is typically accompanied by negative effects on the natural resource base of the farming environment, which can be so serious that they jeopardize agricultural productive potential in the future. This form of agriculture is destructive to soil health and accelerates the loss of soil by increasing its mineralization and erosion rates. Conservation agriculture, a system avoiding or minimizing soil mechanical disturbance (no-tillage) combined with soil cover and crop diversification, is considered a sustainable agro-ecological approach to resource-conserving agricultural production. A major objective of tillage is supposed to be weed control, and it does not require very specific knowledge because soil inversion controls (at least temporarily) most weeds mechanically (i.e., by way of burying them). However, repeated ploughing only changes the weed population, but does not control weeds in the long term. The same applies to the mechanical uprooting of weeds. While in the short term some tillage operations can control weeds on farms, tillage systems can increase and propagate weeds off-farm. The absence of tillage, under conservation agriculture, requires other measures of weed control. One of the ways in which this is realized is through herbicide application. However, environmental concerns, herbicide resistance and access to appropriate agro-chemicals on the part of resource-poor farmers, highlight the need for alternative weed control strategies that are effective and accessible for smallholders adopting conservation agriculture. Farmers in semi-arid regions contend with the additional challenge of low biomass production and, often, competition with livestock enterprises, which limit the potential weed-suppressing benefits of mulch and living cover crops. This paper reviews the applicability and efficacy of various mechanical, biological and integrated weed management strategies for the effective and sustainable management of weeds in smallholder conservation agriculture systems, including the role of appropriate equipment and prerequisites for smallholders within a sustainable intensification scenario.
View Full-Text
►

▼

Figures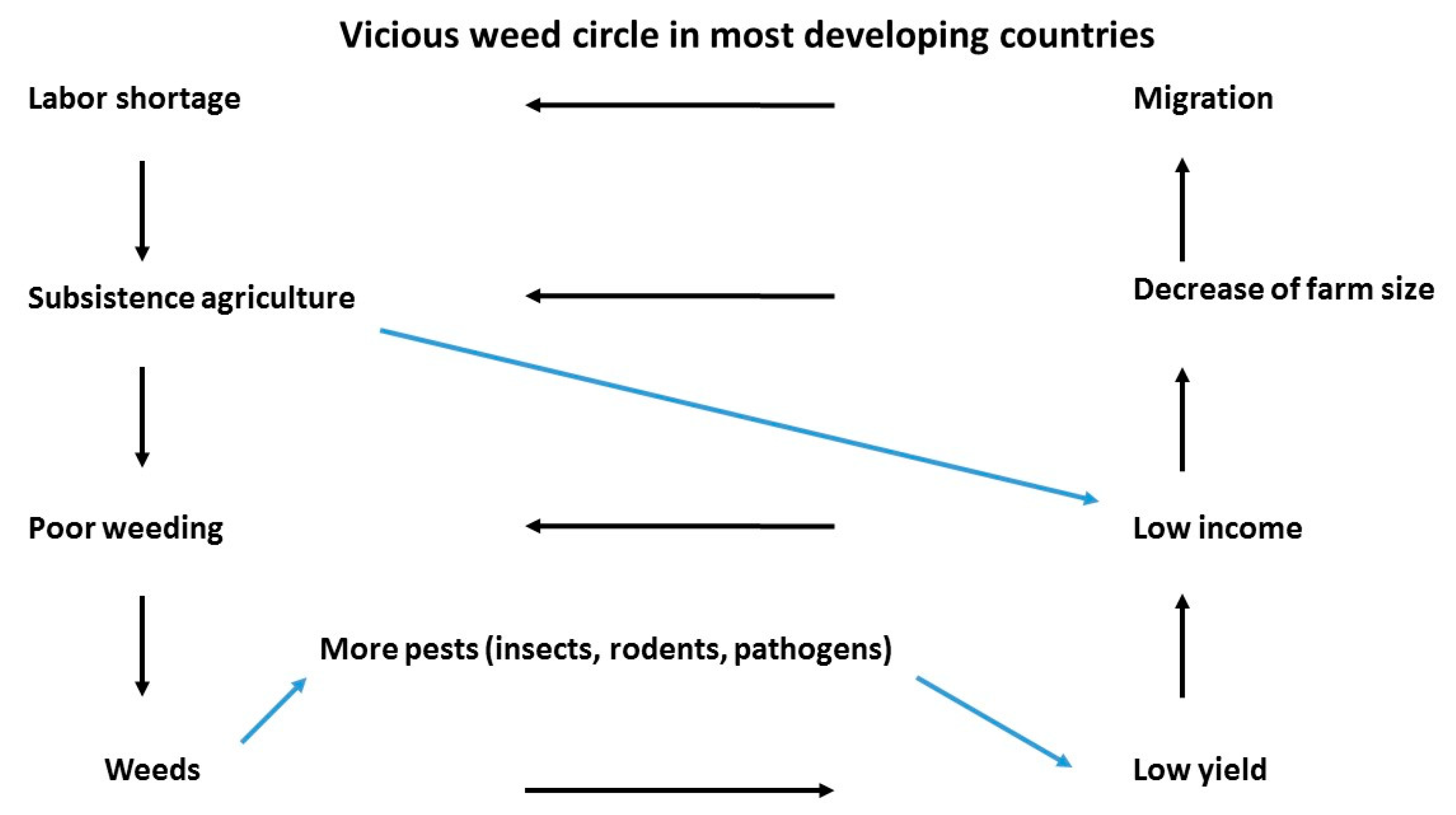 Figure 1
This is an open access article distributed under the
Creative Commons Attribution License
which permits unrestricted use, distribution, and reproduction in any medium, provided the original work is properly cited (CC BY 4.0).

Share & Cite This Article
MDPI and ACS Style
Sims, B.; Corsi, S.; Gbehounou, G.; Kienzle, J.; Taguchi, M.; Friedrich, T. Sustainable Weed Management for Conservation Agriculture: Options for Smallholder Farmers. Agriculture 2018, 8, 118.
Note that from the first issue of 2016, MDPI journals use article numbers instead of page numbers. See further details here.
Related Articles
Comments
[Return to top]