Open Access This article is
freely available
re-usable
Review
Selection and Breeding of Suitable Crop Genotypes for Drought and Heat Periods in a Changing Climate: Which Morphological and Physiological Properties Should Be Considered?
1
Institute of Plant Physiology and Genetics, Bulgarian Academy of Sciences, Acad. G. Bonchev Street, Bldg. 21, 1113 Sofia, Bulgaria
2
Institute of Plant Sciences and Oeschger Center for Climate Change Research (OCCR), University of Bern, Altenbergrain 21, CH-3013 Bern, Switzerland
*
Author to whom correspondence should be addressed.
Academic Editor: Annelie Holzkämper
Received: 19 April 2016 / Accepted: 25 May 2016 / Published: 1 June 2016
Abstract
:
Selection and breeding of genotypes with improved drought/heat tolerance become key issues in the course of global change with predicted increased frequency of droughts or heat waves. Several morphological and physiological plant traits must be considered. Rooting depth, root branching, nutrient acquisition, mycorrhization, nodulation in legumes and the release of nutrients, assimilates or phytohormones to the shoot are relevant in root systems. Xylem embolism and its repair after a drought, development of axillary buds and solute channeling via xylem (acropetal) and phloem (basipetal and acropetal) are key processes in the stem. The photosynthetically active biomass depends on leaf expansion and senescence. Cuticle thickness and properties, epicuticular waxes, stomatal regulation including responses to phytohormones, stomatal plugs and mesophyll resistance are involved in optimizing leaf water relations. Aquaporins, dehydrins, enzymes involved in the metabolism of compatible solutes (e.g., proline) and Rubisco activase are examples for proteins involved in heat or drought susceptibility. Assimilate redistribution from leaves to maturing fruits via the phloem influences yield quantity and quality. Proteomic analyses allow a deeper insight into the network of stress responses and may serve as a basis to identify suitable genotypes, although improved stress tolerance will have its price (often lowered productivity under optimal conditions).
Keywords:
drought; heat; climate change; crop genotypes; morphology; physiology; stress susceptibility; assimilate allocation; yield
2. Root Morphology and Physiology
3. Stem Properties and Solute Allocation via Xylem and Phloem
A major function of the stem in annual crops is the solute transport between the root system and the aerial parts (
Figure 2
H). Inorganic nutrients (e.g., nitrate, sulfate, phosphate, cations), assimilates (e.g., amino acids or ureides deriving from assimilatory processes in roots) and phytohormones (e.g., abscisic acid representing a root-to-shoot signal) are transported with the transpiration stream in the xylem to the aerial plant parts (preferentially to active leaves) [
44
,
45
,
46
,
96
]. Shabala
et al.
[
96
] nicely summarized in a recent review article the large series of drought effects on xylem sap composition and root-to-shoot signaling including chemical changes (e.g., compounds mentioned above), physical signals (e.g., electric or hydraulic effects) and waves (e.g., reactive oxygen species or calcium concentration) [
96
]. From these effects it became evident that the signals from drought-stressed roots to the shoot are complex and cannot be reduced to an altered concentration of one or two compounds [
96
]. Xylem embolism in drought-exposed plants and its repair are highly relevant for the transport of water and solutes from the roots to the various shoot parts [
97
,
98
,
99
]. Redistribution processes via the phloem are controlled by the source/sink network with leaves, roots and maturing fruits as major players. This network can be considerably disturbed by abiotic stresses [
100
,
101
,
102
,
103
]. Related to this transport functions is the capacity of stems and petioles to store solutes (especially carbohydrates and amino acids) [
104
,
105
]. An accumulation of solutes may be caused by the altered source/sink network under abiotic stress and may be important for a subsequent recovery phase [
105
]. From a study with isogenic lines of
Sorghum bicolor
subjected to abiotic stresses it became evident that stem reserves strongly influence grain filling [
104
]. Another important point during drought stress and recovery is the fate of the shoot apex (
i.e.
, reversible or irreversible damages) [
100
]. New leaves may be formed from axillary buds of previously stressed plants, resulting in different plant architecture than unstressed plants [
100
].
4. Leaf Morphology and Physiology
5. Reproductive Structures and Yield Formation
The maturation of fruits and seeds under abiotic stresses is highly relevant for a series of the world most important crops including rice, wheat, maize and soybean [
145
,
146
,
147
,
148
]. The translocation of nutrients and assimilates via xylem and phloem to the reproductive structures (
Figure 2
H), the remobilization of leaf constituents (
Figure 2
K) and processes in the maturing fruits including the deposition of storage compounds in the seeds (
Figure 2
N) are relevant in this context and depend on water availability [
146
,
147
,
148
] and ambient temperature [
145
,
147
,
148
]. Landraces with a high genetic diversity may serve as a helpful basis for breeding crop genotypes with suitable properties in the course of climate change (e.g., stable yields, high quality of harvested products) [
148
]. Genetic variability in the response to abiotic stresses such as heat and drought were reported for several crop plants indicating that there might still be a potential for further breeding [
146
,
147
,
148
]. Since drought and heat occur often simultaneously, the combined effects of these abiotic stresses are of special relevance [
147
,
148
].
6. Proteomics in Search of Molecular Markers for Assisted Selection and Breeding
The potential of proteomics has been increasingly exploited in search of suitable protein markers for assisted selection and breeding, thus complementing the widely used genomic tools [
149
,
150
,
151
,
152
]. Proteins are direct effectors in the processes related to cell structure and function, as well as in adaptation to the changing environment—underlying the so called phenotypic plasticity [
152
]. Cell protein composition is highly dynamic and much closer to the plant phenotype than the transcript profiling. Protein and transcript profiles do not necessary correspond to each other due to the complexity of regulation of gene expression (at genetic, transcriptional, translational, and post-translational levels). Plant proteomics has benefited from the technological advances in the field and from the development of databases with partially or fully sequenced plant genomes and expressed sequence tags, necessary for correct protein identification; comprehensive proteome maps of major crops have been established [
131
,
153
]. Both gel-based and chromatography-based approaches are applied in plant proteomics as they are complementary. Two-dimensional electrophoresis combined with mass spectrometry detects relatively more abundant proteins like key metabolic enzymes, thus providing essential information about changes in the main metabolic pathways and biological processes affected by the stress, usually in good correlation with metabolomics data; moreover, isoforms and posttranslational modifications of a given protein can be established [
153
]. Deeper proteome coverage especially for less abundant proteins (signaling, transporters,
etc.
) is reached by the second generation shotgun proteomics [
153
,
154
,
155
]. Knowledge about dynamic changes of crop proteomes in response to abiotic stresses is regularly reviewed [
131
,
150
,
152
,
153
,
156
]. For that reason, our attention is mainly focused on recent proteomic reports addressing drought, heat and combined stress.
Recent proteomic studies on drought response of crops encompass different plant species, such as wheat [
138
,
157
], rice [
158
,
159
], barley [
160
], brassica [
154
], legumes [
141
,
161
]. Different types of tissues are studied: roots [
141
,
154
,
159
], root nodules [
161
], leaves [
138
,
160
], roots and leaves compared at seedling stage [
157
], roots, flag leaves and spikelets at reproductive stage [
151
]. As the high temperature is particularly detrimental during the reproductive stage, besides the studies on leaf proteome under heat stress in rice [
113
,
162
], wheat [
163
] radish [
142
], alfalfa [
164
] and stromal proteins in agave [
165
], special attention is paid to the reproductive phase [
166
], source-sink interactions at grain filling [
167
], grain development and composition [
155
,
160
] in cereals, and protein composition of soybean seeds [
168
] formed under unfavorable temperature conditions. Relatively few proteomic studies deal with combined drought and heat stress [
169
,
170
,
171
]. Current efforts are directed at elucidating the drought adaptations in roots and leaves, the response to heat at reproductive developmental stage, as well as at the early signaling events captured after 4–8 h of drought [
154
,
157
], heat [
147
,
163
] or combined [
169
] treatments, including changes in phosphorylation of specific proteins [
157
,
169
]. As signal transduction associated, 14-3-3 proteins and calreticulin-like proteins were upregulated in tolerant wheat cultivar under drought stress [
157
]. In roots of transgenic rice, overexpressing DREB1A, a novel protein containing ricin B lectin domain was found to be highly accumulated, probably with potential role in breeding for drought tolerance [
159
]. Proteomic findings support and further develop the concept about key mechanisms affected by drought and heat stress and point at some potential protein markers for assisted selection.
7. Conclusions and Outlook
Genetic variability is a prerequisite for breeding plants with an improved heat or drought tolerance [
6
,
7
,
8
,
9
,
145
]. Modern techniques including genetic engineering [
172
] and high-throughput phenotyping [
173
] may facilitate the production/selection of suitable genotypes. From the facts and concepts reviewed in this paper, it becomes evident that the susceptibility to abiotic stresses is complex and incudes morphological and physiological traits [
174
,
175
]. Several important traits for drought and heat tolerance in crop plants are summarized in
Table 2
. Stress responses can be reversible after the stress period (e.g., leaf orientation, stomatal opening, activation status of Rubisco), partially reversible (e.g., rooting depth, activity of the shoot apical meristem) or irreversible (e.g., senescence of a leaf or a root, deposition of compounds on the leaf surface). In the case of partially reversible and irreversible responses, the effect as such may be irreversible, but it may be partially or fully compensated after the stress period (e.g., xylem functionality, photosynthetically active biomass).
There might be some defined properties, which are directly advantageous for stress-exposed plants (e.g., heat tolerance of Rubisco activase, root and shoot architecture or properties of the leaf surface) [
6
,
144
], but in most cases a complex regulatory network including signal perception and transduction must be considered [
154
]. Although anatomical and physiological properties of the root system are not easily accessible in field experiments, root growth, activity and response to abiotic stresses must be borne in mind for identifying suitable genotypes [
27
,
141
,
174
]. Besides basic characteristics of unstressed plants, especially stress-inducible adaptations in gene expression, protein pattern and physiological properties are important for the stress susceptibility of a genotype [
113
,
162
,
163
]. Heat waves and drought periods occur often simultaneously and should therefore also be addressed in combination in selection procedures [
169
,
170
,
171
].
Several environmental factors are relevant for agronomic practices (e.g., altitude, soil properties, nutrient availability) and can interfere with the responses of crop plants to heat or drought. Such interactions are relevant for selecting genotypes with suitable properties. Therefore it cannot be expected to find "the suitable drought- or heat-tolerant genotype", but there might be a collection of varieties for various environments. Since genotypes must be selected before the growing season (with or without severe stress phases), experiences from preceding years may serve as a basis. Since more frequent and more severe extreme events including droughts and heat waves must be expected in the course of global change, breeding of crop plants with an improved performance during and after stress periods becomes a key determinant [
9
,
10
,
11
,
141
,
157
,
175
].
Acknowledgments
Experimental work leading to this review was partially supported by Swiss National Science Foundation (NCCR "Climate", project "Plant and Soil" and SCOPES project "DILPA").
Conflicts of Interest
The authors declare no conflict of interest.
Abbreviations
The following abbreviations are used in this manuscript:
| | |
| --- | --- |
| P5CS | D-1pyrroline-5-carboxylate synthetase |
| ROS | Reactive oxygen species |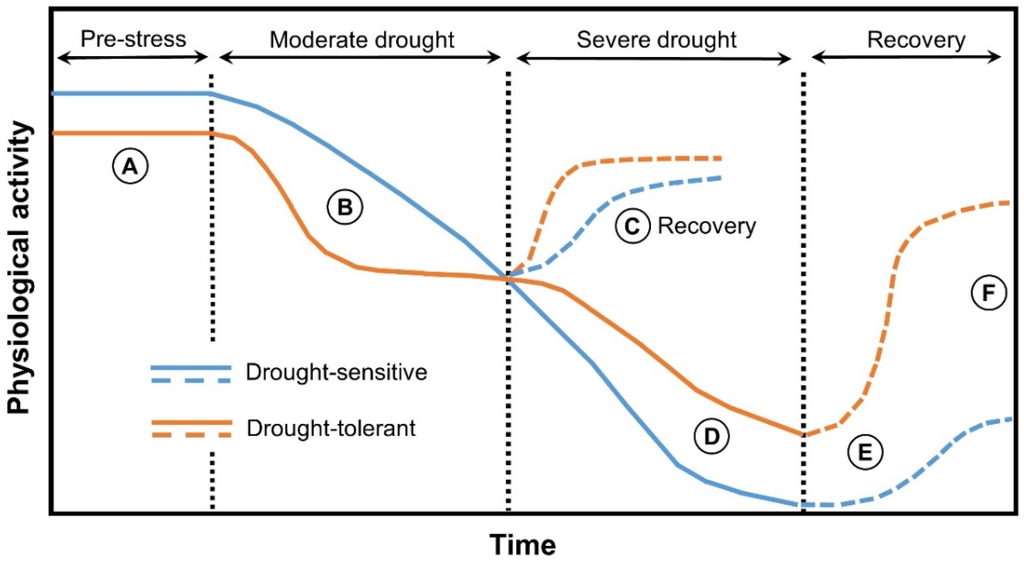 Figure 1. Schematic presentation of some key points for characterizing genotypes differing in drought tolerance. A: performance of non-stressed plants (pre-stress); B: performance under moderate drought; C: recovery from moderate drought; D: performance under severe drought; E: time course for recovery from severe drought; F: completeness of recovery from severe drought.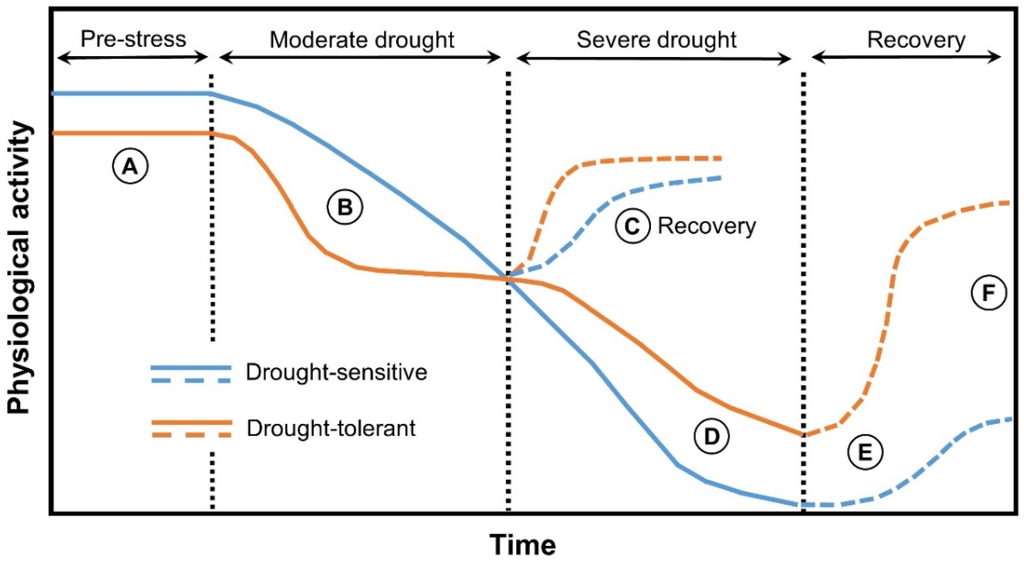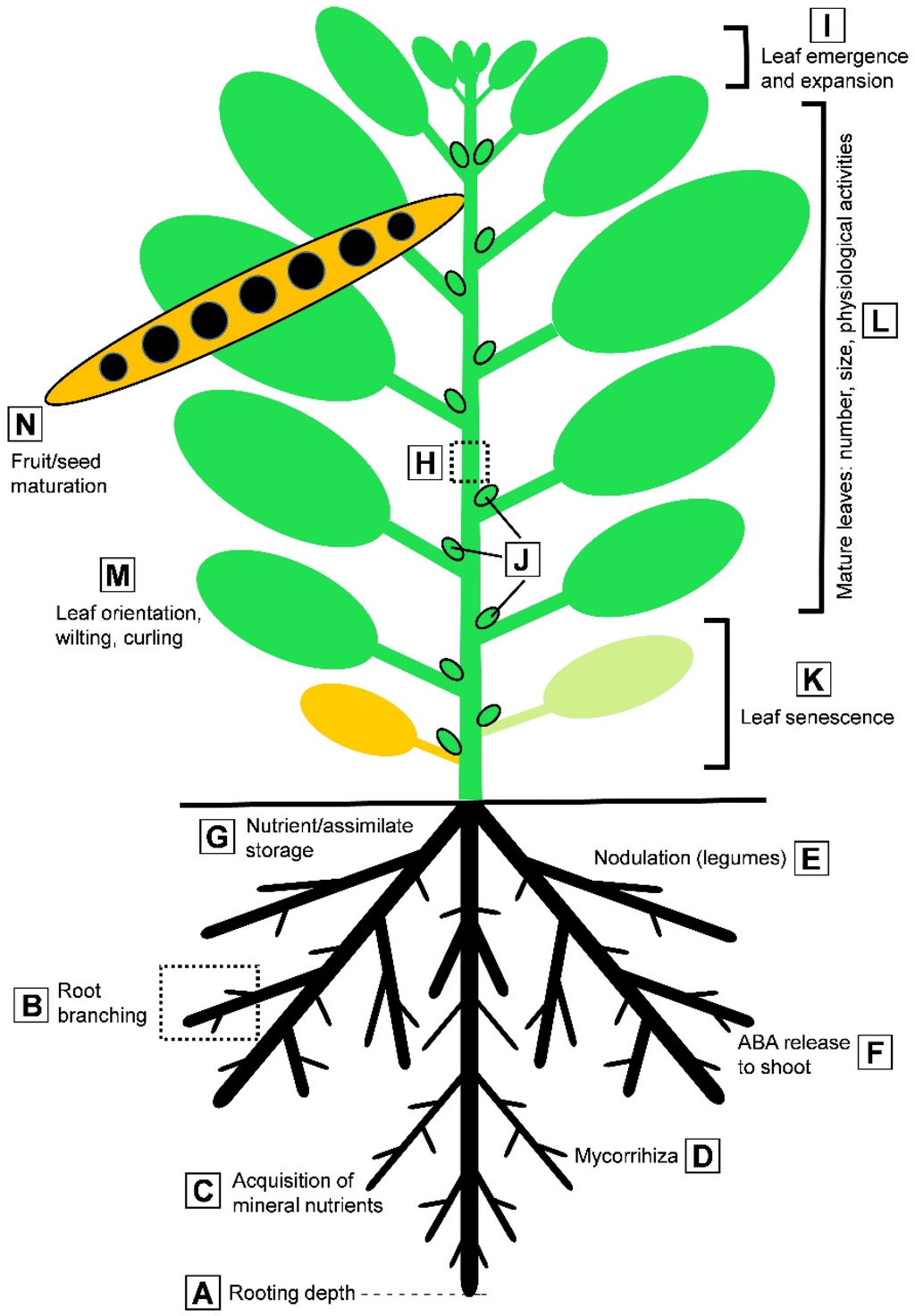 Figure 2. Morphological and physiological characteristics of annual crops relevant for their responses to drought. A: rooting depth (before and during stress period); B: root branching; C: uptake of mineral nutrients and release to the shoot; D: interactions with mycorrhiza; E: nodulation and nodule activity (in legumes); F: production of abscisic acid (ABA) and release to the shoot; G: storage of nutrients and assimilates in roots/rhizomes/bulbs; H: transport of nutrients/assimilates/phytohormones via xylem and phloem; I: emergence and expansion of new leaves; J: production of new leaves from axillary buds; K: senescence of older leaves; L: number, size and morphological/physiological properties of mature leaves; M: spatial orientation, curling and wilting of mature leaves; N: maturation of fruits and seeds.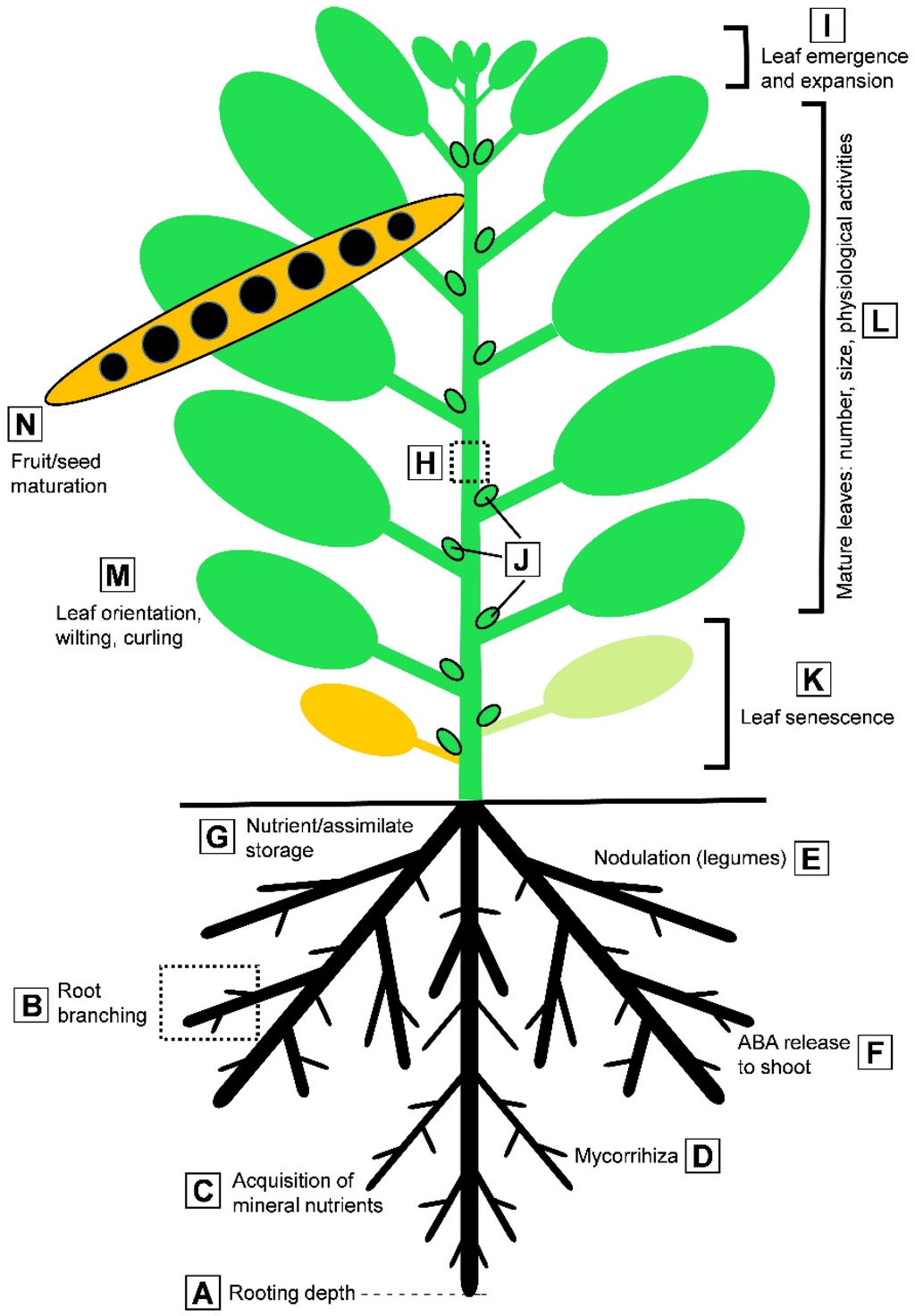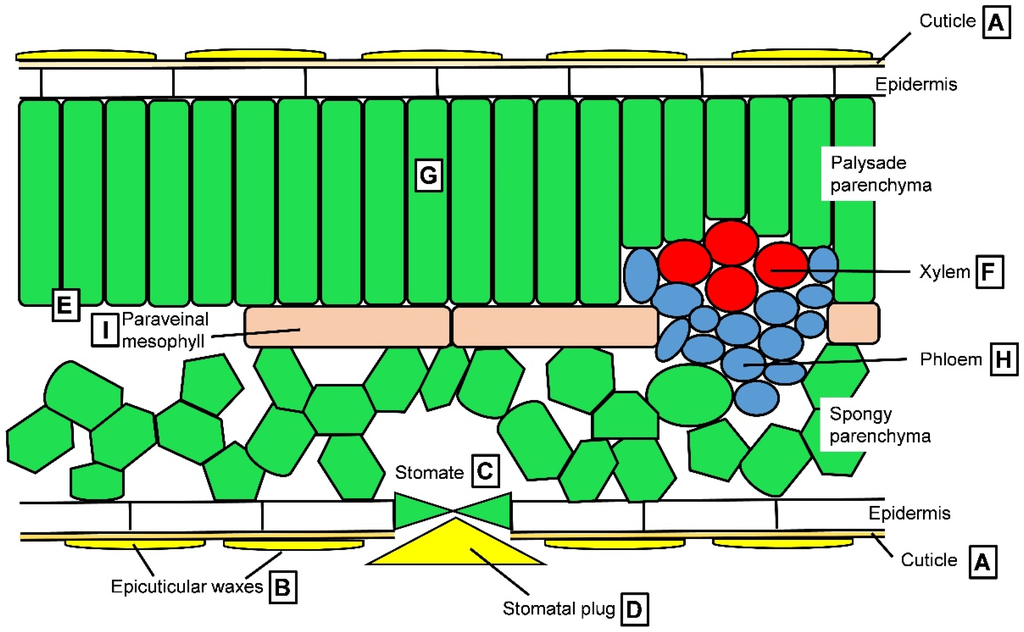 Figure 3. Morphological and physiological leaf characteristics relevant for the response to drought and heat. A: properties of the cuticle; B: deposition of epicuticular waxes; C: density, size and regulation of stomates; D: formation of stomatal plugs; E: mesophyll conductance; F: delivery of solutes via the xylem; G: metabolic properties of photosynthetically active cells; H: export of solutes via the phloem; I: deposition of vegetative storage proteins in the vacuoles of paraveinal mesophyll cells.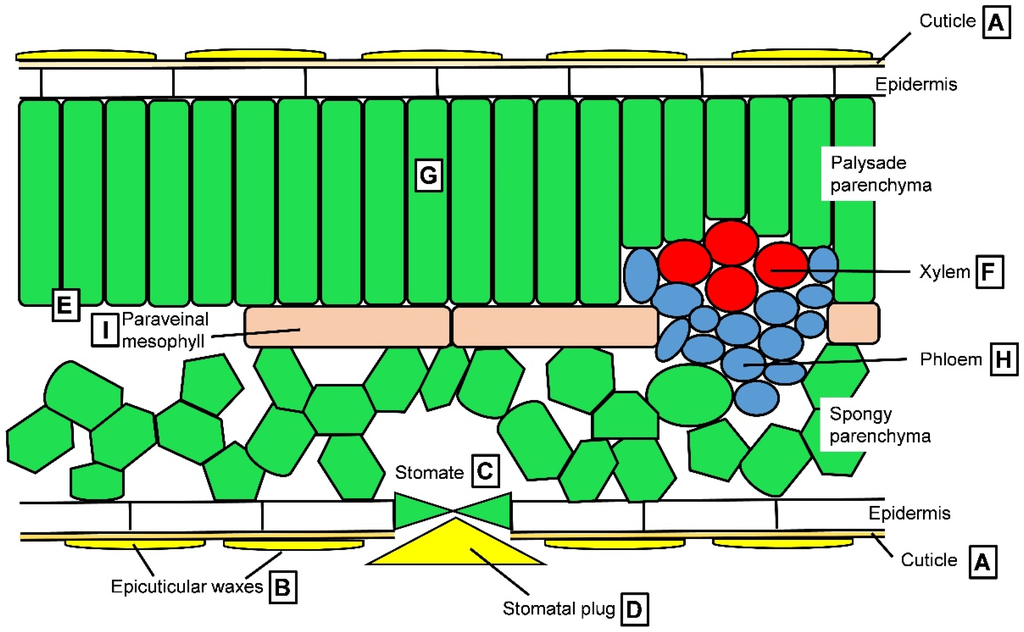 Table 1. Leaf proteins involved in the responses to drought and/or heat.

| Protein | Proposed Function | References |
| --- | --- | --- |
| Aquaporins | H2O transport through membranes | [133] |
| Dehydrins | Stabilization of macromolecules | [134,135,136] |
| Chaperonin-60 β | Stabilization of macromolecules | [137] |
| Heat shock proteins | Stabilization of cell constituents | [138,139,140] |
| Cu/Zn Superoxide dismutase | Detoxification of reactive oxygen species | [124,141] |
| Mn Superoxide dismutase | Detoxification of reactive oxygen species | [124] |
| Fe Superoxide dismutase | Detoxification of reactive oxygen species | [124] |
| Ascorbate peroxidase | Detoxification of reactive oxygen species | [124,142] |
| Catalase | Detoxification of reactive oxygen species | [124] |
| P5CS 1 | Accumulation of proline | [143] |
| Rubisco activase | Activation of Rubisco (Calvin cycle) | [6,144] |
1 Delta-1-pyrroline-5-carboxylate synthetase (P5CS).
Table 2. Important traits involved in drought and/or heat responses of crop plants.

| Trait | Relevance for Abiotic Stress Response | References |
| --- | --- | --- |
| Rooting depth | Access to more suitable soil regions p,c | [25,26,27,28,29] |
| Root branching | Access to more suitable soil regions p,c | [29,30,31,32,33,34,35,36,37] |
| Nutrient uptake into roots | Acquisition of mineral nutrients r,c | [44,45,46,59] |
| Xylem loading in roots | Transfer of nutrients to the shoot r,c | [57,58,59,60] |
| Nutrient assimilation in roots | Acquisition of mineral nutrients r,c | [44,45,46] |
| Mycorrhization | Acquisition of mineral nutrients/water r,c | [56,61,62,63,64,65,66,67,68,69,70] |
| Nodulation in legumes | Symbiotic nitrogen fixation p,c | [76,77,78,79,80,81,82,83,84,85,86,87,88,89,90,91,92,93,94,95] |
| Storage functions in roots | Stress survival and recovery p,c | [13,52,53] |
| Release of nutrients to shoot | Supply of aerial parts with nutrients p,c | [44,45,46] |
| Phytohormone release to shoot | Root-to-shoot signaling r | [47,48,49,50,51] |
| Root senescence | Root architecture and functions p,c | [43] |
| Xylem-to-phloem transfer | Solute channeling to leaves and fruits r | [176] |
| Xylem embolism and repair | Acropetal flux of water and solutes p | [97,98,99] |
| Storage of reserves in the stem | Accumulation of reserves for recovery r | [104,105] |
| Shoot apical meristem activity | Shoot architecture and performance p,c | [103] |
| Development of axillary buds | Shoot architecture and performance p,c | [103] |
| Leaf expansion (final size) | Shoot architecture and performance i,c | [103] |
| Leaf orientation | Light interception r | [103] |
| Leaf senescence | Loss of assimilatory capacity i,c | [103] |
| Leaf surface (wax deposition) | Reduction of non-stomatal transpiration i | [177,178] |
| Density and size of stomates | Stomatal transpiration i | [107,108,109,110] |
| Stomatal regulation | Reversible control of stomatal transpiration r | [106,179] |
| Formation of stomatal plug | Reduction of stomatal transpiration i | [180,181] |
| Mesophyll conductance | CO2 diffusion inside the leaf i | [106] |
| Vegetative storage proteins | Intermediate storage of mobilized nitrogen r | [182] |
| Intactness of organelles | Functionality of plastids and mitochondria p | [26,112,113,114,115,116,117] |
| Photosystems | Light energy conversion to ATP/NADPH r | [132] |
| Rubisco activase | Activation of Rubisco (Calvin cycle) p,c | [103,144] |
| Detoxification of ROS | Protection of cell constituents/metabolism r | [119,120,121,122,123,124,125,126,127,128,129,130,131,132] |
| Respiration in leaves | Maintenance of basic cellular functions | [9] |
| Compatible solutes | Protection of cell constituents/metabolism r | [143] |
| Transcription factors | Regulation of gene expression under stress r | [183,184,185] |
| Dehydrin pattern | Protection of cell constituents r | [134,135,136] |
| Aquaporins | Water/CO2 transport across membranes p | [133] |
| Chaperonins | Protection of enzymes r | [137,138,139,140] |
| Cytokinin levels/effects | Regulation of metabolism and senescence r | [48] |
| Proteolytic activities | Intracellular protein degradation p,c | [127] |
| Solute transport to fruits | Yield formation p,c | [145,146,147,148] |
| Seed maturation/composition | Yield quantity and quality in seed crops p,c | [5,160,168] |
r reversible after stress period; p partially reversible; i irrversible; c can be compensated after stress phase.
© 2016 by the authors; licensee MDPI, Basel, Switzerland. This article is an open access article distributed under the terms and conditions of the Creative Commons Attribution (CC-BY) license (http://creativecommons.org/licenses/by/4.0/).