Motor Imagery and Action Observation of Specific Neck Therapeutic Exercises Induced Hypoalgesia in Patients with Chronic Neck Pain: A Randomized Single-Blind Placebo Trial
1
Motion in Brains Research Group, Institute of Neuroscience and Sciences of the Movement (INCIMOV), Centro Superior de Estudios Universitarios La Salle, Universidad Autónoma de Madrid, 28023 Madrid, Spain
2
Department of Physiotherapy, Universidad CEU Cardenal Herrera, CEU Universities, 46115 Valencia, Spain
3
Departamento de Fisioterapia, Centro Superior de Estudios Universitarios La Salle, Universidad Autónoma de Madrid, 28023 Madrid, Spain
4
Instituto de Neurociencia y Dolor Craneofacial (INDCRAN), 28008 Madrid, Spain
5
Instituto de Investigación Sanitaria del Hospital Universitario La Paz (IdiPAZ), 28046 Madrid, Spain
*
Author to whom correspondence should be addressed.
Received: 15 June 2019 / Revised: 5 July 2019 / Accepted: 9 July 2019 / Published: 12 July 2019
Abstract
The aim of the present study was to explore the pain modulation effects of motor imagery (MI) and action observation (AO) of specific neck therapeutic exercises both locally, in the cervical region, and remotely. A single-blind, placebo clinical trial was designed. A total of 30 patients with chronic neck pain (CNP) were randomly assigned to an AO group, MI group, or placebo observation (PO) group. Pain pressure thresholds (PPTs) of C2/C3, trapezius muscles, and epicondyle were the main outcome variables. Secondary outcomes included heart rate measurement. Statistically significant differences were observed in PPTs of the cervical region in the AO and MI groups between the preintervention and first postintervention assessment. Significant differences were found in the AO group in the epicondyle between the preintervention, first and second post-intervention assessments. Regarding heart rate response, differences were found in the AO and MI groups between the preintervention and average intervention measurements. AO and MI induce immediate pain modulation in the cervical region and AO also induces remote hypoalgesia. OA appears to lead to greater pain modulation as well as a greater heart rate response, however, both should be clinically considered in patients with CNP.
View Full-Text
►

▼

Figures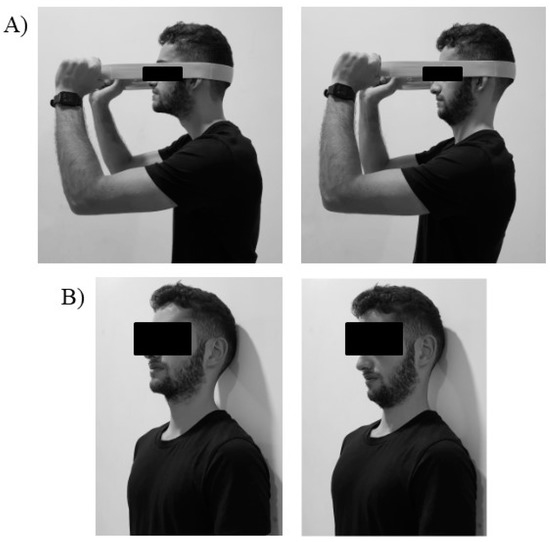 Figure 1
This is an open access article distributed under the
Creative Commons Attribution License
which permits unrestricted use, distribution, and reproduction in any medium, provided the original work is properly cited (CC BY 4.0).

Share & Cite This Article
MDPI and ACS Style
Suso-Martí, L.; León-Hernández, J.V.; La Touche, R.; Paris-Alemany, A.; Cuenca-Martínez, F. Motor Imagery and Action Observation of Specific Neck Therapeutic Exercises Induced Hypoalgesia in Patients with Chronic Neck Pain: A Randomized Single-Blind Placebo Trial. J. Clin. Med. 2019, 8, 1019.
Note that from the first issue of 2016, MDPI journals use article numbers instead of page numbers. See further details here.
Related Articles
Comments
[Return to top]