Occurrence of Antithrombotic Related Adverse Events in Hospitalized Patients: Incidence and Clinical Context between 2008 and 2016
1
Department of Public and Occupational Health, Amsterdam UMC, Vrije Universiteit Amsterdam, Amsterdam Public Health Research Institute, De Boelelaan 1117, 1081 BT Amsterdam, The Netherlands
2
Netherlands Institute for Health Services Research (NIVEL), 3513 CR Utrecht, The Netherlands
3
PinkRoccade healthcare, 7324 AE Apeldoorn, The Netherlands
4
Department of Thrombosis and Hemostasis, Leiden University Medical Center, 2333 ZA Leiden, The Netherlands
*
Author to whom correspondence should be addressed.
Received: 13 May 2019 / Revised: 24 May 2019 / Accepted: 6 June 2019 / Published: 12 June 2019
Abstract
Antithrombotic drugs are consistently involved in medication-related adverse events (MRAEs) in hospitalized patients. We aimed to estimate the antithrombotic-related adverse event (ARAE) incidence between 2008 and 2016 and analyse their clinical context in hospitalized patients in The Netherlands. A post-hoc analysis of three national studies, aimed at adverse event (AE) identification, was performed. Previously identified AEs were screened for antithrombotic involvement. Crude and multi-level, case-mix adjusted ARAE and MRAE incidences were calculated. Various contextual ARAE characteristics were analysed. ARAE incidence between 2008 and 2016 decreased significantly in in-hospital deceased patients from 1.20% (95% confidence interval (CI): 0.63–2.27%) in 2008 to 0.54% (95% CI: 0.27–1.11%) in 2015/2016 (
p
= 0.02). In discharged patients ARAE incidence remained stable. By comparison, overall MRAE incidence remained stable for both deceased and discharged patients. Most ARAEs involved Vitamin-K antagonists (VKAs). Preventable ARAEs occurred more during weekends and with increasing multidisciplinary involvement. Antiplatelet and combined antithrombotic use seemed to be increasingly involved in ARAEs over time. ARAE incidence declined by 55% in deceased patients between 2008 and 2016. Opportunities for improving antithrombotic safety should target INR monitoring and care delivery aspects such as multidisciplinary involvement and weekend care. Future ARAE monitoring for the involvement of antiplatelet, combined antithrombotic and direct oral anticoagulant (DOAC) use is recommended.
View Full-Text
►

▼

Figures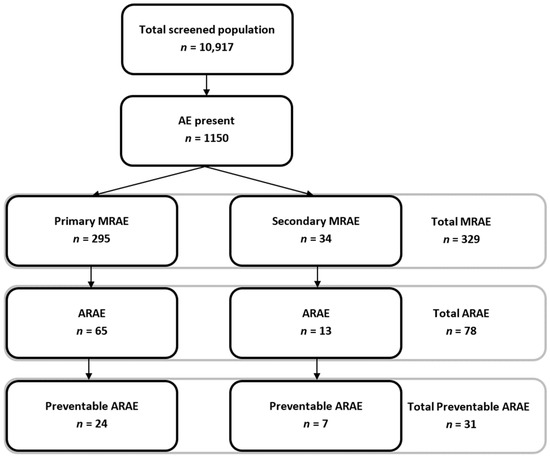 Figure 1
This is an open access article distributed under the
Creative Commons Attribution License
which permits unrestricted use, distribution, and reproduction in any medium, provided the original work is properly cited (CC BY 4.0).

Share & Cite This Article
MDPI and ACS Style
Moesker, M.J.; Schutijser, B.C.; de Groot, J.F.; Langelaan, M.; Spreeuwenberg, P.; Huisman, M.V.; de Bruijne, M.C.; Wagner, C. Occurrence of Antithrombotic Related Adverse Events in Hospitalized Patients: Incidence and Clinical Context between 2008 and 2016. J. Clin. Med. 2019, 8, 839.
Note that from the first issue of 2016, MDPI journals use article numbers instead of page numbers. See further details here.
Related Articles
Comments
[Return to top]