Open Access This article is
freely available
re-usable
Review
Advance in the Management of Sepsis-Induced Coagulopathy and Disseminated Intravascular Coagulation
1
Department of Emergency and Disaster Medicine, Juntendo University Graduate School of Medicine, 2-1-1 Hongo Bunkyo-ku, Tokyo 113-8421, Japan
2
Department of Anesthesiology, Critical Care, and Surgery, Duke University School of Medicine, Durham, NC 27705, USA
3
Imperial College London, South Kensington, London SW7 2AZ, UK
4
Department of Pathology and Molecular Medicine, and Department of Medicine, McMaster University, 1280 Main Street West, Hamilton, ON L8S4L8, Canada
*
Author to whom correspondence should be addressed.
Received: 5 May 2019 / Accepted: 20 May 2019 / Published: 22 May 2019
Abstract
:
Coagulopathy commonly occurs in sepsis as a critical host response to infection that can progress to disseminated intravascular coagulation (DIC) with an increased mortality. Recent studies have further defined factors responsible for the thromboinflammatory response and intravascular thrombosis, including neutrophil extracellular traps, extracellular vesicles, damage-associated molecular patterns, and endothelial glycocalyx shedding. Diagnosing DIC facilitates sepsis management, and is associated with improved outcomes. Although the International Society on Thrombosis and Haemostasis (ISTH) has proposed criteria for diagnosing overt DIC, these criteria are not suitable for early detection. Accordingly, the ISTH DIC Scientific Standardization Committee has proposed a new category termed "sepsis-induced coagulopathy (SIC)" to facilitate earlier diagnosis of DIC and potentially more rapid interventions in these critically ill patients. Therapy of SIC includes both treatment of the underlying infection and correcting the coagulopathy, with most therapeutic approaches focusing on anticoagulant therapy. Recently, a phase III trial of recombinant thrombomodulin was performed in coagulopathic patients. Although the 28-day mortality was improved by 2.6% (absolute difference), it did not reach statistical significance. However, in patients who met entry criteria for SIC at baseline, the mortality difference was approximately 5% without increased risk of bleeding. In this review, we discuss current advances in managing SIC and DIC.
Keywords:
sepsis; disseminated intravascular coagulation; coagulopathy; antithrombin; thrombomodulin
1. Introduction
Activation of coagulation in sepsis is recognized as a host immune response against infection [
1
], however, over-activation of coagulation may be detrimental to the host [
2
]. Disseminated intravascular coagulation (DIC) is a result of disordered coagulation that is a laboratory and pathologic diagnosis, and a secondary response to an acute injury that has different underlying causes in addition to septic shock, and a definition that has changed over time [
3
]. In 2001, the International Society on Thrombosis and Haemostasis (ISTH) defined DIC as "an acquired syndrome characterized by intravascular activation of coagulation with loss of localization arising from different causes that can originate from and cause damage to the microvasculature, which if sufficiently severe, can produce organ dysfunction" [
4
]. This important definition better characterizes both the bleeding and the organ dysfunction that occurs. The term "DIC" initially included clinical hemorrhagic syndromes in patients with coagulopathy [
5
]. This type of consumptive coagulopathy is initiated by the release of multiple proinflammatory and procoagulant substances following tissue injury in patients with severe infections, trauma, obstetric emergencies, cardiogenic shock, and envenomation. At present, DIC conjures up different meanings in physicians, ranging from abnormal coagulation tests to ischemic limb gangrene and acrocyanosis [
6
]. Some clinicians consider DIC as "disseminated intracerebral confusion" as they have little understanding of this complex pathophysiologic process. As a result, we will review sepsis-associated DIC and of the newly proposed ISTH term, sepsis-induced coagulopathy (SIC).
2. Pathophysiology of Sepsis-Induced Coagulopathy and DIC
3. Diagnosis of Sepsis-Induced Coagulopathy and DIC
4. Differential Diagnoses of Sepsis-Induced Coagulopathy and DIC
5. Treatment of Sepsis-Induced Coagulopathy and DIC
6. Summary
Clinicians have often considered DIC to be an abbreviation for "Death Is Coming" due to the absence of any established treatment. With growing concerns regarding sepsis and potential therapies to reduce mortality, differences in the diagnosis and management of sepsis-associated DIC have hindered advances in the understanding/management of this condition. We believe that targeted therapy using precision medicine, namely anticoagulants, is an important consideration in sepsis but will not be effective unless the patient has concomitant DIC. Early recognition of the coagulation disorder and prompt initiation of targeted anticoagulant therapy may alter outcomes of sepsis, but early and rapid diagnosis is important for this therapeutic consideration.
Conflicts of Interest
The authors declare no conflict of interest.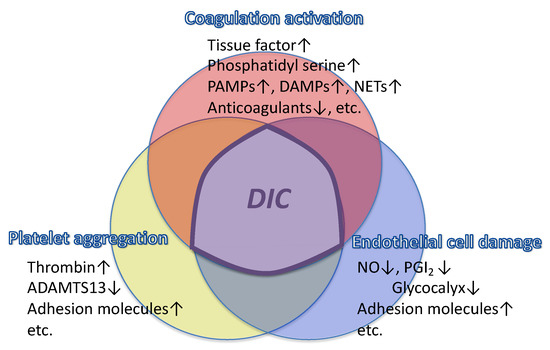 Figure 1. Three major factors contribute to DIC that include coagulation activation, platelet aggregation, and endothelial damage. Tissue factor expressed on the leukocytes and phosphatidylserine on the damaged cell membrane activate coagulation, decreased physiologic anticoagulant systems accelerate clot formation, and platelet aggregation is stimulated by thrombin and other inflammatory mediators. Endothelial damage reduces the antithrombotic milieu of the vascular lumen. PAMPs: pathogen-associated molecular patterns, NETs: neutrophil extracellular traps, DAMPs: damage-associated molecular patterns, ADAMTS13: a disintegrin and metalloproteinase with a thrombospondin type 1 motif, member 13, NO: nitric oxide, PGI2: prostagrandin I2, DIC: disseminated intravascular coagulation.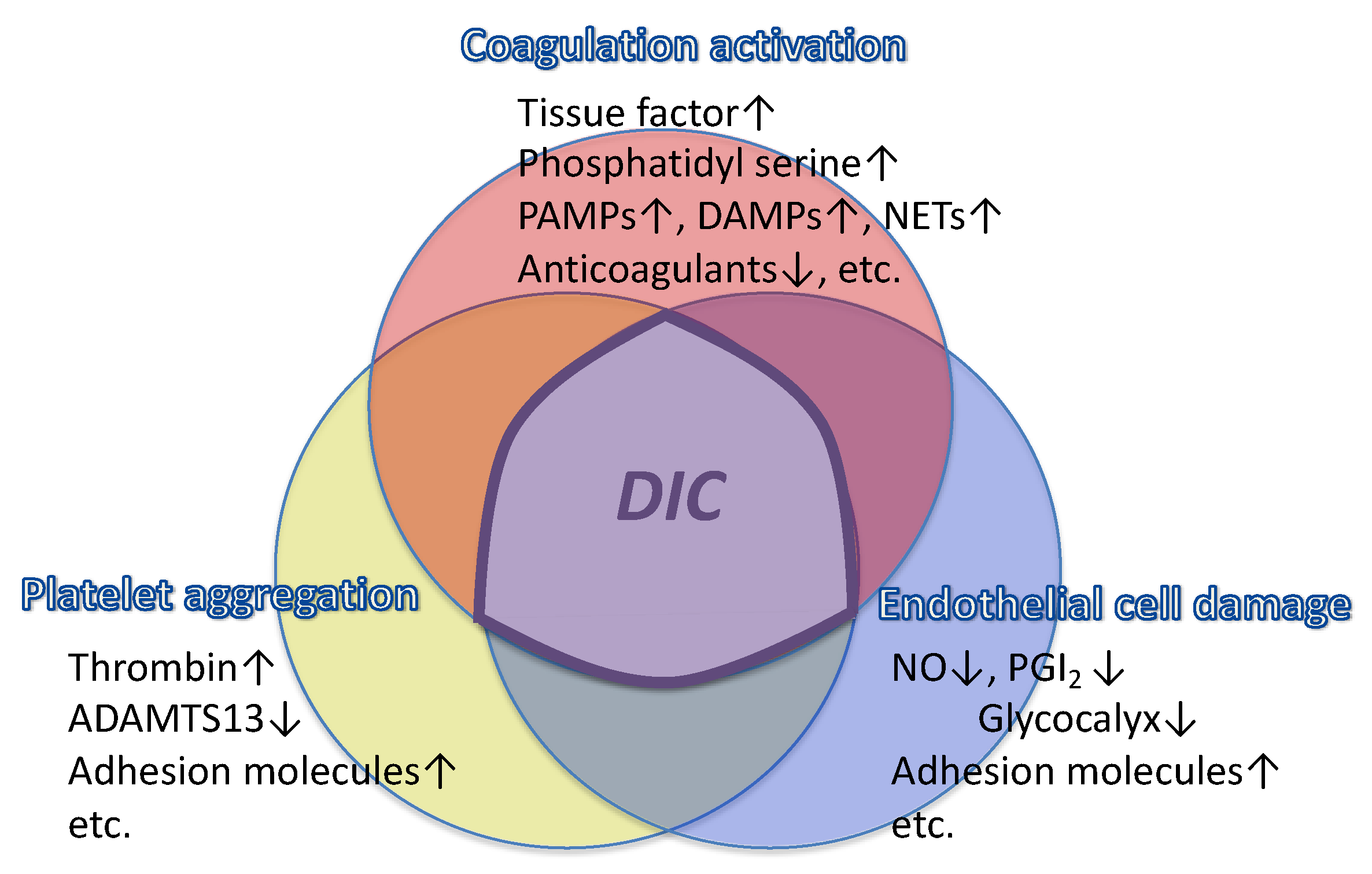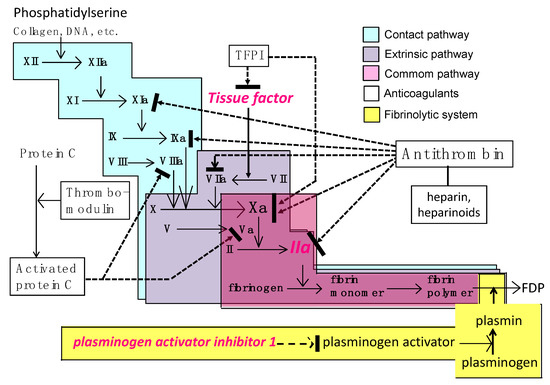 Figure 2. The coagulation, fibrinolytic, and natural anticoagulant systems. Both the extrinsic pathway and contact pathway are activated in sepsis. Tissue factor, expressed on the monocytes, endothelial cells, and extracellular vesicles triggers the extrinsic pathway, while the phosphatidylserine residue present in various cell membranes initiates the contact pathway of coagulation. Antithrombin/heparin, thrombomodulin/protein C, and tissue factor pathway inhibitor (TFPI) are the three major physiologic anticoagulant systems. FDP: fibrin/fibrinogen degradation products.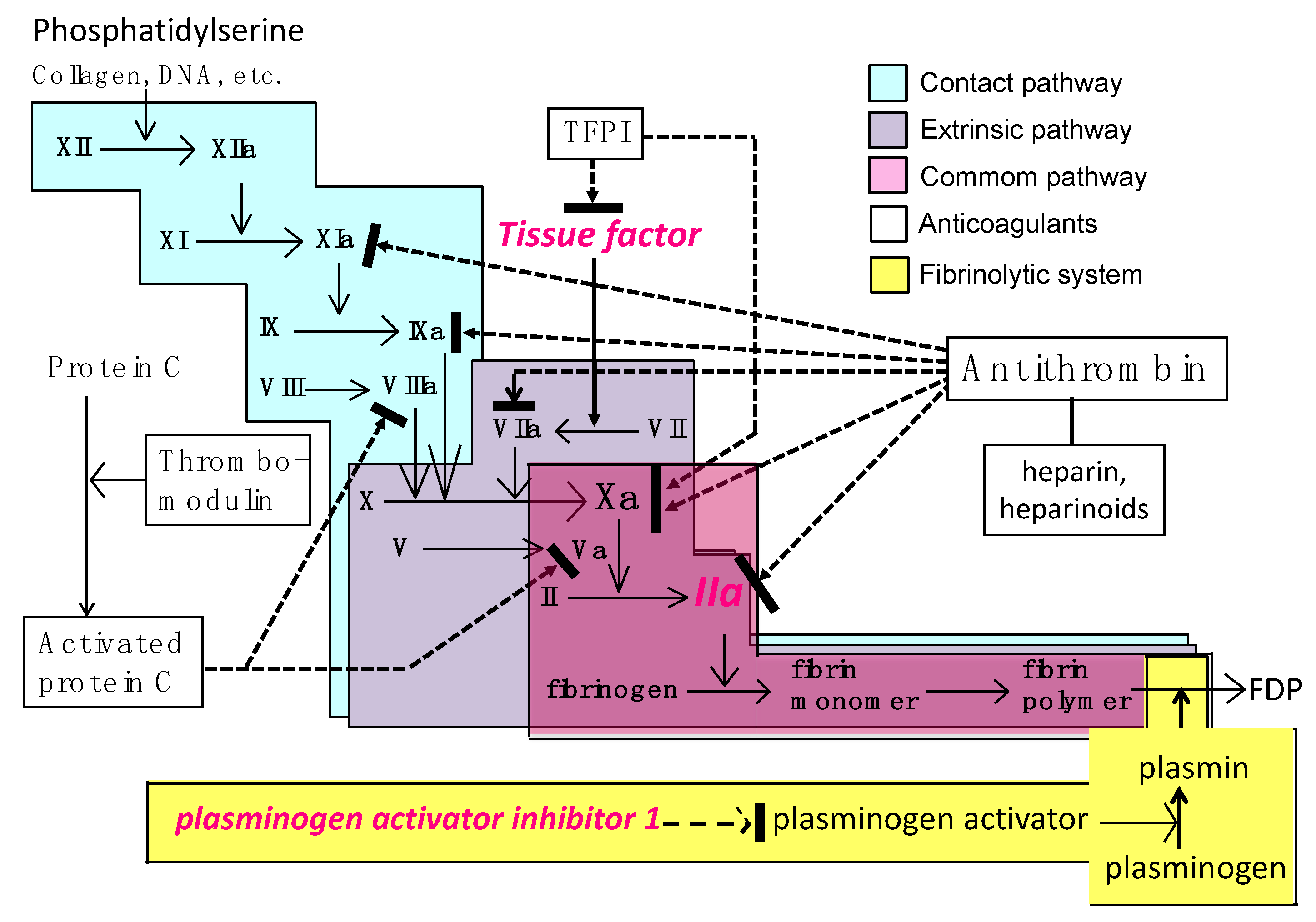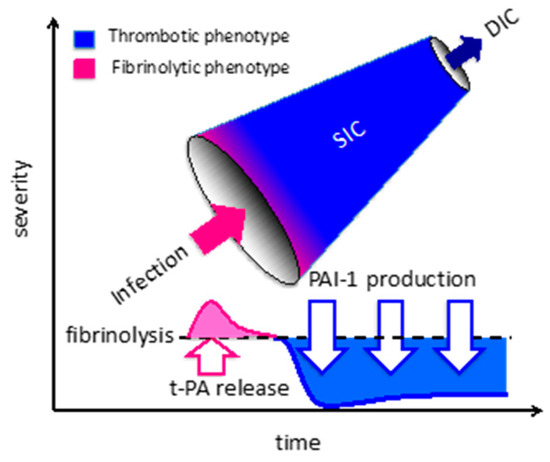 Figure 3. The sequential change from sepsis-induced coagulopathy to disseminated intravascular coagulation. Sepsis-induced coagulopathy progresses to disseminated intravascular coagulation (DIC) if the infection/inflammation is severe enough. Transient activation of fibrinolysis is observed initially, due to the release of tissue-type plasminogen activator (t-PA) from the vascular endothelial cells. Subsequently, the fibrinolytic system is suppressed by the production of plasminogen activator inhibitor-1. The imbalance between coagulation and fibrinolysis leads to a hypercoagulable state and organ dysfunction in sepsis.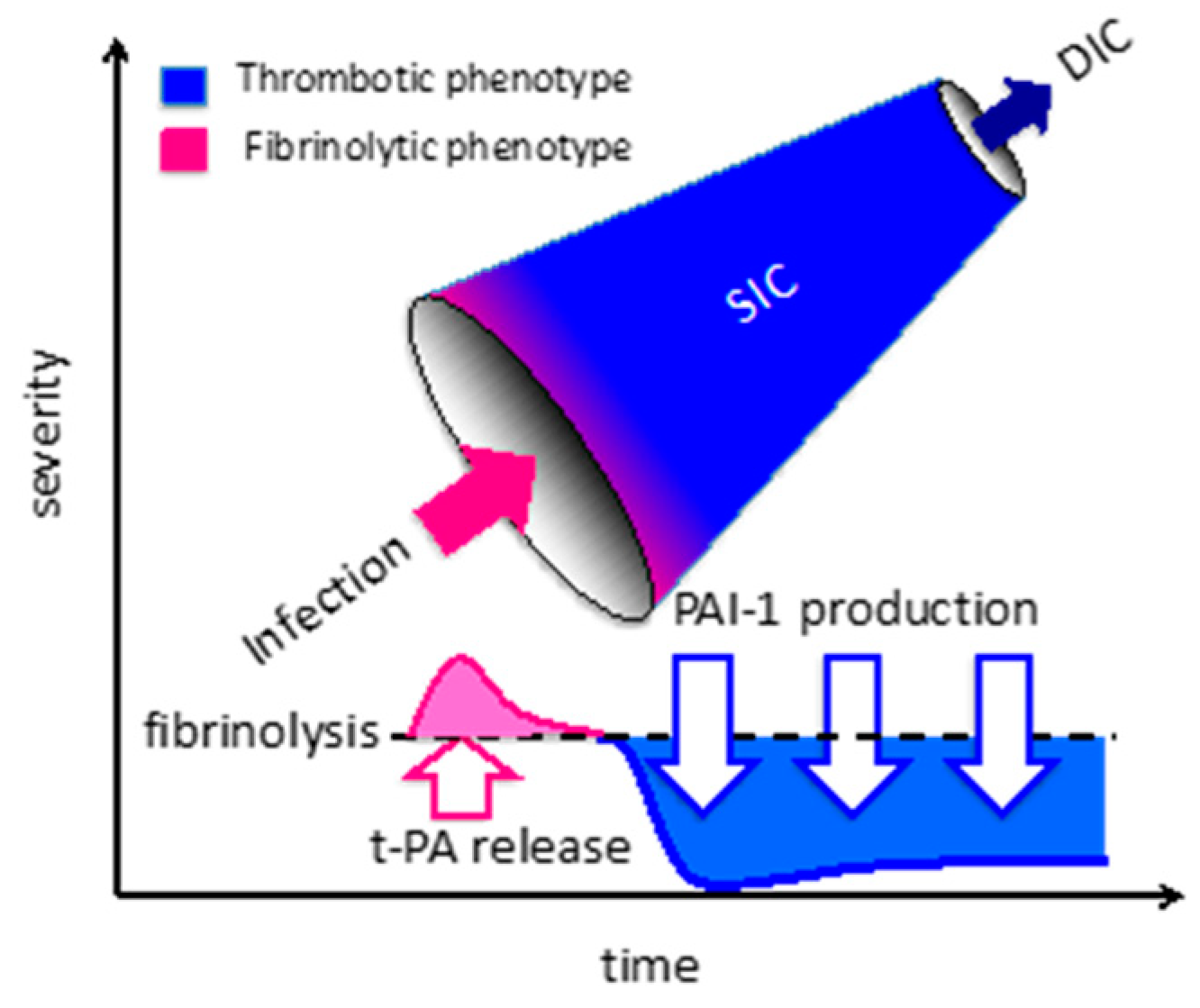 ISTH overt DIC
SIC
Item
Score
Range
Range
Platelet count (×109/L)
2
<50
<100
1
≥50, <100
≥100, <150
FDP/D-dimer
3
Strong increase
-
2
Moderate increase
-
Prothrombin Time (PT ratio)
2
≥6 sec
(>1.4)
1
≥3 sec, <6 sec
(>1.2, ≤1.4)
Fibrinogen (g/mL)
1
<100
−
SOFA score
2
-
≥2
1
-
1
Total score for DIC or SIC
≥5
≥4
ISTH: International Society on Thrombosis and Haemostasis; DIC: disseminated intravascular coagulation; SIC: sepsis-induced coagulopathy; SOFA: sequential organ failure assessment. SOFA score: score is the sum of 4 items (respiratory SOFA, cardiovascular SOFA, hepatic SOFA, renal SOFA).
Agent
Recommendation
Rationale
Unfractionated heparin, low-molecular-weight heparin
None, except for deep vein thrombosis prevention
Efficacy for venous thromboembolic prophylaxis is expected, but insufficient supportive data for DIC treatment.
Antithrombin
If it is available
Optional choice
Although phase III study (KyberSept) did not find efficacy in sepsis (but did show increased bleeding), meta-analysis of DIC patient subset showed beneficial effect in survival [85].
If it is not available
None
-
Recombinant thrombomodulin
If it is available
Optional choice
Although phase III study (SCARLET) did not show efficacy in sepsis with coagulopathy, meta-analysis found trend toward improved survival [86].
If it is not available
None
-
DIC: disseminated intravascular coagulation, SIC: sepsis-induced coagulopathy.

© 2019 by the authors. Licensee MDPI, Basel, Switzerland. This article is an open access article distributed under the terms and conditions of the Creative Commons Attribution (CC BY) license (http://creativecommons.org/licenses/by/4.0/).