Potential Effects of CXCL9 and CCL20 on Cardiac Fibrosis in Patients with Myocardial Infarction and Isoproterenol-Treated Rats
1
Ph.D. Program for Cancer Molecular Biology and Drug Discovery, College of Medical Science and Technology, Taipei Medical University and Academia Sinica, Taipei 110, Taiwan
2
Department of Medicine, MacKay Medical College, New Taipei City 252, Taiwan
3
Division of Cardiology, Department of Internal Medicine, MacKay Memorial Hospital, Taipei 104, Taiwan
4
Graduate Institute of Cancer Molecular Biology and Drug Discovery, College of Medical Science and Technology, Taipei Medical University, Taipei 110, Taiwan
5
Institute of Biological Chemistry, Academia Sinica, Taipei 115, Taiwan
6
TMU Biomedical Commercialization Center, Taipei Medical University, Taipei 110, Taiwan
7
Ph.D. Program in Biotechnology Research and Development, College of Pharmacy, Taipei Medical University, Taipei 110, Taiwan
*
Authors to whom correspondence should be addressed.
†
These authors contributed equally to this work.
Received: 15 April 2019 / Revised: 2 May 2019 / Accepted: 9 May 2019 / Published: 11 May 2019
Abstract
The chemokines CXCL9 and CCL20 have been reported to be associated with ventricular dysfunction. This study was aimed to investigate the effects of CXCL9/CCL20 on cardiac fibrosis following myocardial infarction (MI). Blood samples of patients with MI were obtained to determine the serum CXCL9, CCL20, tumor necrosis factor-α (TNF-α), and transforming growth factor-β (TGF-β). The expression of CXCL9 and CCL20 in hypoxia-incubated H9c2 cells and TNF-α/TGF-β-activated peripheral blood mononuclear cells (PBMCs) were examined. The experimental MI of rats was produced by the intraperitoneal injection of isoproterenol (ISO) (85 mg/kg/day) for two consecutive days. The growth and migration of CXCL9/CCL20-incubated cardiac fibroblasts in vitro were evaluated. TNF-α/TGF-β-activated PBMCs showed an enhanced expression of CXCL9 and CCL20, while hypoxic H9c2 cells did not. Patients with MI had significantly enhanced levels of serum TGF-β and CXCL9 compared to healthy subjects. ISO-treated rats had increased serum CXCL9 levels and marked cardiac fibrosis compared to control rats. The trend of increased serum CCL20 in patients with MI and ISO-treated rats was not significant. CXCL9-incubated cardiac fibroblasts showed enhanced proliferation and migration. The findings of this study suggest that an enhanced expression of CXCL9 following MI might play a role in post-MI cardiac fibrosis by activating cardiac fibroblasts.
View Full-Text
►

▼

Figures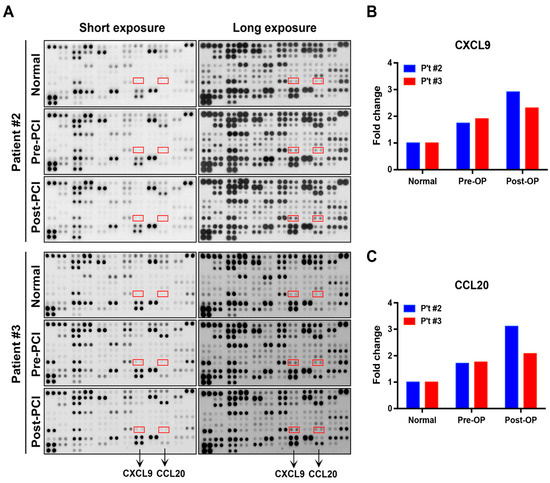 Figure 1
This is an open access article distributed under the
Creative Commons Attribution License
which permits unrestricted use, distribution, and reproduction in any medium, provided the original work is properly cited (CC BY 4.0).

Share & Cite This Article
MDPI and ACS Style
Lin, C.-F.; Su, C.-J.; Liu, J.-H.; Chen, S.-T.; Huang, H.-L.; Pan, S.-L. Potential Effects of CXCL9 and CCL20 on Cardiac Fibrosis in Patients with Myocardial Infarction and Isoproterenol-Treated Rats. J. Clin. Med. 2019, 8, 659.
Note that from the first issue of 2016, MDPI journals use article numbers instead of page numbers. See further details here.
Related Articles
Comments
[Return to top]