Cranio-Facial Characteristics in Children with Autism Spectrum Disorders (ASD)
1
Department Promozione della Salute, Materno-Infantile, di Medicina Interna e Specialistica di Eccellenza "G. D'Alessandro"-PROMISE-University of Palermo, 90127 Palermo, Italy
2
Childhood Psychiatric Service for Neurodevelopmentals Disorders, Centre Hospitalier du Chinonais, 37500 Saint-Benoît-la-Forêt, France
3
UMR 1253, iBrain, Université de Tours, Inserm, 37000 Tours, France
4
Department of Biomedicine, Neuroscience and Advanced Diagnostics-BIND-University of Palermo, 90127 Palermo, Italy
5
Department of Psychological Sciences, Pedagogical and Education, University of Palermo, 90128 Palermo, Italy
*
Author to whom correspondence should be addressed.
Received: 15 March 2019 / Revised: 1 May 2019 / Accepted: 7 May 2019 / Published: 9 May 2019
Abstract
Background
: Cranio-facial anomalies frequently occur in neurodevelopmental disorders because both face and brain are derived from neuroectoderm. The identification of differences in the facial phenotype of children with Autism Spectrum Disorders (ASD) may reflect alterations in embryologic brain development in children with ASD.
Methods
: we evaluated 33 caucasian children with ASD using a 2D computerized photogrammetry. Anthropometric euclidean measurements and landmarks located on the soft tissue of the face and head, were based on five cranio-facial indexes. Relationships between anthropometric z-scores and participant characteristics (i.e., age, Global IQ, severity of autistic symptoms measured using the CARS checklist) were assessed.
Results
: Cephalic index z-score differed significantly from 0 in our ASD group (
p
= 0.019). Moreover, a significant negative correlation was found between Facial Index z-score and CARS score (
p
= 0.003); conversely, a positive correlation was found between Interchantal Index z-score and CARS score (
p
= 0.028).
Conclusion
: our measurements shows a dolichocephalic head shape which is not correlated with autism severity. Importantly, two craniofacial markers were significantly correlated with autism severity: increased orbital hyperthelorism and decrease of height of the facial midline. These data support previous findings of craniofacial anomalies in autism spectrum disorder suggesting an "ASD facial phenotype" that could be used to improve ASD diagnoses.
View Full-Text
►

▼

Figures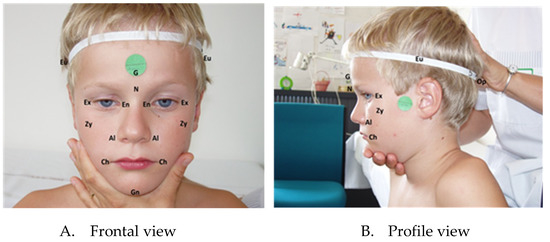 Figure 1
This is an open access article distributed under the
Creative Commons Attribution License
which permits unrestricted use, distribution, and reproduction in any medium, provided the original work is properly cited (CC BY 4.0).

Share & Cite This Article
MDPI and ACS Style
Tripi, G.; Roux, S.; Matranga, D.; Maniscalco, L.; Glorioso, P.; Bonnet-Brilhault, F.; Roccella, M. Cranio-Facial Characteristics in Children with Autism Spectrum Disorders (ASD). J. Clin. Med. 2019, 8, 641.
Note that from the first issue of 2016, MDPI journals use article numbers instead of page numbers. See further details here.
Related Articles
Comments
[Return to top]