Migration of the Lag Screw after Intramedullary Treatment of AO/OTA 31.A2.1-3 Pertrochanteric Fractures Does Not Result in Higher Incidence of Cut-Outs, Regardless of Which Implant Was Used: A Comparison of Gamma Nail with and without U-Blade (RC) Lag Screw and Proximal Femur Nail Antirotation (PFNA)
1
Department of Orthopedics and Traumatology, Clinical Division of Traumatology, Medical University of Vienna, 1090 Vienna, Austria
2
Department: Medical School, University College London, London WC1E 6BT, UK
3
Department of Orthopedics and Traumatology, Clinical Division of Orthopedics, Medical University of Vienna, 1090 Vienna, Austria
*
Author to whom correspondence should be addressed.
Received: 1 April 2019 / Revised: 18 April 2019 / Accepted: 22 April 2019 / Published: 7 May 2019
Abstract
The best intramedullary nail for the treatment of unstable AO/OTA 31.A2.1-3 fractures remains uncertain. A total of 237 patients (45 male, 192 female) were eligible for the assessment with an average age of 81.9 ± 10.5 years and a minimum follow-up of six months. We assessed the cut-out rate, the TAD and calTAD (Tip Apex distance) of three different implants. An overall cut-out rate of 2.5% (
n
= 6) was observed. The cut-out rate was 1.2% (
n
= 1) in the Proximal Femur Nail Antirotation (PFNA) group, 3.7% (
n
= 3) in the Gamma Nail group and 2.9% (
n
= 2) in the Gamma3
®
with a U-Blade (RC) lag-screw group. The TAD and calTAD differed between the cut-out and non-cut group—20.0 mm vs. 18.5 mm and 13.1 mm vs. 15.3 mm, respectively. A significantly higher TAD of 32.5 mm could be seen in the cut-out after PFNA (
p
< 0.0001). The only significant change in follow-up using Parker's ratio was observed in the PFNA group (
p
< 0.0001). The rate of patients requiring surgery after complications was 8.4% (
n
= 20) without any significant difference between the three groups. The PFNA blade showed significant migration within the femoral head, however the cut-out rate remained the smallest compared to Gamma3 with or without additional U-Blade (RC) lag screw.
View Full-Text
►

▼

Figures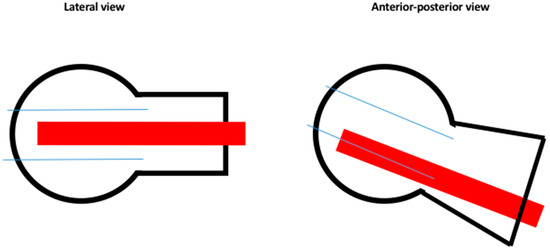 Figure 1
This is an open access article distributed under the
Creative Commons Attribution License
which permits unrestricted use, distribution, and reproduction in any medium, provided the original work is properly cited (CC BY 4.0).

Share & Cite This Article
MDPI and ACS Style
Lang, N.W.; Breuer, R.; Beiglboeck, H.; Munteanu, A.; Hajdu, S.; Windhager, R.; Widhalm, H.K. Migration of the Lag Screw after Intramedullary Treatment of AO/OTA 31.A2.1-3 Pertrochanteric Fractures Does Not Result in Higher Incidence of Cut-Outs, Regardless of Which Implant Was Used: A Comparison of Gamma Nail with and without U-Blade (RC) Lag Screw and Proximal Femur Nail Antirotation (PFNA). J. Clin. Med. 2019, 8, 615.
Note that from the first issue of 2016, MDPI journals use article numbers instead of page numbers. See further details here.
Related Articles
Comments
[Return to top]