CA125 as a Marker of Heart Failure in the Older Women: A Population-Based Analysis
1
Department of Internal Diseases and Oncological Chemotherapy, School of Medicine in Katowice, Medical University of Silesia, 40-027 Katowice, Poland
2
Department of Statistics, Department of Instrumental Analysis, School of Pharmacy and Laboratory Medicine in Sosnowiec, Medical University of Silesia, 41-200 Sosnowiec, Poland
3
First Department of Cardiology, School of Medicine in Katowice, Medical University of Silesia, 40-635 Katowice, Poland
4
Department of Gynecology and Obstetrics, School of Medicine in Katowice, Medical University of Silesia, 40-752 Katowice, Poland
5
International Institute of Molecular and Cell Biology, Warsaw 02-109, Poland
6
Department of Internal Medicine and Gerontology, Jagiellonian University Medical College, 31-531 Cracow, Poland
7
Health Promotion and Obesity Management Unit, Department of Pathophysiology, School of Medicine in Katowice, Medical University of Silesia, 40-752 Katowice, Poland
8
Pathophysiology Unit, Department of Pathophysiology, School of Medicine in Katowice, Medical University of Silesia, 40-752 Katowice, Poland
*
Author to whom correspondence should be addressed.
Received: 17 February 2019 / Revised: 25 April 2019 / Accepted: 30 April 2019 / Published: 3 May 2019
Abstract
(1) Background: Cancer antigen 125 (CA125) is a glycoprotein that is expressed by tissue derived from coelomic epithelium in the pleura, peritoneum, pericardium. It has been shown that CA125 concentrations are correlated with NT-proBNP in older people with congestive heart failure (HF). We conducted a study on the association between concentrations of CA125 and NT-proBNP in a population-based cohort of older Polish women. (2) Methods: The current research is sub-study of a large, cross-sectional research project (PolSenior). The study group consisted of 1565 Caucasian women aged 65–102 years. To assess the relationship between CA125 and other variables a stepwise backward multivariate normal and skew-t regression analyses were performed. (3) Results: The median of CA125 concentration was 13.0 U/mL and values over the upper normal range limit (35 U/mL) were observed in 5.1% (
n
= 79) of the study cohort. The concentration of CA125 was positively related to age, hospitalization for HF and history of atrial fibrillation and chronic obstructive pulmonary disease, levels of NT-proBNP, IL-6, hs-CRP and triglycerides. We found in the multivariate analyses, that increased CA125 levels were independently associated with log
10
(IL-6) (β = 11.022), history of hospitalization for HF (β = 4.619), log
10
(NT-proBNP) (β = 4.416) and age (β = 3.93 for 10 years). (4) Conclusions: Despite the association between CA125 and NT-proBNP, the usefulness of CA125 for the detection of HF in older women is limited by factors such as inflammatory status and age.
View Full-Text
►

▼

Figures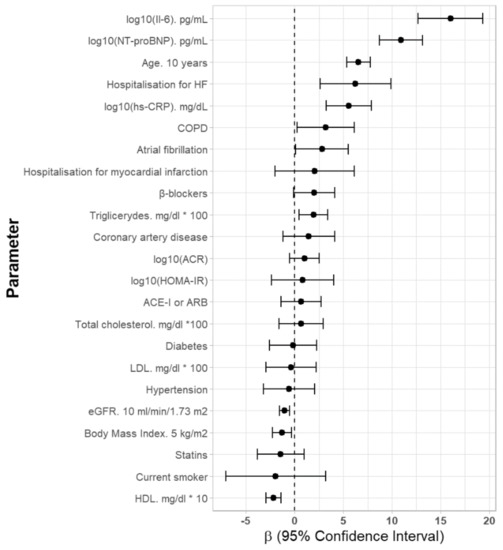 Figure 1
This is an open access article distributed under the
Creative Commons Attribution License
which permits unrestricted use, distribution, and reproduction in any medium, provided the original work is properly cited (CC BY 4.0).

Share & Cite This Article
MDPI and ACS Style
Bulska-Będkowska, W.; Chełmecka, E.; Owczarek, A.J.; Mizia-Stec, K.; Witek, A.; Szybalska, A.; Grodzicki, T.; Olszanecka-Glinianowicz, M.; Chudek, J. CA125 as a Marker of Heart Failure in the Older Women: A Population-Based Analysis. J. Clin. Med. 2019, 8, 607.
Note that from the first issue of 2016, MDPI journals use article numbers instead of page numbers. See further details here.
Related Articles
Comments
[Return to top]