Consecutive Prostate Cancer Specimens Revealed Increased Aldo–Keto Reductase Family 1 Member C3 Expression with Progression to Castration-Resistant Prostate Cancer
1
Department of Urology, Kyoto University Graduate School of Medicine, Kyoto 606-8507, Japan
2
Department of Diagnostic Pathology, Kyoto University Hospital, Kyoto 606-8507, Japan
*
Author to whom correspondence should be addressed.
Received: 27 March 2019 / Revised: 23 April 2019 / Accepted: 26 April 2019 / Published: 1 May 2019
Abstract
Aldo-keto reductase family 1 member C3 (AKR1C3) is an enzyme in the steroidogenesis pathway, especially in formation of testosterone and dihydrotestosterone, and is believed to have a key role in promoting prostate cancer (PCa) progression, particularly in castration-resistant prostate cancer (CRPC). This study aims to compare the expression level of AKR1C3 between benign prostatic epithelium and cancer cells, and among hormone-naïve prostate cancer (HNPC) and CRPC from the same patients, to understand the role of AKR1C3 in PCa progression. Correlation of AKR1C3 immunohistochemical expression between benign and cancerous epithelia in 134 patient specimens was analyzed. Additionally, correlation between AKR1C3 expression and prostate-specific antigen (PSA) progression-free survival (PFS) after radical prostatectomy was analyzed. Furthermore, we evaluated the consecutive prostate samples derived from 11 patients both in the hormone-naïve and castration-resistant states. AKR1C3 immunostaining of cancer epithelium was significantly stronger than that of the benign epithelia in patients with localized HNPC (
p
< 0.0001). High AKR1C3 expression was an independent factor of poor PSA PFS (
p
= 0.032). Moreover, AKR1C3 immunostaining was significantly stronger in CRPC tissues than in HNPC tissues in the same patients (
p
= 0.0234). Our findings demonstrate that AKR1C3 is crucial in PCa progression.
View Full-Text
►

▼

Figures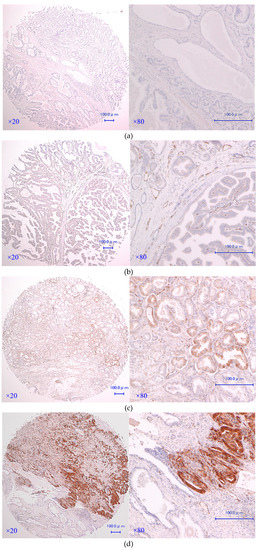 Figure 1
This is an open access article distributed under the
Creative Commons Attribution License
which permits unrestricted use, distribution, and reproduction in any medium, provided the original work is properly cited (CC BY 4.0).

Share & Cite This Article
MDPI and ACS Style
Miyazaki, Y.; Teramoto, Y.; Shibuya, S.; Goto, T.; Okasho, K.; Mizuno, K.; Uegaki, M.; Yoshikawa, T.; Akamatsu, S.; Kobayashi, T.; Ogawa, O.; Inoue, T. Consecutive Prostate Cancer Specimens Revealed Increased Aldo–Keto Reductase Family 1 Member C3 Expression with Progression to Castration-Resistant Prostate Cancer. J. Clin. Med. 2019, 8, 601.
Note that from the first issue of 2016, MDPI journals use article numbers instead of page numbers. See further details here.
Related Articles
Comments
[Return to top]