Environment and Male Fertility: Effects of Benzo-α-Pyrene and Resveratrol on Human Sperm Function In Vitro
1
Department of Clinical and Experimental Medicine, 95123 Catania, Italy
2
Department of Biomedical and Biotechnological Sciences, 95123 Catania, Italy
3
CoHEAR, Research Center for Smoking Damage Reduction, University of Catania, 95123 Catania, Italy
*
Author to whom correspondence should be addressed.
Received: 13 March 2019 / Revised: 12 April 2019 / Accepted: 19 April 2019 / Published: 25 April 2019
Abstract
Lifestyle, cigarette smoking and environmental pollution have a negative impact on male fertility. Therefore, the aim of this study was to evaluate the in-vitro effects of benzo-α-pyrene (BaP) and aryl hydrocarbon receptor (AHR) agonists on motility and bio-functional sperm parameters. We further assessed whether resveratrol (RES), an AHR antagonist and antioxidant molecule, had any protective effect. To accomplish this, 30 normozoospermic, healthy, non-smoker men not exposed to BaP were enrolled. Spermatozoa of 15 men were incubated with increasing concentrations of BaP to evaluate its effect and to establish its dose response. Then, spermatozoa of the 15 other men were incubated with BaP (15 µM/mL), chosen according to the dose-response and/or RES to evaluate its antagonistic effects. The effects of both substances were evaluated after 3 h of incubation on total and progressive sperm motility and on the following bio-functional sperm parameters evaluated by flow cytometry: Degree of chromatin compactness, viability, phosphatidylserine externalization (PS), late apoptosis, mitochondrial membrane potential (MMP), DNA fragmentation, degree of lipoperoxidation (LP), and concentrations of mitochondrial superoxide anion. Benzo-α-pyrene decreased total and progressive sperm motility, impaired chromatin compactness, and increased sperm lipoperoxidation and mitochondrial superoxide anion levels. All these effects were statistically significant at the lowest concentration tested (15 µM/mL) and they were confirmed at the concentration of 45 µM/mL. In turn, RES was able to counteract the detrimental effects of BaP on sperm motility, abnormal chromatin compactness, lipid peroxidation, and mitochondrial superoxide. This study showed that BaP alters sperm motility and bio-functional sperm parameters and that RES exerts a protective effect on BaP-induced sperm damage.
View Full-Text
►

▼

Figures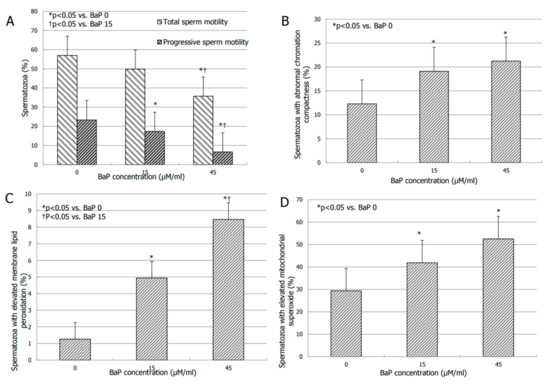 Figure 1
This is an open access article distributed under the
Creative Commons Attribution License
which permits unrestricted use, distribution, and reproduction in any medium, provided the original work is properly cited (CC BY 4.0).

Share & Cite This Article
MDPI and ACS Style
Alamo, A.; Condorelli, R.A.; Mongioì, L.M.; Cannarella, R.; Giacone, F.; Calabrese, V.; La Vignera, S.; Calogero, A.E. Environment and Male Fertility: Effects of Benzo-α-Pyrene and Resveratrol on Human Sperm Function In Vitro. J. Clin. Med. 2019, 8, 561.
Note that from the first issue of 2016, MDPI journals use article numbers instead of page numbers. See further details here.
Related Articles
Comments
[Return to top]