Results of Treatment with Modern Fractionated Radiotherapy, Contemporary Stereotactic Radiosurgery, and Transsphenoidal Surgery in Nonfunctioning Pituitary Macroadenoma
1
Department of General Surgery, Wan Fang Hospital, Taipei Medical University, Taipei 11031, Taiwan
2
Department of Internal Medicine, School of Medicine, College of Medicine, Taipei Medical University, Taipei 11031, Taiwan
3
Department of Hemato-Oncology, Wan Fang Hospital, Taipei Medical University, Taipei 11031, Taiwan
4
Department of Otorhinolaryngology, Wan Fang Hospital, Taipei Medical University, Taipei 11031, Taiwan
5
Ph.D. Program for Translational Medicine, Taipei Medical University, Taipei 11031, Taiwan
6
Department of Radiation Oncology, Wan Fang Hospital, Taipei Medical University, Taipei 11031, Taiwan
7
Department of Radiology, School of Medicine, College of Medicine, Taipei Medical University, Taipei 11031, Taiwan
*
Author to whom correspondence should be addressed.
†
These authors contributed equally to this paper.
Received: 10 March 2019 / Revised: 10 April 2019 / Accepted: 11 April 2019 / Published: 16 April 2019
Abstract
Background: To compare the effects of contemporary stereotactic radiosurgery (SRS), modern fractionated radiotherapy (FRT), and transsphenoidal surgery on nonfunctioning pituitary macroadenoma. Methods: We enrolled patients with nonfunctioning pituitary macroadenoma. To compare treatment outcomes, the patients were categorized into three groups according to the treatment modality: group 1, patients receiving modern FRT; group 2, patients receiving contemporary SRS; and group 3, patients receiving transsphenoidal surgery. Results: In total, 548 patients with nonfunctioning pituitary macroadenoma were selected for our study. Univariate and multivariate Cox regression analysis results indicated that the treatment modalities were significant independent prognostic factors. In multivariable Cox proportional hazard regression analysis, the adjusted hazard ratios (aHR; 95% confidence interval (CI)) of local recurrence were 0.27 (0.10–0.91) and 1.95 (1.25–2.37) for the SRS and transsphenoidal surgery cohorts, respectively, in comparison with the FRT cohort. The aHR (95% CI) of all-cause mortality was 1.03 (0.68–1.56) for the transsphenoidal surgery cohort in comparison with the FRT cohort, without statistical significance. However, the aHR (95% CI) of all-cause mortality was 0.36 (0.15–0.85) for the SRS cohort in comparison with the FRT cohort. Conclusion: Contemporary SRS has optimal effects on local recurrence and survival compared with modern FRT and transsphenoidal surgery. Modern FRT is associated with more favorable local control and equal survival compared with transsphenoidal surgery.
View Full-Text
►

▼

Figures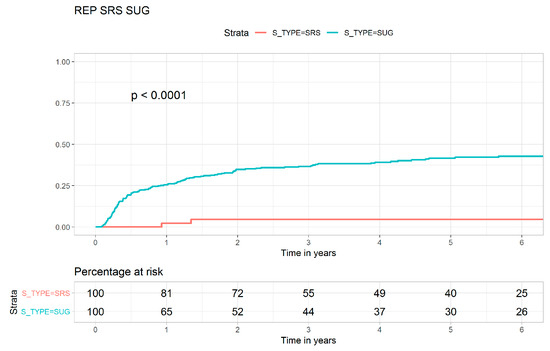 Figure 1
This is an open access article distributed under the
Creative Commons Attribution License
which permits unrestricted use, distribution, and reproduction in any medium, provided the original work is properly cited (CC BY 4.0).

Share & Cite This Article
MDPI and ACS Style
Hsiao, P.-K.; Chang, C.-L.; Yuan, K. .-P.; Wu, A.T.; Wu, S.-Y. Results of Treatment with Modern Fractionated Radiotherapy, Contemporary Stereotactic Radiosurgery, and Transsphenoidal Surgery in Nonfunctioning Pituitary Macroadenoma. J. Clin. Med. 2019, 8, 518.
Note that from the first issue of 2016, MDPI journals use article numbers instead of page numbers. See further details here.
Related Articles
Comments
[Return to top]