Plasma Malondialdehyde and Risk of New-Onset Diabetes after Transplantation in Renal Transplant Recipients: A Prospective Cohort Study
1
Division of Nephrology, Department of Internal Medicine, University Medical Center Groningen, University of Groningen, 9713 GZ Groningen, The Netherlands
2
Department of Internal Medicine, University Medical Center Groningen, University of Groningen, 9713 GZ Groningen, The Netherlands
3
Institute of Human Nutrition and Food Science, Christian-Albrechts-University of Kiel, Herrmann Rodewaldstrasse 6, D-24118 Kiel, Germany
4
Institute of Food Science and Human Nutrition, Department Food Development and Food Quality, Gottfried Wilhelm Leibniz University Hannover, Am Kleinen Felde 30, D-30167 Hannover, Germany
5
Molecular and Clinical Pharmacology Program, Institute of Biomedical Sciences, Faculty of Medicine, University of Chile, Av. Independencia 1027, CP 8380453 Santiago, Chile
6
Division of Human Nutrition and Health, Wageningen University and Research, P.O. Box 47, 6700 AA Wageningen, The Netherlands
*
Author to whom correspondence should be addressed.
Received: 17 February 2019 / Revised: 29 March 2019 / Accepted: 30 March 2019 / Published: 4 April 2019
Abstract
New-onset diabetes after transplantation (NODAT) is a frequent complication in renal transplant recipients (RTR). Although oxidative stress has been associated with diabetes mellitus, data regarding NODAT are limited. We aimed to prospectively investigate the long-term association between the oxidative stress biomarker malondialdehyde (measured by high-performance liquid chromatography) and NODAT in an extensively phenotyped cohort of non-diabetic RTR with a functioning graft ≥1 year. We included 516 RTR (51 ± 13 years-old, 57% male). Median plasma malondialdehyde (MDA) was 2.55 (IQR, 1.92–3.66) µmol/L. During a median follow-up of 5.3 (IQR, 4.6–6.0) years, 56 (11%) RTR developed NODAT. In Cox proportional-hazards regression analyses, MDA was inversely associated with NODAT, independent of immunosuppressive therapy, transplant-specific covariates, lifestyle, inflammation, and metabolism parameters (HR, 0.55; 95% CI, 0.36–0.83 per 1-SD increase;
p
< 0.01). Dietary antioxidants intake (e.g., vitamin E, α-lipoic acid, and linoleic acid) were effect-modifiers of the association between MDA and NODAT, with particularly strong inverse associations within the subgroup of RTR with relatively higher dietary antioxidants intake. In conclusion, plasma MDA concentration is inversely and independently associated with long-term risk of NODAT in RTR. Our findings support a potential underrecognized role of oxidative stress in post-transplantation glucose homeostasis.
View Full-Text
►

▼

Figures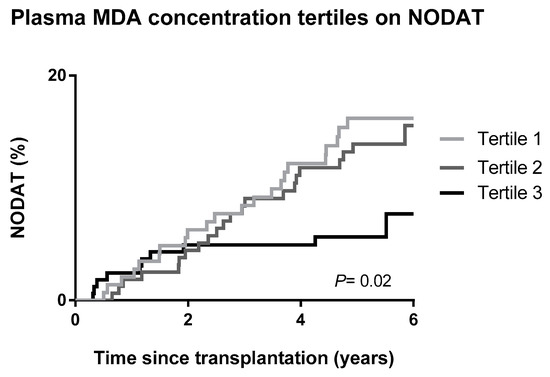 Figure 1
This is an open access article distributed under the
Creative Commons Attribution License
which permits unrestricted use, distribution, and reproduction in any medium, provided the original work is properly cited (CC BY 4.0).

Share & Cite This Article
MDPI and ACS Style
Yepes-Calderón, M.; Sotomayor, C.G.; Gomes-Neto, A.W.; Gans, R.O.; Berger, S.P.; Rimbach, G.; Esatbeyoglu, T.; Rodrigo, R.; Geleijnse, J.M.; Navis, G.J.; Bakker, S.J. Plasma Malondialdehyde and Risk of New-Onset Diabetes after Transplantation in Renal Transplant Recipients: A Prospective Cohort Study. J. Clin. Med. 2019, 8, 453.
Note that from the first issue of 2016, MDPI journals use article numbers instead of page numbers. See further details here.
Related Articles
Comments
[Return to top]