NCL1, A Highly Selective Lysine-Specific Demethylase 1 Inhibitor, Suppresses Castration-Resistant Prostate Cancer Growth via Regulation of Apoptosis and Autophagy
1
Department of Nephro-Urology, Nagoya City University, Graduate School of Medical Sciences, Nagoya 467-8601, Japan
2
Department of Experimental Pathology and Tumor Biology, Nagoya City University, Graduate School of Medical Sciences, Nagoya 467-8601, Japan
3
Department of Chemistry, Kyoto Prefectural University of Medicine, Graduate School of Medical Science, Kyoto 606-0823, Japan
4
CREST, Japan Science and Technology Agency (JST), Kawaguchi 332-0015, Japan
*
Author to whom correspondence should be addressed.
Received: 12 March 2019 / Revised: 25 March 2019 / Accepted: 27 March 2019 / Published: 31 March 2019
Abstract
Recent studies have shown that epigenetic alterations lead to oncogenic activation, thus indicating that these are therapeutic targets. Herein, we analyzed the efficacy and therapeutic potential of our developed histone lysine demethylase 1 (LSD1) inhibitor, NCL1, in castration-resistant prostate cancer (CRPC). The CRPC cell lines 22Rv1, PC3, and PCai1CS were treated with NCL1, and LSD1 expression and cell viability were assessed. The epigenetic effects and mechanisms of NCL1 were also evaluated. CRPC cells showed strong LSD1 expression, and cell viability was decreased by NCL1 in a dose-dependent manner. Chromatin immunoprecipitation analysis indicated that NCL1 induced histone H3 lysine 9 dimethylation accumulation at promoters of P21. As shown by Western blot and flow cytometry analyses, NCL1 also dose-dependently induced caspase-dependent apoptosis. The stimulation of autophagy was observed in NCL1-treated 22Rv1 cells by transmission electron microscopy and LysoTracker analysis. Furthermore, WST-8 assay revealed that the anti-tumor effect of NCL1 was reinforced when autophagy was inhibited by chloroquine in 22Rv1 cells. Combination index analysis revealed that a concurrent use of these drugs had a synergistic effect. In ex vivo analysis, castrated nude mice were injected subcutaneously with PCai1 cells and intraperitoneally with NCL1. Tumor volume was found to be reduced with no adverse effects in NCL1-treated mice compared with controls. Finally, immunohistochemical analysis using consecutive human specimens in pre- and post-androgen deprivation therapy demonstrated that LSD1 expression levels in CRPC, including neuroendocrine differentiation cases, were very high, and identical to levels observed in previously examined prostate biopsy specimens. NCL1 effectively suppressed prostate cancer growth in vitro and ex vivo without adverse events via the regulation of apoptosis and autophagy, suggesting that NCL1 is a potential therapeutic agent for CRPC.
View Full-Text
►

▼

Figures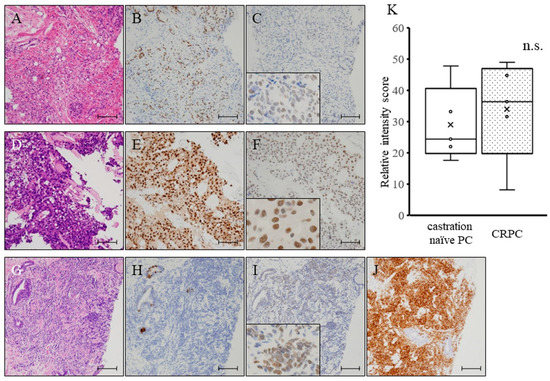 Figure 1
This is an open access article distributed under the
Creative Commons Attribution License
which permits unrestricted use, distribution, and reproduction in any medium, provided the original work is properly cited (CC BY 4.0).

Share & Cite This Article
MDPI and ACS Style
Etani, T.; Naiki, T.; Naiki-Ito, A.; Suzuki, T.; Iida, K.; Nozaki, S.; Kato, H.; Nagayasu, Y.; Suzuki, S.; Kawai, N.; Yasui, T.; Takahashi, S. NCL1, A Highly Selective Lysine-Specific Demethylase 1 Inhibitor, Suppresses Castration-Resistant Prostate Cancer Growth via Regulation of Apoptosis and Autophagy. J. Clin. Med. 2019, 8, 442.
Note that from the first issue of 2016, MDPI journals use article numbers instead of page numbers. See further details here.
Related Articles
Comments
[Return to top]