Open Access This article is
freely available
re-usable
Review
Epithelial to Mesenchymal Transition and Cell Biology of Molecular Regulation in Endometrial Carcinogenesis
1
Department of Obstetrics and Gynecology, Taipei Tzu Chi Hospital, Buddhist Tzu Chi Medical Foundation, Taipei 231, Taiwan
2
Department of Obstetrics and Gynecology, School of Medicine, Tzu Chi University, Hualien 970, Taiwan
3
Department of Obstetrics and Gynecology, Kaohsiung Veterans General Hospital, Kaohsiung 813, Taiwan
4
Department of Emergency Medicine, Taipei Tzu Chi Hospital, Buddhist Tzu Chi Medical Foundation, New Taipei 231, Taiwan
5
Department of Emergency Medicine, School of Medicine, Tzu Chi University, Hualien 970, Taiwan
6
Department of Medical Research, Buddhist Tzu Chi General Hospital, Hualien 970, Taiwan
*
Author to whom correspondence should be addressed.
Received: 22 February 2019 / Accepted: 25 March 2019 / Published: 30 March 2019
Abstract
:
Endometrial carcinogenesis is involved in several signaling pathways and it comprises multiple steps. The four major signaling pathways—PI3K/AKT, Ras/Raf/MEK/ERK, WNT/β-catenin, and vascular endothelial growth factor (VEGF)—are involved in tumor cell metabolism, growth, proliferation, survival, and angiogenesis. The genetic mutation and germline mitochondrial DNA mutations also impair cell proliferation, anti-apoptosis signaling, and epithelial–mesenchymal transition by several transcription factors, leading to endometrial carcinogenesis and distant metastasis. The PI3K/AKT pathway activates the ransforming growth factor beta (TGF-β)-mediated endothelial-to-mesenchymal transition (EMT) and it interacts with downstream signals to upregulate EMT-associated factors. Estrogen and progesterone signaling in EMT also play key roles in the prognosis of endometrial carcinogenesis. In this review article, we summarize the current clinical and basic research efforts regarding the detailed molecular regulation in endometrial carcinogenesis, especially in EMT, to provide novel targets for further anti-carcinogenesis treatment.
Keywords:
endometrial cancer; epithelial-mesenchymal transition; AKT/PI3K; Ras/Raf/MEK/ERK; WNT/β-catenin
1. Introduction
Endometrial cancer is the most common neoplasm of the female genital tract. Its incidence and mortality rates are increasing. Endometrial carcinogenesis is a complex and multi-step process that features a slow progression from hyperplasia to endometrial cancer [
1
,
2
]. Several risk factors have been implicated and investigated, especially obesity and diabetes mellitus. As summarized by Sanderson et al. [
3
], the factors that contribute to endometrial carcinogenesis during estrogen stimulation include polycystic ovary syndrome (PCOS), obesity, perimenopause, functional tumor, and iatrogenic events. These conditions induce continuous estrogen stimulation that is unopposed by progesterone. Features of PCOS also include obesity and hyperinsulinemia, which also are important risk factors in endometrial carcinogenesis. Estrogen overstimulation was also associated with the phosphoinositide 3-kinase/protein kinase B (PI3K/AKT) pathway and the downstream mammalian target of rapamycin (mTOR) signaling to promote epithelial-mesenchymal transition (EMT), which occurs due to the inhibition of E-cadherin [
4
].
Genetic mutations also introduce several functional abnormalities and increased stress, which promote carcinogenesis. Kandoth et al. [
5
] collected and analyzed 373 high-grade endometrioid tumors. Mutations in
PTEN, CTNNB1, PIK3CA, ARID1A, KRAS
, and
ARID5B
were detected at high frequencies by array and sequencing analyses.
PTEN
and
KRAS
mutations in endometrial carcinoma may trigger the PI3K/AKT and mitogen-activated protein kinase/extracellular signal-activated kinase (MAPK/ERK) pathway.
PIK3CA
and
PIK3R1
mutations frequently occur with the
PTEN
mutation.
KRAS
and
CTNNB1
mutations are also involved in WNT signaling in endometrial carcinogenesis. Chang et al. [
6
] investigated genomic alterations in 14 tumor tissues from Taiwanese endometrial cancer patients. The authors reported nine potential driver genes (
MAPT, IL24, MCM6, TSC1, BIRC2, CIITA, DST, CASP8,
and
NOTCH2
) and 21 potential passenger genes
(ARMCX4, IGSF10, VPS13C, DCT, DNAH14, TLN1, ZNF605, ZSCAN29, MOCOS, CMYA5, PCDH17, UGT1A8, CYFIP2, MACF1, NUDT5, JAKMIP1, PCDHGB4, FAM178A, SNX6, IMP4
, and
PCMTD1)
and impaired cell functions that included cell proliferation, cell cycling, and death, via the mTOR, Wnt, MAPK, and vascular endothelial growth factor (VEGF) pathways. Gibson et al. [
7
] analyzed 98 tumor tissues using whole-exome sequencing. The mutation of
NRIP1
, which is an obligate cofactor of the estrogen receptor, accounted for 12.5% of the mutations.
However, detailed pathophysiology of endometrial cancer has remained unclear in clinical or basic studies. Many studies have focused on the molecular and cell biology on endometrial cancer, including the immune escape, local inflammation, mitochondria dysfunction, tumor cell proliferation, and cell death. These studies have informed novel approaches for the therapeutic strategies of endometrial cancer [
8
]. In this review, we present recent evidence and summarize the current concept of cell biology and molecular regulation of endometrial cancer. Our aim is to provide a strong foundation for the development of further therapeutic interventions.
2. Clinical Feature of Endometrial Carcinoma
Endometrial cancer is the seventh most common cancer globally, with increasing rates of incidence rate and mortality. An incidence of 24.7 per 100,000 women has been reported in Flanders and similar rates have been reported in other western European countries [
9
,
10
]. The typical presentation in endometrial cancer is abnormal uterine bleeding, especially in postmenopausal women. Abnormal uterine bleeding has been reported in about 60% of endometrial cancer patients [
11
,
12
] In some cases, due to atypical presentation the endocervical cavity anomaly may delay the diagnosis of endometrial cancer [
13
]. Other incidental findings of endometrial cancer may be obtained from cervical cytology or image findings. In cervical cytology analysis, adenocarcinoma was reported to arise from the cervix or endometrium, and further survey is necessary [
14
,
15
]. The presence of atypical glandular cells and endometrial cells in high risk patients is a hint to physicians to assess the endometrial neoplasm. In an update, Sanderson et al. [
3
] described the necessity for initial management of endometrial hyperplasia in abnormal uterine bleeding cases. In an atypical hyperplasia (AH) group, total hysterectomy with or without bilateral salpingo-oophorectomy (BSO) was suggested. If fertility is an issue or for patients in whom surgery is contraindicated, knowledge regarding the risk factors that are present is important in the control of estrogen stimulation. The Levonorgestrel-releasing intrauterine system (LNG-IUS) is the first-line therapy for these patients. In the endometrial hyperplasia without atypia group (EH), addressing the risk factors has also been suggested as a first step. Endometrial biopsy every six months in EH and three months in AH is prudent. The results are divided into three groups: regression, persistence, and prognosis. In regression cases, the continuation of LNG-IUS for five years was suggested, and oral progestogen may stop after six months. In the persistence group, 12 months of medical treatment was suggested in EH patients. Total hysterectomy with BSO was advised in AH patients with persistence and progression in pathological reports [
16
].
Transvaginal ultrasound (TVU) is an effective and noninvasive method in assessing the thickness and the characteristics of endometrium. The sensitivity and specificity of TVU with a cut-off of 5 mm were reported as 80.5% and 85.7% [
17
,
18
]. Computed tomography (CT) is an alternative tool to assess huge tumors in the pelvis [
19
]. However, the resolution of soft tissue by CT is lower when compared to magnetic resonance imaging (MRI). MRI can provide detailed information regarding tumor invasion and lymphadenopathy in endometrial cancer patients [
20
]. Preoperative staging via preoperative assessments, including TVU, CT for lung and liver, and MRI for retroperitoneal lymph nodes, is necessary for physicians to detect early stage or advanced disease [
21
,
22
]. In advanced disease, laparotomy, which prevents port-site metastasis, or palliative treatment, may be suitable for these patients [
23
]. However, endometrial cancer is a surgically staged disease, which comprises myometrial and intra-abdominal invasion. The International Federation of Gynecology and Obstetrics (FIGO) staging system is based on the myometrial and intra-abdominal invasion, such as the involvement of uterine serosa, adnexa, ascites, and intra-abdominal lymph nodes, to predict the mortality rate (
Table 1
). Previous studies reported that the FIGO staging system significantly reflected the five-year survival rate, with rates of 85% for stage I, 93% for stage IA, 90% for stage IB, 75% for stage II, 45% for stage III, and 25% for stage IV [
24
,
25
].
According to the clinicopathologic features, endometrial cancer is divided into two major types. Type 1 endometrial carcinomas include low-grade endometrioid endometrial carcinomas (FIGO grades 1 and 2), which accounted for the majority of cases (80% in one study [
26
]). Estrogen, from endometrial hyperplasia to the early stage induced these neoplasms. The prognosis is better than the prognosis for type 2 neoplasms, with FIGO grade 3 endometroid and nonendometrioid histologies that include serous, clear cell, mixed cell, and undifferentiated types. These type 2 neoplasms are not responsive to estrogen and they are associated with a poor prognosis. Endometrioid endometrial carcinoma can be induced by exposure to endogenous or exogenous estrogen, leading to abnormal endometrial proliferation, which causes endometrial adenocarcinoma. Several risk factors, including obesity and type 2 diabetes mellitus, reportedly promote the carcinogenesis of the endometrium. Genetic mutations, such as
PTEN, KRAS, ARID1A, PIK3CA,
and
CTNNB1
and microsatellite instability have been investigated [
27
]. These mutations and stress induced downstream pathways promote carcinogenesis [
28
]. Type 2 endometrial cancers, such as serous, clear cell carcinomas, and carcinosarcomas, are not associated with estrogen stimuli induced by different mechanisms. Mutations of p53 are commonly involved in the disease [
29
,
30
,
31
]. The detailed pathogenesis of endometrial carcinoma is still not well understood. Some of the mechanisms that have been implicated in the pathogenesis of endometrial carcinoma are considered in the following sections.
3. Signaling Pathways in Endometrial Carcinogenesis
Endometrial carcinogenesis involves several signaling pathways that promote cell proliferation and facilitate the escape from the immune system and apoptosis signaling [
32
,
33
,
34
]. Several major pathways that were identified in endometrial cancer,, such as hypoxia-inducible factor 1 alpha (HIF-1α)/VEGF, PI3K/AKT/mTOR, Ras/Raf/MEK/ERK, Wnt/β-catenin, and Insulin/Insulin growth factor-1 (IGF-I) signaling pathways (
Figure 1
). Detailed knowledge regarding these signaling pathways is necessary to understand the pathophysiology of carcinogenesis for the development of novel targeted endometrial cancer therapies.
4. Epithelial-Mesenchymal Transition (EMT) Signaling Pathways in Endometrial Carcinoma
5. Conclusions
In the present article, we have summarized the clinical and basic research that has been focused on the detailed molecular regulation of endometrial carcinogenesis. The PI3K/AKT pathway mediates cell metabolism, growth, proliferation, survival, and angiogenesis. It also activates Ras/Raf/MEK/ERK signaling, which in turn regulates cell proliferation and differentiation. The Wnt/β-catenin signaling pathway is also involved in endometrial carcinogenesis by regulating cell proliferation. These major signaling pathways collectively promote EMT by triggering several transcription factors. The epithelial cells lose cell–cell contacts and adopt a mesenchymal-like property, with cytoskeleton remodeling and migratory activity via the EMT process, which promotes endometrial carcinogenesis and distant metastasis. The mutations of mtDNA, especially germline mutations, are associated with tumorigenesis. The detailed mechanism of mtDNA mutation-involved in endometrial cancer is still unclear. These concepts are worthy of investigation to provide novel targets in the development of efficacious therapeutic interventions.
Funding
This study was funded by grants from Taipei Tzu Chi Hospital (TCRD-TPE-108-5, TCRD-TPE-108-7).
Conflicts of Interest
The authors declare no conflict of interest.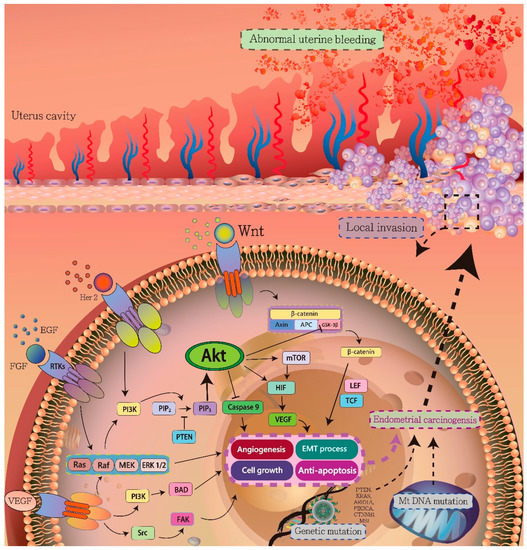 Figure 1. Schematic drawing presents the detail signaling pathways of endometrial carcinogenesis. The genes mutations and imbalance of estrogen and progesterone may triggered the several pathways, including Ras/Raf/MEK/ERK signaling pathway, Wnt/β-catenin signaling pathway, AKT/PI3K Pathway, vascular endothelial growth factor (VEGF) pathway, and mtDNA mutation, involved in carcinogenesis to induce cell proliferation, angiogenesis, epithelial-mesenchymal transition, and anti-apoptosis effect, promoting the cancer cell to local invasion and distant metastasis.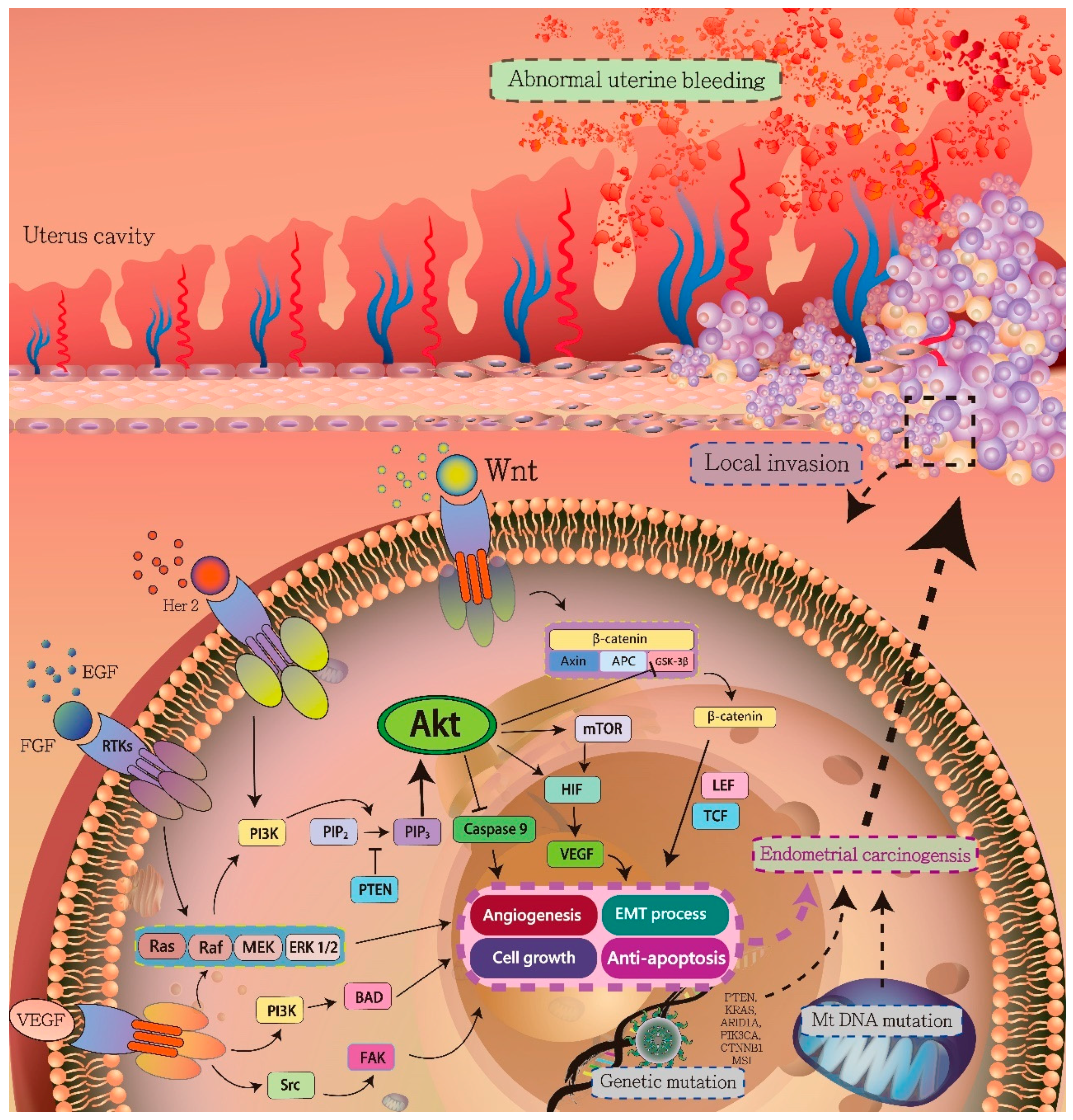 Table 1. TNM and International Federation of Gynecology and Obstetrics (FIGO) staging scoring system of endometrial cancer.
| When T | When N | When M | FIGO Stage |
| --- | --- | --- | --- |
| T1 | N0 | M0 | I |
| T1a | N0 | M0 | IA |
| T1b | N0 | M0 | IB |
| T2 | N0 | M0 | II |
| T3 | N0 | M0 | III |
| T3a | N0 | M0 | IIIA |
| T3b | N0 | M0 | IIIB |
| T1-3 | N1/N1mi/N1a | M0 | IIIC1 |
| T1-3 | N2/N2mi/N2a | M0 | IIIC2 |
| T4 | Any N | M0 | IVA |
| Any T | Any N | M1 | IVB |
T: Extent of the primary tumor, N: Involved regional lymph nodes, M: Distant metastasis, N1mi/N2mi: nodal micrometastases.

© 2019 by the authors. Licensee MDPI, Basel, Switzerland. This article is an open access article distributed under the terms and conditions of the Creative Commons Attribution (CC BY) license (http://creativecommons.org/licenses/by/4.0/).