A Culture-Independent Analysis of the Microbiota of Female Interstitial Cystitis/Bladder Pain Syndrome Participants in the MAPP Research Network
1
Department of Urology, Queen's University, Kingston, ON K0H 2T0, Canada
2
Department of Biostatistics and Epidemiology, Perelman School of Medicine, University of Pennsylvania, Philadelphia, PA 19104, USA
3
National Institute of Diabetes and Digestive and Kidney Diseases, National Institutes of Health, Bethesda, MD 20892, USA
4
Department of Pathology, University of Colorado Anschutz Medical Campus, Aurora, CO 80045, USA
5
Department of Medicine, Division of Infectious Diseases, Washington University School of Medicine, St. Louis, MO 63110, USA
6
Departments of Microbiology & Immunology; Drexel University College of Medicine, Philadephia, PA 19102, USA
7
Department of Otolaryngology-Head and Neck Surgery, Drexel University College of Medicine, Philadelphia, PA 19102, USA
8
c/o Department of Biostatistics and Epidemiology, Perelman School of Medicine, University of Pennsylvania, Philadelphia, PA 19104, USA
*
Author to whom correspondence should be addressed.
†
The MAPP Research Network members are listed in Appendix A.
Received: 5 February 2019 / Revised: 13 March 2019 / Accepted: 18 March 2019 / Published: 26 March 2019
Abstract
We surveyed urine microbiota of females diagnosed with interstitial cystitis/bladder pain syndrome (IC/BPS) and matched control participants enrolled in the National Institutes of Health (NIH) Multidisciplinary Approach to the Study of Chronic Pelvic Pain (MAPP) Research Network using the culture-independent methodology. Midstream urine specimens were analyzed with the Plex-ID molecular diagnostic platform that utilizes polymerase chain reaction–electrospray ionization–time-of-flight–mass spectrometry (PCR-ESI-TOF MS) to provide a comprehensive identification of bacterial and select fungal species. IC/BPS and control participants were evaluated for differences (presence, diversity, and abundance) in species and genus. Urine specimens obtained from 181 female IC/BPS and 182 female control participants detected a total of 92 species (41 genera). Mean (SD) species count was 2.49 (1.48) and 2.30 (1.28) among IC/BPS and control participants, respectively. Overall species composition did not significantly differ between IC/BPS and control participants at any level (
p
= 0.726 species level,
p
= 0.222 genus level). IC/BPS participants urine trended to an overabundance of
Lactobacillus gasseri
(
p
= 0.09) detected but had a lower prevalence of
Corynebacterium
compared with control participants (
p
= 0.002). The relative abundance data analysis mirrored the prevalence data differences with no significant differences in most species or genus abundance other than
Lactobacillus gasseri
and
Corynebacterium
(
p
= 0.08 and
p
= 0.001, respectively). No cause and/or effect conclusion can be drawn from this observation, but it suggests that a more comprehensive evaluation (vaginal, bowel, catheterized bladder and/or tissue-based specimens) of the lower urinary tract microbiota in IC/BPS patients is warranted.
View Full-Text
►

▼

Figures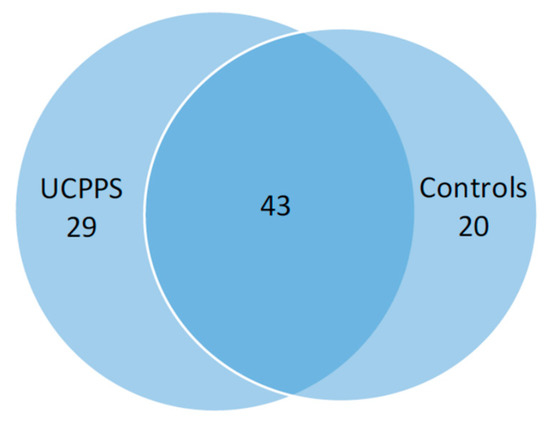 Figure 1
This is an open access article distributed under the
Creative Commons Attribution License
which permits unrestricted use, distribution, and reproduction in any medium, provided the original work is properly cited (CC BY 4.0).

Share & Cite This Article
MDPI and ACS Style
Nickel, J.C.; Stephens-Shields, A.J.; Landis, J.R.; Mullins, C.; van Bokhoven, A.; Lucia, M.S.; Henderson, J.P.; Sen, B.; Krol, J.E.; Ehrlich, G.D.; The MAPP Research Network. A Culture-Independent Analysis of the Microbiota of Female Interstitial Cystitis/Bladder Pain Syndrome Participants in the MAPP Research Network. J. Clin. Med. 2019, 8, 415.
Note that from the first issue of 2016, MDPI journals use article numbers instead of page numbers. See further details here.
Related Articles
Comments
[Return to top]