The Predictivity of N-Terminal Pro b-Type Natriuretic Peptide for All-Cause Mortality in Various Follow-Up Periods among Heart Failure Patients
1
Department of Nursing, Saint Mary's Hospital Luodong, Luodong, Yilan 26546, Taiwan
2
Department of Nephrology, Department of Internal medicine, Chi Mei Medical Center, Yongkang District, Tainan City 710, Taiwan
3
Department of Biological Science and Technology, Chung Hwa University of Medical Technology, Rende District, Tainan City 717, Taiwan
4
Division of Cardiovascular Medicine, Department of Internal Medicine, Saint Mary's Hospital Luodong, Luodong, Yilan 26546, Taiwan
5
Division of Nephrology, Department of Internal Medicine, Saint Mary's Hospital Luodong, Luodong, Yilan 26546, Taiwan
6
Saint Mary's Junior College of Medicine, Nursing and Management, Sanxing Township, Yilan County 266, Taiwan
*
Author to whom correspondence should be addressed.
Received: 10 February 2019 / Revised: 2 March 2019 / Accepted: 9 March 2019 / Published: 13 March 2019
Abstract
Plasma N-terminal pro-brain natriuretic peptide (NT-proBNP) is an excellent prognostic–predictive tool in heart failure (HF) patients, but its plasma level changes following therapy. The comparison of prognosis–predictivity of a single measurement of plasma NT-pro BNP in different follow-up periods in acute HF patients has been less studied. This study aimed to evaluate whether the association between initial plasma NT-proBNP levels and all-cause mortality would decrease along with an increased follow-up period in patients with acute HF. The retrospective study was carried out, enrolling adult patients with hospitalization-requiring acute HF who fulfilled the predefined criteria from January 1, 2011, to December 31, 2013. We evaluated the independent predictors of 12-month mortality, and subsequently compared the predictivity of NT-proBNP level at initial presentation for 1-, 3-, 6-, 9- and 12-month mortality. In total, 269 patients (mean age, 74.45 ± 13.59 years; female, 53.9%) were enrolled. The independent predictors of 12-month mortality included higher "Charlson Comorbidity Index" (adjusted hazard ratio (aHR) = 1.22; 95% confidence interval (CI), 1.10–1.34), increased "age" (aHR = 1.07; 95% CI, 1.04–1.10), "administration of vasopressor" (aHR = 3.43; 95% CI, 1.76–6.71), "underwent cardiopulmonary resuscitation" (aHR = 4.59; 95% CI, 1.76–6.71), and without "angiotensin-converting enzyme inhibitors/angiotensin receptor blocker" (aHR = 0.41; 95% CI, 1.86–11.31) (all
p
<0.001). "Plasma NT-pro BNP level ≧11,755 ng/L" was demonstrated as an independent predictor in 1-month (aHR = 2.37; 95% CI, 1.10–5.11;
p
= 0.028) and 3-month mortality (aHR = 1.98; 95% CI, 1.02–3.86;
p
= 0.045) but not in more extended follow-up. The outcome predictivity of plasma NT-proBNP levels diminished in a longer follow-up period in hospitalized acute HF patients. In conclusion, these findings remind physicians to act with caution when using a single plasma level of NT-proBNP to predict patient outcomes with a longer follow-up period.
View Full-Text
►

▼

Figures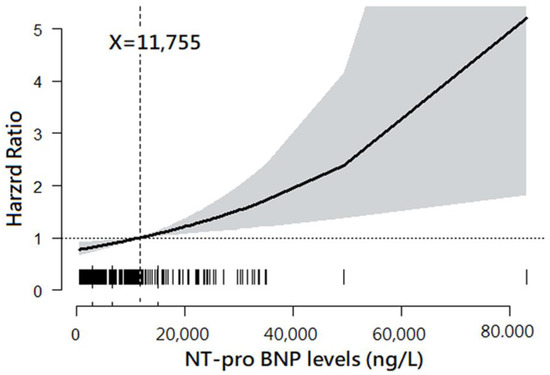 Figure 1
This is an open access article distributed under the
Creative Commons Attribution License
which permits unrestricted use, distribution, and reproduction in any medium, provided the original work is properly cited (CC BY 4.0).

Share & Cite This Article
MDPI and ACS Style
Lai, M.-Y.; Kan, W.-C.; Huang, Y.-T.; Chen, J.; Shiao, C.-C. The Predictivity of N-Terminal Pro b-Type Natriuretic Peptide for All-Cause Mortality in Various Follow-Up Periods among Heart Failure Patients. J. Clin. Med. 2019, 8, 357.
Note that from the first issue of 2016, MDPI journals use article numbers instead of page numbers. See further details here.
Related Articles
Comments
[Return to top]