Thoracic Paravertebral Block with Adjuvant Dexmedetomidine in Video-Assisted Thoracoscopic Surgery: A Randomized, Double-Blind Study
1
Department of Anesthesiology and Pain Medicine, Chungnam National University Hospital, 282 Munhwa-ro, Jung-gu, Daejeon 35015, Korea
2
Department of Anesthesiology and Pain Medicine, College of Medicine, Chungnam National University, 266 Munhwa-ro, Jung-gu, Daejeon 35015, Korea
3
Department of Thoracic & Cardiovascular Surgery, Chungnam National University Hospital, 282 Munhwa-ro, Jung-gu, Daejeon 35015, Korea
*
Author to whom correspondence should be addressed.
†
These authors contributed equally to this work.
Received: 12 February 2019 / Revised: 5 March 2019 / Accepted: 7 March 2019 / Published: 12 March 2019
Abstract
Background: The addition of the adjuvant dexmedetomidine to a nerve block improves the quality of the block and reduces perioperative opioid consumption. The aim of this study was to assess the effect of dexmedetomidine as an adjuvant for the thoracic paravertebral block (TPVB) in postoperative pain control after video-assisted thoracoscopic surgery (VATS). Methods: Sixty-six males, aged 15–40 years, with spontaneous pneumothorax scheduled for VATS wedge resection were enrolled. Following surgery, ultrasound-guided TPVB was performed on the T3 and T5 levels with 30 mL of 0.5% ropivacaine, plus adjuvant dexmedetomidine 50 μg or normal saline. The primary outcome was cumulative fentanyl consumption at 24 h. Pain severity, the requirement for additional rescue analgesics, hemodynamic variations, and side effects were also evaluated. Results: Median postoperative cumulative fentanyl consumption at 24 h was significantly lower in the dexmedetomidine group (122.6 (interquartile range (IQR) 94.5–268.0) μg vs. 348.1 (IQR, 192.8–459.2) μg,
p
-value = 0.001) with a Hodges–Lehman median difference between groups of 86.2 (95% confidence interval (CI), 4.2–156.4) mg. Coughing numeric rating scale (NRS) was lower in the dexmedetomidine group at postoperative 2, 4, 8, and 24 h. However, resting NRS differed significantly only after 4 h postoperative. Conclusions: Dexmedetomidine as an adjunct in TPVB provided effective pain relief and significantly reduced opioid requirement in VATS.
View Full-Text
►

▼

Figures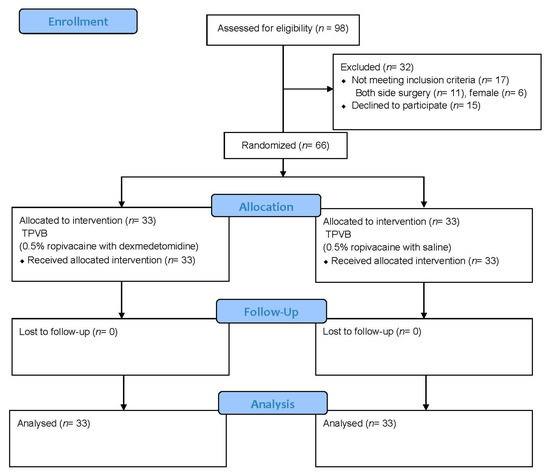 Figure 1
This is an open access article distributed under the
Creative Commons Attribution License
which permits unrestricted use, distribution, and reproduction in any medium, provided the original work is properly cited (CC BY 4.0).

Share & Cite This Article
MDPI and ACS Style
Hong, B.; Lim, C.; Kang, H.; Eom, H.; Kim, Y.; Cho, H.J.; Han, W.; Lee, S.; Chung, W.; Kim, Y.-H. Thoracic Paravertebral Block with Adjuvant Dexmedetomidine in Video-Assisted Thoracoscopic Surgery: A Randomized, Double-Blind Study. J. Clin. Med. 2019, 8, 352.
Note that from the first issue of 2016, MDPI journals use article numbers instead of page numbers. See further details here.
Related Articles
Comments
[Return to top]