A Personalized CYP2C19 Phenotype-Guided Dosing Regimen of Voriconazole Using a Population Pharmacokinetic Analysis
1
Department of Clinical Pharmacology and Therapeutics, Seoul National University College of Medicine and Hospital, Seoul 03080, Korea
2
Department of Internal Medicine, Seoul National University College of Medicine and Hospital, Seoul 03080, Korea
*
Author to whom correspondence should be addressed.
†
These authors contributed equally to the manuscript.
Received: 16 January 2019 / Revised: 28 January 2019 / Accepted: 31 January 2019 / Published: 10 February 2019
Abstract
Highly variable and non-linear pharmacokinetics of voriconazole are mainly caused by CYP2C19 polymorphisms. This study aimed to develop a mechanistic population pharmacokinetic model including the CYP2C19 phenotype, and to assess the appropriateness of various dosing regimens based on the therapeutic target. A total of 1,828 concentrations from 193 subjects were included in the population pharmacokinetic analysis. A three-compartment model with an inhibition compartment appropriately described the voriconazole pharmacokinetics reflecting auto-inhibition. Voriconazole clearance in the CYP2C19 intermediate metabolizers (IMs) and poor metabolizers (PMs) decreased by 17% and 53% compared to that in the extensive metabolizers (EMs). There was a time-dependent inhibition of clearance to 16.2% of its original value in the CYP2C19 EMs, and the extent of inhibition differed according to the CYP2C19 phenotypes. The proposed CYP2C19 phenotype-guided initial dosing regimens are 400 mg twice daily (bid) for EMs, 200 mg bid for IMs, and 100 mg bid for PMs. This CYP2C19 phenotype-guided initial dosing regimen will provide a rationale for individualizing the optimal voriconazole therapy.
View Full-Text
►

▼

Figures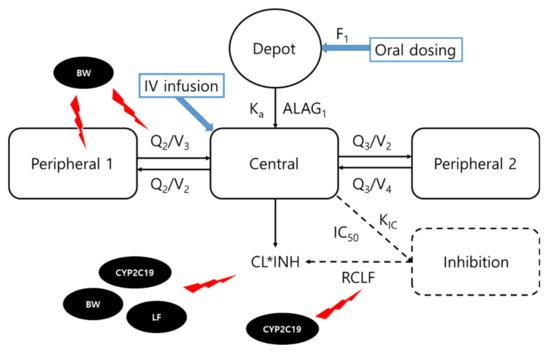 Figure 1
This is an open access article distributed under the
Creative Commons Attribution License
which permits unrestricted use, distribution, and reproduction in any medium, provided the original work is properly cited (CC BY 4.0).

Share & Cite This Article
MDPI and ACS Style
Kim, Y.; Rhee, S.-J.; Park, W.B.; Yu, K.-S.; Jang, I.-J.; Lee, S. A Personalized CYP2C19 Phenotype-Guided Dosing Regimen of Voriconazole Using a Population Pharmacokinetic Analysis. J. Clin. Med. 2019, 8, 227.
Note that from the first issue of 2016, MDPI journals use article numbers instead of page numbers. See further details here.
Related Articles
Comments
[Return to top]