Lower Plasma Magnesium, Measured by Nuclear Magnetic Resonance Spectroscopy, is Associated with Increased Risk of Developing Type 2 Diabetes Mellitus in Women: Results from a Dutch Prospective Cohort Study
1
Department of Internal Medicine, Division of Nephrology, University of Groningen, University Medical Center Groningen, Hanzeplein 1, 9700RB Groningen, The Netherlands
2
Department of Endocrinology, University of Groningen, University Medical Center Groningen, Hanzeplein 1, 9700RB Groningen, The Netherlands
3
Department of Laboratory Medicine, University of Groningen, University Medical Center Groningen, Hanzeplein 1, 9700 RB Groningen, The Netherlands
4
Magnesium Health Institute, 9712 NT Groningen, The Netherlands
5
Nedmag B.V., 9640 AE Veendam, The Netherlands
6
Laboratory Corporation of America® Holdings (LabCorp), Morrisville, NC 27560, USA
*
Author to whom correspondence should be addressed.
Received: 14 January 2019 / Revised: 27 January 2019 / Accepted: 29 January 2019 / Published: 1 February 2019
Full-Text
|
PDF
[3334 KB, uploaded 15 February 2019]
|
|

Review Reports
Abstract
Background: Low circulating magnesium (Mg) is associated with an increased risk of developing type 2 diabetes mellitus (T2DM). We aimed to study the performance of a nuclear magnetic resonance (NMR)-based assay that quantifies ionized Mg in EDTA plasma samples and prospectively investigate the association of Mg with the risk of T2DM. Methods: The analytic performance of an NMR-based assay for measuring plasma Mg was evaluated. We studied 5747 subjects free of T2DM at baseline in the Prevention of Renal and Vascular End-stage Disease (PREVEND) study. Results: Passing–Bablok regression analysis, comparing NMR-measured ionized Mg with total Mg measured by the Roche colorimetric assay, produced a correlation of
r
= 0.90, with a slope of 1.08 (95% CI: 1.00–1.13) and an intercept of 0.02 (95% CI: −0.02–0.08). During a median follow-up period of 11.2 (IQR: 7.7–12.0) years, 289 (5.0%) participants developed T2DM. The association of NMR-measured ionized Mg with T2DM risk was modified by sex (P
interaction
= 0.007). In women, we found an inverse association between Mg and the risk of developing T2DM, independent of adjustment for potential confounders (HR: 1.80; 95% CI: 1.20–2.70). In men, we found no association between Mg and the risk of developing T2DM (HR: 0.90; 95%: 0.67–1.21). Conclusion: Lower NMR-measured plasma ionized Mg was independently associated with a higher risk of developing T2DM in women, but not in men.
View Full-Text
►

▼

Figures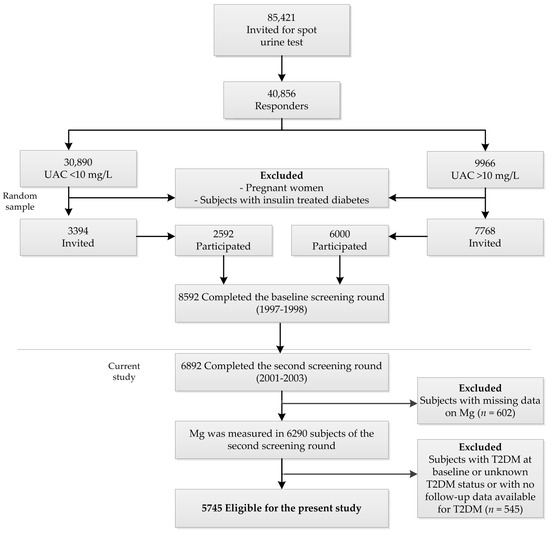 Figure 1
This is an open access article distributed under the
Creative Commons Attribution License
which permits unrestricted use, distribution, and reproduction in any medium, provided the original work is properly cited (CC BY 4.0).

Share & Cite This Article
MDPI and ACS Style
Schutten, J.C.; Gomes-Neto, A.W.; Navis, G.; Gansevoort, R.T.; Dullaart, R.P.F.; Kootstra-Ros, J.E.; Danel, R.M.; Goorman, F.; Gans, R.O.B.; de Borst, M.H.; Jeyarajah, E.J.; Shalaurova, I.; Otvos, J.D.; Connelly, M.A.; Bakker, S.J.L. Lower Plasma Magnesium, Measured by Nuclear Magnetic Resonance Spectroscopy, is Associated with Increased Risk of Developing Type 2 Diabetes Mellitus in Women: Results from a Dutch Prospective Cohort Study. J. Clin. Med. 2019, 8, 169.
Note that from the first issue of 2016, MDPI journals use article numbers instead of page numbers. See further details here.
Related Articles
Comments
[Return to top]