Gout as a Risk Factor for Dry Eye Disease: A Population-Based Cohort Study
1
Department of Ophthalmology, Show Chwan Memorial Hospital, Changhua 500, Taiwan
2
Department of Optometry, College of Medicine and Life Science, Chung Hwa University of Medical Technology, Tainan 717, Taiwan
3
Department of Ophthalmology, Chang Gung Memorial Hospital, Linkou 333, Taiwan
4
Department of Medicine, Chang Gung University College of Medicine, Taoyuan 333, Taiwan
5
Center for Tissue Engineering, Chang Gung Memorial Hospital, Linkou 333, Taiwan
6
Department of Ophthalmology, Chang Gung Memorial Hospital, Keelung 204, Taiwan
7
Department of Chinese Medicine, Chang Gung University, Taoyuan 333, Taiwan
8
Institute of Medicine, Chung Shan Medical University, Taichung 402, Taiwan
9
College of Health, Chung Chou University of Science and Technology, Changhua 500, Taiwan
10
Department of Optometry, Yuanpei University of Medical Technology, Hsinchu 300, Taiwan
11
School of Medicine, Chung Shan Medical University, Taichung 402, Taiwan
12
Department of Orthopedics, Chung Shan Medical University Hospital, Taichung 402, Taiwan
13
Department of Medical Research, Chung Shan Medical University Hospital, Taichung 402, Taiwan
14
Department of Emergency Medicine, Chung Shan Medical University Hospital, Taichung 402, Taiwan
†
These authors contributed equally to the work.
*
Author to whom correspondence should be addressed.
Received: 19 December 2018 / Revised: 27 December 2018 / Accepted: 3 January 2019 / Published: 9 January 2019
Abstract
This study evaluated the effect of gout on the risk of dry eye disease (DED) by using the National Health Insurance Research Database (NHIRD). Data for 30,192 gout patients (21,081 men and 9111 women) and 30,192 non-gout patients (21,005 men and 9187 women) were analyzed. Approximately 1 million patients were randomly sampled from the NHIRD registry. After applying exclusion criteria, patients diagnosed with gout were enrolled in the study group. Thereafter, each individual in the study group underwent the matching process via the propensity score with another non-gout individual, which constituted the control group. The main outcome was defined as the development of DED in accordance with the corresponding International Classification of Diseases, Ninth Revision. In addition to DED, other risk factors including age, sex, and urbanization, and several co-morbidities were included in the multivariate model. The incidence of DED with the adjusted hazard ratio (aHR) and cumulative probability were evaluated in the gout and non-gout patients. A total of 2913 DED events were observed in the study group, whereas 2631 DED events were observed in the control group. A higher incidence rate ratio was found in the study group after adjustment (aHR: 1.065). Moreover, the cumulative probability indicated a significantly increased risk of DED in the study group (
p
= 0.001). The other potential risk factors of DED according to the multivariate analysis include older age, female gender, higher degree of urbanization, keratopathy, age-related macular degeneration, glaucoma, cataract, ischemic heart disease, hyperlipidemia, peripheral vascular disease, chronic pulmonary disease, rheumatic disease, peptic ulcer disease, liver disease, and malignancy. In conclusion, gout increased the risk of DED after adjustment, and the risk is positively correlated to a longer disease period.
View Full-Text
►

▼

Figures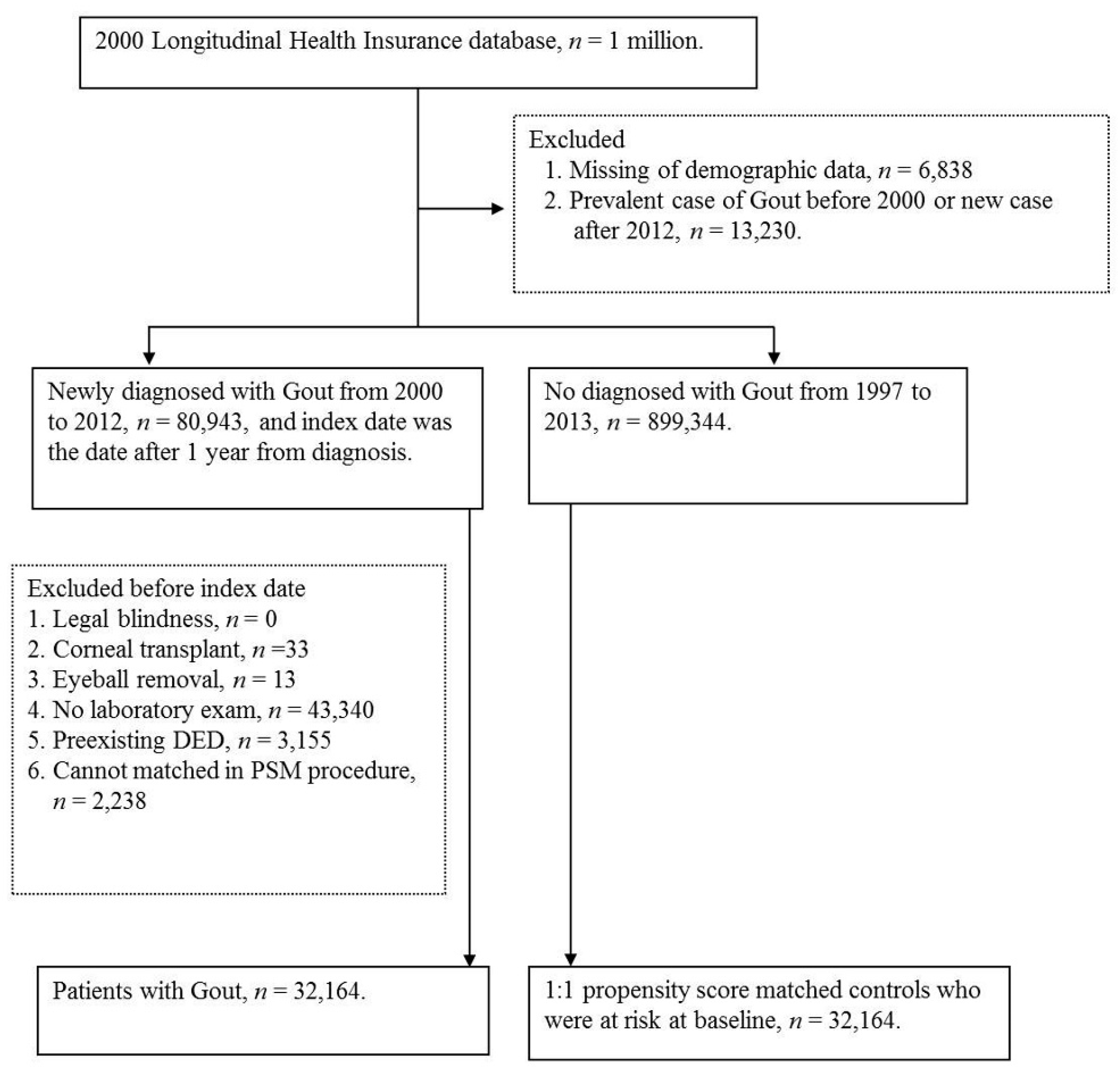 Figure 1
This is an open access article distributed under the
Creative Commons Attribution License
which permits unrestricted use, distribution, and reproduction in any medium, provided the original work is properly cited (CC BY 4.0).
Supplementary material
Externally hosted supplementary file 1
Link: http://N/A
Description: track change manuscript.

Share & Cite This Article
MDPI and ACS Style
Lee, C.-Y.; Chen, H.-C.; Sun, C.-C.; Lin, H.-Y.; Lu, K.-H.; Huang, J.-Y.; Yeh, C.-B.; Yang, S.-F. Gout as a Risk Factor for Dry Eye Disease: A Population-Based Cohort Study. J. Clin. Med. 2019, 8, 62.
Note that from the first issue of 2016, MDPI journals use article numbers instead of page numbers. See further details here.
Related Articles
Comments
[Return to top]