Preadmission Statin Therapy Is Associated with a Lower Incidence of Acute Kidney Injury in Critically Ill Patients: A Retrospective Observational Study
1
Department of Anesthesiology and Pain Medicine, Seoul National University Bundang Hospital, Gumi-ro 173 Beon-gil, Bundang-gu, Seongnam 13620, Korea
2
Division of Pulmonary and Critical Care Medicine, Department of Internal Medicine, Seoul National University Bundang Hospital, Gumi-ro 173 Beon-gil, Bundang-gu, Seongnam 13620, Korea
3
Department of Thoracic and Cardiovascular Surgery, Seoul National University Bundang Hospital, Gumi-ro 173 Beon-gil, Bundang-gu, Seongnam 13620, Korea
4
Department of Neurology, Stroke Center, Seoul National University Bundang Hospital, Gumi-ro 173 Beon-gil, Bundang-gu, Seongnam 13620, Korea
5
Department of Emergency Medicine, Seoul National University Bundang Hospital, Gumi-ro 173 Beon-gil, Bundang-gu, Seongnam 13620, Korea
*
Author to whom correspondence should be addressed.
Received: 27 November 2018 / Revised: 17 December 2018 / Accepted: 20 December 2018 / Published: 25 December 2018
Abstract
This study aimed to investigate the association between preadmission statin use and acute kidney injury (AKI) incidence among critically ill patients who needed admission to the intensive care unit (ICU) for medical care. Medical records of patients admitted to the ICU were reviewed. Patients who continuously took statin for >1 month prior to ICU admission were defined as statin users. We investigated whether preadmission statin use was associated with AKI incidence within 72 h after ICU admission and whether the association differs according to preadmission estimated glomerular filtration rate (eGFR; in mL min
−1
1.73 m
−2
). Among 21,236 patients examined, 5756 (27.1%) were preadmission statin users and 15,480 (72.9%) were non-statin users. Total AKI incidence within 72 h after ICU admission was 31% lower in preadmission statin users than in non-statin users [odds ratio (OR), 0.69; 95% confidence interval (CI), 0.61–0.79;
p
< 0.001]. This association was insignificant among individuals with eGFR <30 mL min
−1
1.73 m
−2
(
p
> 0.05). Our results suggested that preadmission statin therapy is associated with a lower incidence of AKI among critically ill patients; however, this effect might not be applicable for patients with eGFR <30 mL min
−1
1.73 m
−2
.
View Full-Text
►

▼

Figures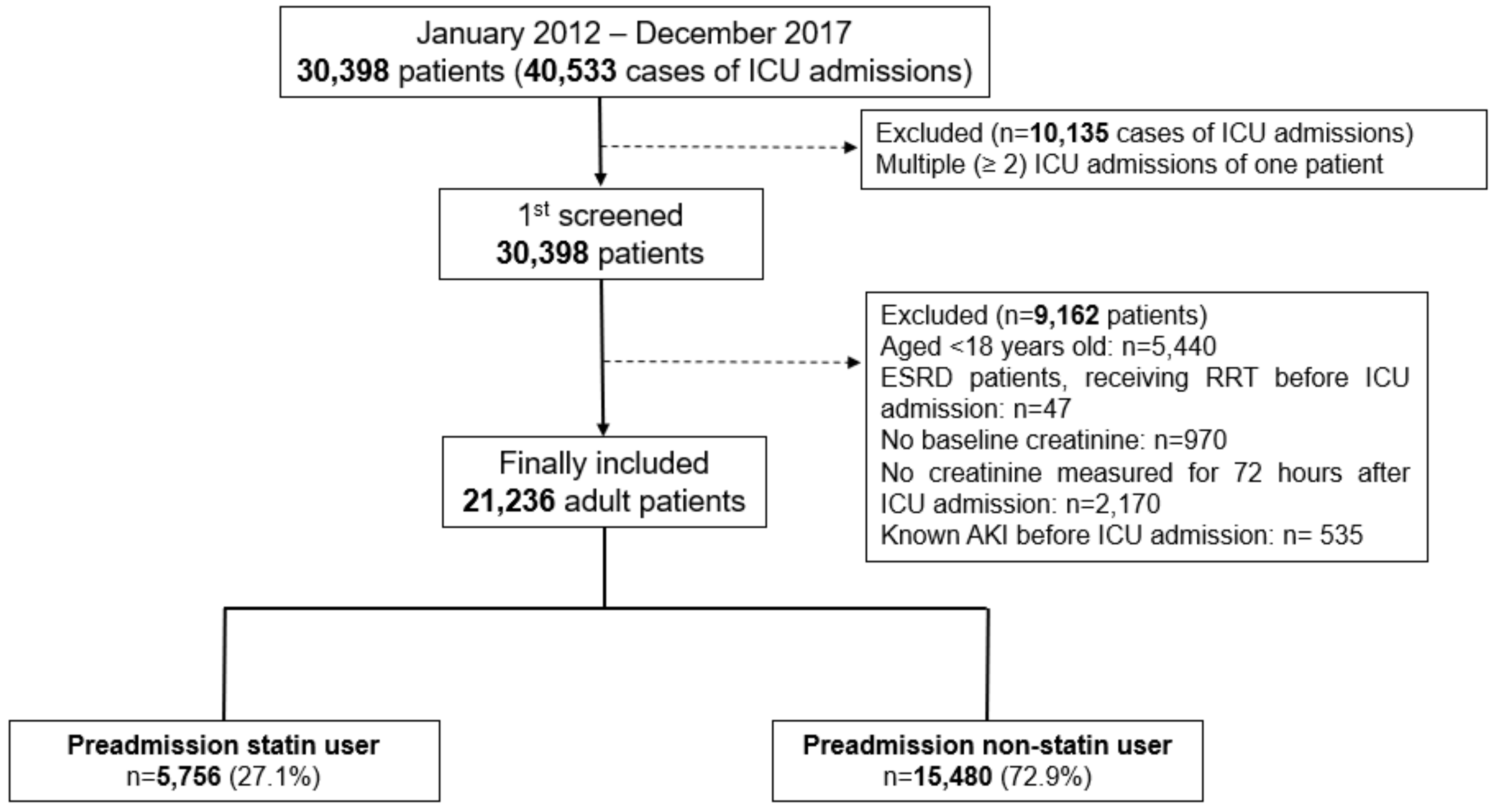 Figure 1
This is an open access article distributed under the
Creative Commons Attribution License
which permits unrestricted use, distribution, and reproduction in any medium, provided the original work is properly cited (CC BY 4.0).

Share & Cite This Article
MDPI and ACS Style
Oh, T.K.; Song, I.-A.; Cho, Y.-J.; Lim, C.; Jeon, Y.-T.; Bae, H.-J.; Jo, Y.H. Preadmission Statin Therapy Is Associated with a Lower Incidence of Acute Kidney Injury in Critically Ill Patients: A Retrospective Observational Study. J. Clin. Med. 2019, 8, 25.
Note that from the first issue of 2016, MDPI journals use article numbers instead of page numbers. See further details here.
Related Articles
Comments
[Return to top]