A Novel Mutation in the Stalk Domain of
KIF5A

Causes a Slowly Progressive Atypical Motor Syndrome

1

Center for Neuromuscular Diseases, Unit of Neurology, ASST Spedali Civili and University of Brescia, 25100 Brescia, Italy

2

Genomic and Post-Genomic Center, IRCCS Mondino Fundation, 27100 Pavia, Italy

3

Department of Molecular and Translational Medicine, University of Brescia, 25100 Brescia, Italy

4

Clinical Chemistry Laboratory, Diagnostic Department, ASST Spedali Civili di Brescia, 25100 Brescia, Italy

†

These authors equally contributed to the paper.

*

Author to whom correspondence should be addressed.

Received: 23 November 2018 / Revised: 19 December 2018 / Accepted: 20 December 2018 / Published: 22 December 2018
Abstract
KIF5A
encodes the heavy chain A of kinesin; A motor protein involved in motility functions within neuron. Mutations in the
KIF5A
N-terminal motor domain are known to cause SPG10; An autosomal dominant hereditary spastic paraplegia (HSP), as well as rare Charcot-Marie-Tooth disease 2 (CMT2) cases. Recently C-terminal cargo-binding tail domain mutations have been associated with an amyotrophic lateral sclerosis (ALS) phenotype. Here we describe a subject presenting with an atypical slowly progressive motor syndrome evolving over a period of 4 years; Characterized by walking difficulties; Muscle hypotrophy mainly involving upper limbs and pyramidal signs confined to the lower limbs. Electromyography demonstrated chronic neurogenic damage and active denervation while electroneurography showed slowly worsening axonal damage. We identified the novel heterozygote variant c.2341A>G in the exon 21 of the
KIF5A
gene resulting in the amino acid change p.Lys781Glu. The residue Lys781 is located within the terminal region of the stalk domain and is highly evolutionary conserved. Our findings confirm that mutations in
KIF5A
cause ALS-like phenotypes. However, the stalk domain mutation described here appears to result in an "intermediate" slowly progressive phenotype having aspects resembling ALS as well as HSP and axonal neuropathy. We suggest that
KIF5A
gene should be considered as a candidate gene in all atypical progressive motor syndromes.
View Full-Text
►

▼

Figures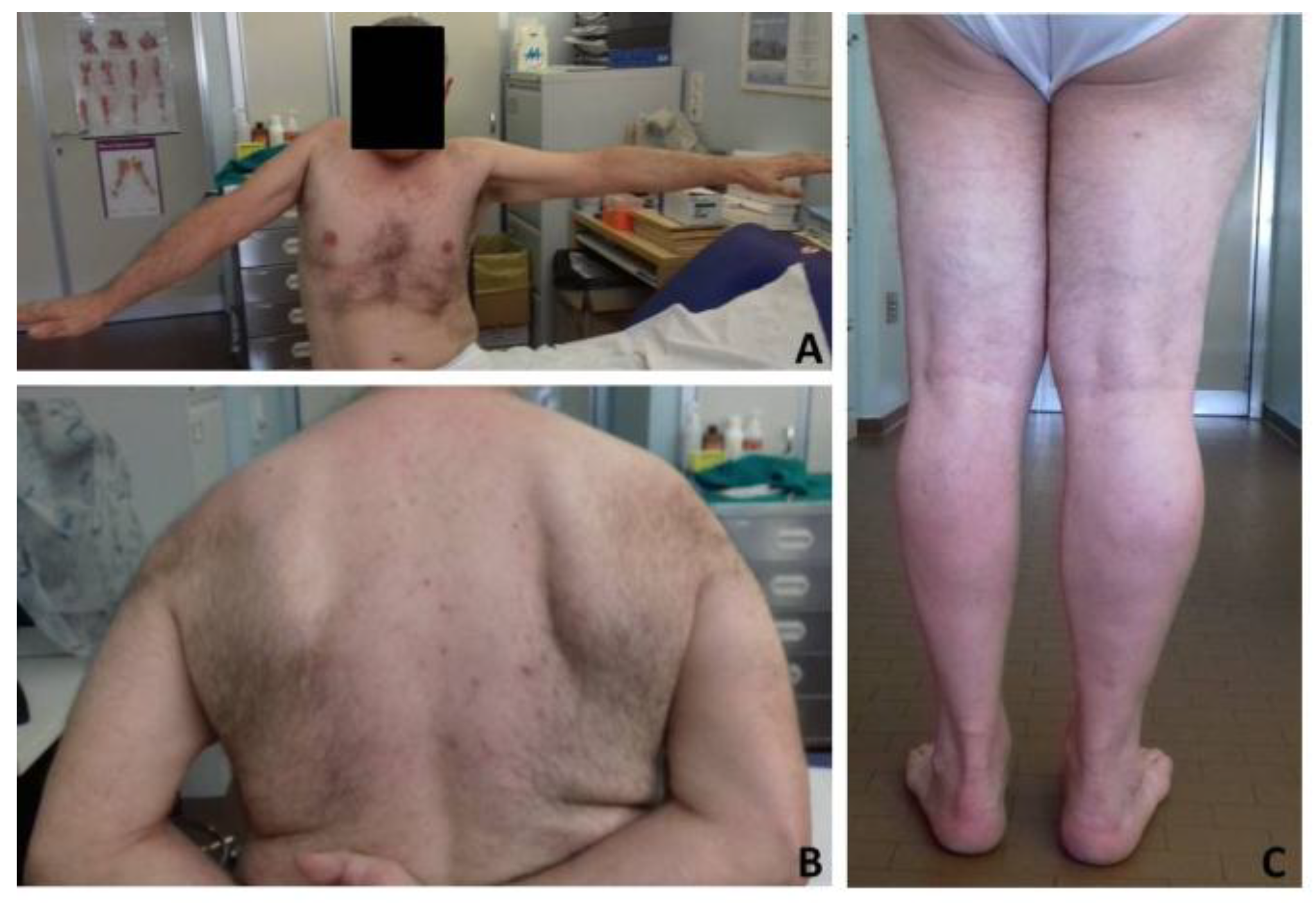 Figure 1
This is an open access article distributed under the
Creative Commons Attribution License
which permits unrestricted use, distribution, and reproduction in any medium, provided the original work is properly cited (CC BY 4.0).

Share & Cite This Article
MDPI and ACS Style
Filosto, M.; Piccinelli, S.C.; Palmieri, I.; Necchini, N.; Valente, M.; Zanella, I.; Biasiotto, G.; Lorenzo, D.D.; Cereda, C.; Padovani, A. A Novel Mutation in the Stalk Domain of KIF5A Causes a Slowly Progressive Atypical Motor Syndrome. J. Clin. Med. 2019, 8, 17.
Note that from the first issue of 2016, MDPI journals use article numbers instead of page numbers. See further details here.
Related Articles
Comments
[Return to top]