Regeneration of Transected Recurrent Laryngeal Nerve Using Hybrid-Transplantation of Skeletal Muscle-Derived Stem Cells and Bioabsorbable Scaffold
1
Department of Gastroenterological Surgery, Tokai University School of Medicine, 143 Shimokasuya, Isehara, Kanagawa 259-1193, Japan
2
Muscle Physiology & Cell Biology Unit, Tokai University School of Medicine, 143 Shimokasuya, Isehara, Kanagawa 259-1193, Japan
3
Department of Otolaryngology, Tokai University School of Medicine, 143 Shimokasuya, Isehara, Kanagawa 259-1193, Japan
4
Department of Medical Education, Tokai University School of Medicine, 143 Shimokasuya, Isehara, Kanagawa 259-1193, Japan
5
Department of Urology, Tokai University School of Medicine, 143 Shimokasuya, Isehara, Kanagawa 259-1193, Japan
6
Department of Orthopedics, Tokai University School of Medicine, 143 Shimokasuya, Isehara, Kanagawa 259-1193, Japan
7
Department of Human Structure and Function, Tokai University School of Medicine, 143 Shimokasuya, Isehara, Kanagawa 259-1193, Japan
*
Author to whom correspondence should be addressed.
Received: 14 August 2018 / Revised: 5 September 2018 / Accepted: 9 September 2018 / Published: 12 September 2018
Abstract
Hybrid transplantation of skeletal muscle-derived multipotent stem cells (Sk-MSCs) and bioabsorbable polyglyconate (PGA) felt was studied as a novel regeneration therapy for the transected recurrent laryngeal nerve (RLN). Sk-MSCs were isolated from green fluorescence protein transgenic mice and then expanded and transplanted with PGA felt for the hybrid transplantation (HY group) into the RLN transected mouse model. Transplantation of culture medium (M group) and PGA + medium (PGA group) were examined as controls. After eight weeks, trans-oral video laryngoscopy demonstrated 80% recovery of spontaneous vocal-fold movement during breathing in the HY group, whereas the M and PGA groups showed wholly no recoveries. The Sk-MSCs showed active engraftment confined to the damaged RLN portion, representing favorable prevention of cell diffusion on PGA, with an enhanced expression of nerve growth factor mRNAs. Axonal re-connection in the HY group was confirmed by histological serial sections. Immunohistochemical analysis revealed the differentiation of Sk-MSCs into Schwann cells and perineurial/endoneurial cells and axonal growth supportive of perineurium/endoneurium. The number of axons recovered was over 86%. These results showed that the stem cell and cytokine delivery system using hybrid transplantation of Sk-MSCs/PGA-felt is a potentially practical and useful approach for the recovery of transected RLN.
View Full-Text
►

▼

Figures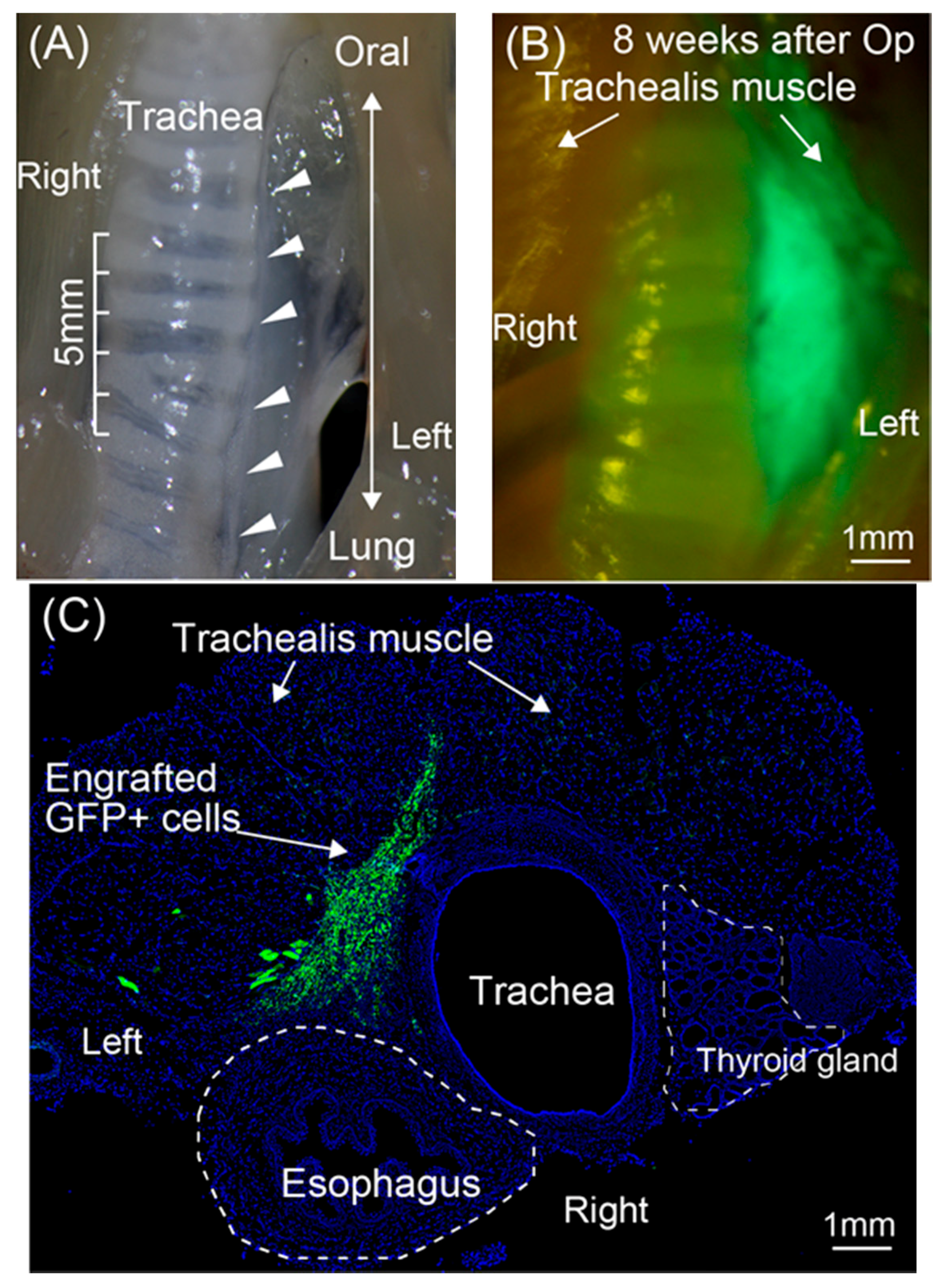 Figure 1
This is an open access article distributed under the
Creative Commons Attribution License
which permits unrestricted use, distribution, and reproduction in any medium, provided the original work is properly cited (CC BY 4.0).

Share & Cite This Article
MDPI and ACS Style
Kazuno, A.; Maki, D.; Yamato, I.; Nakajima, N.; Seta, H.; Soeda, S.; Ozawa, S.; Uchiyama, Y.; Tamaki, T. Regeneration of Transected Recurrent Laryngeal Nerve Using Hybrid-Transplantation of Skeletal Muscle-Derived Stem Cells and Bioabsorbable Scaffold. J. Clin. Med. 2018, 7, 276.
Note that from the first issue of 2016, MDPI journals use article numbers instead of page numbers. See further details here.
Related Articles
Comments
[Return to top]