Fibrosis Staging Using Direct Serum Biomarkers is Influenced by Hepatitis Activity Grading in Hepatitis C Virus Infection
1
Department of Gastroenterology and Neurology, Faculty of Medicine, Kagawa University, Miki 761-0701, Japan
2
Department of Clinical Laboratory, Kagawa University Hospital, Miki 761-0701, Japan
3
Department of Medical Technology, Kagawa Prefectural University of Health Sciences, Takamatsu 761-0123, Japan
*
Author to whom correspondence should be addressed.
Received: 15 August 2018 / Revised: 7 September 2018 / Accepted: 9 September 2018 / Published: 11 September 2018
Abstract
Background: Chronic liver diseases (CLDs) generally progress from inflammation to fibrosis and finally to carcinogenesis. Staging of liver fibrosis progression is inevitable for the management of CLD patients. The purpose of this study was to compare the diagnostic abilities of Wisteria floribunda agglutinin-positive Mac-2 binding protein (WFA-M2BP), Enhanced liver fibrosis (ELF) score, Fibrosis-4 index, and AST to platelet ratio index (APRI) based on histopathological analysis of liver biopsy samples, from patients with positive Hepatitis C Virus (HCV) infection. Methods: Japanese patients with HCV infection who underwent liver biopsy examinations were enrolled in this study. WFA-M2BP levels and ELF scores were calculated using preserved serum samples. The fibrosis staging and activity grading were assessed using a modified METAVIR score. Results: A total of 122 patients were enrolled; the cohort included 27 patients with stage 1, 66 with stage 2, 20 with stage 3, and nine with stage 4 fibrosis. All four biomarkers distinguished stage 3 and stage 2 fibrosis. ROC curves revealed that all four fibrosis biomarkers presented AUC values greater than 0.8. Each of the four biomarkers in stage 2 was significantly different between the activity grade 1 and 2 groups. Conclusion: Fib-4 index and APRI were comparable with WFA-M2BP and ELF score in the diagnosis of advanced liver fibrosis in Japanese patients with HCV infection. All four biomarkers of liver fibrosis were influenced by histopathological activity grading, which implies that liver biopsy should be the gold standard to evaluate liver fibrosis staging even though several noninvasive biomarkers have been investigated well.
View Full-Text
►

▼

Figures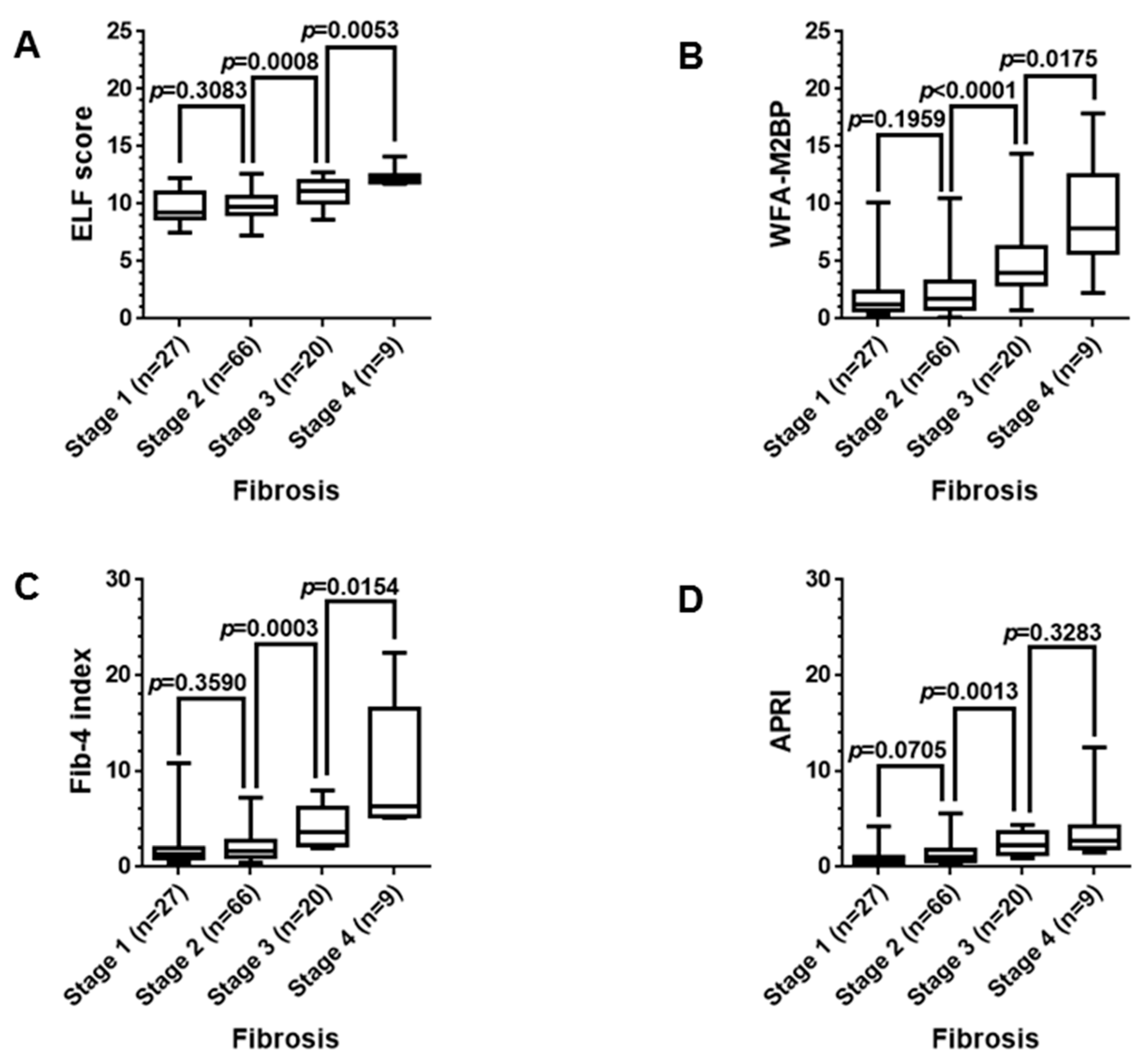 Figure 1
This is an open access article distributed under the
Creative Commons Attribution License
which permits unrestricted use, distribution, and reproduction in any medium, provided the original work is properly cited (CC BY 4.0).

Share & Cite This Article
MDPI and ACS Style
Fujita, K.; Kuroda, N.; Morishita, A.; Oura, K.; Tadokoro, T.; Nomura, T.; Yoneyama, H.; Arai, T.; Himoto, T.; Watanabe, S.; Masaki, T. Fibrosis Staging Using Direct Serum Biomarkers is Influenced by Hepatitis Activity Grading in Hepatitis C Virus Infection. J. Clin. Med. 2018, 7, 267.
Note that from the first issue of 2016, MDPI journals use article numbers instead of page numbers. See further details here.
Related Articles
Comments
[Return to top]