PRDM16

Gene Polymorphism Is Associated with Obesity and Blood Lipids Profiles in Saudi Population

1

Department of Physiology, Faculty of Medicine, King Saud University, Riyadh 11461, Saudi Arabia

2

Faculty of Applied Medical Sciences, Tabuk University, Tabuk 47914, Saudi Arabia

3

Department of Physiopathology of Inflammatory Bone Diseases, University of the Littoral, Opal Coast, F-62327 Boulogne sur Mer, France

*

Author to whom correspondence should be addressed.

Received: 19 May 2018 / Revised: 4 June 2018 / Accepted: 5 June 2018 / Published: 8 June 2018
Abstract
Aims: The PR domain containing 16 (
PRDM16
) gene and the Phosphodiesterase 4D (
PDE4
) gene are both an essential regulators in the thermogenesis process in the brown adipose tissues (BAT). The influence of polymorphisms in those genes on obesity and blood lipids profile is unknown particularly in the Saudi population, so the current study is aiming to explore that. Methods: A case control format was used that involved 89 obese individual and 84 non-obese (control). The
PRDM16
(
rs2651899
) and
PDE4D
(
rs295978
) polymorphisms were genotyped using KASP™ (Competitive Allele-Specific PCR) method. Results: The distributions of the AA, GG, and AG genotypes of
PRDM16
(
rs2651899
) polymorphism were 0.19, 0.26 and 0.54, respectively. While the distribution of the mutated allele A was 0.7 in the obese group comparing to 0.34 in the non-obese group. Participants with the mutated genotypes, AA and AG, of
PRDM16
(
rs2651899
) polymorphism were significantly more likely to be obese as compared to participants with wild type genotype (OR = 21, 95% CI = 5.4190 to 84.4231,
p
value < 0.0001 and OR = 44.6, 95% CI = 11.5984 to 172.0157,
p
value < 0.0001, respectively). The wild type GG genotype of this polymorphism was associated with higher blood cholesterol, HDL and LDL but lower blood triglyceride compared with the mutated genotypes (
p
= 0.003,
p
= 0.008,
p
= 0.02 and
p
= 0.003, respectively). In contrast,
PDE4D
(
rs295978
) polymorphism was not associated with risk of obesity and had no effects on blood lipids profile. Conclusions: We found that the PRDM16 polymorphism (
rs2651899
) is a risk factor for obesity and influence blood lipids profiles significantly in Saudi population. While the
PDE4D
(
rs295978
) polymorphism didn't show significant effect on risk of obesity or blood lipids profiles.
View Full-Text
►

▼

Figures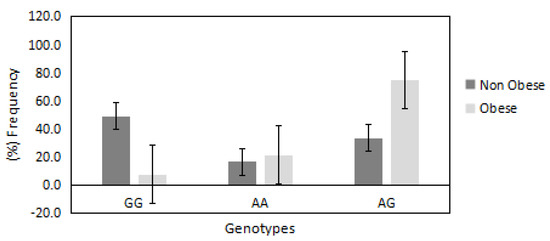 Figure 1
This is an open access article distributed under the
Creative Commons Attribution License
which permits unrestricted use, distribution, and reproduction in any medium, provided the original work is properly cited (CC BY 4.0).

Share & Cite This Article
MDPI and ACS Style
AlAmrani, A.; AbdelKarim, M.; AlZoghaibi, M. PRDM16 Gene Polymorphism Is Associated with Obesity and Blood Lipids Profiles in Saudi Population. J. Clin. Med. 2018, 7, 141.
Note that from the first issue of 2016, MDPI journals use article numbers instead of page numbers. See further details here.
Related Articles
Comments
[Return to top]