Open Access This article is
freely available
re-usable
Review
Bleeding after Percutaneous Transhepatic Biliary Drainage: Incidence, Causes and Treatments
1
Division of Interventional Radiology, University of Utah Department of Radiology, Salt Lake City, UT 84108, USA
2
Department of Radiology, University of California-San Diego, San Diego, CA 92093, USA
3
University of Tennessee-West Cancer Center, Memphis, TN 38139, USA
4
Department of Vascular and Interventional Radiology, Minimally Invasive Therapeutics Laboratory, Mayo Clinic, Phoenix, AZ 85054, USA
*
Author to whom correspondence should be addressed.
Received: 30 March 2018 / Accepted: 23 April 2018 / Published: 1 May 2018
Abstract
:
Of all procedures in interventional radiology, percutaneous transhepatic biliary drainage (PTBD) is amongst the most technically challenging. Successful placement requires a high level of assorted skills. While this procedure can be life-saving, it can also lead to significant iatrogenic harm, often manifesting as bleeding. Readers of this article will come to understand the pathophysiology and anatomy underlying post-PTBD bleeding, its incidence, its varied clinical manifestations and its initial management. Additionally, a structured approach to its treatment emphasizing endovascular and percutaneous methods is given.
Keywords:
percutaneous transhepatic biliary drainage; iatrogenic hemobilia; pull-back cholangiogram; arterial-biliary fistula
Conflicts of Interest
The authors declare no conflict of interest.
Figure 1. 56-year-old male with combined arterial-portal and portal-biliary fistulas. Patient underwent percutaneous transhepatic biliary drain (PTBD) placement for a biliary leak. One week later, he developed significant hemobilia. (A) Pullback cholangiogram through a sheath (thin black arrow) showed opacification of the biliary tree (thin white arrow) and portal vein (curved black arrow). (B) Hepatic artery angiogram showed a fistula between a branch of the right hepatic artery (dashed white arrow) and branch of the right portal vein (curved black arrow). (C) After transarterial embolization with coils (dashed white arrows), the arterial-portal fistula resolved. A new biliary drain was placed with proximal side holes central to the site of portal vein traversal. The patient's hemobilia resolved. The portal vein and hepatic artery travel alongside the bile ducts in the portal triad and are at risk of injury during PTBD placement.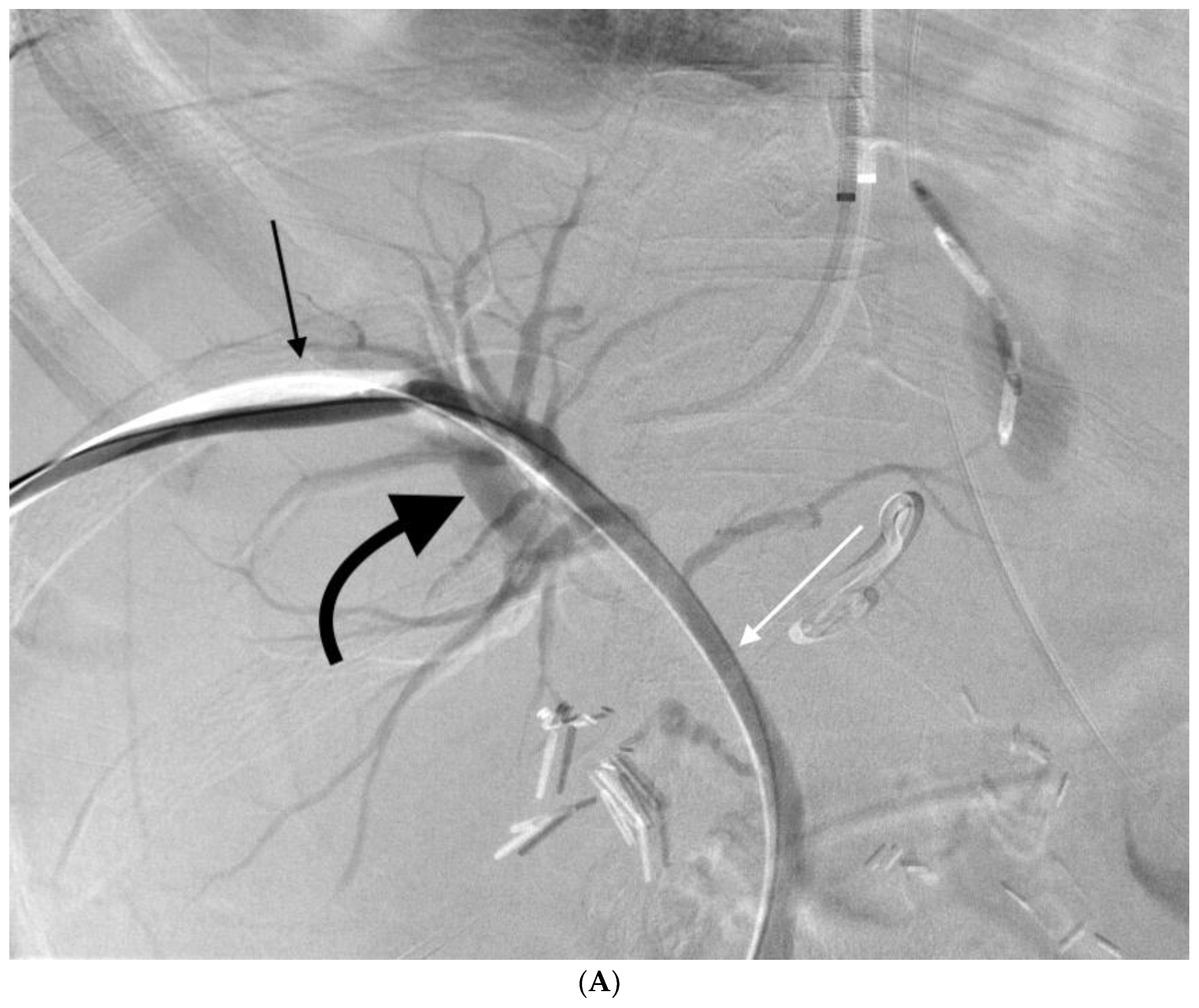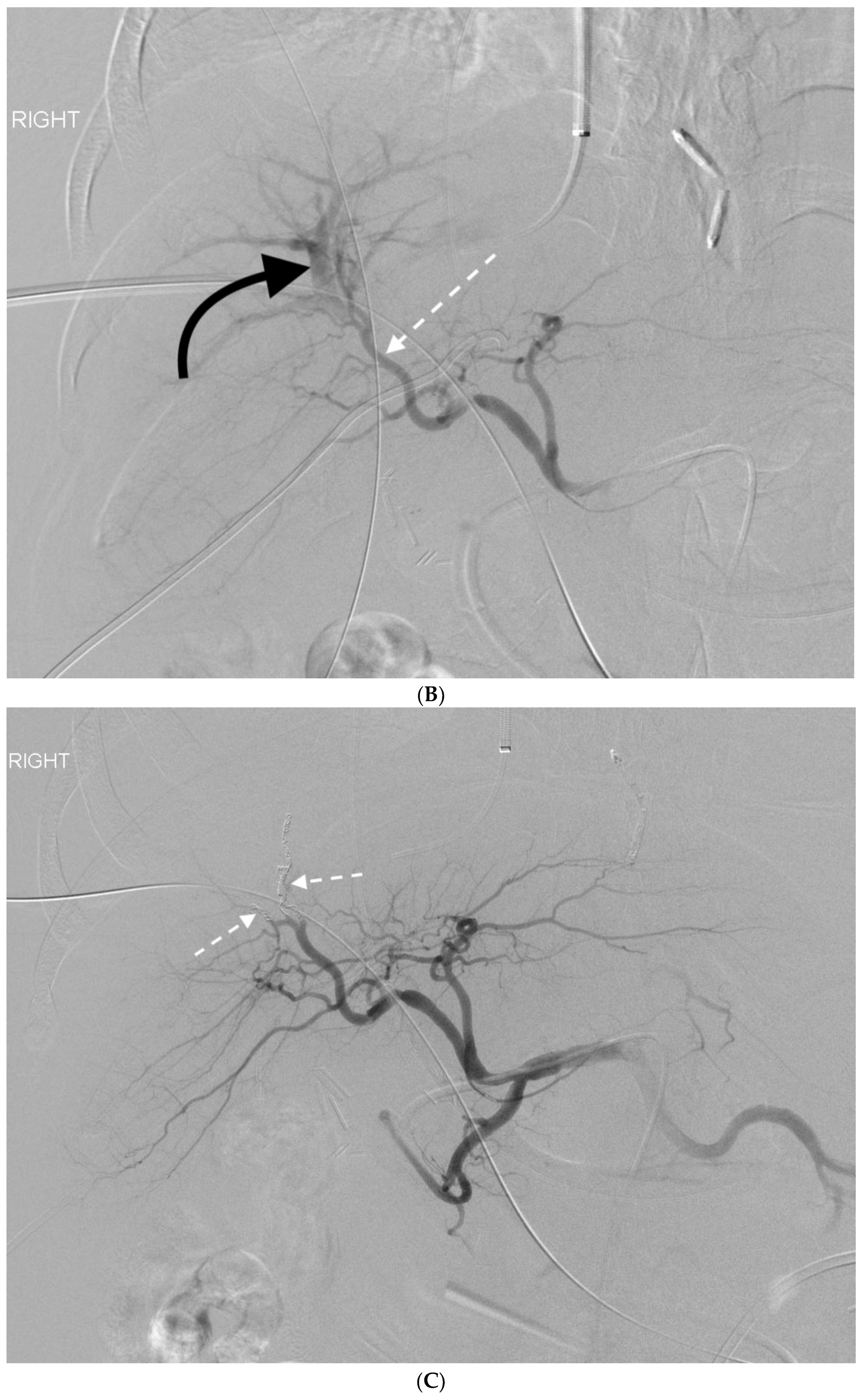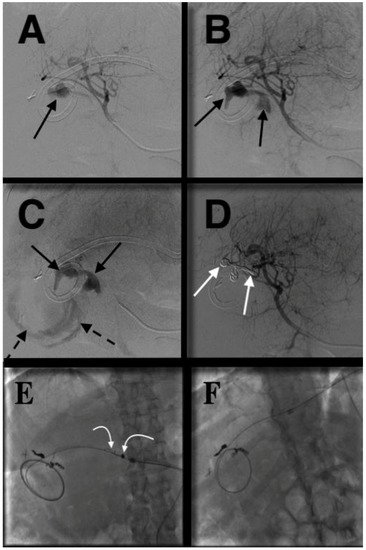 Figure 2. 71-year-old female with PTBD erosion into hepatic artery and subsequent massive upper gastrointestinal bleed. Patient had a PTBD in place for 7 years following a common bile duct (CBD) injury sustained during cholecystectomy with subsequent hepaticojejunostomy and anastomotic narrowing. This stricture failed benign biliary stricture protocol dilation. She presented to the emergency department with hematemesis, hematochezia and hypotension. (A–C) Initial angiogram showed extravasation from the hepatic artery (black arrows) and into the small bowel (dashed black arrows). (D) After coils (white arrows) were placed distally and proximally, repeat hepatic artery angiogram showed cessation of extravasation. (E) During a routine biliary tube exchange 7 months later, some of the coils (curved white arrows) were noted to have migrated into the bile duct and along the biliary drainage catheter. (F) These coils were percutaneously removed using a snare.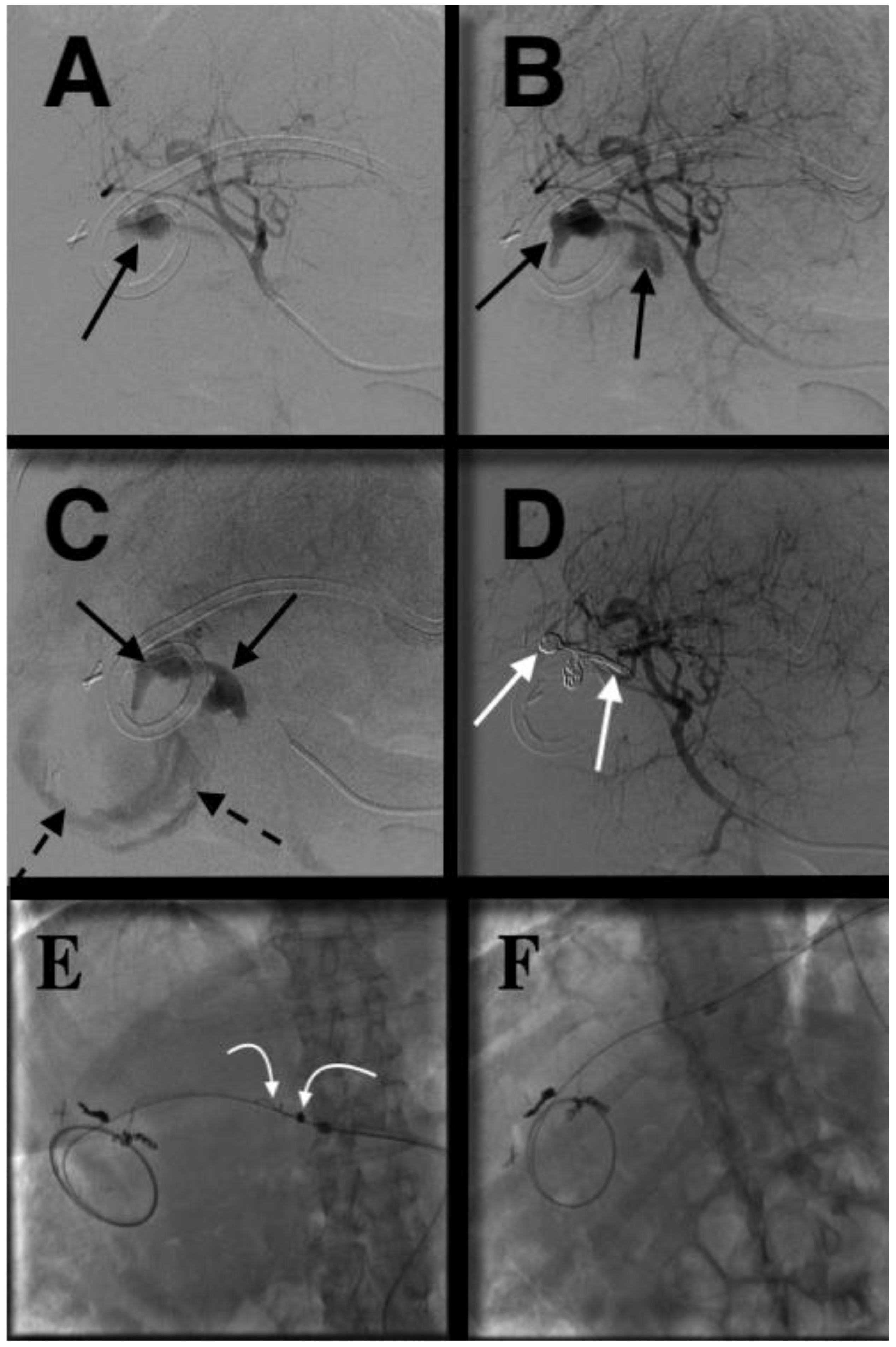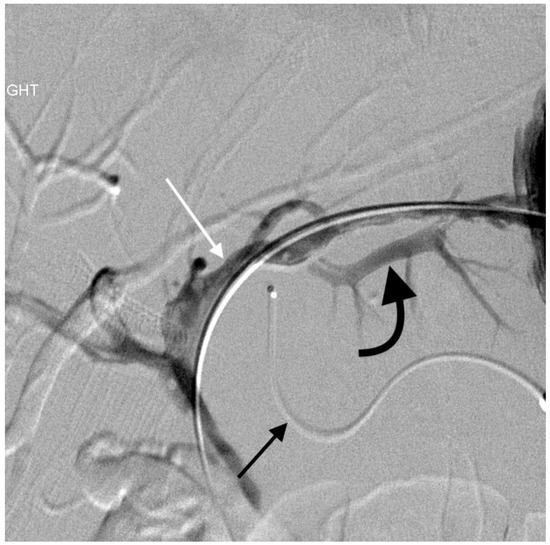 Figure 3. 56-year-old female with portal vein injury from left-sided PTBD placement. Patient underwent emergent PTBD placement for acute cholangitis. After placement, she had dark blood coming from the biliary drain, with a 20% drop in her hematocrit from baseline. She had hemodynamic instability. It was unclear based on this clinical picture whether the patient had an arterial or venous source of bleeding. Hepatic artery angiogram was followed by pullback cholangiogram. The former showed no signs of arterial injury, even after the biliary drain was removed over a wire. Pullback cholangiogram showed traversal of a left-sided portal vein branch (curved black arrow). White arrow—left hepatic duct; straight black arrow—microcatheter for concurrently performed hepatic artery angiogram. The bleeding was successfully treated with drain upsizing and placement of most proximal side holes more centrally. Common bile duct stones were removed endoscopically, and the drain was removed 7 weeks later. At that time, repeat pullback cholangiogram showed no opacification of the portal vein secondary to epithelialization of the tract.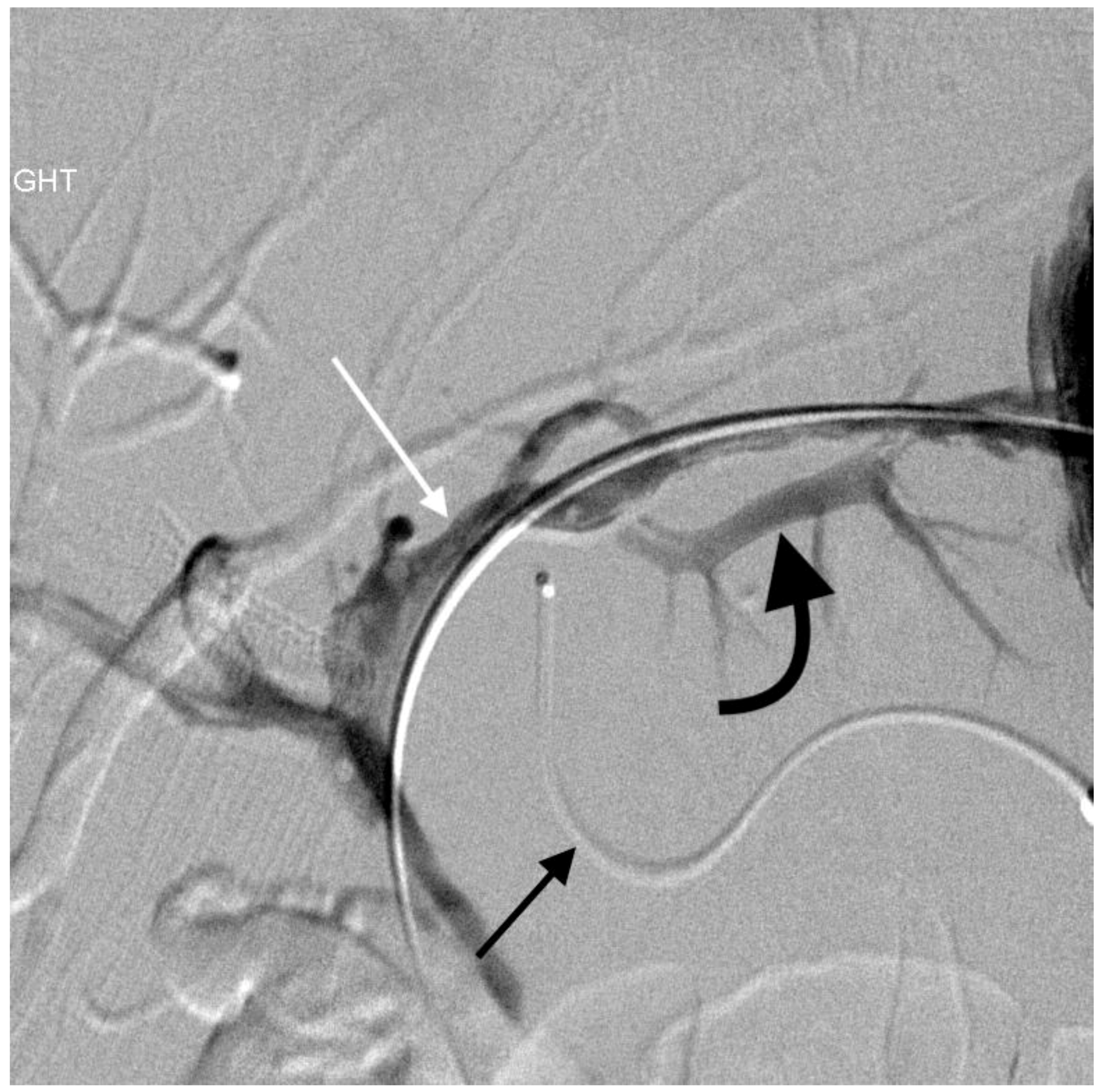 Figure 4. 61-year-old female with hepatic artery pseudoaneurysm caused by PTBD, treated with stent graft placement. Patient underwent deceased donor liver transplant for hepatitis C cirrhosis. She subsequently developed large volume bleeding from her biliary drainage catheter. (A) Angiogram showed a hepatic artery to portal vein fistula that was treated with coil and glue embolization (dashed black arrow) as well as a hepatic artery pseudoaneurysm (curved black arrow) adjacent to the crossing biliary drainage catheter with extravasation seen around the catheter (thin black arrow). (B) Given the patient's favorable anatomy, a covered stent (straight black arrows) was placed with desired exclusion of the pseudoaneurysm and cessation of hemobilia.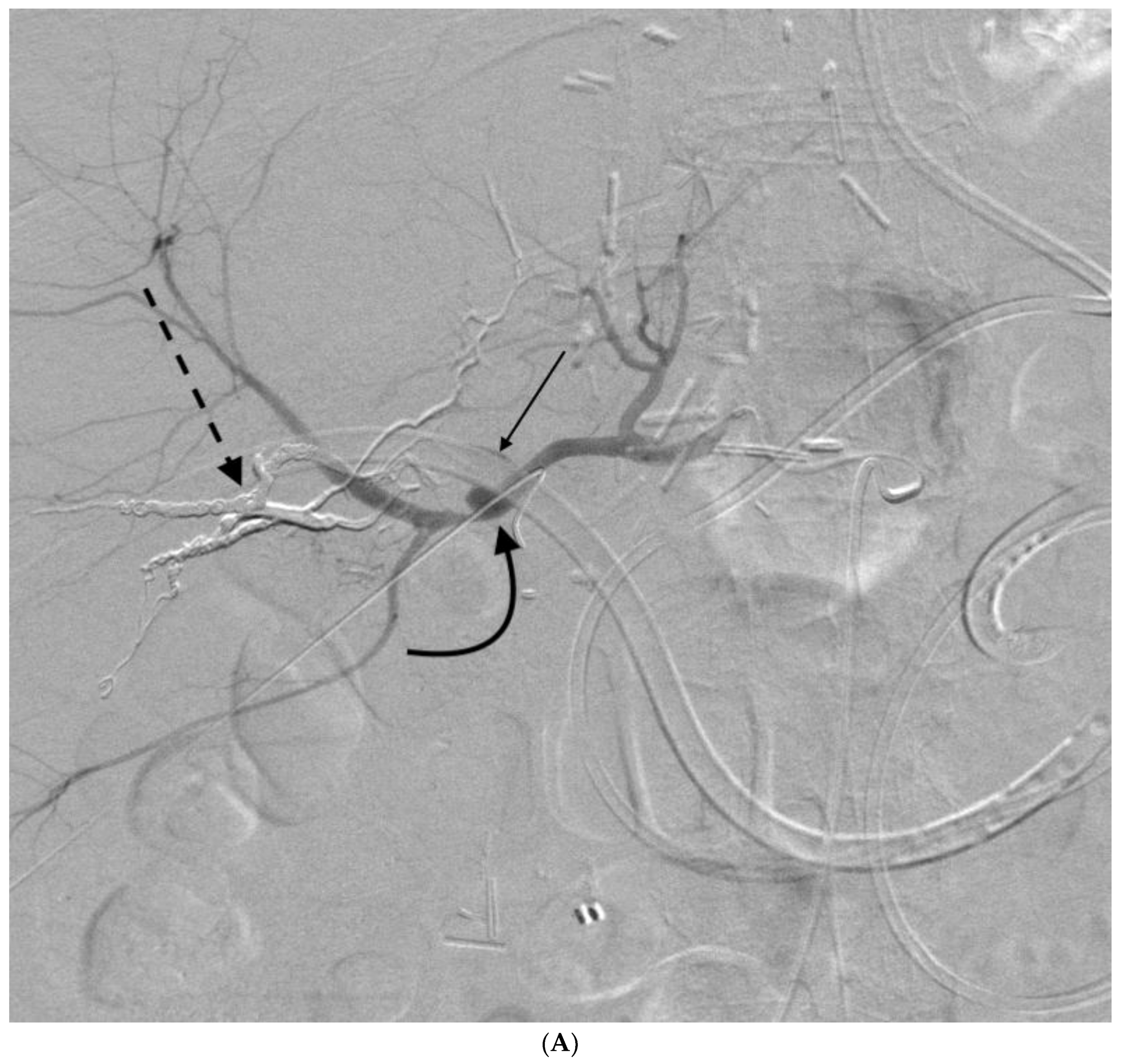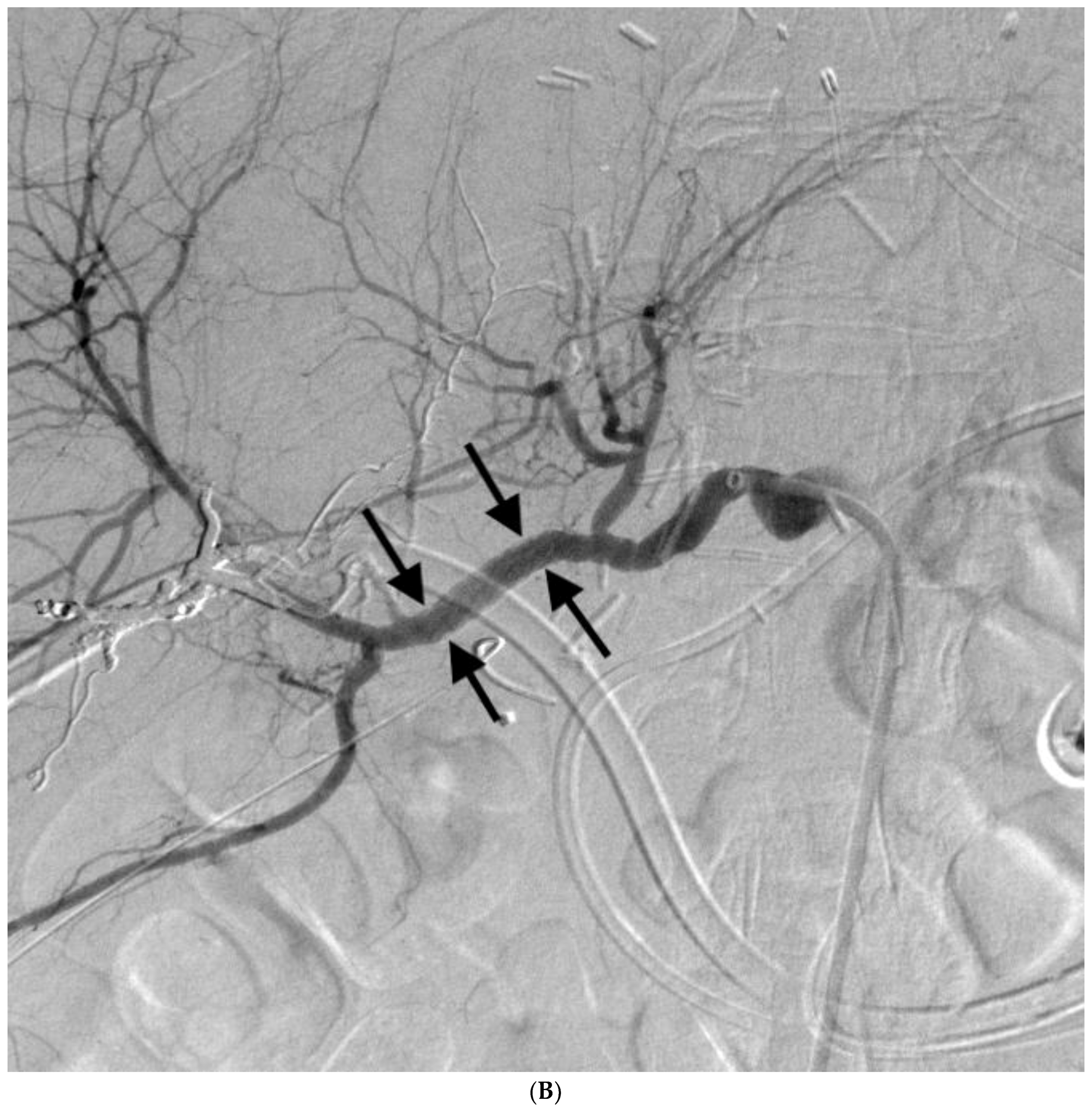 Figure 5. 58-year-old male with a pseudoaneurysm caused by PTBD that was treated with coil embolization. This patient had a history of ampullary carcinoma for which he underwent Whipple procedure complicated by bile leak at the choledochojejunostomy site. PTBD was placed with multiple subsequent episodes of hemobilia, which were initially treated with tube upsizing. (A) Angiogram 3 weeks after initial drain placement with drain removed over a wire showed a large pseudoaneurysm (curved black arrow) arising from the left hepatic artery. (B) Coils were placed distal (straight black arrow) and proximal (curved white arrow) to the pseudoaneurysm using a microcatheter (dashed white arrow). The hemobilia was successfully stopped.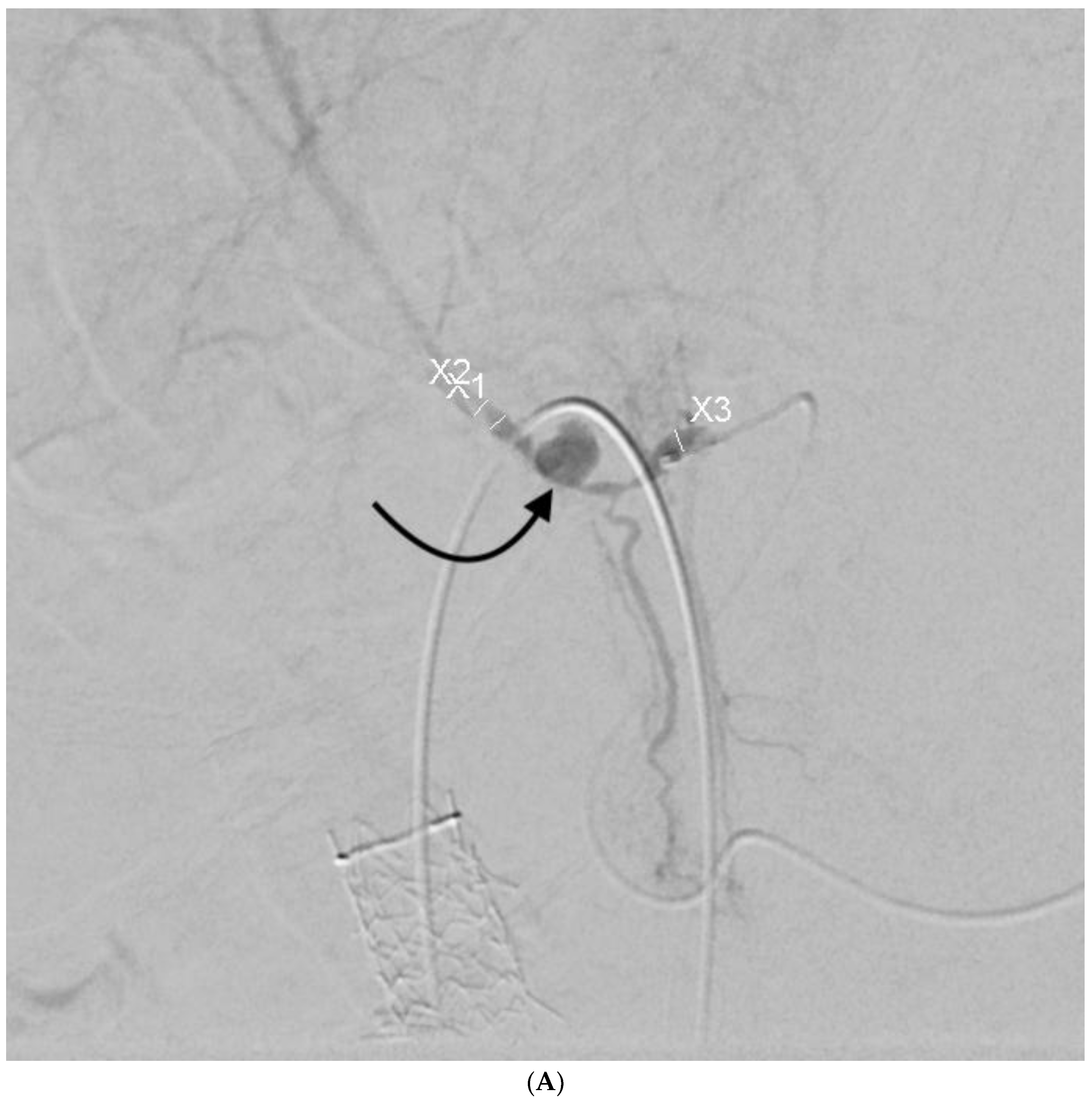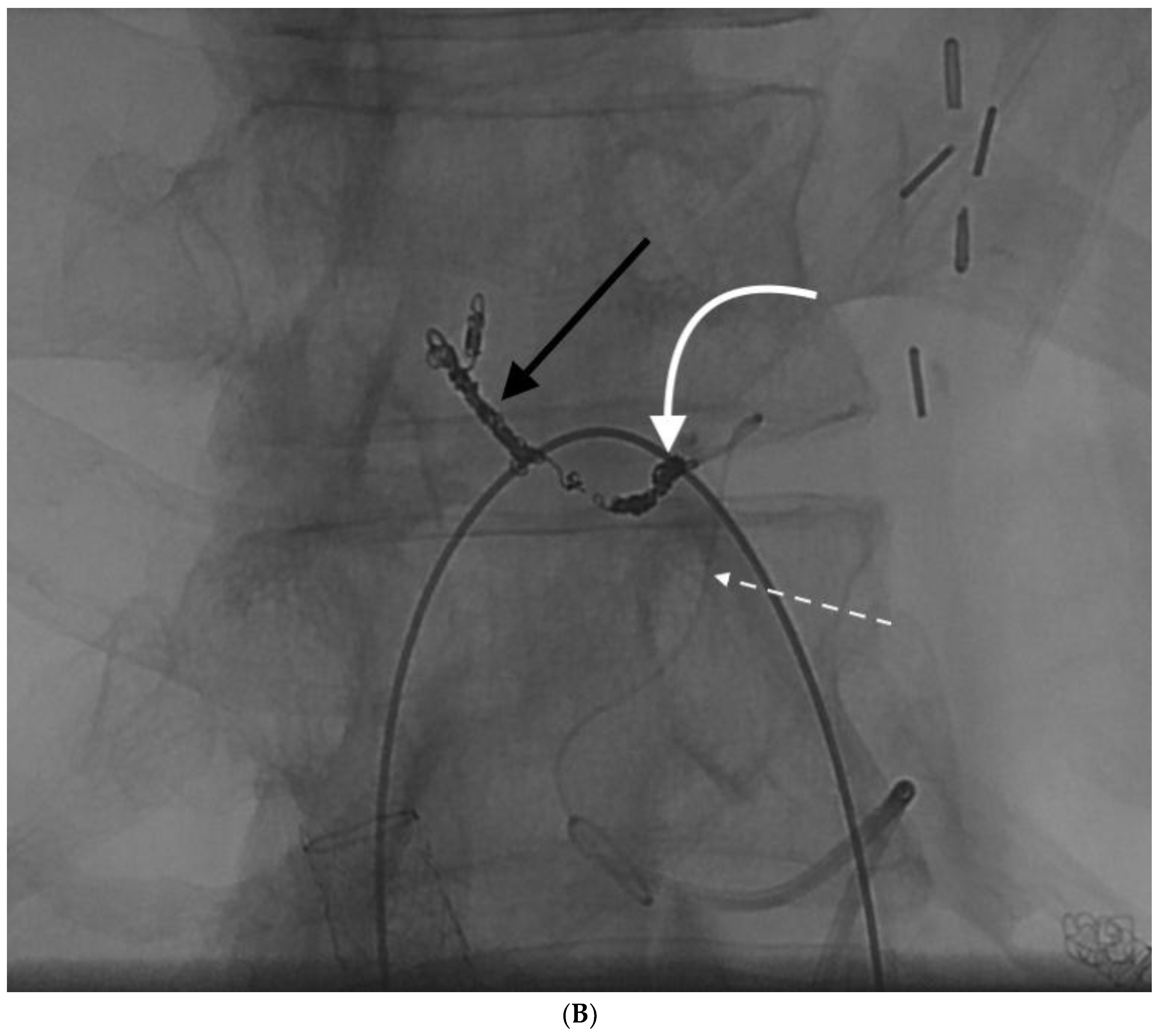 Figure 6. 72-year-old male with a hepatic artery to portal vein fistula. This patient underwent PTBD placement for biliary diversion after a cholecystectomy led to a cystic duct stump leak. He had intermittent episodes of small volume hemobilia. (A) Computed tomography angiography (CTA) was performed and showed early opacification of a portal vein branch (curved arrow) for which he was referred for hepatic arteriogram. Celiac (B) and selective right hepatic (C) artery angiograms demonstrated hepatic artery (straight black arrows) to portal vein (curved black arrows) fistula, relatively remote from the PTBD. This injury was therefore thought to be related to initial needle passes. (D) The hepatic artery supplying this fistula was coil-embolized (white arrows). (E) Repeat hepatic angiogram demonstrated cessation of the arteriovenous fistula.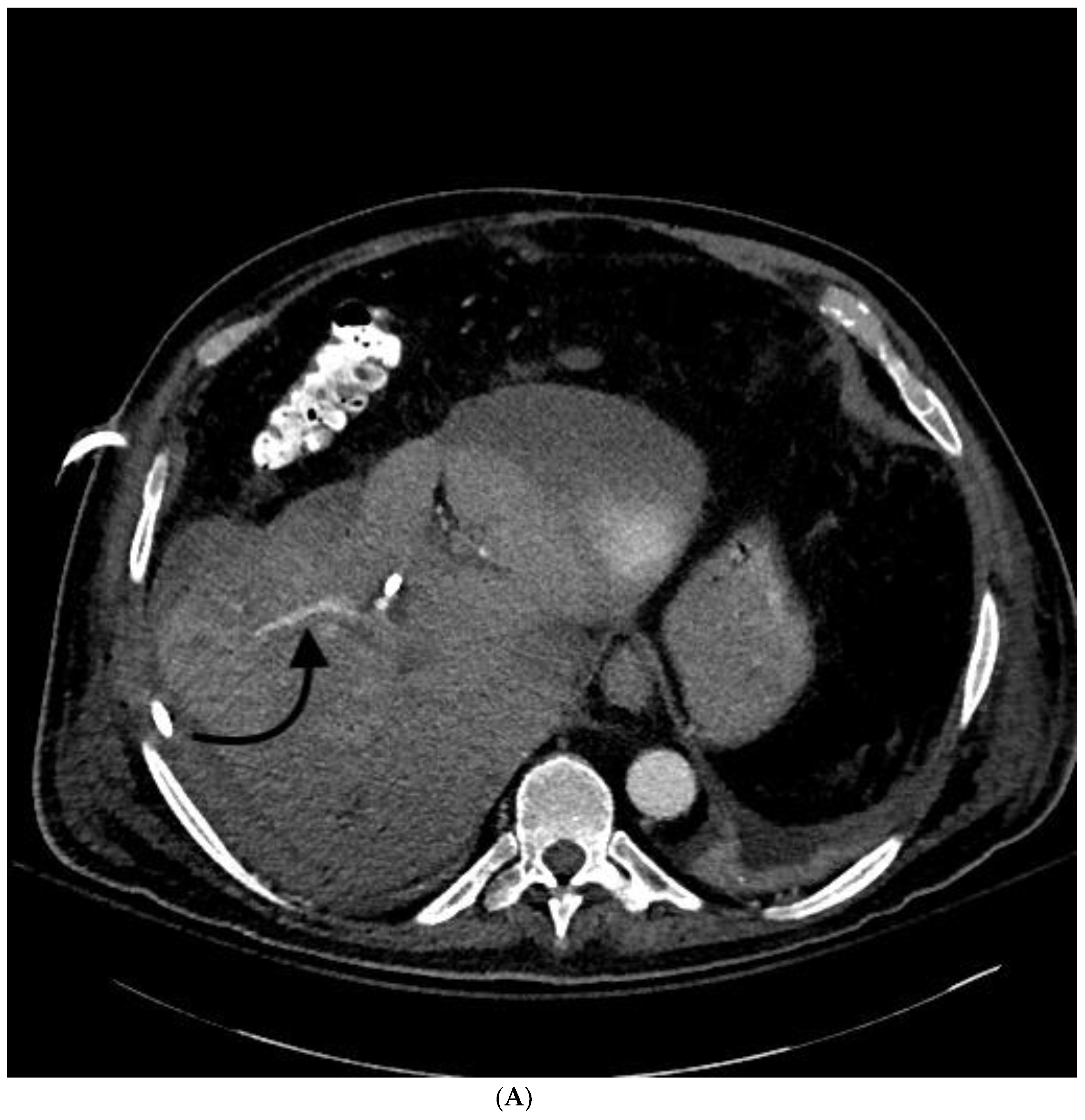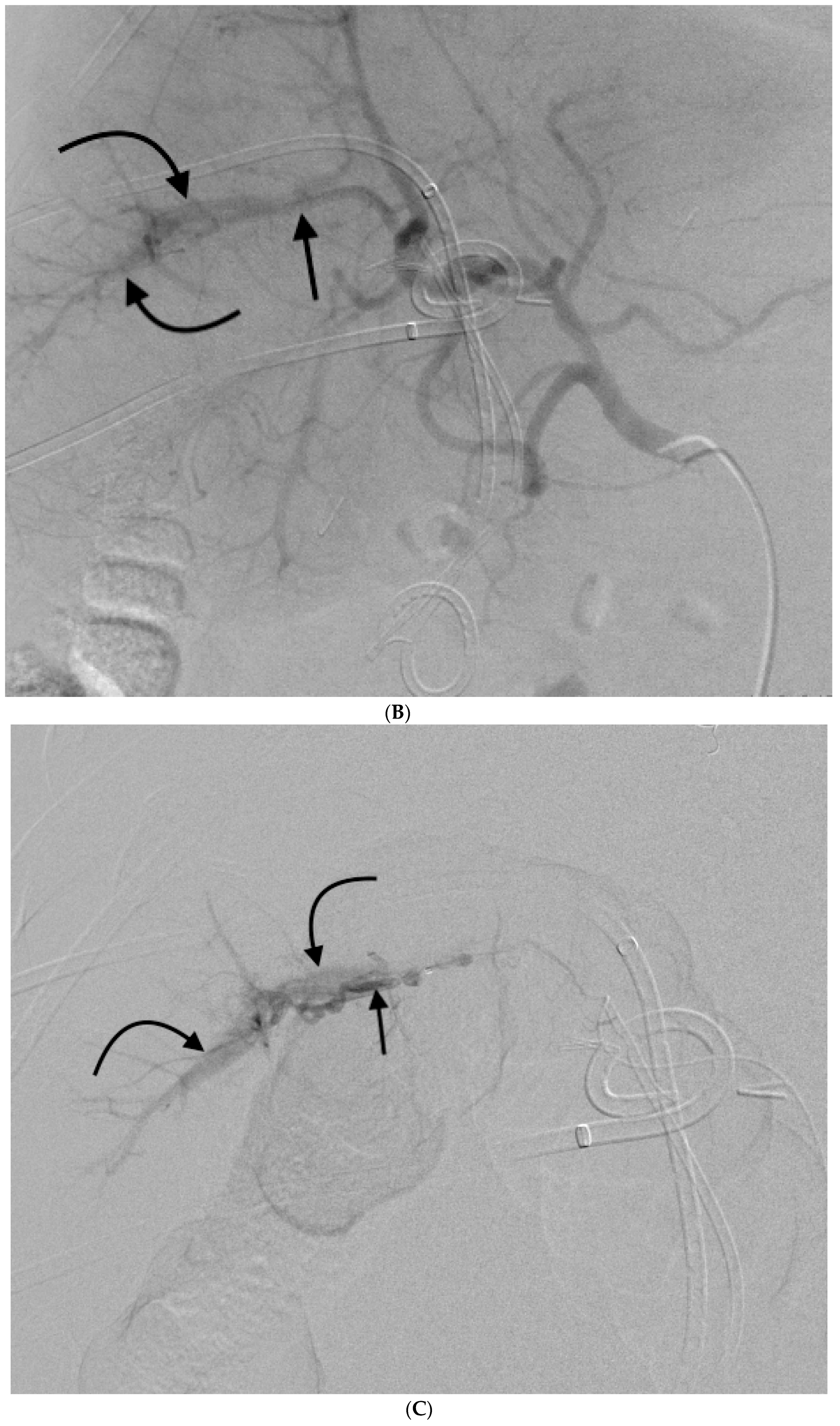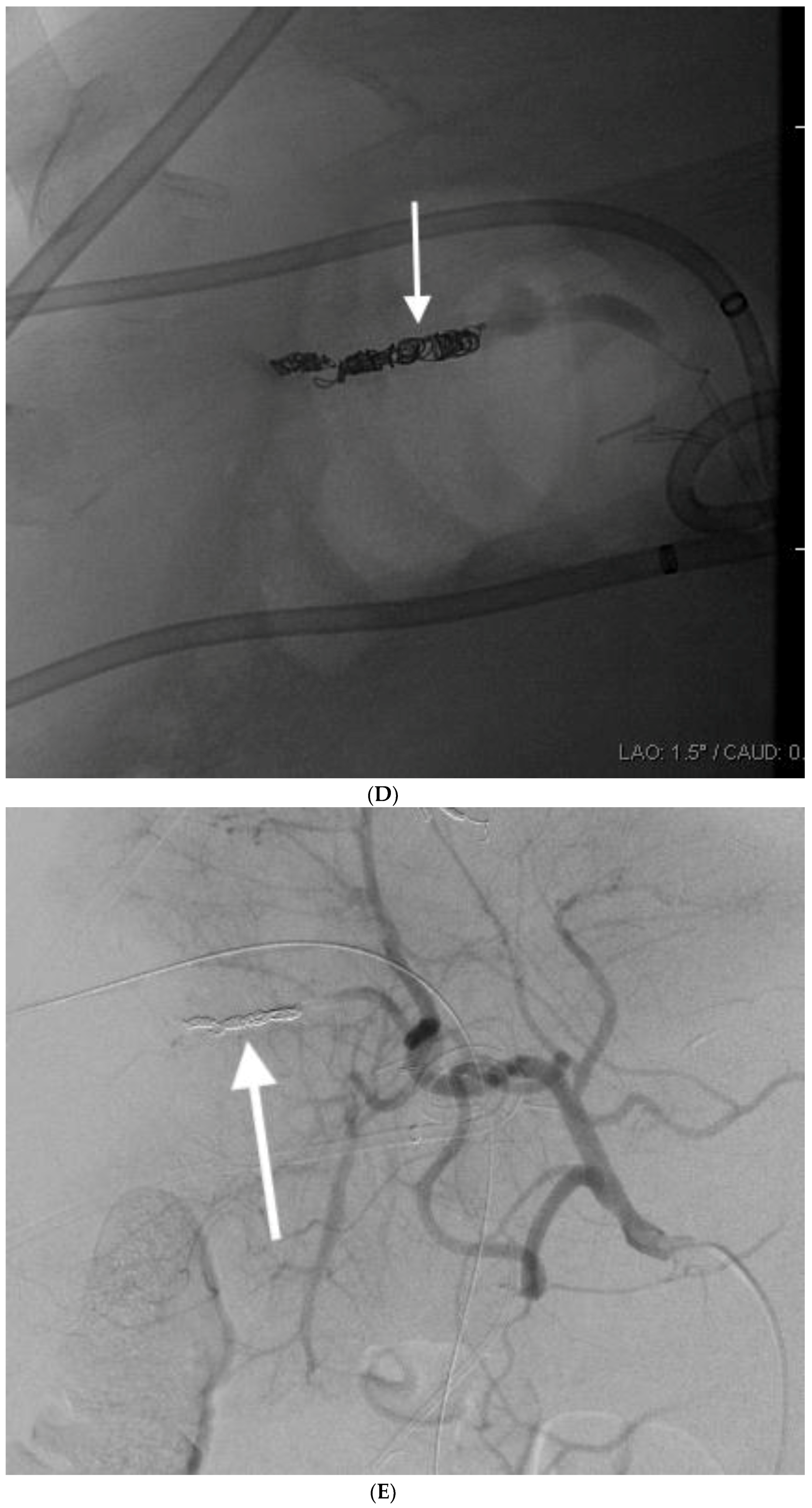 Figure 7. 69-year-old female with PTBD complicated by liver lacerations and subsequent death. Patient had malignant obstructive jaundice secondary to esophageal cancer. Pre-procedure images, including ultrasound (A) and CT (B), showed significant biliary ductal dilation (white arrows). Note the expected proximity of the hepatic artery (straight black arrow in A) and portal vein (curved black arrows in B). Despite seemingly uncomplicated placement of bilateral biliary drainage catheters, the patient decompensated 3 h later. (C,D) Multiphase CT showed hemoperitoneum (straight black arrows), focal areas of arterial extravasation (curved black arrows) and venous pooling (curved white arrow in D). Multiple large intrahepatic lacerations were seen. Given patient's overall prognosis and multifocal liver injuries, the patient was transitioned to comfort care and passed away 48 h later.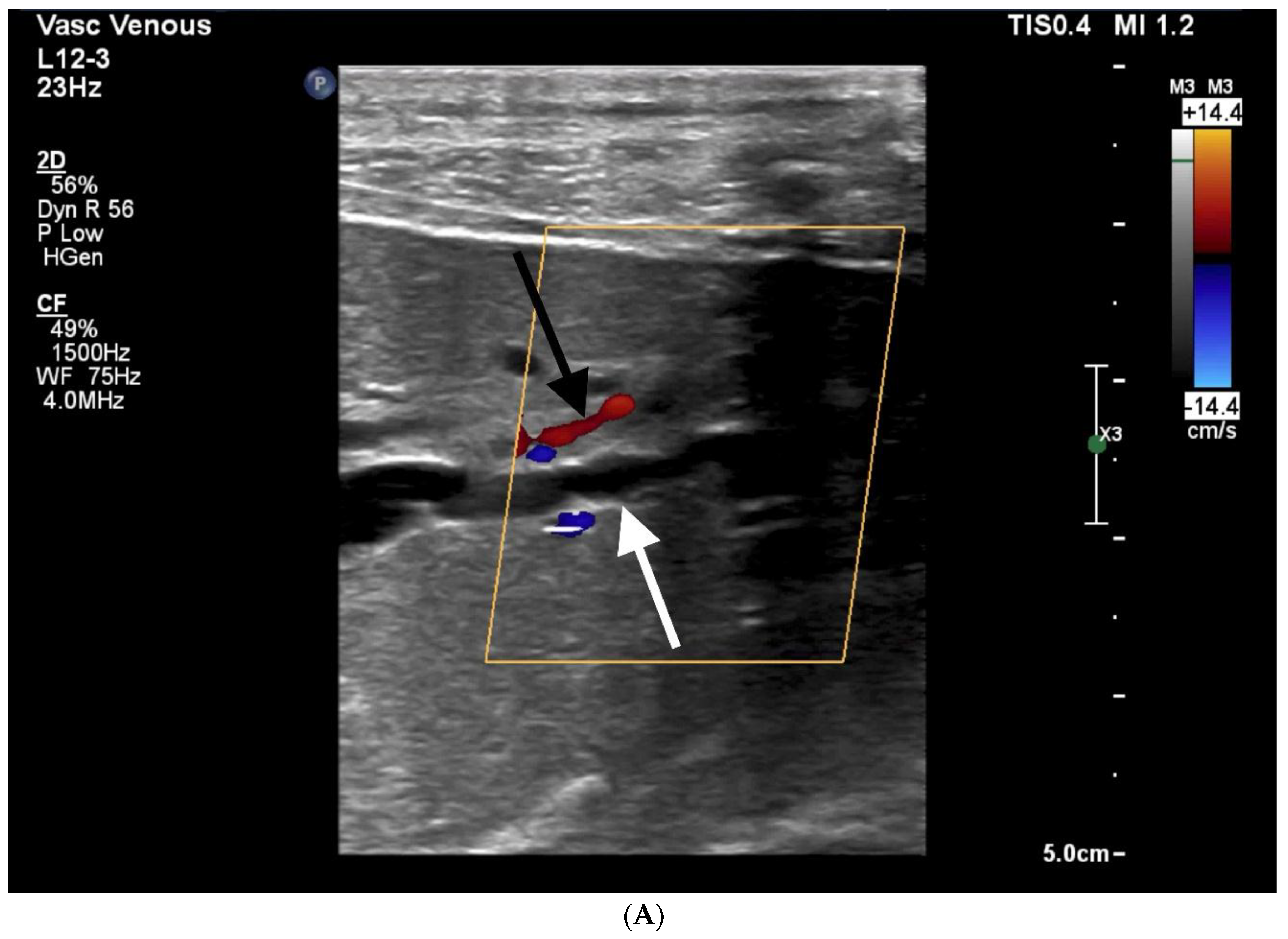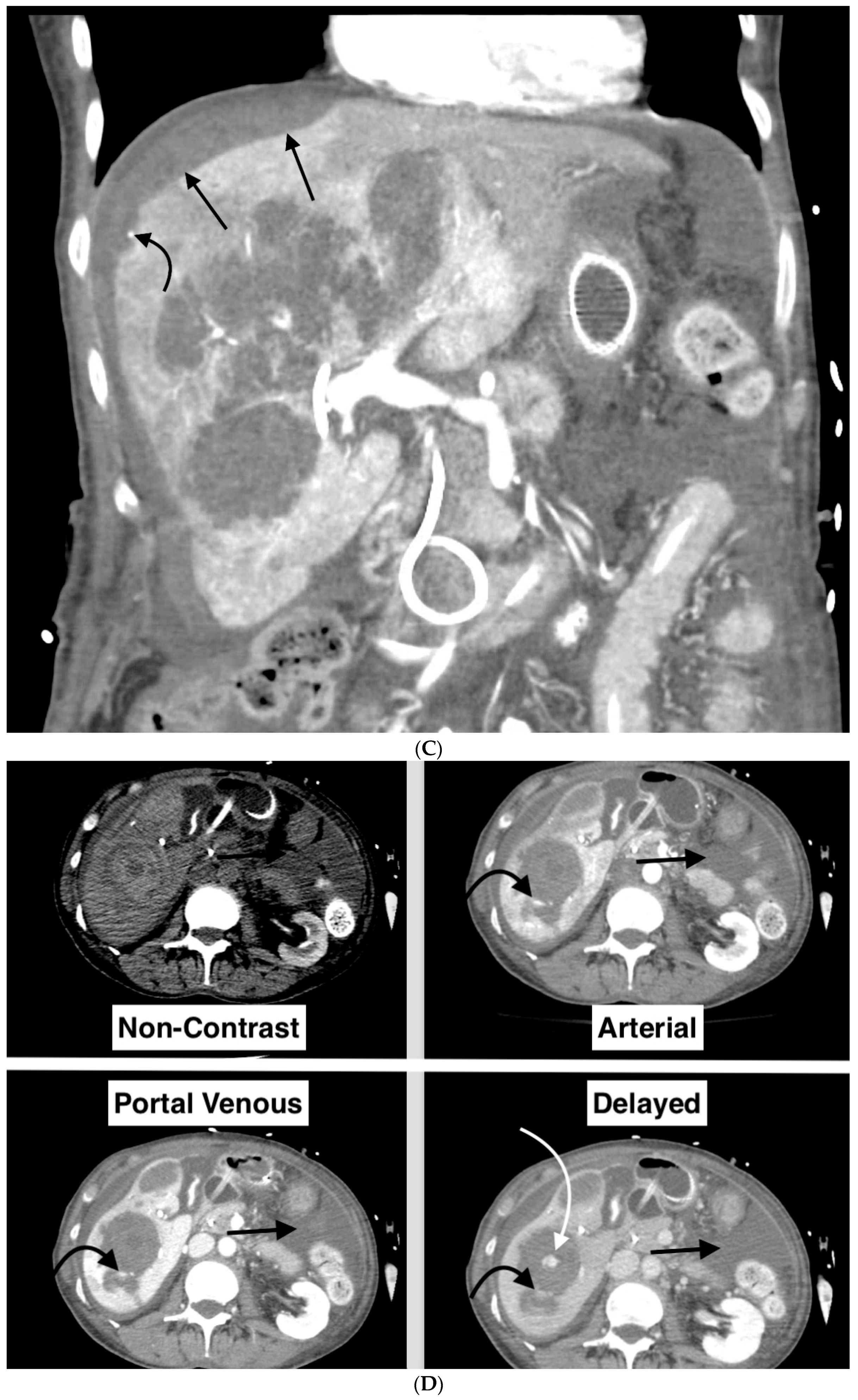 Table 1.
Clinical signs of portal vein versus hepatic artery injury, noting that significant overlap may be seen in the clinical picture. * A drop in baseline hematocrit by 13% or more was 94% specific for hepatic artery injury but only 10% sensitive [
12
]. If portal vein injury is suspected, the best imaging modality to confirm this is a pullback cholangiogram. If hepatic artery injury is suspected, angiogram should be performed without delay. If initial angiogram is negative, the biliary drain should be removed over a wire, a maneuver which has been shown to increase sensitivity of the angiogram 1.7 times fold [
29
].
Portal Vein Injury
Hepatic Artery Injury
Intermittent bleeding
Constant bleeding
Dark blood
Pulsatile bleeding
Typically hemodynamically stable
Bright red blood
No large drop in hematocrit
Falling hematocrit by >13% of baseline *
Hemodynamic instability
Melena

© 2018 by the authors. Licensee MDPI, Basel, Switzerland. This article is an open access article distributed under the terms and conditions of the Creative Commons Attribution (CC BY) license (http://creativecommons.org/licenses/by/4.0/).