Fatigue is Highly Prevalent in Patients with Asthma and Contributes to the Burden of Disease
1
REVAL Rehabilitation Research Center, BIOMED Biomedical Research Institute, Faculty of Rehabilitation Sciences, Hasselt University, 3590 Diepenbeek, Belgium
2
Department of Research and Education, CIRO, Centre of Expertise for Chronic Organ Failure, 6085 NM Horn, The Netherlands
3
Department of Respiratory Medicine, Maastricht University Medical Center (MUMC+), 6229 HX Maastricht, The Netherlands
4
NUTRIM School of Nutrition and Translational Research in Metabolism, 6229 ER Maastricht, The Netherlands
5
Department of Respiratory Medicine, Amphia Hospital, 4818 CK Breda, The Netherlands
6
Department of Pulmonary Medicine, Radboud University Medical Center (Radboudumc), 6525 GA Nijmegen, The Netherlands
7
Department of Medical Psychology, Radboudumc, 6525 GA Nijmegen, The Netherlands
8
Centre of expertise for palliative care, MUMC+, 6229 HX Maastricht, The Netherlands
9
Department of Medical Psychology, Amsterdam University Medical Centers, location AMC, 1105 AZ Amsterdam, The Netherlands
10
Member of Lung Foundation Netherlands, 3818 LE Amersfoort, The Netherlands
11
Member of Patient Advisory Board, Radboudumc, 6525 GA Nijmegen, The Netherlands
12
Department of General Practice, MUMC+, 6229 HX Maastricht, The Netherlands
*
Author to whom correspondence should be addressed.
Received: 26 October 2018 / Revised: 19 November 2018 / Accepted: 21 November 2018 / Published: 23 November 2018
Abstract
The 2018 update of the Global Strategy for Asthma Management and Prevention does not mention fatigue-related symptoms. Nevertheless, patients with asthma frequently report tiredness, lack of energy, and daytime sleepiness. Quantitative research regarding the prevalence of fatigue in asthmatic patients is lacking. This retrospective cross-sectional study of outpatients with asthma upon referral to a chest physician assessed fatigue (Checklist Individual Strength-Fatigue (CIS-Fatigue)), lung function (spirometry), asthma control (Asthma Control Questionnaire (ACQ)), dyspnea (Medical Research Council (MRC) scale), exercise capacity (six-minute walk test (6MWT)), and asthma-related Quality-of-Life (QoL), Asthma Quality of Life Questionnaire (AQLQ) during a comprehensive health-status assessment. In total, 733 asthmatic patients were eligible and analyzed (47.4 ± 16.3 years, 41.1% male). Severe fatigue (CIS-Fatigue ≥ 36 points) was detected in 62.6% of patients. Fatigue was not related to airflow limitation (FEV1,
ρ
= −0.083); was related moderately to ACQ (
ρ
= 0.455), AQLQ (
ρ
= −0.554), and MRC (
ρ
= 0.435; all
p
-values < 0.001); and was related weakly to 6MWT (
ρ
= −0.243,
p
< 0.001). In stepwise multiple regression analysis, 28.9% of variance in fatigue was explained by ACQ (21.0%), MRC (6.5%), and age (1.4%). As for AQLQ, 42.2% of variance was explained by fatigue (29.8%), MRC (8.6%), exacerbation rate (2.6%), and age (1.2%). Severe fatigue is highly prevalent in asthmatic patients; it is an important determinant of disease-specific QoL and a crucial yet ignored patient-related outcome in patients with asthma.
View Full-Text
►

▼

Figures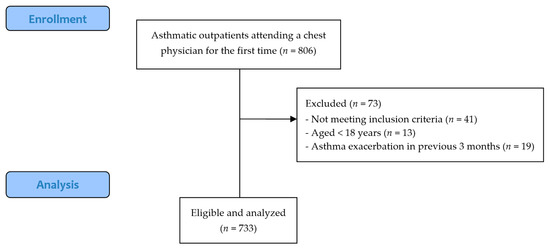 Figure 1
This is an open access article distributed under the
Creative Commons Attribution License
which permits unrestricted use, distribution, and reproduction in any medium, provided the original work is properly cited (CC BY 4.0).

Share & Cite This Article
MDPI and ACS Style
Van Herck, M.; Spruit, M.A.; Burtin, C.; Djamin, R.; Antons, J.; Goërtz, Y.M.J.; Ebadi, Z.; Janssen, D.J.A.; Vercoulen, J.H.; Peters, J.B.; Thong, M.S.Y.; Otker, J.; Coors, A.; Sprangers, M.A.G.; Muris, J.W.M.; Wouters, E.F.M.; Van 't Hul, A.J. Fatigue is Highly Prevalent in Patients with Asthma and Contributes to the Burden of Disease. J. Clin. Med. 2018, 7, 471.
Note that from the first issue of 2016, MDPI journals use article numbers instead of page numbers. See further details here.
Related Articles
Comments
[Return to top]