Post-Translational Modifications and Diastolic Calcium Leak Associated to the Novel RyR2-D3638A Mutation Lead to CPVT in Patient-Specific hiPSC-Derived Cardiomyocytes
1
Department of Biology, Faculty of Medicine, Masaryk University, Brno 62500, Czech Republic
2
Department of Internal Medicine, Cardiology Division/Cardiac Electrophysiology Section and Department of Biochemistry and Molecular Genetics, American University of Beirut Faculty of Medicine and Medical Center, Beirut 1107 2020, Lebanon
3
NeuroMyoGène Institute, University of Claude Bernard Lyon 1, 69100 Villeurbanne, France
4
PhyMedExp, INSERM, University of Montpellier, CNRS, 371 Avenue du Doyen G. Giraud, 34295 Montpellier CEDEX 5, France
5
Department of Physiology and Cellular Biophysics, Clyde and Helen Wu Center for Molecular Cardiology, Columbia University College of Physicians and Surgeons, New York, NY 10032, USA
6
CEITEC, Masaryk University, Brno 62500, Czech Republic
7
CRBM, CNRS, University of Montpellier, 34293 Montpellier, France and University ITMO, St Petersburg 197101, Russia
8
Department of Cardiology, College of Physicians and Surgeons of Columbia University, New York, NY 10032, USA
9
International Clinical Research Center, St. Anne's University Hospital, Brno 60200, Czech Republic
10
San Francisco Medical Center, University of California, San Francisco, CA 94115, USA
*
Authors to whom correspondence should be addressed.
Received: 19 October 2018 / Revised: 31 October 2018 / Accepted: 4 November 2018 / Published: 8 November 2018
Abstract
Background: Sarcoplasmic reticulum Ca
2+
leak and post-translational modifications under stress have been implicated in catecholaminergic polymorphic ventricular tachycardia (CPVT), a highly lethal inherited arrhythmogenic disorder. Human induced pluripotent stem cells (hiPSCs) offer a unique opportunity for disease modeling. Objective: The aims were to obtain functional hiPSC-derived cardiomyocytes from a CPVT patient harboring a novel ryanodine receptor (RyR2) mutation and model the syndrome, drug responses and investigate the molecular mechanisms associated to the CPVT syndrome. Methods: Patient-specific cardiomyocytes were generated from a young athletic female diagnosed with CPVT. The contractile, intracellular Ca
2+
handling and electrophysiological properties as well as the RyR2 macromolecular remodeling were studied. Results: Exercise stress electrocardiography revealed polymorphic ventricular tachycardia when treated with metoprolol and marked improvement with flecainide alone. We found abnormal stress-induced contractile and electrophysiological properties associated with sarcoplasmic reticulum Ca
2+
leak in CPVT hiPSC-derived cardiomyocytes. We found inadequate response to metoprolol and a potent response of flecainide. Stabilizing RyR2 with a Rycal compound prevents those abnormalities specifically in CPVT hiPSC-derived cardiomyocytes. The RyR2-D3638A mutation is located in the conformational change inducing-central core domain and leads to RyR2 macromolecular remodeling including depletion of PP2A and Calstabin2. Conclusion: We identified a novel RyR2-D3638A mutation causing 3D conformational defects and aberrant biophysical properties associated to RyR2 macromolecular complex post-translational remodeling. The molecular remodeling is for the first time revealed using patient-specific hiPSC-derived cardiomyocytes which may explain the CPVT proband's resistance. Our study promotes hiPSC-derived cardiomyocytes as a suitable model for disease modeling, testing new therapeutic compounds, personalized medicine and deciphering underlying molecular mechanisms.
View Full-Text
►

▼

Figures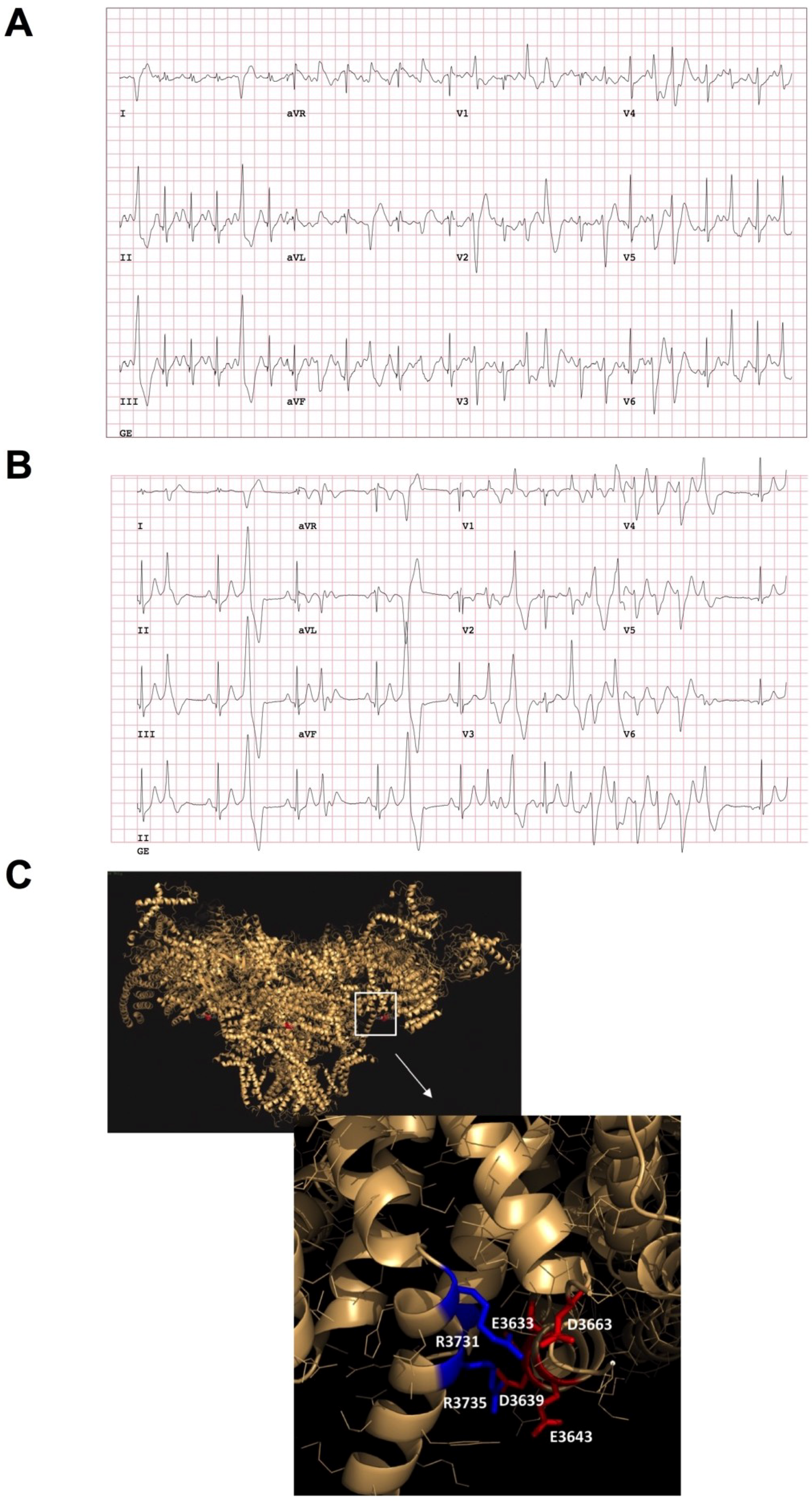 Figure 1
This is an open access article distributed under the
Creative Commons Attribution License
which permits unrestricted use, distribution, and reproduction in any medium, provided the original work is properly cited (CC BY 4.0).

Share & Cite This Article
MDPI and ACS Style
Acimovic, I.; Refaat, M.M.; Moreau, A.; Salykin, A.; Reiken, S.; Sleiman, Y.; Souidi, M.; Přibyl, J.; Kajava, A.V.; Richard, S.; Lu, J.T.; Chevalier, P.; Skládal, P.; Dvořak, P.; Rotrekl, V.; Marks, A.R.; Scheinman, M.M.; Lacampagne, A.; Meli, A.C. Post-Translational Modifications and Diastolic Calcium Leak Associated to the Novel RyR2-D3638A Mutation Lead to CPVT in Patient-Specific hiPSC-Derived Cardiomyocytes. J. Clin. Med. 2018, 7, 423.
Note that from the first issue of 2016, MDPI journals use article numbers instead of page numbers. See further details here.
Related Articles
Comments
[Return to top]