Open Access This article is
freely available
re-usable
Review
Repurposing Treatments to Enhance Innate Immunity. Can Statins Improve Neutrophil Functions and Clinical Outcomes in COPD?
1
Institute of Inflammation and Ageing, University of Birmingham, Birmingham, B15 2TT, UK
2
Lung Function and Sleep, University Hospitals Birmingham NHS Foundation Trust, Birmingham, B15 2TT, UK
3
Respiratory Research, Research and Development, University Hospitals Birmingham NHS Foundation Trust, Birmingham, B15 2TT, UK
*
Author to whom correspondence should be addressed.
Academic Editors: Christophe Dubois and Laurence Panicot-Dubois
Received: 24 August 2016 / Accepted: 20 September 2016 / Published: 11 October 2016
Abstract
:
Drug classes used in the treatment of Chronic Obstructive Pulmonary Disease (COPD) have not changed for many years, and none to date have shown disease-modifying activity. Statins are used to help reduce cardiovascular risk, which is high in many patients with COPD. Their use has been associated with improvements in some respiratory manifestations of disease and reduction in all-cause mortality, with greatest reductions seen in patients with the highest inflammatory burden. The mechanism for these effects is poorly understood. Neutrophils are key effector cells in COPD, and correlate with disease severity and inflammation. Recent in vitro studies have shown neutrophil functions are dysregulated in COPD and this is thought to contribute both to the destruction of lung parenchyma and to the poor responses seen in infective exacerbations. In this article, we will discuss the potential utility of statins in COPD, with a particular emphasis on their immune-modulatory effects as well as presenting new data regarding the effects of statins on neutrophil function in vitro.
Keywords:
neutrophil; inflammation; COPD; statins; chemotaxis; simvastatin
1. Introduction
1.1. Inflammation, the Neutrophil, and COPD
Neutrophils are the dominant circulating leukocyte and represent a key component of the innate immune system. In response to infection/inflammation, neutrophils leave the circulation and migrate to sites of infection where they utilise a variety of mechanisms to contain and kill invading pathogens. This includes phagocytosis, degranulation, production of reactive oxygen species (ROS), and release of neutrophil extracellular traps (NETs).
Once neutrophils reach their target sites, they have a number of methods to remove bacterial colonies and cell debris in the lung; phagocytosis, degranulation and release of antimicrobial peptides, respiratory burst (release of ROS), and NETosis (release of extracellular meshwork laden with antimicrobial agents).
1.2. Cholesterol, Statins, and Cardiovascular Disease
1.3. Statins and Clinical Outcomes in COPD
2. Statins and Neutrophil Migration in COPD; In Vitro Studies
Previously, we identified increased migratory speed of movement in any direction (termed chemokinesis) but reduced migratory accuracy towards inflammation (termed chemotaxis) in systemic neutrophils isolated from patients with COPD and related this to systemic neutrophil elastase activity and the potential for tissue damage [
47
]. We have studied the effects of therapeutically relevant concentrations of Simvastatin on neutrophil migratory dynamics in both patients with COPD (average age 69.5 years ± 8.5) and age-matched healthy control subjects (average age 64.4 years ± 12). Chemotaxis was assessed in neutrophils isolated from whole blood using an Insall Chamber (Weber Scientific International Ltd., Teddington, UK) and time-lapse video microscopy, as described previously [
111
]. Neutrophils were migrated towards 100 nm CXCL8 (R & D Systems, Abingdon, UK) or 10 nm fMLP (Sigma-aldrich, Dorset, UK) for 12 min, parameters which were optimised in a series of validation experiments. Cell migration was imaged using a Leica DM6000 B microscope fitted with a DFC 360FX monochrome digital camera and migratory paths tracked using the Java software, ImageJ (Wayne Rasband, NIH, Bethesda, MD, USA).
Neutrophils were incubated with Simvastatin sodium salt (Merck Millipore, Nottingham, UK) at 1 nm or 1 µm or vehicle control (dimethyl sulfoxide) or buffer (negative control) for 40 min prior to migration studies and statin concentrations were chosen to represent known steady-state plasma concentrations of Simvastatin from 10 mg to 80 mg [
112
]. Appropriate incubation time was chosen following appropriate time-course experiments. Of note, the same defect (increased chemokinesis but reduced chemotaxis) was seen in COPD neutrophils compared to those from healthy controls in untreated neutrophils, as previously described. Forty minutes of in vitro treatment of isolated peripheral blood neutrophils with either 1 nm or 1 µm simvastatin was able to improve neutrophil velocity towards both CXCL8 and fMLP in patients with COPD, restoring migratory accuracy to levels seen in age-matched healthy control neutrophils. See
Figure 3
.
These results are in keeping with other in vitro assessments of the ability of statins to impact upon pro-inflammatory events. Importantly in the studies described above, simvastatin did not inhibit the ability of the cell to respond to infection/inflammation but rather improved it, however there have not been studies of statin use and NETosis, phagocytosis, or ROS release in neutrophils from COPD patients, and these would be needed to further assess the likely impact of statins on crucial neutrophil functions. Evidence from other in vitro human studies have described potential impairment of neutrophil bactericidal functions, but these have used non-therapeutic concentrations (such as 10–50 µm rather than the therapeutic 1 µm [
113
]) making interpretation difficult. In contrast, mouse studies utilising more relevant doses of drug have described reductions in NET formation in murine models with improved responses to inflammatory challenges [
95
]. In summary, these early studies by ourselves and others have suggested statins may impact positively on some neutrophil functions thought central to the pathogenesis of both COPD and CVD, but further investigation is required.
3. Conclusions
COPD remains a significant cause of mortality and morbidity globally, and our therapeutic tools for reducing its impact are limited. There is clear evidence of improved CVD morbidity and mortality in COPD following statin use, but the shared inflammatory mechanisms that have been described in both COPD and CVD provide theoretical reasons to support the use of statins in COPD progression as well. Statins have been associated with improved lung outcomes in in vitro experiments, in animal models, and in observational studies of COPD. However, results of randomised controlled trials have shown limited efficacy on COPD-related outcomes such as exacerbation frequency. Disparity in COPD-related results may reflect experimental design and the patients and outcomes that were selected. The persistent signal reported in many studies has maintained interest in these drugs for this debilitating disease. Further in vitro studies and proof of principle clinical trials using statins at high doses—with cellular as well as clinical outcomes—in carefully selected patients may provide more insight into their potential utility.
Acknowledgments
Experimental work described within this article was supported by the Medical Research Council and British Lung Foundation. Clinical studies were supported by the NIHR Clinical Research Facility, University Hospital Birmingham, Birmingham, UK.
Author Contributions
G.M.W. prepared the article; G.M.W., J.A.S., D.G., C.S.S. and T.P undertook the experimental work described within the article; E.S. prepared the article, oversaw the experimental work, and interpretation of data.
Conflicts of Interest
The authors declare no conflict of interest. The funding sponsors had no role in the design of the study; in the collection, analyses, or interpretation of data; in the writing of the manuscript, and in the decision to publish the results.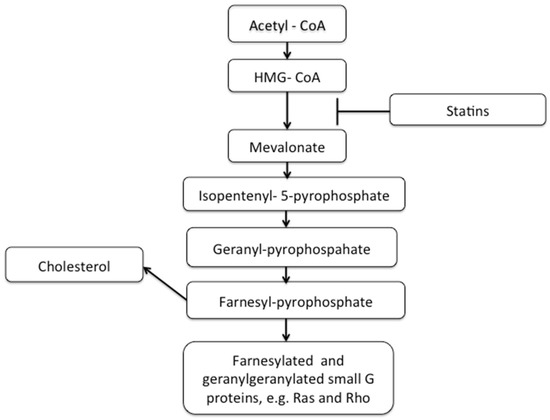 Figure 1. The HMG-CoA reductase pathway. Statins act by competitively inhibiting HMG-CoA reductase, reducing the rate by which HMG Co-A reductase is able to produce mevalonate, the next molecule in the pathway that produces cholesterol. This pathway is also responsible for isoprenoid formation, these are required to modify and activate small GTPases.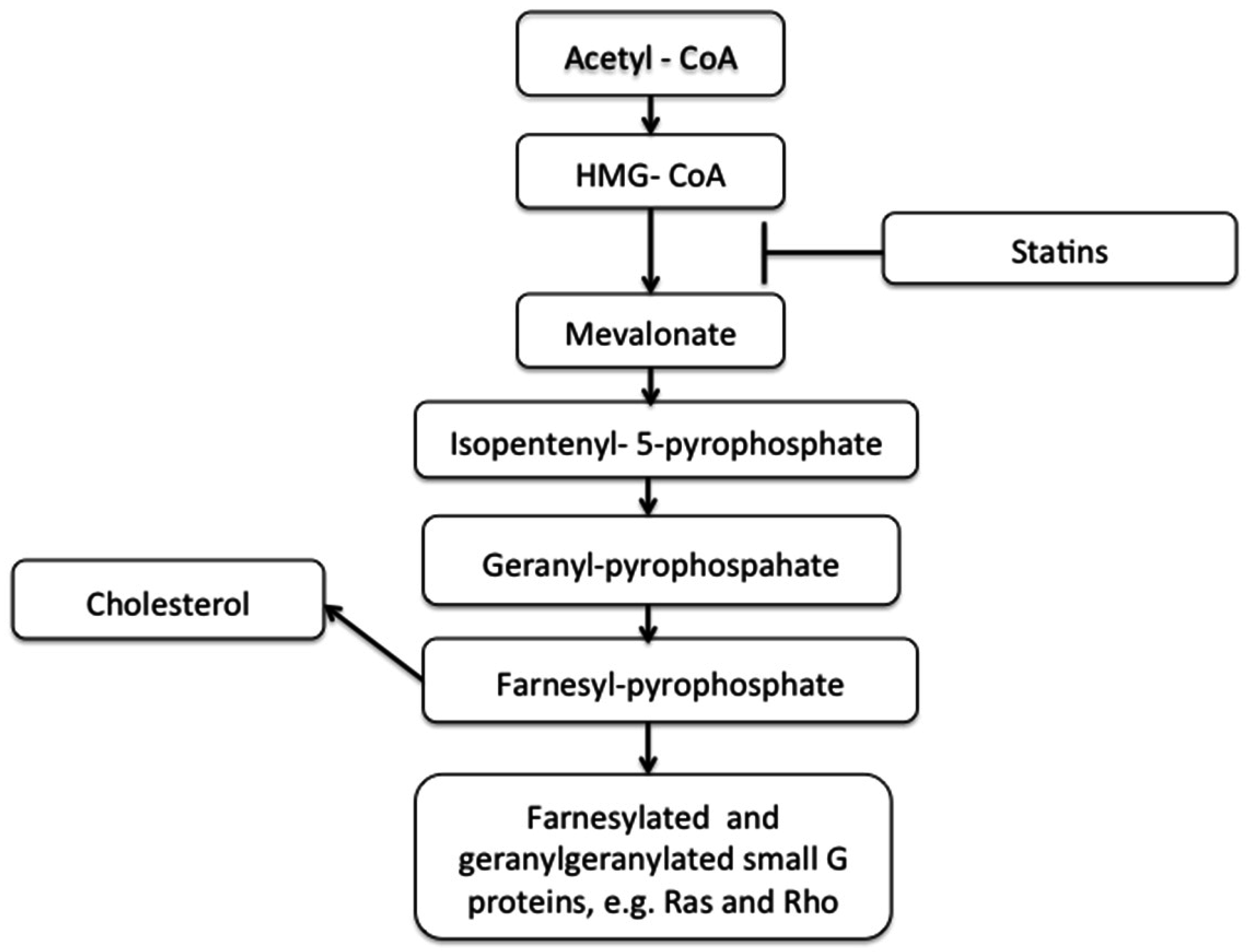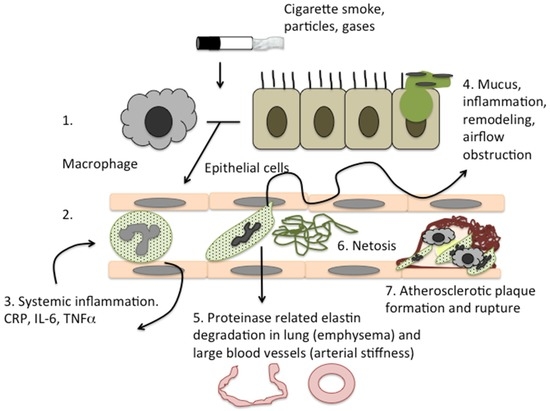 Figure 2. Shared inflammatory mechanisms in COPD and CVD. Chronic cigarette smoke exposure or other toxic inhalants in susceptible people leads to (1) the sustained activation of airway macrophages and epithelial cells; (2) The release of inflammatory cytokines causes endothelial activation and neutrophils recruitment to the airways, however COPD poor migratory accuracy and increased reactive oxygen species release leads to (3) increased systemic inflammation. This activates endothelial cells further, recruiting more neutrophils and as well as causing (4) bystander tissue damage to both blood vessels and the lung parenchyma; (5) Neutrophil proteinases degrade elastin fibres both in the lung and large blood vessels, causing emphysema and arterial stiffness as well as increasing the activity of macrophage proteinases such as MMP12. Neutrophil netosis (6) adds to the inflammatory burden, and promotes platelet aggregation in small vessels due to endothelial damage (7). Atherosclerotic plaques form over areas of endothelial damage, which are infiltrated by immune cells including neutrophils during plaque rupture.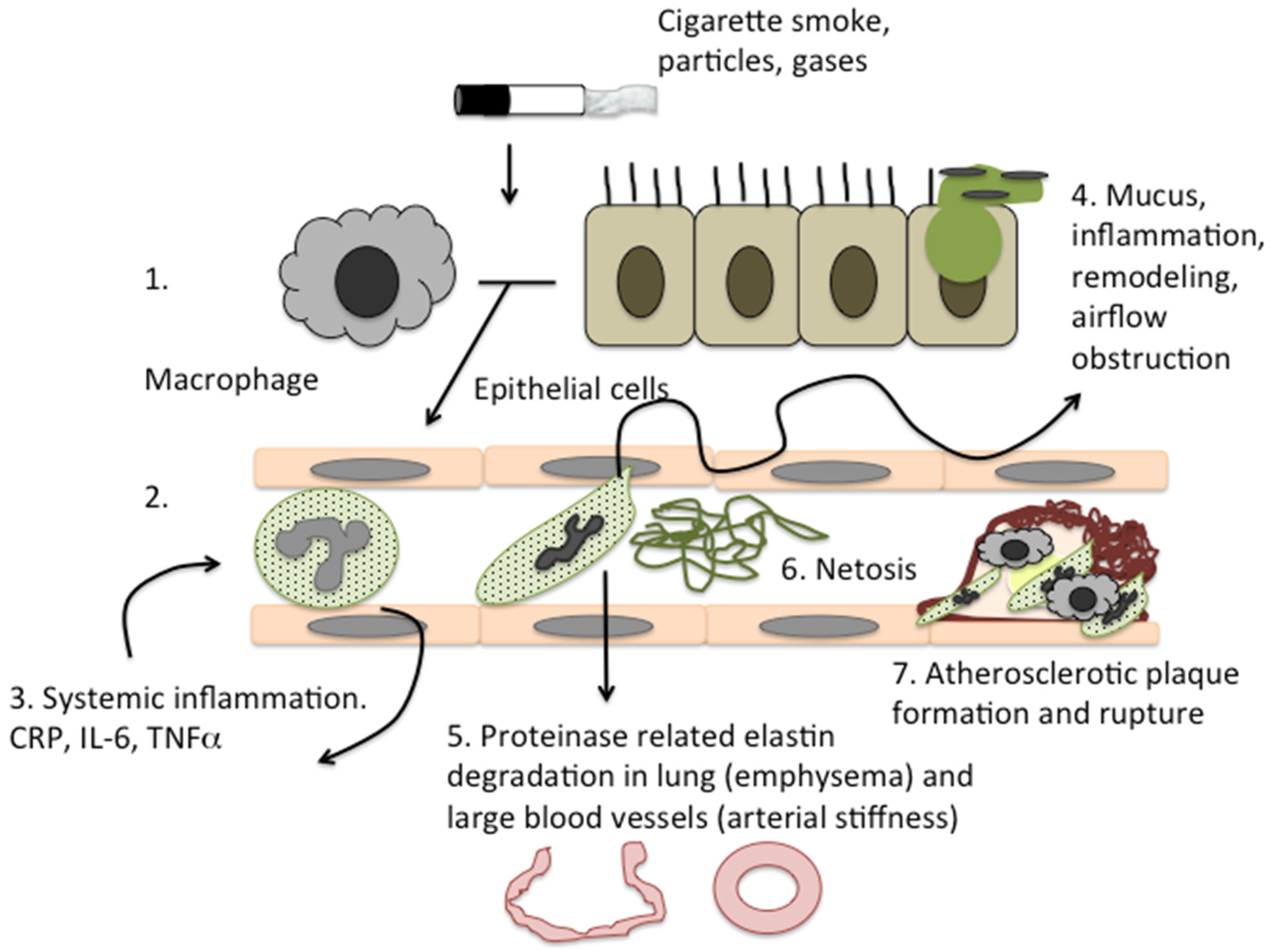 Figure 3.
Neutrophil migratory accuracy is improved in COPD following in vitro exposure to simvastatin. Neutrophil migratory chemotaxis (
A
,
B
) (accuracy of movement towards a chemoattractant) and chemokinesis (
C
,
D
) (random speed of movement in any direction) from
n
= 8 patients with COPD and
n
= 10 age-matched healthy controls towards 100 nm CXCL8 (
A
,
C
) or 10 nm fMLP (
B
,
D
) were compared. White bars represent healthy controls (HC) and gray bars represent patients with COPD. "NC" is migration towards CXCL8 or fMLP when neutrophils were incubated with buffer alone, "VC" is migration towards the chemoattractants when neutrophils were incubated in vehicle control. "Sim" is migration towards the chemoattractants when neutrophils were incubated with simvastatin (concentrations as shown). Data presented as mean and standard error of the mean. * represents
p
value < 0.05. Data was compared using Mann-Whitney-U or Kruskal Wallis tests. Neutrophils from patients with COPD were faster than those from healthy controls, but less accurate when migrating towards fMLP and CXCL8. Simvastatin improved accuracy of migration (chemotaxis) towards CXCL8 and fMLP in patients with COPD, and towards healthy controls towards CXCL8. Simvastatin did not affect the speed of migration in either group.


Table 1. The anti-inflammatory and immunomodulatory effects of statins.
Effect
Model/Cell-Type
Reference
Increased NF-IκB expression
Human hepatocytes
[67]
Human endothelial cells
[68]
Phosphorylation of Akt
Human endothelial cells
[69]
Decreased TNFα production
Human volunteers
[70]
Decreased IL-6 production
Human volunteers
[70]
Mice
[71]
Increased IL-12 production
Mouse peritoneal macrophages
[72]
Reduced plasma C-reactive protein
Human volunteers
[70]
Human hepatocytes
[67]
Reduced expression of P-Selectin
Rat mesenteric endothelium
[73]
Reduced superoxide production
Human monocytes
[74]
Inhibition of matrix metalloproteinase production
Human lung fibroblasts
[75]
Regulation of Th1/Th2 polarisation
Mice
[76]
Block of LFA-1 ICAM interaction
Various: isolated proteins, cell lines, murine model
[77]
Inhibition of MHC expression
Human macrophages & endothelial cells
[78]
Inhibition of monocyte chemotactic protein-1 synthesis
Human peripheral blood mononuclear cells
[79]
© 2016 by the authors; licensee MDPI, Basel, Switzerland. This article is an open access article distributed under the terms and conditions of the Creative Commons Attribution (CC-BY) license (http://creativecommons.org/licenses/by/4.0/).