Reversible Human TGF-β Signal Shifting between Tumor Suppression and Fibro-Carcinogenesis: Implications of Smad Phospho-Isoforms for Hepatic Epithelial-Mesenchymal Transitions
Department of Gastroenterology and Hepatology, Kansai Medical University, 2-5-1, Shin-machi, Hirakata, Osaka 573-1010, Japan
*
Author to whom correspondence should be addressed.
Academic Editors: David A. Brenner, Tatiana Kisseleva and Jonas Fuxe
Received: 18 November 2015 / Revised: 16 December 2015 / Accepted: 4 January 2016 / Published: 12 January 2016
Abstract
Epithelial-mesenchymal transition (EMT) and mesenchymal-epithelial transition (MET) are observed during both physiological liver wound healing and the pathological fibrotic/carcinogenic (fibro-carcinogenetic) process. TGF-β and pro-inflammatory cytokine are considered to be the major factors accelerating liver fibrosis and promoting liver carcinogenesis. Smads, consisting of intermediate linker regions connecting Mad homology domains, act as the intracellular mediators of the TGF-β signal transduction pathway. As the TGF-β receptors, c-Jun
N
-terminal kinase and cyclin-dependent kinase, differentially phosphorylate Smad2/3, we have generated numerous antibodies against linker (L) and
C
-terminal (C) phosphorylation sites in Smad2/3 and identified four types of phosphorylated forms: cytostatic COOH-terminally-phosphorylated Smad3 (pSmad3C), mitogenic pSmad3L (Ser-213) signaling, fibrogenic pSmad2L (Ser-245/250/255)/C signaling and migratory pSmad2/3L (Thr-220/179)/C signaling. After acute liver injury, TGF-β upregulates pSmad3C signaling and terminates pSmad3L (Ser-213)-mediated hepatocyte proliferation. TGF-β and pro-inflammatory cytokines cooperatively enhance collagen synthesis by upregulating pSmad2L (Thr-220)/C and pSmad3L (Thr-179)/C pathways in activated hepatic stellate cells. During chronic liver injuries, hepatocytes persistently affected by TGF-β and pro-inflammatory cytokines eventually become pre-neoplastic hepatocytes. Both myofibroblasts and pre-neoplastic hepatocyte exhibit the same carcinogenic (mitogenic) pSmad3L (Ser-213) and fibrogenic pSmad2L (Ser-245/250/255)/C signaling, with acquisition of fibro-carcinogenic properties and increasing risk of hepatocellular carcinoma (HCC). Firstly, we review phospho-Smad-isoform signalings in epithelial and mesenchymal cells in physiological and pathological conditions and then consider Smad linker phosphorylation as a potential target for pathological EMT during human fibro-carcinogenesis, because human Smad phospho-isoform signals can reverse from fibro-carcinogenesis to tumor-suppression in a process of MET after therapy.
View Full-Text
►

▼

Figures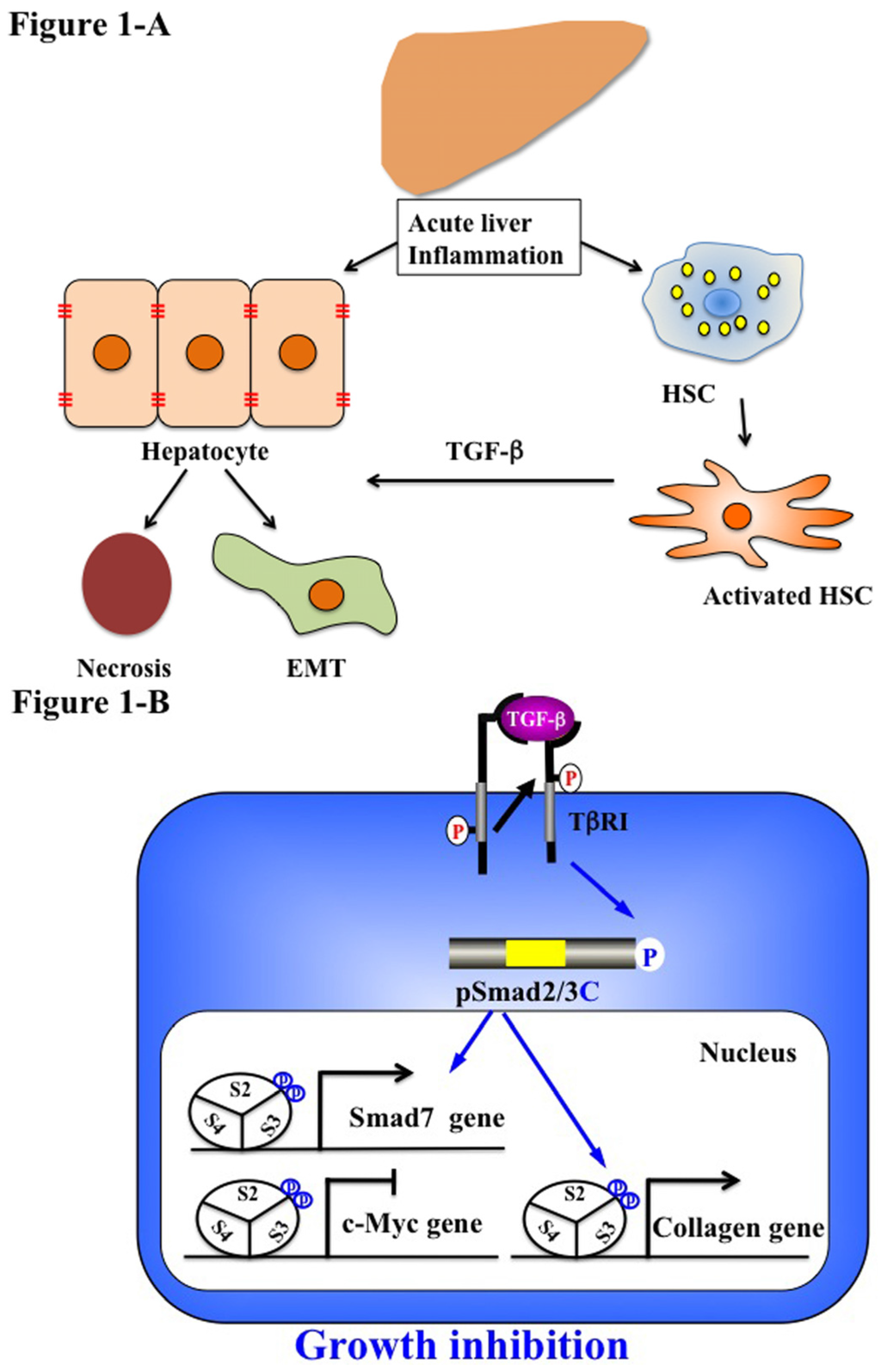 Figure 1
This is an open access article distributed under the
Creative Commons Attribution License
which permits unrestricted use, distribution, and reproduction in any medium, provided the original work is properly cited (CC BY 4.0).

Share & Cite This Article
MDPI and ACS Style
Yoshida, K.; Murata, M.; Yamaguchi, T.; Matsuzaki, K.; Okazaki, K. Reversible Human TGF-β Signal Shifting between Tumor Suppression and Fibro-Carcinogenesis: Implications of Smad Phospho-Isoforms for Hepatic Epithelial-Mesenchymal Transitions. J. Clin. Med. 2016, 5, 7.
Note that from the first issue of 2016, MDPI journals use article numbers instead of page numbers. See further details here.
Related Articles
Comments
[Return to top]