Epithelial-Mesenchymal Transition (EMT) and Regulation of EMT Factors by Steroid Nuclear Receptors in Breast Cancer: A Review and
in Silico

Investigation

1

Division of Medical Oncology, Department of Internal Medicine, Sault Area Hospital, Sault Ste Marie, ON P6B 0A8, Canada

2

Division of Clinical Sciences, Northern Ontario School of Medicine, Sudbury, QC P3E 2C6, Canada

Academic Editors: David A. Brenner, Tatiana Kisseleva and Jonas Fuxe

Received: 8 December 2015 / Revised: 23 December 2015 / Accepted: 30 December 2015 / Published: 19 January 2016
Abstract
Steroid Nuclear Receptors (SNRs) are transcription factors of the nuclear receptor super-family. Estrogen Receptor (ERα) is the best-studied and has a seminal role in the clinic both as a prognostic marker but also as a predictor of response to anti-estrogenic therapies. Progesterone Receptor (PR) is also used in the clinic but with a more debatable prognostic role and the role of the four other SNRs, ERβ, Androgen Receptor (AR), Glucocorticoid Receptor (GR) and Mineralocorticoid Receptor (MR), is starting only to be appreciated. ERα, but also to a certain degree the other SNRs, have been reported to be involved in virtually every cancer-enabling process, both promoting and impeding carcinogenesis. Epithelial-Mesenchymal Transition (EMT) and the reverse Mesenchymal Epithelial Transition (MET) are such carcinogenesis-enabling processes with important roles in invasion and metastasis initiation but also establishment of tumor in the metastatic site. EMT is governed by several signal transduction pathways culminating in core transcription factors of the process, such as Snail, Slug, ZEB1 and ZEB2, and Twist, among others. This paper will discuss direct regulation of these core transcription factors by SNRs in breast cancer. Interrogation of publicly available databases for binding sites of SNRs on promoters of core EMT factors will also be included in an attempt to fill gaps where other experimental data are not available.
View Full-Text
►

▼

Figures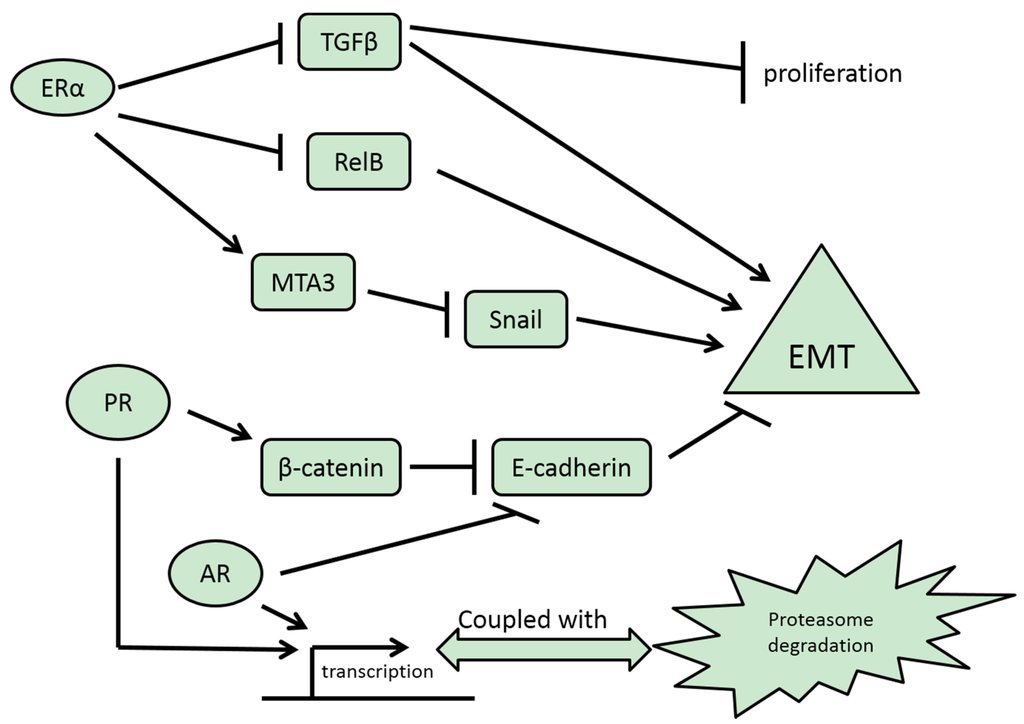 Figure 1
This is an open access article distributed under the
Creative Commons Attribution License
which permits unrestricted use, distribution, and reproduction in any medium, provided the original work is properly cited (CC BY 4.0).

Share & Cite This Article
MDPI and ACS Style
Voutsadakis, I.A. Epithelial-Mesenchymal Transition (EMT) and Regulation of EMT Factors by Steroid Nuclear Receptors in Breast Cancer: A Review and in Silico Investigation. J. Clin. Med. 2016, 5, 11.
Note that from the first issue of 2016, MDPI journals use article numbers instead of page numbers. See further details here.
Related Articles
Comments
[Return to top]