Bioelectrochemical Properties of Enzyme-Containing Multilayer Polyelectrolyte Microcapsules Modified with Multiwalled Carbon Nanotubes
1
FSBIS G.K. Skryabin Institute of Biochemistry and Physiology of Microorganisms, Russian Academy of Sciences, Pushchino, Moscow Region 142290, Russia
2
FSBIS V.A. Kotelnikov Institute of Radio Engineering and Electronics, Russian Academy of Sciences, Moscow 125009, Russia
3
FSBIS Institute of Theoretical and Experimental Biophysics, Russian Academy of Sciences, Pushchino, Moscow Region 142290, Russia
4
Department of Mechanical Engineering, National Chung-Hsing University, Taichung 402, Taiwan
*
Authors to whom correspondence should be addressed.
Received: 28 February 2019 / Revised: 9 April 2019 / Accepted: 11 April 2019 / Published: 12 April 2019
Abstract
This work investigated changes in the biochemical parameters of multilayer membrane structures, emerging at their modification with multiwalled carbon nanotubes (MWCNTs). The structures were represented by polyelectrolyte microcapsules (PMCs) containing glucose oxidase (GOx). PMCs were made using sodium polystyrene sulfonate (polyanion) and poly(allylamine hydrochloride) (polycation). Three compositions were considered: with MWCNTs incorporated between polyelectrolyte layers; with MWCNTs inserted into the hollow of the microcapsule; and with MWCNTs incorporated simultaneously into the hollow and between polyelectrolyte layers. The impedance spectra showed modifications using MWCNTs to cause a significant decrease in the PMC active resistance from 2560 to 25 kOhm. The cyclic current–voltage curves featured a current rise at modifications of multilayer MWCNT structures. A PMC-based composition was the basis of a receptor element of an amperometric biosensor. The sensitivity of glucose detection by the biosensor was 0.30 and 0.05 μA/mM for PMCs/MWCNTs/GOx and PMCs/GOx compositions, respectively. The biosensor was insensitive to the presence of ethanol or citric acid in the sample. Polyelectrolyte microcapsules based on a multilayer membrane incorporating the enzyme and MWCNTs can be efficient in developing biosensors and microbial fuel cells.
View Full-Text
►

▼

Figures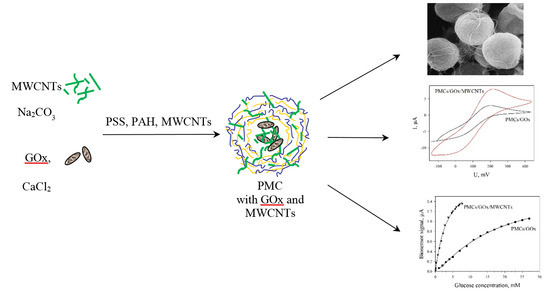 Graphical abstract
This is an open access article distributed under the
Creative Commons Attribution License
which permits unrestricted use, distribution, and reproduction in any medium, provided the original work is properly cited (CC BY 4.0).

Share & Cite This Article
MDPI and ACS Style
Reshetilov, A.; Plekhanova, Y.; Tarasov, S.; Tikhonenko, S.; Dubrovsky, A.; Kim, A.; Kashin, V.; Machulin, A.; Wang, G.-J.; Kolesov, V.; Kuznetsova, I. Bioelectrochemical Properties of Enzyme-Containing Multilayer Polyelectrolyte Microcapsules Modified with Multiwalled Carbon Nanotubes. Membranes 2019, 9, 53.
Note that from the first issue of 2016, MDPI journals use article numbers instead of page numbers. See further details here.
Related Articles
Comments
[Return to top]