Novel Composite Membranes Based on Chitosan Copolymers with Polyacrylonitrile and Polystyrene: Physicochemical Properties and Application for Pervaporation Dehydration of Tetrahydrofuran
1
Laboratory of Membrane and Catalytic Processes, Nanotechnology and Biotechnology Department, Nizhny Novgorod State Technical University n.a. R.E. Alekseev, 24 Minin St., Nizhny Novgorod 603950, Russia
2
St. Petersburg State University, 7/9 Universitetskaya nab., St. Petersburg 199034, Russia
*
Author to whom correspondence should be addressed.
Received: 7 February 2019 / Revised: 27 February 2019 / Accepted: 2 March 2019 / Published: 7 March 2019
Abstract
Pervaporation has been applied for tetrahydrofuran (THF) dehydration with novel composite membranes advanced by a thin selective layer composed of chitosan (CS) modified by copolymerization with vinyl monomers, acrylonitrile (AN) and styrene, in order to improve the chemical and mechanical stability of CS-based membranes. Composite membranes were developed by depositing a thin selective layer composed of CS copolymers onto a commercially-available porous support based on aromatic polysulfonamide (UPM-20
®
). The topography and morphology of the obtained materials were studied by atomic force microscopy (AFM), scanning electron microscopy (SEM) and X-ray diffraction analysis (XRD). Thermal properties and stability were determined by coupled evolved gas analysis (EGA-MS). Transport properties were estimated in pervaporation dehydration of THF. The effect of operating parameters for the pervaporation dehydration of THF such as feed compositions and temperatures (295, 308 and 323 K) was evaluated. It was shown that CS modification with different vinyl monomers led to a difference in physical and transport properties. The composite membrane with the thin selective layer based on CS-PAN copolymer demonstrated optimal transport properties and exhibited the highest water content in the permeate with a reasonably high permeation flux.
View Full-Text
►

▼

Figures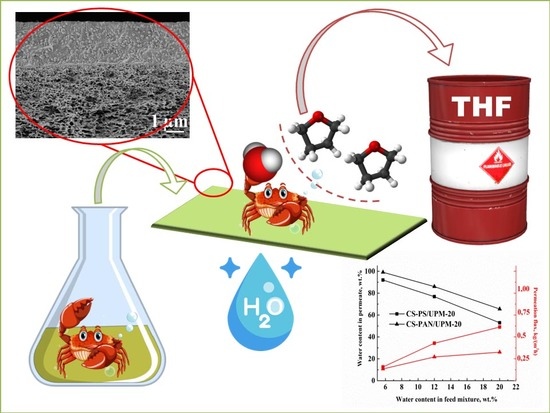 Graphical abstract
This is an open access article distributed under the
Creative Commons Attribution License
which permits unrestricted use, distribution, and reproduction in any medium, provided the original work is properly cited (CC BY 4.0).

Share & Cite This Article
MDPI and ACS Style
Otvagina, K.V.; Penkova, A.V.; Dmitrenko, M.E.; Kuzminova, A.I.; Sazanova, T.S.; Vorotyntsev, A.V.; Vorotyntsev, I.V. Novel Composite Membranes Based on Chitosan Copolymers with Polyacrylonitrile and Polystyrene: Physicochemical Properties and Application for Pervaporation Dehydration of Tetrahydrofuran. Membranes 2019, 9, 38.
Note that from the first issue of 2016, MDPI journals use article numbers instead of page numbers. See further details here.
Related Articles
Comments
[Return to top]