Development of pH-sensitive Dextran Derivatives with Strong Adjuvant Function and Their Application to Antigen Delivery
Department of Applied Chemistry, Graduate School of Engineering, Osaka Prefecture University, 1-1 Gakuen-cho, Naka-ku, Sakai, Osaka 599-8531, Japan
†
Prof. Kenji Kono has passed away.
*
Author to whom correspondence should be addressed.
Received: 10 June 2017 / Revised: 28 July 2017 / Accepted: 1 August 2017 / Published: 4 August 2017
Abstract
To achieve efficient cancer immunotherapy, the induction of cytotoxic T lymphocyte-based cellular immunity is necessary. In order to induce cellular immunity, antigen carriers that can deliver antigen into cytosol of antigen presenting cells and can activate these cells are required. We previously developed 3-methyl glutarylated dextran (MGlu-Dex) for cytoplasmic delivery of antigen via membrane disruption ability at weakly acidic pH in endosome/lysosomes. MGlu-Dex-modified liposomes delivered model antigens into cytosol of dendritic cells and induced antigen-specific cellular immunity. However, their antitumor effects were not enough to complete the regression of the tumor. In this study, antigen delivery performance of dextran derivatives was improved by the introduction of more hydrophobic spacer groups next to carboxyl groups. 2-Carboxycyclohexane-1-carboxylated dextran (CHex-Dex) was newly synthesized as pH-responsive dextran derivative. CHex-Dex formed stronger hydrophobic domains at extremely weak acidic pH and destabilized lipid membrane more efficiently than MGlu-Dex. CHex-Dex-modified liposomes were taken up by dendritic cells 10 times higher than MGlu-Dex-modified liposomes and delivered model antigen into cytosol. Furthermore, CHex-Dex achieved 600 times higher IL-12 production from dendritic cells than MGlu-Dex. Therefore, CHex-Dex is promising as multifunctional polysaccharide having both cytoplasmic antigen delivery function and strong activation property of dendritic cells for induction of cellular immunity.
View Full-Text
►

▼

Figures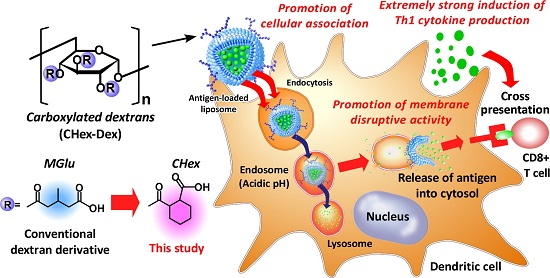 Graphical abstract
This is an open access article distributed under the
Creative Commons Attribution License
which permits unrestricted use, distribution, and reproduction in any medium, provided the original work is properly cited (CC BY 4.0).

Share & Cite This Article
MDPI and ACS Style
Yuba, E.; Uesugi, S.; Miyazaki, M.; Kado, Y.; Harada, A.; Kono, K. Development of pH-sensitive Dextran Derivatives with Strong Adjuvant Function and Their Application to Antigen Delivery. Membranes 2017, 7, 41.
Note that from the first issue of 2016, MDPI journals use article numbers instead of page numbers. See further details here.
Related Articles
Comments
[Return to top]