Effect of Cholesterol on the Structure of a Five-Component Mitochondria-Like Phospholipid Membrane
1
Department of Physics and Astronomy, McMaster University, Hamilton, ON L8S 4M1, Canada
2
Canadian Neutron Beam Centre, National Research Council, Chalk River, ON K0J 1J0, Canada
3
Department of Biochemistry and Biomedical Sciences, McMaster University, Hamilton, ON L8N 3Z5, Canada
*
Authors to whom correspondence should be addressed.
Academic Editor: Shiro Suetsugu
Received: 5 August 2015 / Accepted: 16 October 2015 / Published: 30 October 2015
Abstract
Cellular membranes have a complex phospholipid composition that varies greatly depending on the organism, cell type and function. In spite of this complexity, most structural data available for phospholipid bilayers concern model systems containing only one or two different phospholipids. Here, we examine the effect of cholesterol on the structure of a complex membrane reflecting the lipid composition of mitochondrial membranes, with five different types of headgroups (phosphatidylcholine (PC), phosphatidylethanolamine (PE), phosphatidylinositol (PI), phosphatidylserine (PS) and cardiolipin (CL)) and a variety of hydrocarbon tails. This particular system was chosen because elevated cholesterol contents in mitochondrial membranes have been linked to a breaking down of Bax-mediated membrane permeabilization and resistance to cancer treatments. High resolution electron density profiles were determined by X-ray reflectivity, while the area per phospholipid chain, Apc, and the chain order parameter, SX-ray, were determined by wide-angle X-ray scattering (WAXS). We show that chain order increases upon the addition of cholesterol, resulting in both a thickening of the lipid bilayer and a reduction in the average surface area per phospholipid chain. This effect, well known as cholesterol's condensation effect, is similar, but not as pronounced as for single-component phospholipid membranes. We conclude by discussing the relevance of these findings for the insertion of the pro-apoptotic protein Bax in mitochondrial membranes with elevated cholesterol content.
View Full-Text
►

▼

Figures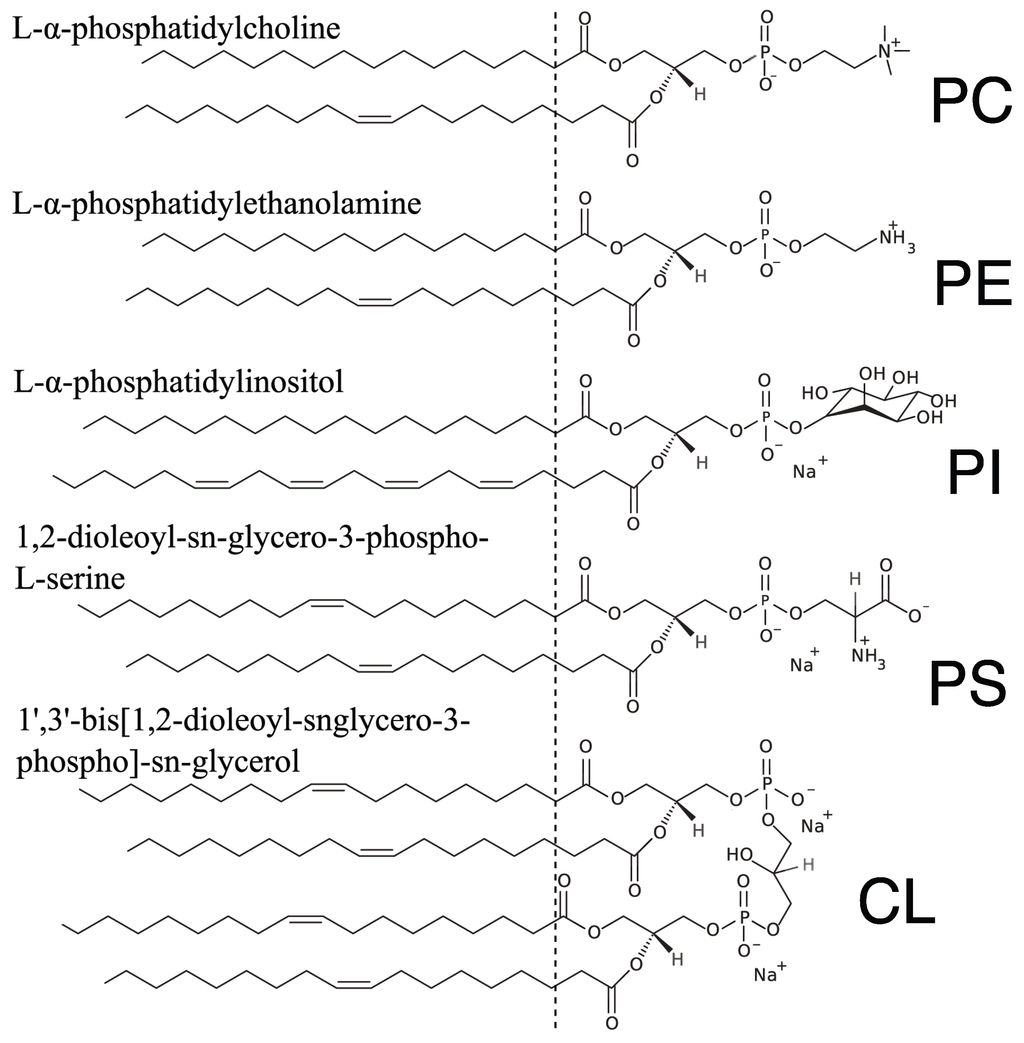 Figure 1
This is an open access article distributed under the
Creative Commons Attribution License
which permits unrestricted use, distribution, and reproduction in any medium, provided the original work is properly cited (CC BY 4.0).

Share & Cite This Article
MDPI and ACS Style
Cathcart, K.; Patel, A.; Dies, H.; Rheinstädter, M.C.; Fradin, C. Effect of Cholesterol on the Structure of a Five-Component Mitochondria-Like Phospholipid Membrane. Membranes 2015, 5, 664-684.
Related Articles
Comments
[Return to top]