Preparation of Sulfobetaine-Grafted PVDF Hollow Fiber Membranes with a Stably Anti-Protein-Fouling Performance
Membrane Technology & Engineering Research Center, Department of Chemical Engineering, Tsinghua University, Beijing 100084, China
*
Author to whom correspondence should be addressed.
Received: 12 March 2014 / Revised: 17 March 2014 / Accepted: 27 March 2014 / Published: 8 April 2014
Abstract
Based on a two-step polymerization method, two sulfobetaine-based zwitterionic monomers, including 3-(methacryloylamino) propyl-dimethyl-(3-sulfopropyl) ammonium hydroxide (MPDSAH) and 2-(methacryloyloxyethyl) ethyl-dimethyl-(3-sulfopropyl) ammonium (MEDSA), were successfully grafted from poly(vinylidene fluoride) (PVDF) hollow fiber membrane surfaces in the presence of
N
,
N
′-methylene bisacrylamide (MBAA) as a cross-linking agent. The mechanical properties of the PVDF membrane were improved by the zwitterionic surface layers. The surface hydrophilicity of PVDF membranes was significantly enhanced and the polyMPDSAH-g-PVDF membrane showed a higher hydrophilicity due to the higher grafting amount. Compared to the polyMEDSA-g-PVDF membrane, the polyMPDSAH-g-PVDF membrane showed excellent significantly better anti-protein-fouling performance with a flux recovery ratio (RFR) higher than 90% during the cyclic filtration of a bovine serum albumin (BSA) solution. The polyMPDSAH-g-PVDF membrane showed an obvious electrolyte-responsive behavior and its protein-fouling-resistance performance was improved further during the filtration of the protein solution with 100 mmol/L of NaCl. After cleaned with a membrane cleaning solution for 16 days, the grafted MPDSAH layer on the PVDF membrane could be maintain without any chang; however, the polyMEDSA-g-PVDF membrane lost the grafted MEDSA layer after this treatment. Therefore, the amide group of sulfobetaine, which contributed significantly to the higher hydrophilicity and stability, was shown to be imperative in modifying the PVDF membrane for a stable anti-protein-fouling performance via the two-step polymerization method.
View Full-Text
►

▼

Figures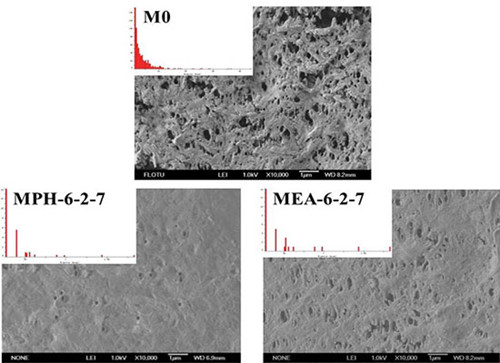 Graphical abstract

Share & Cite This Article
MDPI and ACS Style
Li, Q.; Lin, H.-H.; Wang, X.-L. Preparation of Sulfobetaine-Grafted PVDF Hollow Fiber Membranes with a Stably Anti-Protein-Fouling Performance. Membranes 2014, 4, 181-199.
Related Articles
Comments
[Return to top]