Open Access This article is
freely available
re-usable
Review
Antioxidant Therapy in Parkinson's Disease: Insights from
Drosophila melanogaster
1
Department of Biology, University of Padova, 35131 Padova, Italy.
2
Medical Research Council Mitochondrial Biology Unit, University of Cambridge, Cambridge Biomedical Campus, Cambridge CB2 0XY, UK
*
Author to whom correspondence should be addressed.
Received: 19 December 2019 / Accepted: 4 January 2020 / Published: 7 January 2020
Abstract
:
Reactive oxygen species (ROS) play an important role as endogenous mediators in several cellular signalling pathways. However, at high concentrations they can also exert deleterious effects by reacting with many macromolecules including DNA, proteins and lipids. The precise balance between ROS production and their removal via numerous enzymatic and nonenzymatic molecules is of fundamental importance for cell survival. Accordingly, many neurodegenerative disorders, including Parkinson's disease (PD), are associated with excessive levels of ROS, which induce oxidative damage. With the aim of coping with the progression of PD, antioxidant compounds are currently receiving increasing attention as potential co-adjuvant molecules in the treatment of these diseases, and many studies have been performed to evaluate the purported protective effects of several antioxidant molecules. In the present review, we present and discuss the relevance of the use of
Drosophila melanogaster
as an animal model with which to evaluate the therapeutic potential of natural and synthetic antioxidants. The conservation of most of the PD-related genes between humans and
D. melanogaster
, along with the animal's rapid life cycle and the versatility of genetic tools, makes fruit flies an ideal experimental system for rapid screening of antioxidant-based treatments.
Keywords:
antioxidants;
Drosophila melanogaster
; oxidative damage; Parkinson's disease; SOD-mimetics
Funding
This research received no external funding.
Conflicts of Interest
The authors declare no conflict of interest.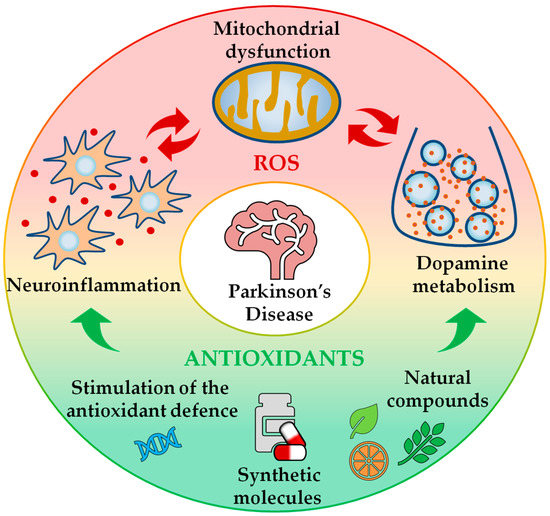 Figure 1. Beneficial effects of antioxidant treatment on the maintenance of redox homeostasis in Parkinson's disease (PD). PD pathology is associated with an unbalanced redox state, which is the result of mitochondrial dysfunction, neuroinflammation and dopamine metabolism. Antioxidant therapies can help to hinder excessive oxidative stress conditions by buffering reactive oxygen species (ROS) production and limiting ROS-related damage. Antioxidant treatments encompass both natural (e.g., vitamins and plant extracts) and synthetic compounds (e.g., superoxide dismutase-mimetics), and can promote the stimulation of the endogenous antioxidant defence system. Therefore, the antioxidant treatment can act as a co-adjuvant to currently used PD therapies.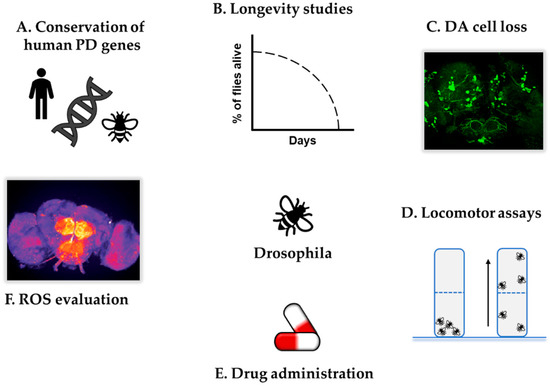 Figure 2.
Advantages of
Drosophila melanogaster
as a model organism to investigate PD.
D. melanogaster
offers numerous advantages as a model organism for the study of PD-related features. (
A
) Fruit flies share many of the human genes involved in PD, allowing the generation of PD-mutant organisms which can then be investigated through different approaches; (
B
) longevity; (
C
) evaluation of dopaminergic (DA) cell loss; (
D
) locomotor defects, e.g., evaluated by climbing; (
E
) response to PD-toxins and therapeutic compounds and (
F
) ROS levels. The picture in (
C
) was produced in our laboratory by generating flies that overexpress GFP in DA neurons via
TH
-
GAL4
driver. The picture in (
F
) was adapted from Reference [
62
].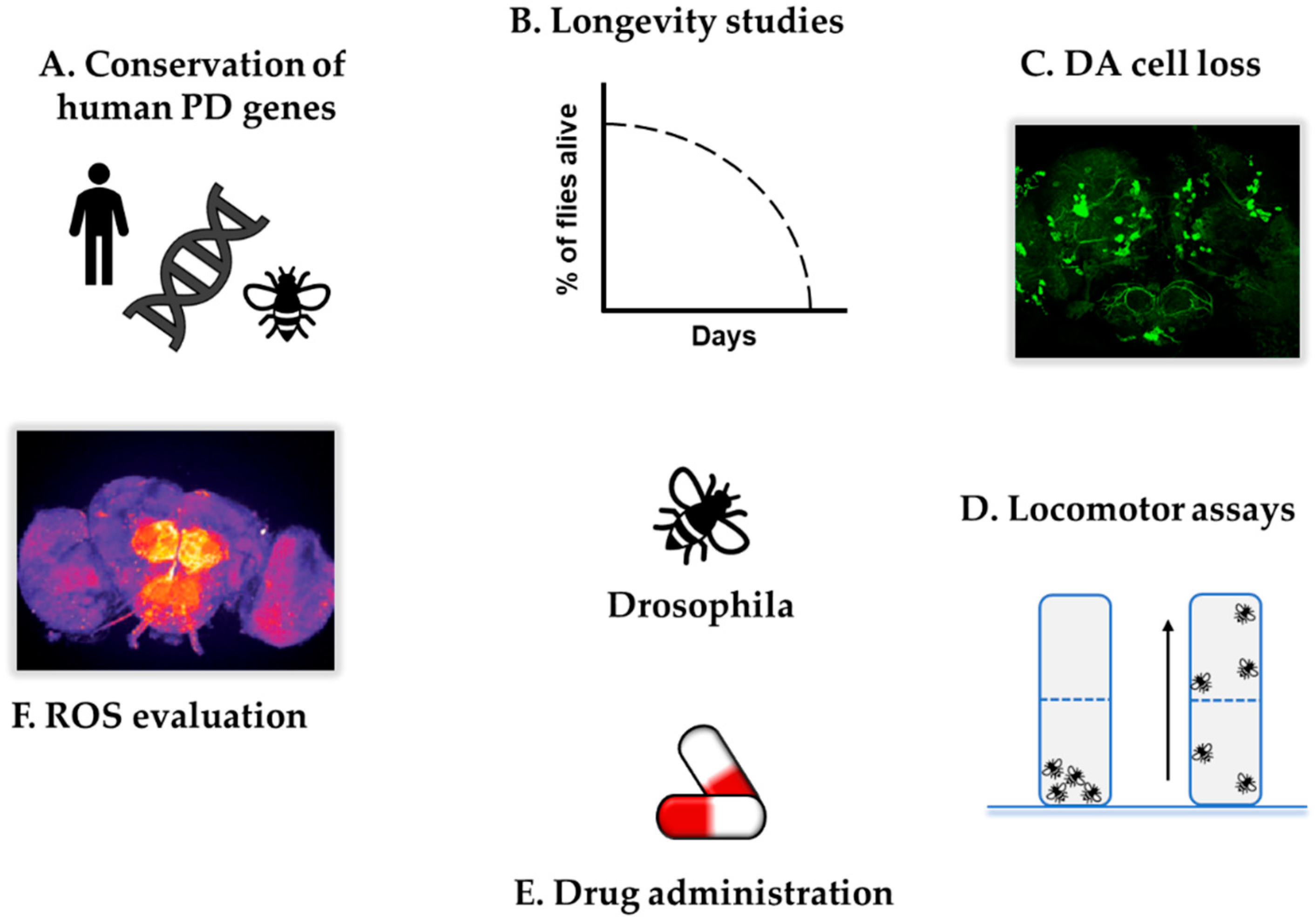 Fly PD Model
Associated PD Phenotypes
Antioxidant Molecules/Pathways Tested

α-synuclein


(overexpression of the human homologue)
LB-like inclusions, DA degeneration, climbing defects [56], lipid peroxidation and protein carbonylation [69,70]

parkin


(Loss of function)
DA degeneration [78,79,80,81], climbing defects [79,81,82], mitochondrial dysfunctions [79,80,83] and sensitivity to oxidative treatments [83]

pink1


(Loss of function)
DA degeneration [47,79], climbing defects [47,79], mitochondrial dysfunctions [47,79,85] and sensitivity to oxidative treatments [85]

M40403 (SOD-mimetic) [

62

]

dj-1α and

dj-1β


(Loss of function, single and double mutants)
Sensitivity to oxidative treatments [49,50], lipid peroxidation and protein carbonylation [87,88]

minocycline and celastrol [

89

]
DA: dopaminergic neurons; GstS1: glutathione-S-transferase S1; LBs: Lewy bodies; MSRA: methionine sulfoxide reductase A; SOD1: superoxide dismutase 1.

© 2020 by the authors. Licensee MDPI, Basel, Switzerland. This article is an open access article distributed under the terms and conditions of the Creative Commons Attribution (CC BY) license (http://creativecommons.org/licenses/by/4.0/).