Preparation of Retinoyl-Flavonolignan Hybrids and Their Antioxidant Properties
1
Laboratory of Biotransformation, Institute of Microbiology of the Czech Academy of Sciences, Vídeňská 1083, 14220 Prague, Czech Republic
2
Department of Biochemistry and Microbiology, University of Chemistry and Technology, Technická 5, 16628 Prague, Czech Republic
*
Author to whom correspondence should be addressed.
Received: 27 June 2019 / Revised: 17 July 2019 / Accepted: 19 July 2019 / Published: 23 July 2019
(This article belongs to the Special Issue
Carotenoids
)
Abstract
Antioxidants protect the structural and functional components in organisms against oxidative stress. Most antioxidants are of plant origin as the plants are permanently exposed to oxidative stress (UV radiation, photosynthetic reactions). Both carotenoids and flavonoids are prominent antioxidant and anti-radical agents often occurring together in the plant tissues and acting in lipophilic and hydrophilic milieu, respectively. They are complementary in their anti-radical activity. This study describes the synthesis of a series of hybrid ester conjugates of retinoic acid with various flavonolignans, such as silybin, 2,3-dehydrosilybin and isosilybin. Antioxidant/anti-radical activities and bio-physical properties of novel covalent carotenoid-flavonoid hybrids, as well as various mixtures of the respective parent components, were investigated. Retinoyl conjugates with silybin—which is the most important flavonolignan in silymarin complex—(and its pure diastereomers) displayed better 1,1-diphenyl-2-picrylhydrazyl (DPPH) radical scavenging activity than both the parent compounds and their equimolar mixtures.
View Full-Text
►

▼

Figures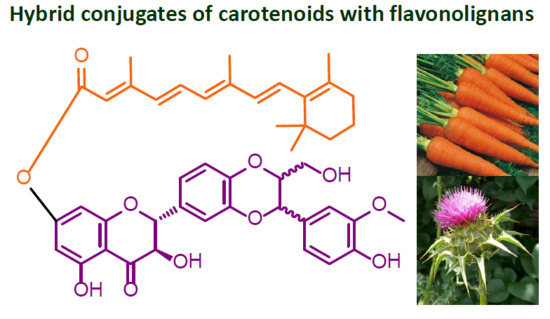 Graphical abstract
This is an open access article distributed under the
Creative Commons Attribution License
which permits unrestricted use, distribution, and reproduction in any medium, provided the original work is properly cited (CC BY 4.0).

Share & Cite This Article
MDPI and ACS Style
Chambers, C.S.; Biedermann, D.; Valentová, K.; Petrásková, L.; Viktorová, J.; Kuzma, M.; Křen, V. Preparation of Retinoyl-Flavonolignan Hybrids and Their Antioxidant Properties. Antioxidants 2019, 8, 236.
Note that from the first issue of 2016, MDPI journals use article numbers instead of page numbers. See further details here.
Related Articles
Comments
[Return to top]