Antioxidant and Adaptative Response Mediated by Nrf2 during Physical Exercise
1
México Laboratorio de Medicina de Conservación, Escuela Superior de Medicina, Instituto Politécnico Nacional, Plan de San Luis y Díaz Mirón S/N, Col. Casco de Santo Tomás, CP 11340 Alcaldía Miguel Hidalgo, Mexico
2
Escuela Superior de Cómputo, Instituto Politécnico Nacional, Av. Juan de Dios Bátiz s/n esquina Miguel Othón de Mendizabal, Unidad Profesional Adolfo López Mateos, CP 07738 Ciudad de México, Mexico
3
Escuela Nacional de Ciencias Biológicas, Instituto Politécnico Nacional, "Unidad Profesional A. López Mateos". Av. WilfridoMassieu. Col., Lindavista, 07738 Ciudad de México, Mexico
4
Laboratorio de Farmacología Molecular, Sección de Estudios de Posgrado e Investigación, Escuela Superior de Medicina-Instituto Politécnico Nacional, 11340 Ciudad de México, Mexico
5
Departamento de Fisiología, Laboratorio de Hormonas y Conducta, ENCB Campus Zacatenco, Instituto Politécnico Nacional, 07700 Ciudad de México, Mexico
*
Authors to whom correspondence should be addressed.
Received: 18 May 2019 / Revised: 16 June 2019 / Accepted: 19 June 2019 / Published: 25 June 2019
Abstract
Nuclear factor erythroid 2-related factor 2 (Nrf2) is a powerful nuclear transcription factor that coordinates an antioxidant cytoprotector system complex stimulated by the increase in inoxidative stress (OS). In the present manuscript, we conduct a review on the evidence that shows the effect different modalities of physical exercise exert on the antioxidant metabolic response directed by Nrf2. During physical exercise, the reactive oxygen species (ROS) are increased; therefore, if the endogenous and exogenous antioxidant defenses are unable to control the elevation of ROS, the resulting OS triggers the activation of the transcriptional factor Nrf2 to induce the antioxidant response. On a molecular basis related to physical exercise, hormesis maintenance (exercise preconditioning) and adaptative changes in training are supported by a growing body of evidence, which is important for detailing the health benefits that involve greater resistance to environmental aggressions, better tolerance to constant changes, and increasing the regenerative capacity of the cells in such a way that it may be used as a tool to support the prevention or treatment of diseases. This may have clinical implications for future investigations regarding physical exercise in terms of understanding adaptations in high-performance athletes but also as a therapeutic model in several diseases.
View Full-Text
►

▼

Figures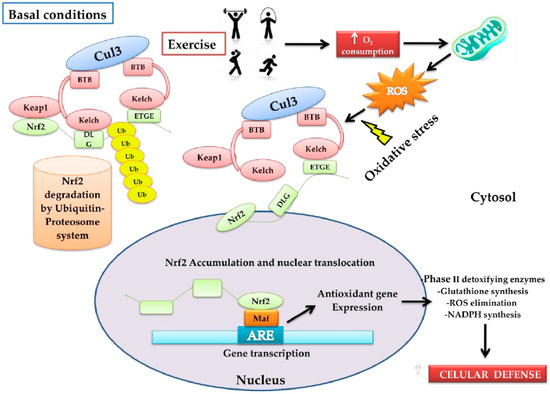 Figure 1
This is an open access article distributed under the
Creative Commons Attribution License
which permits unrestricted use, distribution, and reproduction in any medium, provided the original work is properly cited (CC BY 4.0).

Share & Cite This Article
MDPI and ACS Style
Vargas-Mendoza, N.; Morales-González, Á.; Madrigal-Santillán, E.O.; Madrigal-Bujaidar, E.; Álvarez-González, I.; García-Melo, L.F.; Anguiano-Robledo, L.; Fregoso-Aguilar, T.; Morales-Gonzalez, J.A. Antioxidant and Adaptative Response Mediated by Nrf2 during Physical Exercise. Antioxidants 2019, 8, 196.
Note that from the first issue of 2016, MDPI journals use article numbers instead of page numbers. See further details here.
Related Articles
Comments
[Return to top]