Endothelin-1-Induced Microvascular ROS and Contractility in Angiotensin-II-Infused Mice Depend on COX and TP Receptors
Division of Nephrology and Hypertension, Department of Medicine, Georgetown University, Washington, DC 20007, USA
*
Author to whom correspondence should be addressed.
Received: 21 March 2019 / Revised: 12 June 2019 / Accepted: 19 June 2019 / Published: 22 June 2019
Abstract
(1) Background: Angiotensin II (Ang II) and endothelin 1 (ET-1) generate reactive oxygen species (ROS) that can activate cyclooxygenase (COX). However, thromboxane prostanoid receptors (TPRs) are required to increase systemic markers of ROS during Ang II infusion in mice. We hypothesized that COX and TPRs are upstream requirements for the generation of vascular ROS by ET-1. (2) Methods: ET-1-induced vascular contractions and ROS were assessed in mesenteric arterioles from wild type (+/+) and knockout (−/−) of COX1 or TPR mice infused with Ang II (400 ng/kg/min × 14 days) or a vehicle. (3) Results: Ang II infusion appeared to increase microvascular protein expression of endothelin type A receptors (ETARs), TPRs, and COX1 and 2 in COX1 and TPR +/+ mice but not in −/− mice. Ang II infusion increased ET-1-induced vascular contractions and ROS, which were prevented by a blockade of COX1 and 2 in TPR −/− mice. ET-1 increased the activity of aortic nicotinamide adenine dinucleotide phosphate (NADPH) oxidase and decreased superoxide dismutase (SOD) 1, 2, and 3 in Ang-II-infused mice, which were prevented by a blockade of TPRs. (4) Conclusion: Activation of vascular TPRs by COX products are required for ET-1 to increase vascular contractions and ROS generation from NADPH oxidase and reduce ROS metabolism by SOD. These effects require an increase in these systems by prior infusion of Ang II.
View Full-Text
►

▼

Figures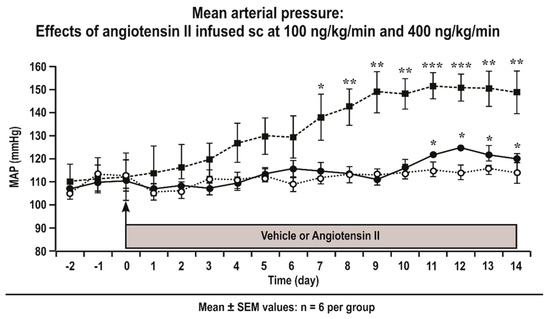 Figure 1
This is an open access article distributed under the
Creative Commons Attribution License
which permits unrestricted use, distribution, and reproduction in any medium, provided the original work is properly cited (CC BY 4.0).

Share & Cite This Article
MDPI and ACS Style
Wilcox, C.S.; Wang, C.; Wang, D. Endothelin-1-Induced Microvascular ROS and Contractility in Angiotensin-II-Infused Mice Depend on COX and TP Receptors. Antioxidants 2019, 8, 193.
Note that from the first issue of 2016, MDPI journals use article numbers instead of page numbers. See further details here.
Related Articles
Comments
[Return to top]