Urinary Markers of Oxidative Stress in Children with Autism Spectrum Disorder (ASD)
1
Institute of Clinical Chemistry and Biochemistry, University Medical Centre Ljubljana, Zaloška c.002, 1000 Ljubljana, Slovenia
2
Faculty of Pharmacy, University of Ljubljana, Aškerčeva 7, 1000 Ljubljana, Slovenia
3
Department of Child, Adolescent and Developmental Neurology, University Medical Centre Ljubljana, Zaloška c.002, 1000 Ljubljana, Slovenia
4
Center for Autism, Unit of Child Psychiatry, University Children's Hospital, University Medical Centre Ljubljana, Zaloška c.002, 1000 Ljubljana, Slovenia
5
Blood Transfusion Centre of Slovenia, Šlajmerjeva ulica 6, 1000 Ljubljana, Slovenia
*
Author to whom correspondence should be addressed.
Received: 14 May 2019 / Revised: 12 June 2019 / Accepted: 17 June 2019 / Published: 20 June 2019
Abstract
Background
: Autism spectrum disorder (ASD) is a developmental disorder characterized by deficits in social interaction, restricted interest and repetitive behavior. Oxidative stress in response to environmental exposure plays a role in virtually every human disease and represents a significant avenue of research into the etiology of ASD. The aim of this study was to explore the diagnostic utility of four urinary biomarkers of oxidative stress.
Methods:
One hundred and thirty-nine (139) children and adolescents with ASD (89% male, average age = 10.0 years, age range = 2.1 to 18.1 years) and 47 healthy children and adolescents (49% male, average age 9.2, age range = 2.5 to 20.8 years) were recruited for this study. Their urinary 8-OH-dG, 8-isoprostane, dityrosine and hexanoil-lisine were determined by using the ELISA method. Urinary creatinine was determined with the kinetic Jaffee reaction and was used to normalize all biochemical measurements. Non-parametric tests and support vector machines (SVM) with three different kernel functions (linear, radial, polynomial) were used to explore and optimize the multivariate prediction of an ASD diagnosis based on the collected biochemical measurements. The SVM models were first trained using data from a random subset of children and adolescents from the ASD group (
n
= 70, 90% male, average age = 9.7 years, age range = 2.1 to 17.8 years) and the control group (
n
= 24, 45.8% male, average age = 9.4 years, age range = 2.5 to 20.8 years) using bootstrapping, with additional synthetic minority over-sampling (SMOTE), which was utilized because of unbalanced data. The computed SVM models were then validated using the remaining data from children and adolescents from the ASD (
n
= 69, 88% male, average age = 10.2 years, age range = 4.3 to 18.1 years) and the control group (
n
= 23, 52.2% male, average age = 8.9 years, age range = 2.6 to 16.7 years).
Results
: Using a non-parametric test, we found a trend showing that the urinary 8-OH-dG concentration was lower in children with ASD compared to the control group (unadjusted
p
= 0.085). When all four biochemical measurements were combined using SVMs with a radial kernel function, we could predict an ASD diagnosis with a balanced accuracy of 73.4%, thereby accounting for an estimated 20.8% of variance (
p
< 0.001). The predictive accuracy expressed as the area under the curve (AUC) was solid (95% CI = 0.691–0.908). Using the validation data, we achieved significantly lower rates of classification accuracy as expressed by the balanced accuracy (60.1%), the AUC (95% CI = 0.502–0.781) and the percentage of explained variance (
R
2
= 3.8%). Although the radial SVMs showed less predictive power using the validation data, they do, together with ratings of standardized SVM variable importance, provide some indication that urinary levels of 8-OH-dG and 8-isoprostane are predictive of an ASD diagnosis.
Conclusions
: Our results indicate that the examined urinary biomarkers in combination may differentiate children with ASD from healthy peers to a significant extent. However, the etiological importance of these findings is difficult to assesses, due to the high-dimensional nature of SVMs and a radial kernel function. Nonetheless, our results show that machine learning methods may provide significant insight into ASD and other disorders that could be related to oxidative stress.
View Full-Text
►

▼

Figures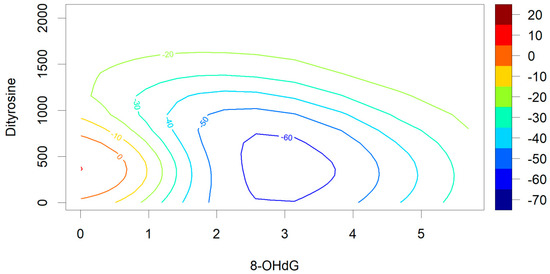 Figure 1
This is an open access article distributed under the
Creative Commons Attribution License
which permits unrestricted use, distribution, and reproduction in any medium, provided the original work is properly cited (CC BY 4.0).

Share & Cite This Article
MDPI and ACS Style
Osredkar, J.; Gosar, D.; Maček, J.; Kumer, K.; Fabjan, T.; Finderle, P.; Šterpin, S.; Zupan, M.; Jekovec Vrhovšek, M. Urinary Markers of Oxidative Stress in Children with Autism Spectrum Disorder (ASD). Antioxidants 2019, 8, 187.
Note that from the first issue of 2016, MDPI journals use article numbers instead of page numbers. See further details here.
Related Articles
Comments
[Return to top]