Antioxidant and Anti-Inflammatory Activities of Flavanones from
Glycyrrhiza glabra

L. (licorice) Leaf Phytocomplexes: Identification of Licoflavanone as a Modulator of NF-kB/MAPK Pathway

1

Department of Pharmacy Health and Nutritional Sciences, Department of Excellence 2018–2022, University of Calabria, Edificio Polifunzionale, 87036 Arcavacata di Rende (CS), Italy

2

Department of Organic and Medicinal Chemistry, University of Seville, C/Prof García González, n. 2, 41012 Seville, Spain

*

Authors to whom correspondence should be addressed.

Received: 28 May 2019 / Revised: 17 June 2019 / Accepted: 18 June 2019 / Published: 20 June 2019
Abstract
Inflammation represents an adaptive response generated by injuries or harmful stimuli. Natural remedies represent an interesting alternative to traditional therapies, involving several biochemical pathways. Besides, the valorization of agrochemical wastes nowadays seems to be a feasible way to reduce the health spending and improve the accessibility at bioactive natural compounds. In this context, the chemical composition of three
Glycyrrhiza glabra
L. (licorice) leaf extracts, obtained through maceration or ultrasound-assisted method (fresh and dried leaves) was investigated. A guided fractionation obtained three main components: pinocembrin, glabranin and licoflavanone. All the extracts showed similar antioxidant properties, evaluated by 2,2′-diphenyl-1-picrylhydrazyl (DPPH) or 2,2′-azino-bis(3-ethylbenzothiazoline-6-sulfonic acid) Diammonium Salt (ABTS) assay, while, among the isolated compounds, licoflavanone exhibited the best antioxidant activity. The anti-inflammatory activity of the extracts and the purified compounds was investigated in lipopolysaccharide (LPS)-stimulated RAW 264.7 murine macrophages. Extract C and licoflavanone showed a good anti-inflammatory activity without affecting cell viability, as they decreased nitrite levels even when used at 12.5 μg/mL (
p
< 0.005) and 50 μM concentration (
p
< 0.001), respectively. Interestingly, licoflavanone markedly decreased pro-inflammatory cytokines and cyclooxygenase 2/inducible nitric oxide synthase (COX-2/iNOS) expression levels (
p
< 0.001). A modulation of nuclear factor kappa B/mitogen-activated protein kinases (NF-kB/MAPK) pathway underlay such behavior, highlighting the potential of this natural compound as a new scaffold in anti-inflammatory drug research.
View Full-Text
►

▼

Figures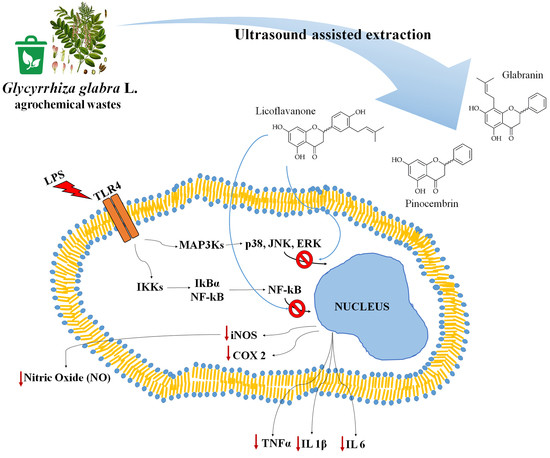 Graphical abstract
This is an open access article distributed under the
Creative Commons Attribution License
which permits unrestricted use, distribution, and reproduction in any medium, provided the original work is properly cited (CC BY 4.0).

Share & Cite This Article
MDPI and ACS Style
Frattaruolo, L.; Carullo, G.; Brindisi, M.; Mazzotta, S.; Bellissimo, L.; Rago, V.; Curcio, R.; Dolce, V.; Aiello, F.; Cappello, A.R. Antioxidant and Anti-Inflammatory Activities of Flavanones from Glycyrrhiza glabra L. (licorice) Leaf Phytocomplexes: Identification of Licoflavanone as a Modulator of NF-kB/MAPK Pathway. Antioxidants 2019, 8, 186.
Note that from the first issue of 2016, MDPI journals use article numbers instead of page numbers. See further details here.
Related Articles
Comments
[Return to top]