Comprehensive Evaluation of the Postharvest Antioxidant Capacity of Majiayou Pomelo Harvested at Different Maturities Based on PCA
1
Collaborative Innovation Center of Post-harvest Key Technology and Quality Safety of Fruits and Vegetables in Jiangxi Province, Jiangxi Key Laboratory for Postharvest Technology and Non-destructive Testing of Fruits & Vegetables, Jiangxi Agricultural University, Nanchang 330045, China
2
Pingxiang University, Pingxiang Jiangxi 337055, China
*
Authors to whom correspondence should be addressed.
Antioxidants 2019, 8(5), 136; https://doi.org/10.3390/antiox8050136 (registering DOI)
Received: 10 April 2019 / Revised: 9 May 2019 / Accepted: 13 May 2019 / Published: 17 May 2019
Abstract
Majiayou pomelo (
Citrus grandis
L. Osbeck, MP) is a famous local red pulp pomelo from the Jiangxi province in China that is rich in natural active substances. In order to investigate the postharvest antioxidant capacities of MP pulp and determine the optimal harvesting time, fruits that were harvested at three different maturities (185, 200, and 215 days after full bloom) were observed for 180 days of preservation at ambient temperature. An abundance of ascorbic acid and lycopene in the MP pulp was found during storage, and in Harvest I, these substances were significantly higher than in Harvest II and Harvest III fruit (
p
< 0.05). The activity of ascorbate peroxidase (APX), peroxidase (POD), and catalases (CAT) in Harvest I and Harvest II were far higher after 90 days. The radical scavenging ability of 2,2-diphenyl-1-picrylhydrazyl (DPPH) radical, superoxide anion radical (O
2
−
•), and hydroxyl radical (•OH) in Harvest I and Harvest II were higher. There was a significantly positive correlation (
p
< 0.01) between the antioxidant components (ascorbic acid, lycopene, carotenoids, total phenols, and total flavonoids), enzyme activity, and radical scavenging ability. The comprehensive scores determined by principal component analysis (PCA) in Harvest I and II were higher than those in Harvest III. Therefore, the optimal harvesting period of MP for each year is determined to be early November. The study provides a theoretical basis for the maintenance of the postharvest fruit value and the regulation of fruit functional components.
View Full-Text
►

▼

Figures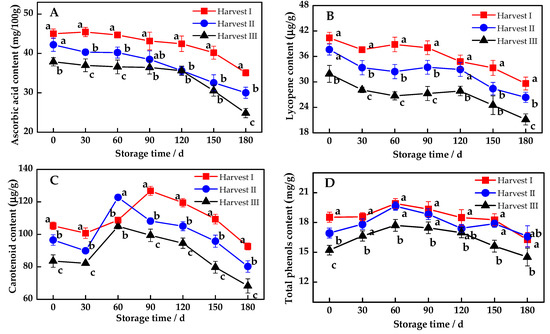 Figure 1
This is an open access article distributed under the
Creative Commons Attribution License
which permits unrestricted use, distribution, and reproduction in any medium, provided the original work is properly cited (CC BY 4.0).
Share & Cite This Article
MDPI and ACS Style
Nie, Z.; Wan, C.; Chen, C.; Chen, J. Comprehensive Evaluation of the Postharvest Antioxidant Capacity of Majiayou Pomelo Harvested at Different Maturities Based on PCA. Antioxidants 2019, 8, 136.
Note that from the first issue of 2016, MDPI journals use article numbers instead of page numbers. See further details here.
Related Articles
Comments
[Return to top]