The Strong Antioxidant Sheep/Goat Whey Protein Protects Against mTOR Overactivation in Rats: A Mode of Action Mimicking Fasting
1
Department of Biochemistry and Biotechnology, University of Thessaly, Viopolis, Mezourlo, 41500 Larissa, Greece
2
Laboratory of Analytical Chemistry, School of Chemistry, Aristotle University of Thessaloniki, 54124 Thessaloniki, Greece
3
Biomic_AUTh, Center for Interdisciplinary Research and Innovation (CIRI-AUTH), Balkan Center, 57001 Thessaloniki, Greece
4
School of Veterinary Medicine, Aristotle University of Thessaloniki, 54124 Thessaloniki, Greece
*
Author to whom correspondence should be addressed.
Received: 18 February 2019 / Revised: 21 March 2019 / Accepted: 21 March 2019 / Published: 23 March 2019
Abstract
Whey protein, a by-product of the cheese industry, can be putatively used as a functional food due to its beneficial health properties. The main objective of the present study was to assess in vivo the effect of a sheep/goat whey protein on the plasma amino acid profile and mammalian target of rapamycin (mTOR), a regulator of skeletal myogenesis. A control group was fed with a standard commercial diet while the experimental group received a standard commercial diet plus sheep/goat whey protein for 28 days. Liquid chromatography-tandem mass spectrometry (LC-MS/MS) was conducted to determine plasma amino acid levels while the expression of p70-S6 Kinase 1 (p70-S6K1) in liver and quadriceps muscles was quantified and used as a biomarker of mTOR activity. The results obtained showed a decrease in the levels of essential and branched-chain amino acids (BCAAs) in the experimental group. Furthermore, p70-S6K1 expression was decreased in the liver of rats consumed whey protein. In conclusion, the reduction of amino acid levels and the concomitant inactivation of mTOR imply that whey could potentially act protectively against disorders induced by mTOR overactivation. Intriguingly, this mode of action mimics fasting, an approach with established advantageous health effects.
View Full-Text
►

▼

Figures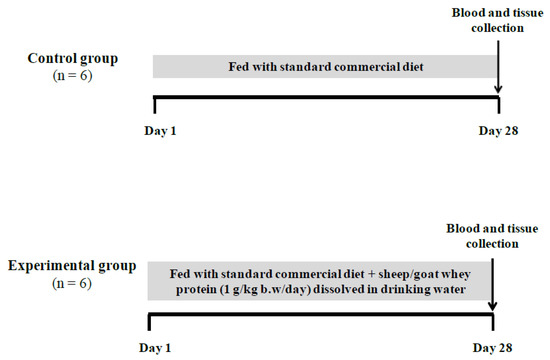 Figure 1
This is an open access article distributed under the
Creative Commons Attribution License
which permits unrestricted use, distribution, and reproduction in any medium, provided the original work is properly cited (CC BY 4.0).

Share & Cite This Article
MDPI and ACS Style
Kerasioti, E.; Veskoukis, A.; Virgiliou, C.; Theodoridis, G.; Taitzoglou, I.; Kouretas, D. The Strong Antioxidant Sheep/Goat Whey Protein Protects Against mTOR Overactivation in Rats: A Mode of Action Mimicking Fasting. Antioxidants 2019, 8, 71.
Note that from the first issue of 2016, MDPI journals use article numbers instead of page numbers. See further details here.
Related Articles
Comments
[Return to top]