Open Access This article is
freely available
re-usable
Review
Water-soluble CoQ10 as A Promising Anti-aging Agent for Neurological Dysfunction in Brain Mitochondria
Biological Process of Aging, Tokyo Metropolitan Institute of Gerontology, Itabashi-ku, Tokyo 173-0015, Japan
*
Author to whom correspondence should be addressed.
Received: 30 January 2019 / Accepted: 8 March 2019 / Published: 11 March 2019
Abstract
:
Mitochondrial function has been closely associated with normal aging and age-related diseases. Age-associated declines in mitochondrial function, such as changes in oxygen consumption rate, cytochrome c oxidase activity of complex IV, and mitochondrial coenzyme Q (CoQ) levels, begin as early as 12 to 15 months of age in male mouse brains. Brain mitochondrial dysfunction is accompanied by increased accumulation of phosphorylated α-synuclein in the motor cortex and impairment of motor activities, which are similar characteristics of Parkinson's disease. However, these age-associated defects are completely rescued by the administration of exogenous CoQ10 to middle-aged mice via its water solubilization by emulsification in drinking water. Further efforts to develop strategies to enhance the biological availability of CoQ10 to successfully ameliorate age-related brain mitochondrial dysfunction or neurodegenerative disorders may provide a promising anti-aging agent.
Keywords:
aging; brain mitochondria; water-soluble CoQ10; motor impairment; α-synuclein; oxygen consumption
1. Introduction
Mitochondria in eukaryotes function to regulate cellular metabolism and produce adenosine 5'-triphosphate (ATP) through aerobic respiration [
1
]. The ATP production is achieved by oxidizing β-nicotinamide-adenine dinucleotide reduced form (NADH) and succinate, which are generated in the mitochondrial matrix as the products of metabolism, followed by sequential electron transfer in the electron transport chain (ETC) through four respiratory enzymatic complexes I-IV. This process of mitochondrial respiration is mediated by two electron transporters coenzyme Q (CoQ) and cytochrome
c
. CoQ-mediated electron transport is catalyzed by two of four complexes embedded in the inner mitochondrial membrane (IMM). In particular, CoQ receives electrons from NADH and succinate via complex I (NADH: ubiquinone reductase) [
2
,
3
,
4
] and via complex II (succinate:ubiquinone reductase) [
5
]. CoQ then passes electrons to complex III (ubiquinol:cytochrome
c
reductase or cytochrome
bc1
complex) [
6
,
7
], which in turn passes the electrons to cytochrome
c
. Complex IV (cytochrome
c
oxidase) [
8
,
9
] is the final enzyme in the ETC and receives an electron from each of four cytochrome
c
molecules and transfers the electrons to oxygen molecules, thereby leading to converting into two molecules of water.
Here, we review the recent findings concerning age-associated declines in mitochondrial function and the resultant behavioral and physio-pathological alterations that occur in middle-aged (12–15 months of age) mice. The age-associated declines in mitochondrial function are concomitant with reduced levels of mitochondrial CoQ. Moreover, we show that the age-associated declines in mitochondrial function and CoQ levels are completely rescued by exogenous administration of water-soluble CoQ10. Furthermore, we propose that CoQ is a promising anti-aging agent for neurological dysfunction in brain mitochondria of mice.
2. Age-associated Decline in Brain Mitochondrial Function and Motor Impairment
3. Water-soluble CoQ10 Rescues Brain Mitochondrial Dysfunction and Motor Impairment
4. Conclusions
Mitochondrial function declines during the normal aging process [
10
,
12
] and in several neurodegenerative [
33
,
34
,
35
,
36
,
37
,
38
,
39
] and neuromuscular diseases [
40
,
41
]. Mitochondrial dysfunction includes declines in the expression and activity of respiratory complexes, oxygen consumption, and ATP production and is caused by defects in the ETC, including electron transporters, such as CoQ. The age-associated mitochondrial dysfunction and the accompanying behavioral and pathophysiological defects due to the CoQ deficiency are rescued by oral administration of water-soluble CoQ10, as described above [
10
,
12
,
21
].
Many reports have examined the beneficial effects of CoQ10 in aging and age-related disorders as an antioxidant [
84
,
85
,
86
,
88
,
89
,
97
,
98
]. However, improvement of the bioenergetics process of mitochondrial dysfunction via oral administration of CoQ10 requires overwhelming many difficulties, such as CoQ10 passing through the blood-brain barrier and the cytoplasmic and mitochondrial membranes of target cells after its absorption from the small intestinal tract [
99
,
100
]. To overcome these difficulties, water solubility and the size of CoQ10 nano-emulsion are considered critical for determining the rate and extent of drug release [
99
,
100
,
101
,
102
]. Recent studies have developed various formulations of CoQ10 with improved solubility and biological availability that exhibit excellent antioxidant activity [
86
,
97
]. Furthermore, the water-soluble CoQ10 nanoemulsion is incorporated into brain mitochondria and rescues brain mitochondrial dysfunction and behavioral disorders in normal aging mice [
12
] and in animal models of PD [
84
,
85
] or encephalopathy [
87
]. There are a few therapeutic data about the effects of water-soluble CoQ10 on human disorders [
103
,
104
,
105
]. These reports indicate that water-soluble CoQ10 is a promising anti-aging agent that has the potential to restore mitochondrial function for the treatment of age-related mitochondrial dysfunction and neurodegenerative diseases.
Author Contributions
The authors have contributed equally to this work.
Funding
This research received no external funding.
Acknowledgments
The authors thank I. Ohsawa and T. Shirasawa for their generous supports; Nissin Pharma Inc. for supplying water-soluble CoQ10.
Conflicts of Interest
The authors declare no conflict of interest.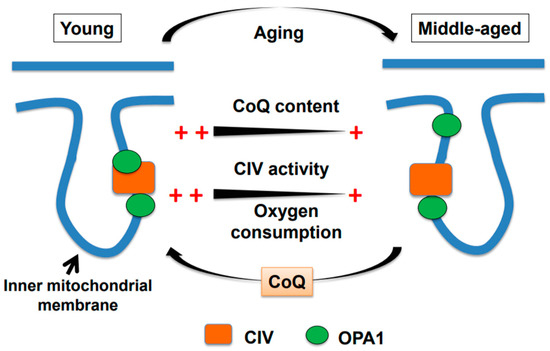 Figure 1.
A graphical model of age-associated declines in brain mitochondrial function in male mice. The oxygen consumption rate (OCR) and cytochrome
c
oxidase activity of complex IV (CIV) and coenzyme Q (CoQ) levels are significantly lower in middle-aged mice than in young mice. Concomitantly, the amount of 95-kDa OPA1 bound to CIV is also lower in middle-aged mice. All of these age-associated alterations are restored by the administration of exogenous water-soluble CoQ10 to middle-aged mice.

© 2019 by the authors. Licensee MDPI, Basel, Switzerland. This article is an open access article distributed under the terms and conditions of the Creative Commons Attribution (CC BY) license (http://creativecommons.org/licenses/by/4.0/).